October 19/15 14:43 pm - Cross Nationals Profile - Mical Dyck

Posted by Editoress on 10/19/15

Organizers of the 2015 Cyclo-cross Nationals in Winnipeg - which take place Saturday, October 24th - have put together profiles of some of the top prospects for the national titles.

Mical Dyck

Mical Dyck's result at the Cyclo-cross world championships last February, in Tabor, Czech Republic, was extraordinary on several counts. Starting as fourth to last call-up, she moved up through the field to finish 12th, the best of any elite North American female or male. She remained in the saddle when many higher-ranked riders kissed the thin layer of mud covering Tabor's frozen track.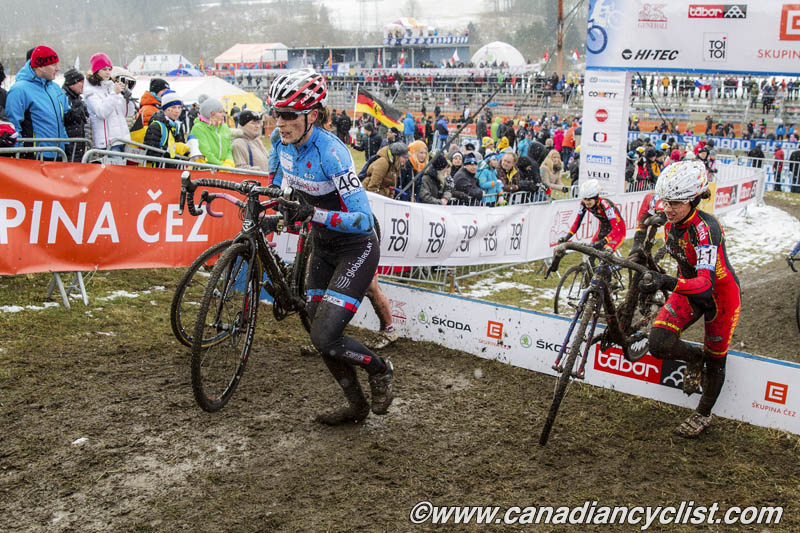 CX Worlds in Tabor CZE
"I was really shocked, actually," she said about her initial reaction to the result. "I knew it was a good course for me and I was feeling really strong, but I had no idea I could have a performance that good."


After returning home from Tabor to Victoria, British Columbia, she received news that almost derailed her intention to explore the potential validated at Worlds. Her 'Cross trade team of three years, Stan's NoTubes Elite Cyclo-cross Team, had dropped her from the roster.

"I was really choked when I heard that," she said. "As a female racer it's always tough to find support, and then as a female Canadian racer, it's even harder."

The 33 year-old could have given up 'Cross racing and resumed work as a geologist. The pay is exponentially better. But the demands of the job would constrain preparation for more tests against the world's best women 'Crossers. And that wouldn't do.

"I had the race of my life so far, and I don't want it to be a one-off thing," she said. "I want to be able to repeat that."

While painful, the timing of the team loss proved serendipitous. Fellow countrymen were establishing the new Red Truck - Garneau p/b Easton Cyclo-cross Team. According to Dyck, she was about to commit to them when Sam Whittingham asked if she would race on Naked Bicycles. Whittingham is founder, designer, and builder of the custom frame-maker based on Quadra Island near Victoria. His creations have garnered multiple awards.

Whittingham outlined a two-year deal with bikes and travel expenses funded by a silent supporter interested in promoting the brand. "I couldn't pass it up," Dyck said, "because I've always loved his bikes and I was really stoked on the opportunity to work with someone locally."

Now, as a privateer like other North American elite women such as Courtenay McFadden (American Classic/Zones) and Emily Kachorek (Squid), and working part-time in retail sales, Dyck set about securing additional equipment sponsors to complement the Naked Bicycles steel frames. She said they fell into place surprisingly easily, perhaps due to her Worlds performance. Stan's NoTubes, with whom Dyck remains on good terms, is supplying rims. Shimano and WD-40 Bike also signed up.

Dyck reduced her summer mountain bike competition schedule to intensify her focus on the upcoming Cyclo-cross season. That's a huge statement coming from a Canadian who races Cyclo-cross; mountain biking invariably takes priority. Dyck picked up mountain biking just before college and has competed on the World Cup circuit as well as represented Canada at the Pan American Continental MTB Championships and the world championships. She's still a member of Stan's NoTubes Women's Elite mountain bike team.

Last year she was a newcomer to European Cyclo-cross. Now she's planning a much busier schedule there this season, including a series of races during Christmas week and the final World Cups leading into Worlds. Her ultimate goal: a good performance at 2016 'Cross Worlds.

Life as a privateer brings personal rewards and challenges. The Naked Factory Racing rider enjoys experiencing Whittingham's excitement about their program first-hand. "I get to come home," Dyck said, "and see the person that built my bike for me, talk to him and run through the race." She also enjoys showdowns with him on the local racing scene.

The toughest aspect of privateering for her is organizing travel, followed by sourcing pit assistance.

She always searches for host housing and travel-mates to share expenses. The Stan's NoTubes Elite Cyclo-cross Team often took advantage of home stays, but Dyck didn't catch 40 winks on a couch. Now at times she exchanges better rest for a friendly sofa. "It's not always ideal," she said. "Sometimes it's worth it to spend the money for a proper hotel room, but you can't always do that."

Independence also generates more schedule flexibility. The Single Speed Cyclo-cross World Championships beckon; Dyck won the 2012 edition and the zany party will descend on Victoria in November. She's also targeting the Pan American Cyclo-cross Championships and the Shimano Canadian Cyclo-cross Championships p/b Volvo in Winnipeg on October 24th.

At last year's Canadian 'Cross nationals, Dyck lost contact with the leaders after wiping out on an off-camber corner. Her chain dropped and became a tangled mess as she attempted, panicked, to right it. She ran to the pit and eventually finished ninth.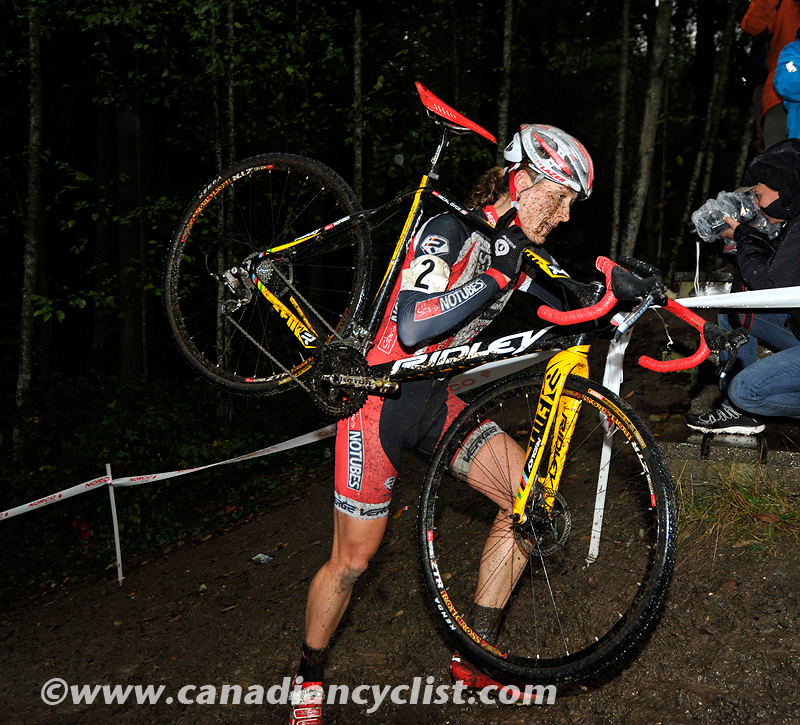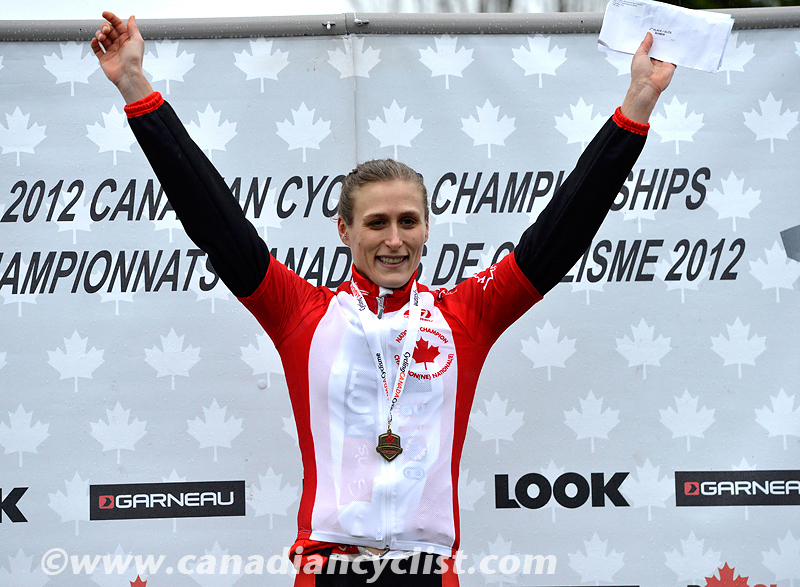 National Champion 2012
Dyck earned the Cyclo-cross title in 2012 and finished second in 2013. She would love to take home another maple leaf jersey, but she's expecting stiff competition in Winnipeg, pointing especially to Maghalie Rochette (Luna Pro Team), who shot into the early lead last year, only to be beaten by her team mate Catharine Pendrel, who has stated that she will not be defending her title this year.

A great result, Dyck said, will require a clean race and avoiding the temptation to go too hard initially. Her explosive power should be advantageous on the steep run-up which is now extended by a flyover at the crest of the hill.

"It would be amazing to win again," Dyck said, "not only for myself, but for the people supporting me this year."

Original story by Mary Topping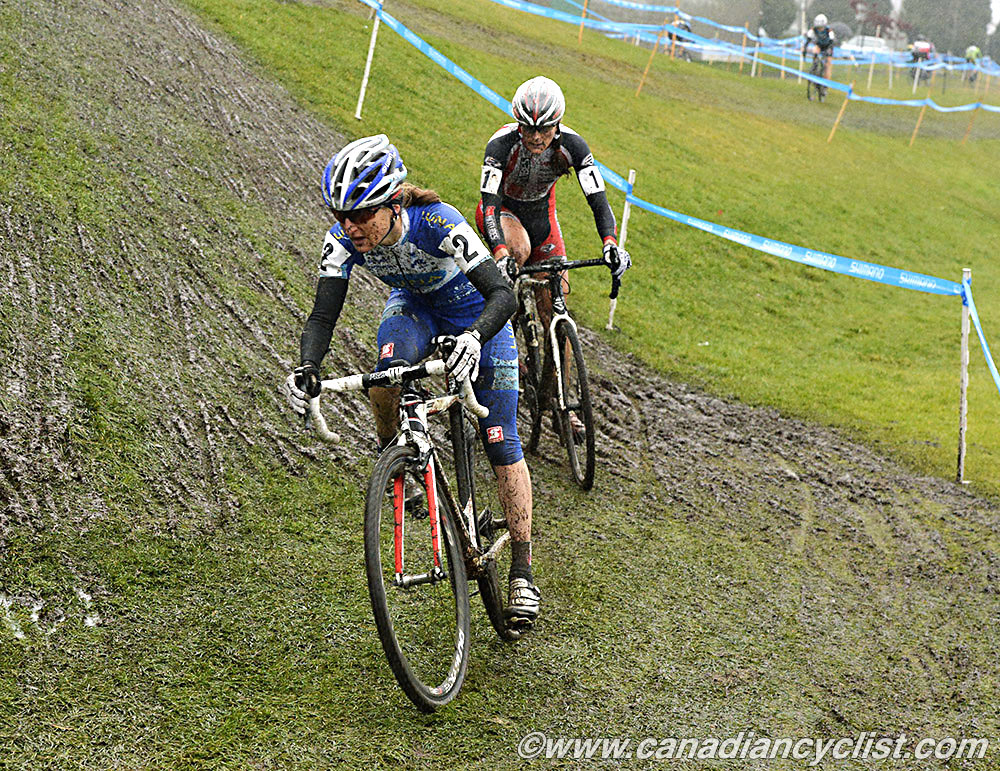 2013 Nationals chasing eventual winner Catharine Pendrel
2014 Nationals at the front before technical problems