October 19/15 16:02 pm - Cross Nationals Profile - Raphael Gagne

Posted by Editoress on 10/19/15

Organizers of the 2015 Cyclo-cross Nationals in Winnipeg - which take place Saturday, October 24th - have put together profiles of some of the top prospects for the national titles.

Raphaël Gagné

Raphaël Gagné is looking to win his first Elite Men's national cyclo-cross title this weekend in Winnipeg, after a mountain bike season of achievements such as Pan American Games gold medal. He believes he has developed a sustainable way to mix cyclo-cross with big cross-country ambitions as he prepares for next year's Olympic Games. The solution is a short competition calendar as a member of the new Red Truck - Garneau p/b Easton Cyclo-Cross Team, Canada's first professional cyclo-cross outfit.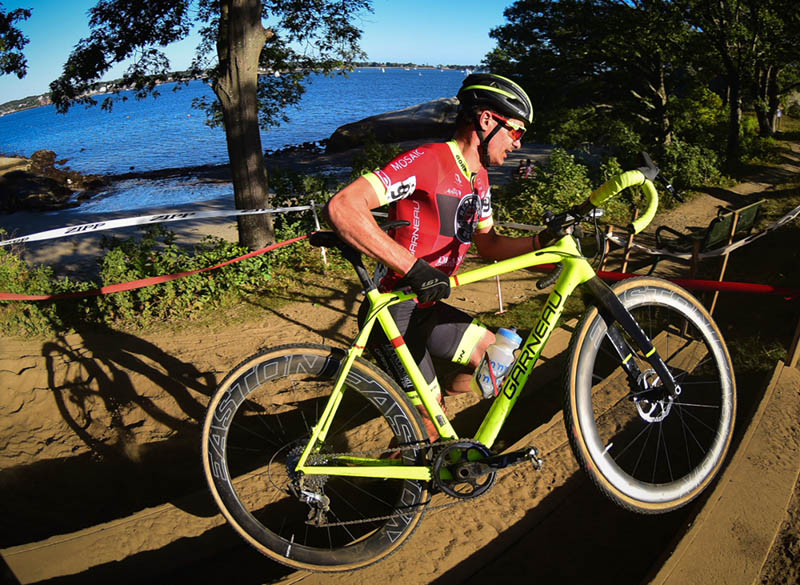 Raphaël Gagné at the Gran Prix of Gloucester (Photo by Dave McElwaine)
The 28 year-old will race five weekends this Fall, including the Canadian 'Cross championships. He brings numerous assets to Winnipeg on October 24th, yet remains cautious about his chances, given the tough fight expected at the Shimano Canadian Cyclo-Cross Championships p/b Volvo.

His breakthrough mountain bike season opened with a March victory at Bonelli Park in USA Cycling's US Cup Pro Series p/b Cannondale, with Gagné continuing on to win the overall title; it was his first Series title victory. In July he doubled up on gold medals at the Pan American Games and Canadian cross-country championships, where he added a first Elite maple leaf jersey to his U23 and Junior titles. Next came sixth place at the Windham World Cup. Then, at Mountain Bike Worlds he delivered the best male North American performance.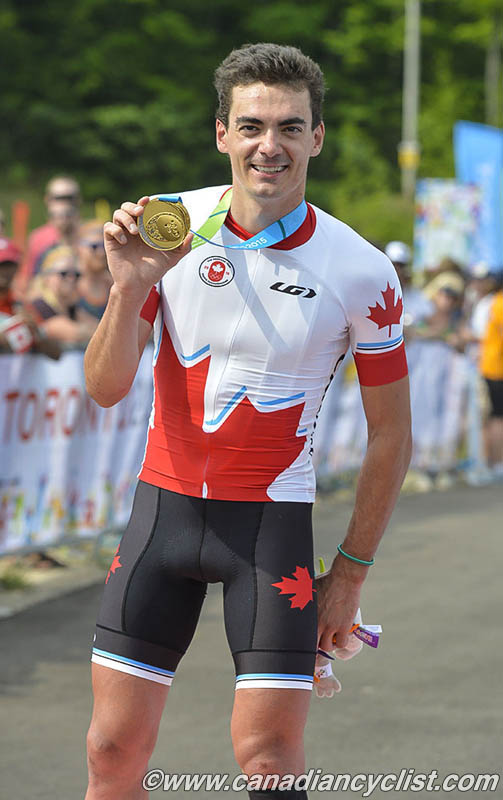 Gold medal at Pan Am Games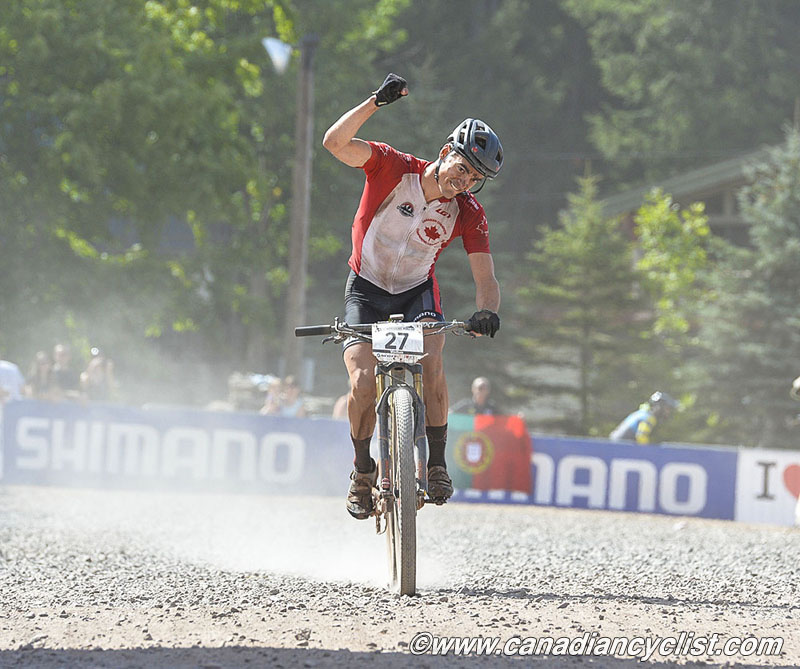 Finishing 6th at the Windham World Cup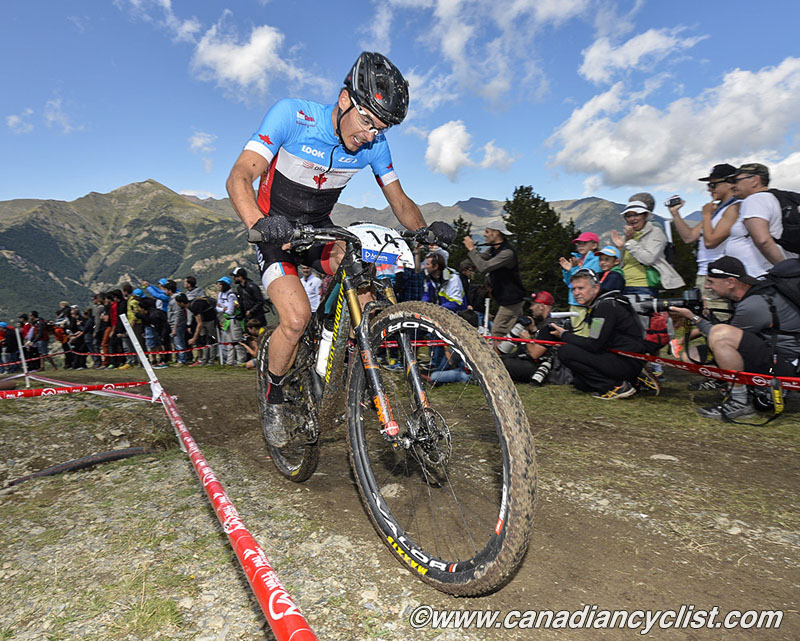 Riding to a top Canadian result at the 2015 World Championship in Andorra
Gagné credits improved health and mental strength for his results; colds and sinus infections prior to this year had derailed his performance in the latter part of the season.

"I kept believing and doing my best to train, recover, and perform," he said. "It didn't always work out but I just kept doing the good work and in the end it finally paid off."

Gagné believes the short cyclo-cross calendar improves his fall program, even this year as he looks to line-up at the Rio Olympics next August. He likes to train by racing and said 'Cross augments skills such as cornering.

"For technical skills at speed under pressure, it's really good because you are never really in control or rested in 'Cross. You have to stay on the wheel and be sharp physically, technically, and strategically."

While mountain bike consumes him, in part because of his Olympic dreams, Gagné loves cyclo-cross for its challenges. Maybe as much as he loves mountain biking.

"This is how much I think 'Cross is good for me and how much I love it: two years ago I didn't have any support and only one bike, and I raced almost a whole season out of my [own] pocket."

Last year, however, that love bumped up against other priorities and values. Again without a 'Cross team, he opted out of racing.

"I was tempted to buy a bike and just race," he said. "But at the level I'm at, I don't think I deserve to buy a bike and race out of my own budget." He spent the fall completing a university degree in physical education teaching. It will serve his future; he currently supports himself as an athlete.

Growing up in Québec City, Québec, Gagné started mountain biking at age nine. He tried a few cyclo-cross races on a mountain bike as a Junior and won a provincial championship. At provincials in 2009 he raced on a 'Cross bike for the first time and won the senior men's category.

"My first two laps of pre-riding were weird and bumpy. I had way too much air in my tires," he recalled.

His introduction to U.S. cyclo-cross came in 2011 when his mountain bike season ended early due to a back injury. In 2013, on his self-funded campaign with a single bike and no spare wheels, he grabbed four UCI wins plus three podium spots.

Riding with the Red Truck - Garneau p/b Easton Cyclo-Cross Team Gagné's five weekend schedule began in Gloucester with a top ten result from a back row start. In Providence on Day One he flatted and placed eighth, and was 14th on Day Two. In this past weekend's final lead-up to the Nationals, Gagné took back-to-back wins in the Quebec-based Maglia Rosa series.

Raph Gagné watched the livestream of last year's title race in Winnipeg. He believes his technical strengths will still prove advantageous on the fast circuit, where long pedaling sections connect sandpit and off-camber features that proved decisive in the 2014 elite races. "If a course isn't too technical but there are still turns and braking and acceleration, it definitely suits me," he explained.

Citing a year off from the discipline and uncertainty about the energy stores remaining in his legs, Gagné is targeting a podium result.

"I'm always thinking about the win but I think wishing for the podium is realistic and it's just a good goal for me," he said. "I don't want to put too much pressure [on myself] for 'Cross."

Gagné will arrive in Winnipeg with skilled teammates, Michael van den Ham and Craig Richey. They can come in handy on the pedaling sections. But they're also favourites in Gagné's mind, along with defending champion Mike Garrigan (Van Dessel/Shimano/Velocolour), Geoff Kabush (SCOTT-3Rox), and Jérémy Martin (Louis Garneau Québec).

If the man from Québec City, Québec wins, he will add two milestones to his already large take for 2015: a maple leaf jersey in cyclo-cross for himself, and the first male elite championship title in 18 years or more for the Province of Québec.

Edited from original report by Mary Topping