November 9/15 14:59 pm - Interview with Erin Hartwell - National Track Coach

Posted by Editor on 11/9/15

The Canadian Track squad have already had a stellar year, with ten medals at the Pan Am Games, including six gold. However, they have just begun the very important World Cup season that leads into the final world championships before the Olympic Games next year, so there is lots of pressure to do well and obtain the points needed to get starting spots for Rio.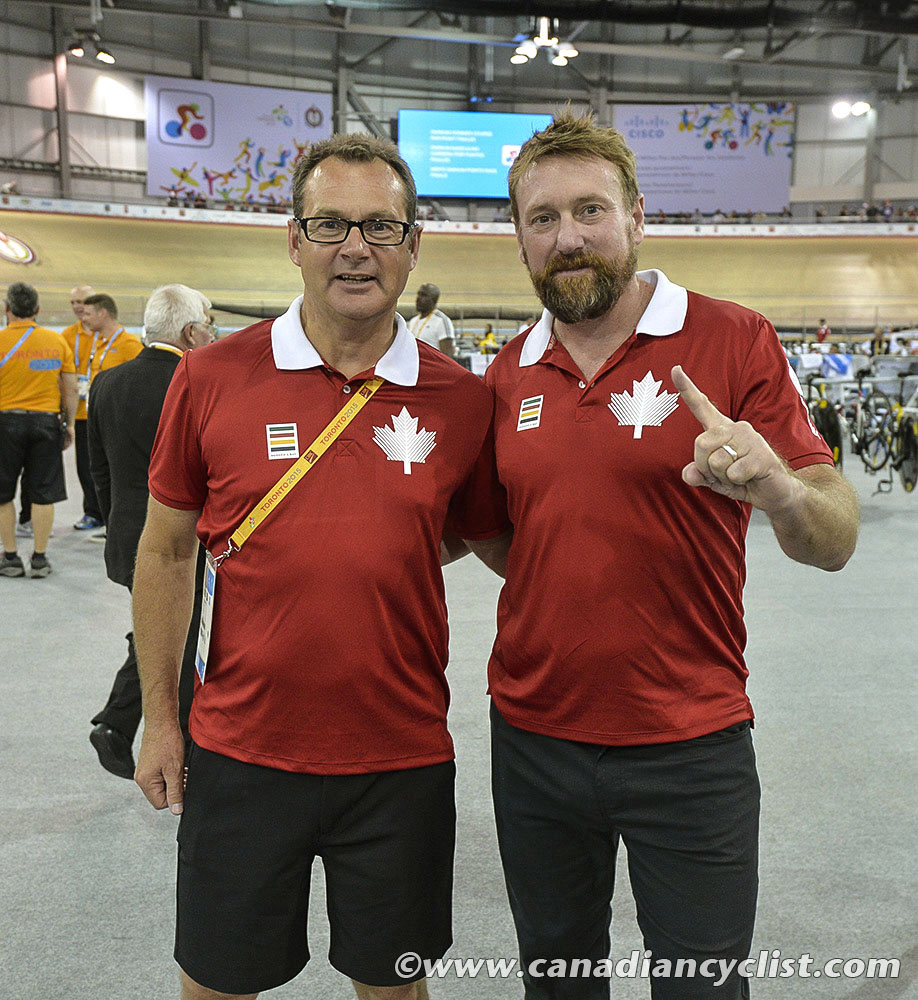 Craig Griffon and Erin Hartwell (right) at the 2015 Pan Am Games
While the Canadian Women's Team Pursuit squad has a strong history (and opened the season with a World Cup victory in Cali, Colombia), the Sprint program is much newer. Despite being in the development phase, the squad has already shown strong performances at the international level, and has a chance to qualify multiple athletes for the Rio Games. The team did suffer a blow, when National and Pan Am champion Hugo Barrette crashed hard in training prior to the World Cup and could not compete [Joel Archambault was flown in as a last minute replacement].

We spoke with National Track Sprint coach Erin Hartwell after his return from Cali, with the team is back in training at the Milton velodrome.

Canadian Cyclist: You are starting a very critical season leading into the Rio Olympics; can you tell us about the situation with the first World Cup done?

Erin Hartwell: Absolutely. Going into Cali we had high expectations that we would be competitive in both the men's and women's Team Sprint. We are trying to secure those [Olympic] positions in the Team Sprint because it gives us two individual spots for both Sprint and Keirin, versus trying to go the individual route, where we would just have one individual spot. Those individual spots are still highly competitive within the Americas.

Both the guys and gals looked really good going into competition, however, as we are all aware, the crash by Hugo had a major impact on everyone; both physically on the men's Team Sprint side with Hugo not being present, but also psychologically it was a big blow to everyone to have that kind of accident happen to one of our team mates.

So I was a little bit unsure going into Friday [first day of competition, including the Team Sprint competition] how everyone would be handling it. I think they did a phenomenal job of keeping their collective you-know-what together.

I'm really happy with how the women [Team Sprint - Monique Sullivan and Kate O'Brien] did with their eighth place, having beat Mexico and Colombia by a fair number of points and also New Zealand, which is going for one of the other spots available.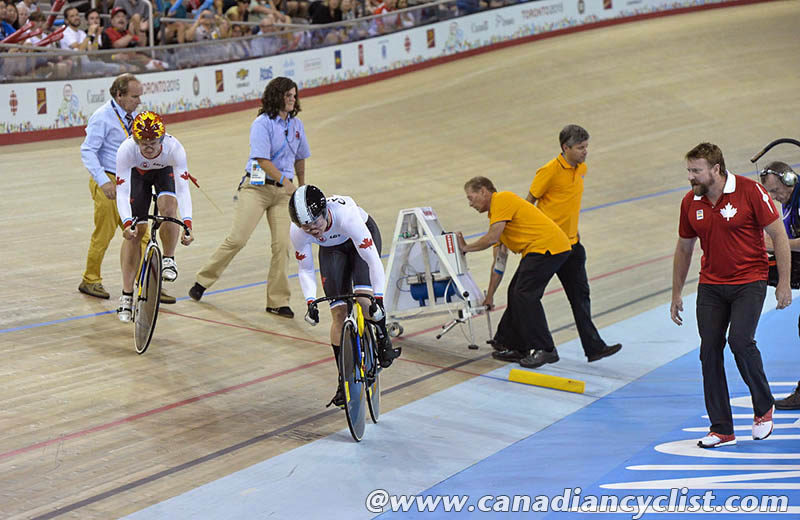 Monique Sullivan and Kate O'Brien start the Team Sprint with Hartwell on the far right
So, I'm quite comfortable with where the women are now. There's still work to do and three events to go [two World Cups and World Championships], but I like where we are sitting.

On the men's side it is a little bit of a different story with Hugo out of the mix. I'm not sure when he is going to be back - whether it's the next couple of weeks or the next couple of months. So, we've got to revise the game plan a bit.

Olympic qualifying [in Team Sprint] is going to be harder at this point. We've been chasing some of the Asian squads, particularly China, Korea and Japan, plus Colombia in the Americas. Venezuela pretty much has the first [Americas] spot locked up, so we are pretty much chasing a single spot. China performed very well in Cali, with Japan and Korea just ahead of us. I'm confident that if we had had our 'A' squad there we would have placed substantially better.

So, going into the critical phase in the next few weeks [leading into World Cup #2 in New Zealand] I'm happy with where the women are, but with the guys we do need to regroup a bit. I love the progress from Joel Archambault, and Joe Veloce has been rock solid these last couple of months. With Evan Carey and Mischa Partridge fighting for that Man 1 position, I can see that intra-squad competitiveness forcing them to both raise their game.

I'm confident that we can put together a good ride, but when we are a half second down on that last lap [Hugo Barrette's position] ... Hugo is truly world-class at Man 3, rolling a 13.3-13.4 [seconds], only a tenth off the top guys. Now we are 13.7 to 13.8 range. So the question is can we make that up in the next few weeks? I don't know, but we're never going to stop trying.

CC: You guys have now been working out the Milton velodrome for ten months. From your perspective, what difference has that made?

EH: Home sweet home, man! It's amazing to have our own place. Still to this day ... I'm going to go over there this afternoon, and the fact that we get to go into our own indoor world class track in Canada is a big, big deal.

It's had an astronomical game-changing impact on our program. I don't think we could have come as far as we had, as quickly as we have, in these past 7-8 months without an indoor track.

We would still be doing it as a transient remote program, working out of LA [Los Angeles] in a camp format with riders coming in and out, and it just doesn't work. Any team we are competing against at a truly international level has their own facility.
Hartwell with Monique Sullivan
It is just what is necessary in a centre-based, training oriented program as is sprint cycling. You've got to have your own home, so for us this has been phenomenally important.

And, considering what happened in Cali with Hugo, who has been our top male rider for the past year, I do like the progress we have seen in the group, and the [Milton] track has had a massive impact on this progress. I'm confident that we'll continue to see that 1%, 2% gains as we approach Rio, which should put us competitive - at least on the women's side - for medals.

CC: There is still about a month until the next World Cup, so what will the team be doing between now and then?

EH: We are five weeks out from New Zealand, and then mid-January for Hong Kong [World Cup #3]. Between the Pan Am Championships in Santiago [Chile] and the Cali World Cup we had a six week block where we reinforced our foundations and shored up some of the holes that had built up since our preparatory phase in April and May. We want to put a big block in the gym; the guys are definitely getting stronger and fitter.

We're working on the faster part, but that tends to come when we get into peak mode. So, I like where we are at. We have a four week segment now where the work is going to be more qualitative then quantitative. I'm confident that going into New Zealand, especially on the women's side, that we can expect strong performances. We want to keep chipping away at the those Olympic qualifying quotas and the points necessary to get into the Games.

But on the men's side, we are going back to the drawing board a bit. Joel is now in the Man 3 position, Joe will stick with Man 2, and for Man 1 I'm still looking at the balance of Mischa and Evan. Those guys are duking it out toe-to-toe every single day in training, and it's a situation of 'may the best man win'.

The fastest team needs to show up, so there's no favouritism on the squad. We have our starters and our reserves, and the reserves are always pressing up against the starters to earn their own opportunity to race their bikes. I love that competition from within because it keeps everyone sharp and on their toes.

So, I can't quite say where we are going to be with Hugo out of the mix, but the guys are committed and they want to push on. Whether or not the Olympics become mathematically out of the question, my objective is to continue the traction and momentum we have in the program by going to the World Cups and the world championships and doing as best we can.