November 16/15 10:31 am - Quebec Cycling Mourns Passing of Jean-Yves Labonte

Posted by Editor on 11/16/15

Canada has lost another builder of cycling, with the passing of Jean-Yves Labonté on Saturday, at the age of 77. Labonté was involved in cycling for over 60 years, first as a racer and then a mechanic through the heyday of Six Day racing in the 1960s, where he worked the pro circuit in Montreal, Toronto and Quebec City. As a rider, Labonté raced the Tour de St-Laurent four times, as well as Quebec-La Malbaie. He also founded and ran the Salon Info-Velo a Quebec bike show for 30 years, before selling it earlier this year.

However, it is as a race organizer and coach that he had his greatest impact. Since he turned down a pro contract as a mechanic with the Peugeot team in 1968, Labonté organized a staggering 600-plus races in Quebec, including two national road championships, 11 Quebec provincial championships, 8 Quebec-La Malbie and, for 25 years, the serie du Merite cycliste between 1969 and 1993. he also was involved with the formation of multiple clubs, including club cycliste de Sainte-Foy, Elicycle and Nordcycle.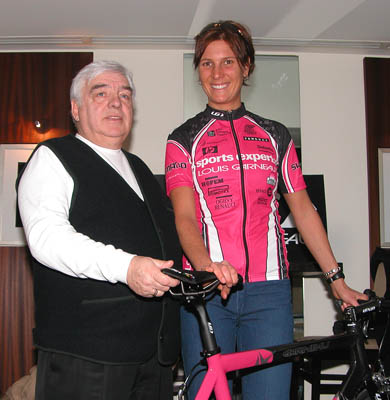 Jean-Yves Labonté with Lyne Bessette, 2005.
As a coach, he worked with a who's-who of Quebec cycling, including Louis Garneau, Marc Blouin, Magella Tremblay, Michel Lacouline, Gaetan Boucher, Hugo Houle and David Veilleux. In 1989 he was the Road Coach of the Year in Quebec, and in 1995 recognized for his contributions to cycling in the Quebec region.

Jean-Yves Labonté has suffered from diabetes for a number of years, which led to hospitalization for kidney failure, from which he succumbed on Saturday.

With information and photo from Guy Maguire