November 21/15 11:33 am - Tanya Dubnicoff Joins Canadian Sport Institute Calgary

Posted by Editoress on 11/21/15

The Canadian Sport Institute Calgary is pleased to announce Tanya Dubnicoff as the Cycling Centre Calgary Athlete Development Lead effective January 4, 2016.

Tanya will be coaching and leading the development of the cycling programs from development to performance athletes in the disciplines of road, track, mountain, cross and para-cycling.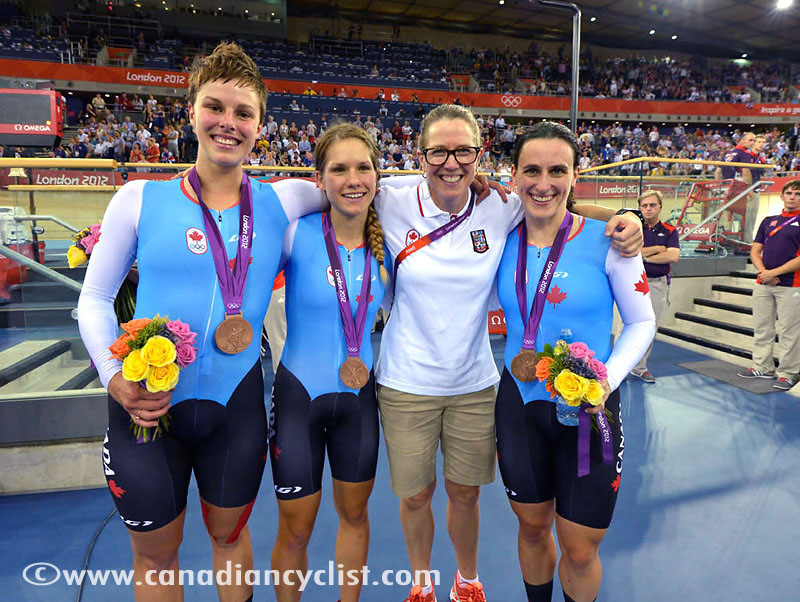 Women's Team Pursuit coach Tanya Dubnicoff with bronze medal winning Gillian Carleton, Jasmin Glaesser and Tara Whitten at the London 2012 Olympics
Tanya Dubnicoff brings a wealth of athletic and coaching experience to the program. As an athlete, she was World Champion, world record holder and three-time Olympian in a career spanning over 25 years.

Tanya's passion for cycling transferred into coaching after her retirement from the sport in 2000. Tanya spent the next 13 years building cycling programs in Canada and the United States.

Tanya's versatility as a coach has allowed her to become involved with all age groups and cycling disciplines. For a decade, she thrived on being the only female coach at the international level. She has helped athletes of all levels achieve success and has guided them to National Championships, World Championships and Olympic Games.

Tanya is a two-time Olympic coach and one of Canada's Olympic medal-winning female coaches, leading the Women's Team Pursuit to a bronze medal at the 2012 London Olympic Games.

Post 2012, Tanya shifted her focus from assisting athletes in competitive sport to sharing her knowledge for building relationships and achieving success through facilitation, public speaking, and executive coaching. Her message builds confidence and identifies how a coach, a corporation, or anyone in a leadership role can "Lead with Purpose."

Tanya is excited to be back coaching athletes, where her true passion lies. Tanya is joining an already successful team with the mandate to help athletes ride to their potential and to build programs that cultivate future champions.

For more information on the Cycling Centre Calgary, please visit: www.csicalgary.ca/athlete-development/cycling-program

About the Canadian Sport Institute Calgary

The Canadian Sport Institute provides world-leading Olympic and Paralympic training environments to elite athletes and coaches across Alberta. With the support of our partners, our team of experts delivers sport science and medicine, coaching and life services to power podium performances and help Canada win more medals. For more information, please visit www.csicalgary.ca.