November 23/15 14:49 pm - Review: Specialized Flux Expert Lights

Posted by Editor on 11/23/15

It is always hard to believe that just a few weeks ago the sunlight lasted well into the evening. With the change of season it becomes dark much earlier in the evening, and yet bike riding goes on. You would like to keep recreational riding or maybe you would like to be well visible while commuting on your bicycle. You can easily find a light with extreme brightness, a good size battery pack, and a wire or two to make it all work. Obviously, you need a good light to do this, and there are many to choose from. But if you want to get something very different you could get the Specialized Flux Expert front and/or rear lights.

Specialized Flux Expert Front Light
The Specialized Flux Expert front light is an all-in-one unit that pumps out a very respectable 1200 lumens of light on maximum power. Even better, two Allen bolts are all that is required on the handlebar to mount this light. Everything is self-contained, which is a rarity among high output lights. The on-off switch is on the top and this also controls the various functions that the Flux offers.

Charging is accomplished by connecting the Flux via a USB cable to either a computer or a wall charger (provided with the light). The cable port is underneath a rubber cover that makes the Flux very weather resistant overall. While the Flux is charging, the on-off button flashes to indicate that it is charging. The lithium ion batteries require 4 hours for a full charge. Press and hold the button and you get a colour indication of the charge level.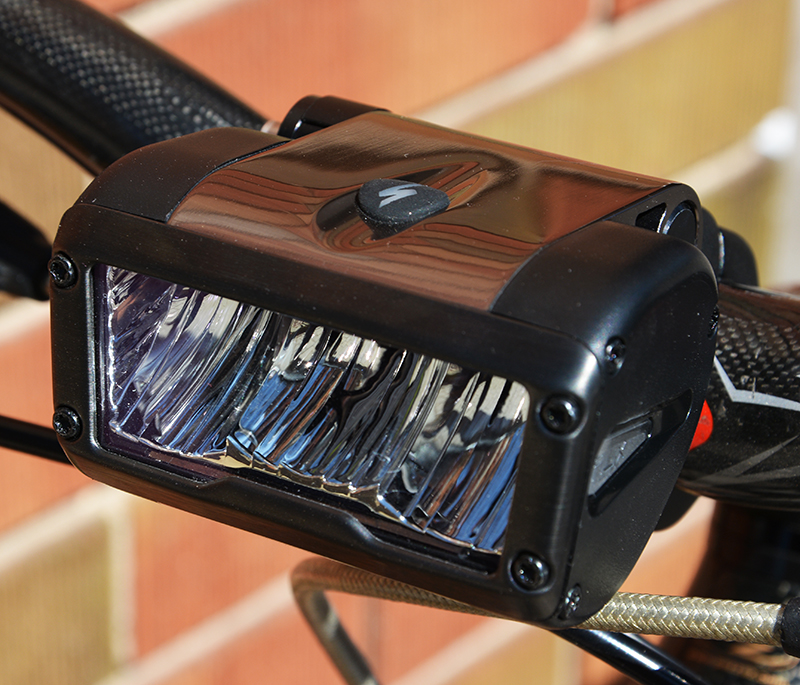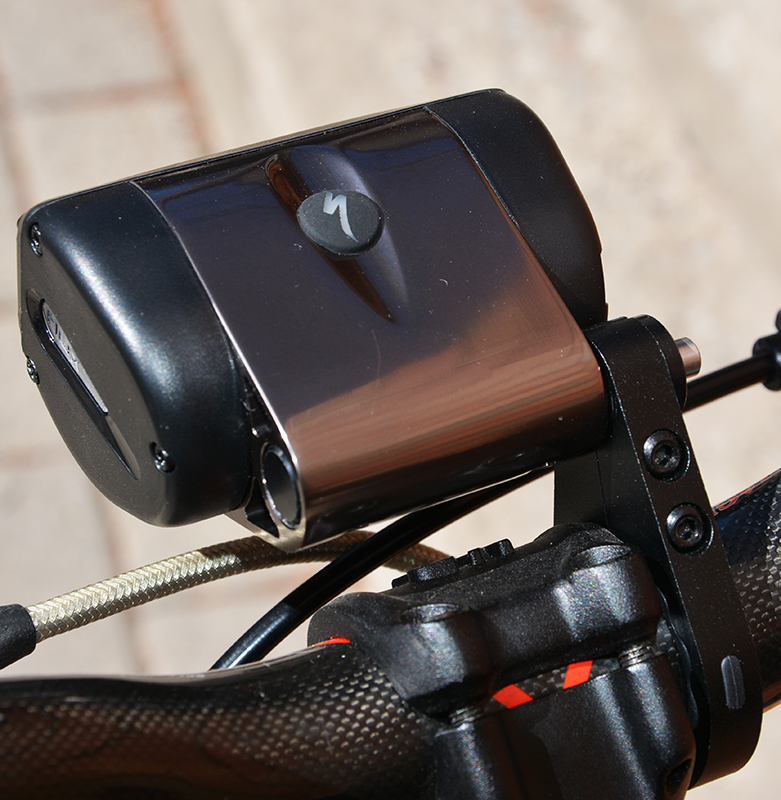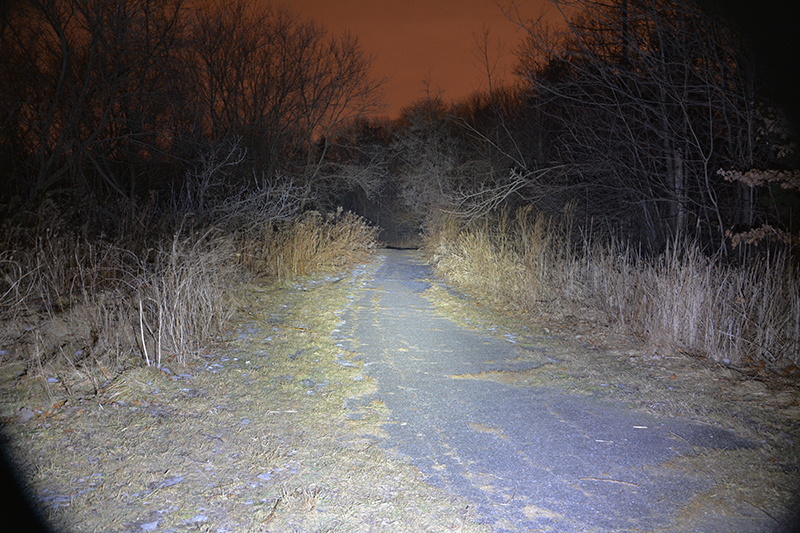 Also included in the kit is a wired two button remote control unit that will let you either cycle through all four functions (more details below) or simply switch from high to low beam. I didn't use the remote as my handlebars are pretty busy to begin with. It should be noted that you still have to use the main button on the Flux to turn the light off and on.

Most people are concerned with two aspects of any light. The first is how bright is it? The second is how long will the light last on a full charge? It is perhaps best to answer both of those questions at the same time. At 1200 lumens of light output (on full power), a full charge will last 1.75 hours. That should be enough for most commutes.

The Flux Expert has 3 LEDs mounted laterally. There is a nice reflector that they are mounted in, and also a very nice replaceable lens. If you need more run time, you can get six hours on low beam (Specialized calls it "Battery Saver"), which is still a very bright 400 lumens. The flashing mode is based on the 400 lumens setting and will provide 20 hours of run time.

The pulsation function (Specialized calls it "Surge") is really interesting. It goes from 400 to 1200 lumens and back again. I didn't think that I would like this setting but you do get used to it. The importance of the pulsation is that it ups your run time to 3.5 hours. This implies that you could use this light for serious nocturnal mountain biking.

Mounting the Flux Expert is very easy once the clamp is installed. The clamp positions the Flux out in front of the stem and centered on the bike. Since the clamp can be rotated on the bar you can position the light either over or under the bar if desired. There is a push button on the side of the clamp. Press the button to slide the light into place. It then clicks and two pins lock the lamp firmly in place. The clamping system has rubber grommets on the inside to protect your handlebars. Grommets for both a regular and an oversize handlebar are included. I found that the grommets and clamp worked best on an oversized handlebar, since with a regular sized handlebar the extra thick rubber would allow the light to move a bit on rough ground. There is enough give in the clamp to allow you to aim the Flux up or down, or correct the positioning if it does sag a bit. Since the clamp is very lightweight, I just left it on my bike and removed/installed the actual lamp as needed.

The Flux projects a very nice beam that is a combination of both a spot and the flood. My tendency is to favor spot over floodlights but I did not have any issues with too much light illuminating the side of the trail while night riding (Specialized claims 180 degree illumination). Claimed visibility is 0.5 km, which is quite good. I would describe the light as very white and clean, which is always a good thing.

I also appreciated the simplicity of the design, since you only have one button to touch. That being said, while transporting this light off of the bicycle I had more than one instance where the light came on. It would seem somehow I managed to press the button and turn the light on. My concern about this is that the light heats up. These are very powerful LED lights and certainly I would worry about it melting whatever it may come into contact with. This isn't a concern with a traditional high power light that has separate battery and lamp, as you typically disconnect the wires when not in use. You do not have that option with the Flux.

The Flux Expert is a great light and I'm sure many people would love to you have one. However if you are interested you're going to have to spend a good sum of money to get one. The suggested retail price is $300 CDN. For much less money one could go on to Amazon and purchase three or more lights systems for the price of one Flux. The trade-off, of course, is that it is unlikely that a light set from Amazon would approach the quality of the Flux. You will never find a self-contained light set like this either.

Specialized Flux Expert Rear Light
I know that most cyclists can't get really excited about a rear light but the Specialized Flux Expert rear light is a great piece of electronic tech. Like the Flux Expert front light, the Flux Expert rear light is a self-contained unit powered by a lithium ion battery. It pumps out between 25 and 100 lumens of red tinted light. It takes 1.3 hours for a full charge, which will provide from 6 to 17 hours of run time depending upon the function.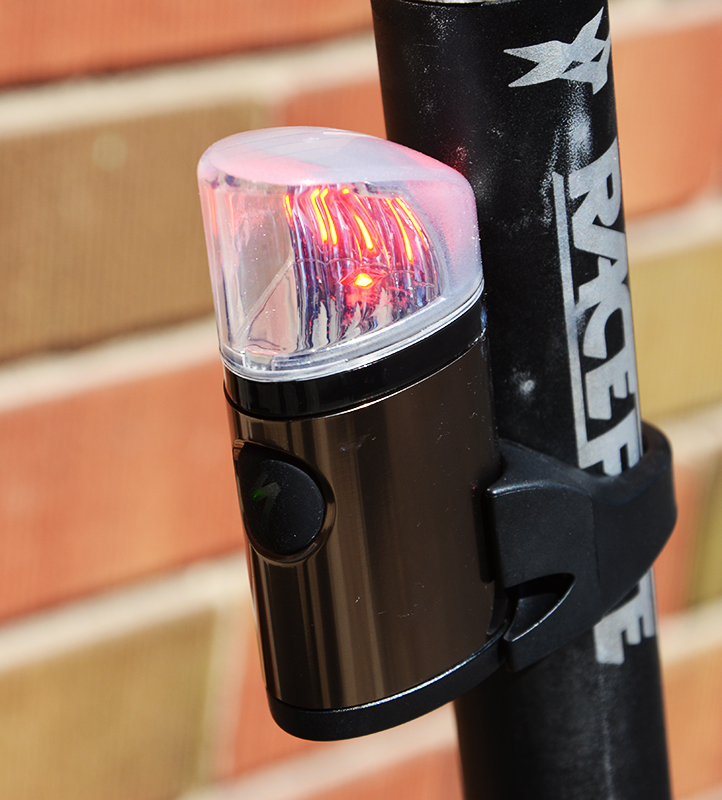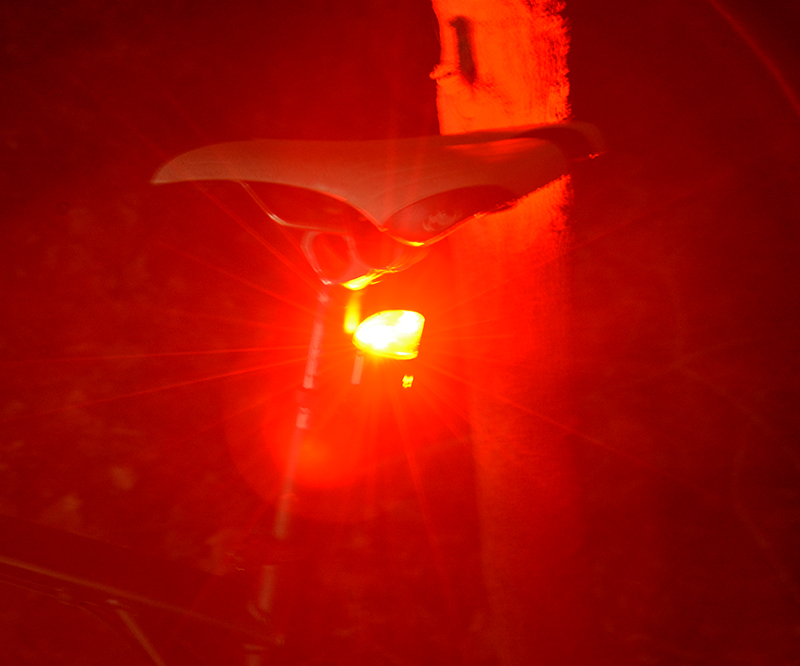 Charging the light is really cool. You flip a little door down and the door itself is a USB tab. Plug it into your computer or plug it into the charger that comes with the Flux Expert front light. With the door tucked away as it is the Flux Expert rear light is going to be quite weather resistant.

Like the front Flux, the rear has multi-modes. There is a flashing strobe, a constant bright light and a pulsation mode. I typically used the flashing strobe, which produced a run time of up to 17 hours.

The Flux Expert rear light comes with 3 clamps for 30.9mm, 27.2mm and the ovalized Specialized Venge seat post. As with the Flux front light, the clamp stays on the bike and the light snaps off and on as needed. That is perhaps the one limitation of this light. It can only be mounted on the seat post. You can't mount it on either a hydration pack or your collar. As an aftermarket option a quick release mount is available so that you can move it from bike to bike easily.

A really neat feature is best described by the Specialized web site. "Flashing mode automatically boosts the light's output to 110 lumens during the day for up to 14 hours, while making you visible up to a two thirds-of-a-mile (or one kilometer) in full daylight." That is really cool. I see many cyclists on the road using flashing lights for visibility. This would be one to consider.

It works great. It is bright and runs a long time. I really like it. It is the best rear light I've ever used. The only problem is that the suggested retail price is $120. That is major sticker shock as far as I'm concerned. It is a great product but I'd rather invest in the front light.

Both of the lights can be found at www.specialized.com. They are very special lights that are in the upper echelons of quality.

Review and photos by Mike Badyk