January 11/16 13:48 pm - Christmas Cyclo-Cross Project Report & Worlds Team Announced

Posted by Editoress on 01/11/16

This past December, seven riders from across Canada took part in an inaugural Christmas Cyclo-Cross project in Belgium.

This project encompassed six races over a 10-day period during the Belgian "Kerste-Period" of Cyclo-Cross.

"We accomplished what we set out to do," said Program Manager Scott Kelly. "Our elite riders posted some great results against tough international competition and there was visible learning and improvement taking place with our U23 and Junior athletes."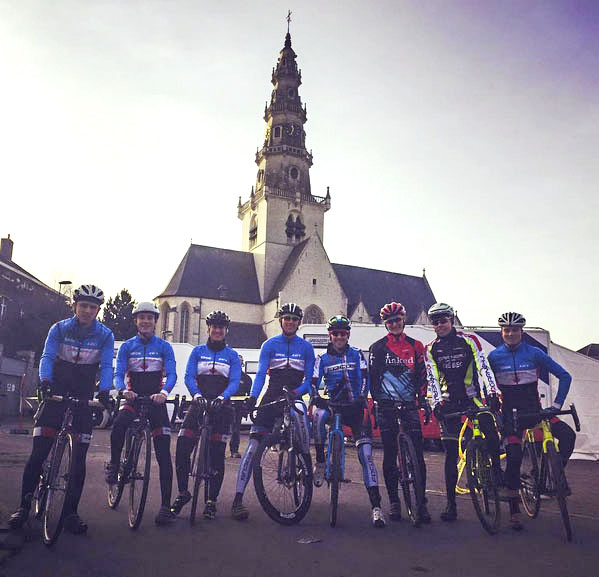 Team Canada at Superprestige Diegem. From left: Trevor O'Donnell, Brody Sanderson, Anna Schappert, Isaac Niles, Aaron Schooler, Mical Dyck, Jeremy Martin, Gunnar Holmgren
This project fulfills a commitment by Cycling Canada to introduce developing Cyclo-cross athletes to international competition and to provide continued support to Elite athletes at select international races.

Building upon the success of this project, Cycling Canada is proud to announce the team for the 2016 Cyclo-Cross World Championships. Thirteen riders will travel to Europe to contest both the World Cup in Hoogerheide, Netherlands, and the World Championships in Heusden-Zolder, Belgium. This number represents the largest number of athletes Canada has sent to the World Championships since the 2013 race in Kentucky.

Team Canada - 2016 Cyclo-cross World Championships

Elite Women
Mical Dyck* (Victoria, BC)

Elite Men
Jeremy Martin (Boischatel, QC)
Cameron Jette (Toronto, ON)
Mark McConnell (Calgary, AB)
Michael van den Ham (Edmonton, AB)
Aaron Schooler (Edmonton, AB)

U23 Women
Ruby West* (Dundas, ON)
Maggie Coles-Lyster (Maple Ridge, BC)

U23 Men
Isaac Niles (Calgary, AB)
Trevor O'Donnell (Barrie, ON)

Junior Men
Gunnar Holmgren (Orillia, ON)
Brody Sanderson (Orillia, ON)
Quinton Disera* (Horseshoe Valley, ON)

*denotes current Canadian champion

Donations

Cycling Canada does not receive government funding for Cyclo-Cross programs. This means all projects are funded through sponsorships, private donations or by the athletes themselves. Any amount donated has a direct impact on the development of this sport in Canada. As a not-for-profit organization, Cycling Canada can issue tax receipts for any donation greater than $25. Please note that all support staff for this project are generously donating their time for free.

Please visit the following link to donate:

hoponcanada.ca/product/cyclo-cross-donation/

If you are interested in sponsorship opportunities please contact Scott Kelly at scott@dundasspeedshop.com.