January 20/16 10:18 am - Ryder Hesjedal Interview - Tour Down Under

Posted by Editoress on 01/20/16

Ryder Hesjedal is liberally applying sunscreen before heading out for a training ride on the eve of the 2016 Tour Down Under. The hot South Australian summer awaits him outside.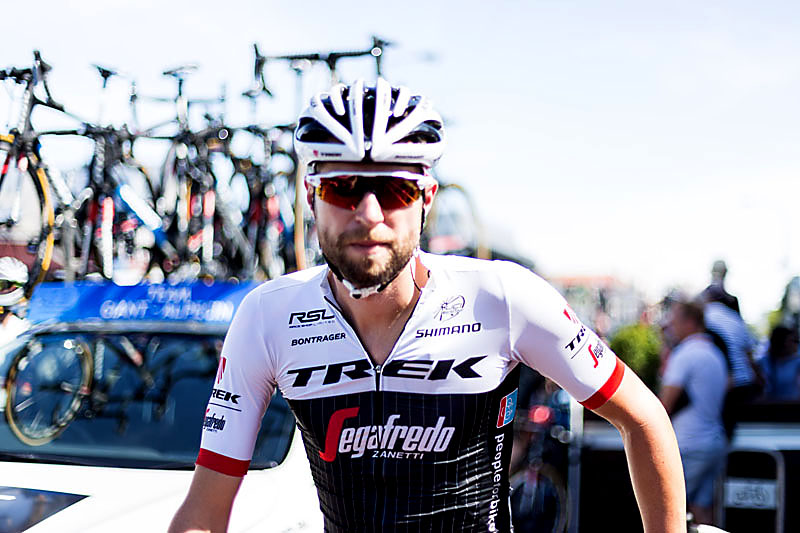 How does the only Canadian Grand Tour Winner enjoy coming to Adelaide?

"I love it. To come down here in Australia summer at this time of year, it's perfect," he says. It's a common answer from riders making the trip from the Northern Hemisphere to the opposite, sometimes extreme climate in the land Down Under.

The WorldTour stretches from the Tour Down Under in January to the World Championships in October. A Grand Tour warrior, Ryder seems unphased by such a long campaign, in his fourth year starting at the Tour Down Under

"My first time was 2009," he says. "Came back in 2012 and had a great year the rest of the season, winning the Giro. I came back again last year and had a great time, so I put my hand up to come again this year."

The Tour Down Under is dominated by Australians, and the fans gravitate towards their local heroes, but that doesn't mean a grand tour winner like Ryder can travel incognito.

"The (local) fans appreciate the sport, and I really love that. The people are really knowledgeable and appreciate the riders that have achieved good things so it's always nice to be in that environment," Ryder says.

The six-stage Tour Down Under is not Grand Tour, but its short length guarantees high intensity.

"It's just less racing, a different effort," he says of the TDU format. "There's maybe 1 or 2 decisive days and every day is important and hard, it's just kind of the routine. In a 3 week race, once you get past half way, they're all decisive and get more so as the race goes on."

Cycling fans are used to third week grand tour heroics from Hesjedal. Asked how he manages to perform so well, so late he responds "that's where I get my strength. I love to race, and historically that's where I'm at my best."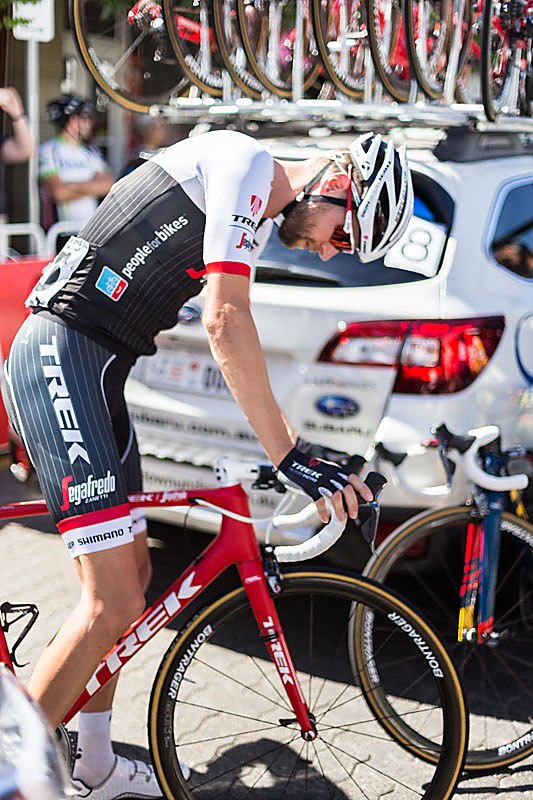 Ryder's Trek Madone, from his new team Trek-Segafredo, rests beside him and is painted by the Project One livery to celebrate his Canadian nationality. It's a new bike, but the extreme riding position is the same.

"That's my position, it's been like that as far as I can remember," he says.

Nearby, hidden in the service course, is an equally patriotically painted Emonda.

"That's the beauty of a great company like Trek," says Ryder. "They have bikes for all needs and we're allowed to utilise those options. The Emonda has its place and the Madone has its place and I'll try and maximise both bikes."

The parcours of the Tour Down Under don't really suit the alp-destroying Hesjedal. His Trek-Segafredo team is loaded with talent, featuring Australian Road Race champion Jack Bobridge, sensational Columbian climber Julien Arredondo, and powerhouse sprinter Giacomo Nizzolo. Ryder is therefore coy about his expectations for the Tour Down Under.

"We'll see," he says. "It's always an unknown at the start of the year. The team is here to race well and perform and we have options for that."

The move from the Slipstream organisation to Trek-Segafredo could be the change Ryder needs to mount the podium of a grand tour again. At 35, he has the experience and last year's 5th overall at the Giro d'Italia showed he has the legs.

One thing is for sure, Ryder will ride like he always does; with passion and aggression. Anyone who has watched him knows he's not kidding when he states "I love to race."

After 2 stages of the Tour Down Under, Ryder sits 104th overall, 4:26 down on leader Jay McCarthy. That far out of GC contention, it'd be no surprise to see him throwing everything into an epic breakaway before the race finishes Sunday.

Interview by James Raison, photos by Chris Komorek