January 21/16 17:36 pm - Mattamy to Provide Support to High Performance Program

Posted by Editor on 01/21/16

On Thursday, Cycling Canada and Mattamy Homes announced that the Canadian home builder would sponsor Canada's high performance program with $100,000 over the next 12 months, through the build up, during the Rio Games and post-Olympics. The funding will make Mattamy Homes a Tier 1 partner of Cycling Canada. The support provided by Mattamy will help to deliver key resources such as technical services, sport science, logistical support, as well as year-round accommodation for Canadian team athletes near the velodrome in Milton.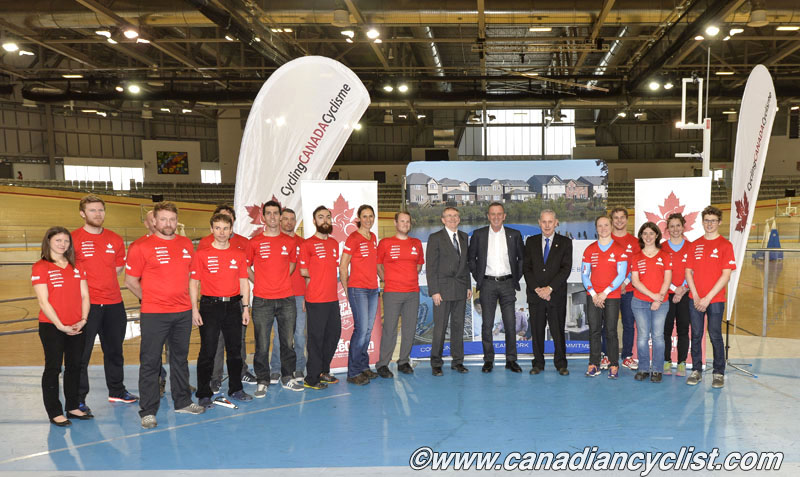 Members of Team Canada with Greg Mathieu, Peter Gilgan, and the Mayor of Milton Gordon Krantz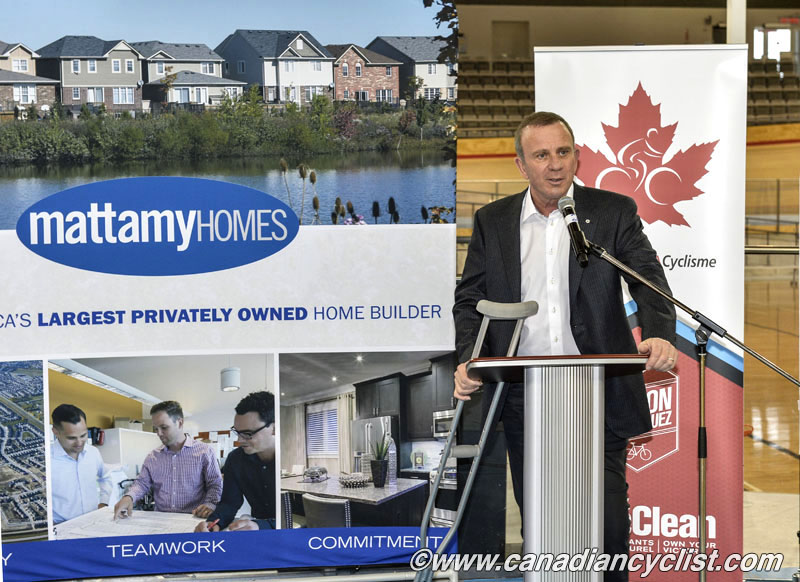 Peter Gilgan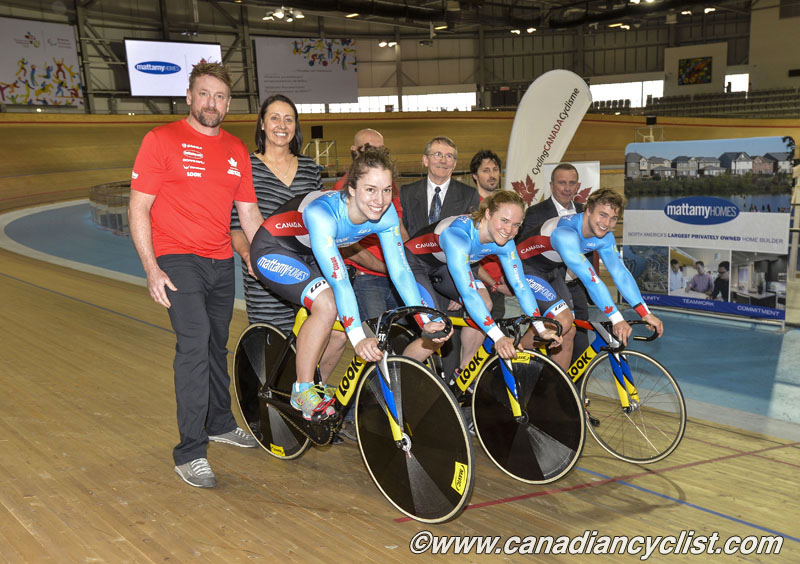 Team Canada members and coaches with Mary Federau (Mattamy Homes), Greg Mathieu and Peter Gilgan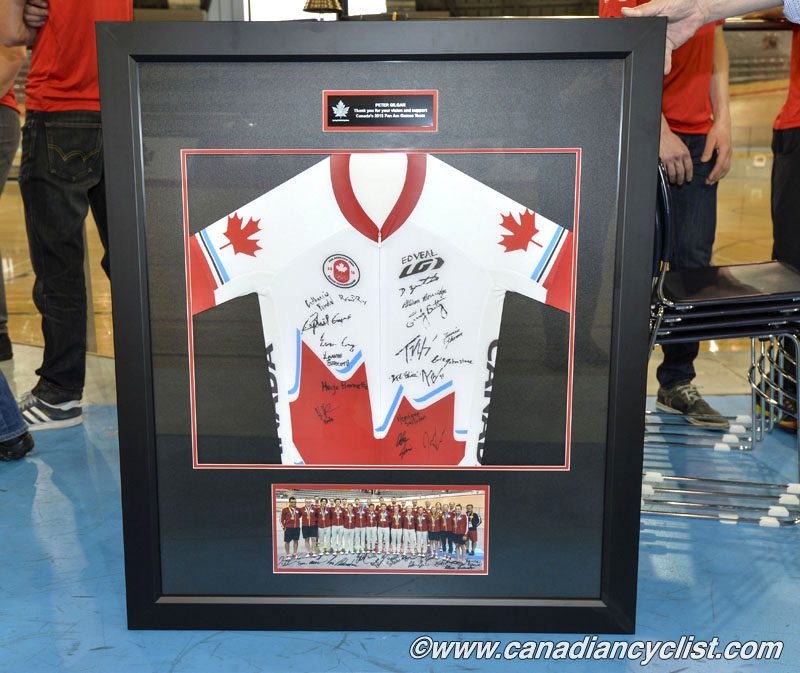 Dedication reads - "Peter Gilgan, Thank you for your vision and support"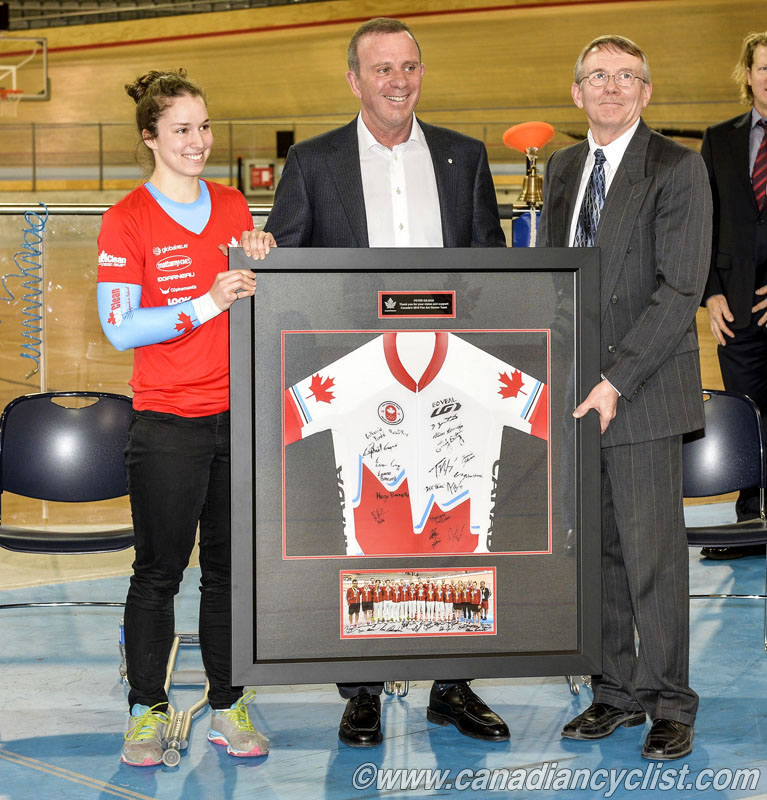 Mattamy Homes and its founder and CEO Peter Gilgan both played vital roles in the development and construction of the Mattamy National Cycling Centre in Milton, which hosted the Toronto 2015 Pan-American Games this past July. The facility, Canada's only UCI-approved 250m indoor velodrome, is now the home training base for Canada's National Track Cycling program and has become an invaluable asset for Canada's cyclists as they target the World Championship and Olympic podiums.

Mr. Gilgan was present at the Mattamy National Cycling Centre to make the announcement on Thursday. "About three and a half years ago, I had the privilege of attending the 2012 Summer Olympic Games in London, along with Curt [Harnett] and a number of others.

"As always at the Olympics, there were moments of the unparalleled joy of victory, and others where the disappointment of defeat was painful. There were great examples of perseverance and coming back from injuries. I spent time with some current and former Olympians as well, who are great advocates for their sport and all who compete in them.

"What that experience really drove home for me is that it takes passion and dedication to compete, and that moving to the next level to be the best at what you do takes an unrivaled commitment to excellence.

"One of the most memorable moments for me was watching how well the British athletes performed in track cycling, which was directly related to their velodrome training in Manchester. It's a well-known correlation between having these sorts of facilities and success - and it was such great validation of the work we've done here in Milton, to bring to life a world-class facility like this.

"It drove home for me that channeling and supporting passion is what can make the difference, whether it's being on the podium, breaking a record or setting a new personal best.

"I know that our national track cycling athletes have the passion and dedication to compete at the level they do, and we're very proud of all of them for their commitment. But to attain the pinnacle of success, it also takes financial support and access to world-class training and facilities.

"At Mattamy we're very pleased to be able to help and to continue to be associated with cycling excellence as we support our national team on their road to Rio. And so I'm very pleased today to announce that Mattamy Homes is now formally part of the growing Cycling Canada family.

"It's going to be amazing when the first Canadian cyclists who train here realizes their Olympic dreams, whatever those might be.

"On behalf of everyone at Mattamy Homes, I'd like to say that we are honoured to be part of the journey with you - to provide the cheerleading, and the more tangible kinds of support, that you will need as you pursue your goals on the Road to Rio."

Greg Mathieu, Chief Executive Officer of Cycling Canada, said "We are indebted to Mattamy Homes for their continued and enhanced support of the National Track program and the athletes who are delivering world class performances as a result of this optimal training environment. Peter Gilgan has provided the necessary support to ensure our Olympic-bound athletes can focus on their training and performances through the Rio 2016 Olympic Games."

Also on hand for the announcement was three-time Olympic medalist Curt Harnett, as well as current members of the Canadian National Cycling and Para-cycling Team. The athletes are presently in Milton making their final preparations for the UCI Track Cycling World Championships which will be held March 2-6 in London, England.

"The Mattamy National Cycling Centre has played an instrumental role in the growing success of our program over the past twelve months," stated Monique Sullivan, a triple gold medalist at the recent PanAm Games and an Olympic hopeful on the verge of qualifying for Rio 2016. "This additional support from Mattamy will be vital in ensuring that we have everything we need to be at our very best in Rio in August."