April 8/16 14:04 pm - Silber Unveils Cafe Training Kit

Posted by Editoress on 04/8/16

Building on the immense popularity of their orange and black racing kit, Silber Pro Cycling has launched their FR-C "Café" training jersey. The Giordana-produced kit made its debut during the team's training camp at the Restoration Oaks Ranch, just north of Santa Barbara, California.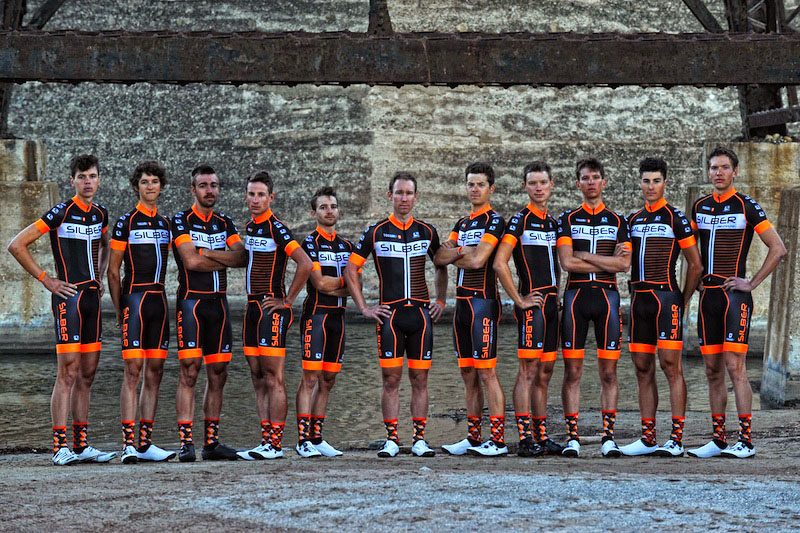 Silber's Café Jersey is black with orange accents, and effectively operates as an inversion of Silber's predominantly orange jersey with black features. The continuity of color-scheme allows riders to use their training or race jersey with their Giordana FR-C shorts. The jerseys and team kit will be available in limited quantities from the team website when it launches it's online store in mid-April.

According to Silber's Principal Owner Scott McFarlane, "Working with Giordana has been key to Silber Pro Cycling's ongoing development. Giordana offers more than just some of the best clothing available for cyclists. It is far too easy to focus on product and undervalue the service and expertise that companies like Giordana offer. In 2015 their designers helped establish our orange and black look that integrated with products from other sponsors. This year, the idea for the Café jersey came from Giordana and the entire team is thrilled with the look. Due to demand for our kit, we'll be launching an online store in the near future. We get more than clothing from Giordana. They're helping us get better on and off the bike."

Giorgio Andretta, the Founder of Giordana Cycling Apparel, emphasized the company's commitment to teams such as Silber Pro Cycling: "Team Silber's proven success, elite athletes, and amazing staff are all hallmark examples of the type of partners we seek at Giordana Cycling Apparel. We are very excited to see the Silber Boys back in their unmistakable Black and Orange this season. We're also thrilled to see a couple of Canadian National Champion white and red kits in the ranks!"