April 18/16 14:57 pm - Bluewater International Granfondo Part of Giordana National Series

Posted by Editoress on 04/18/16

Bluewater International Granfondo (BIGF) announced Monday that it will be the first ever Canadian event to be part of the nine event Giordana Gran Fondo National Championship Series (GFNCS). In this inaugural Canadian event organizers are including a Giordana Italian Cycling Jersey as part of the registration fee.

The Bluewater International Granfondo is a cycling challenge which is part competitive road racing and part casual riding. Routes are offered in lengths of 50k, 100k, and 150k so participants can find a distance to match their goals. Unlike traditional racing formats only the timed sections count toward the riders' competition times. The times for each of the sections is added together to give an overall cumulative time with the lowest time determining placement by age group. Points will also qualify for the Giordana Gran Fondo National Championship Series.

BIGF will take place on Sunday, July 31st, starting and finishing along the shores of Lake Huron in Sarnia's beautiful Mike Weir Park. Tremendous backing is being received from the City of Sarnia, Tourism Sarnia Lambton, County of Lambton and community businesses. At the finish riders will be able to relax to live music while enjoying a well deserved hot meal and beverage followed by a refreshing swim in Lake Huron (if desired). It is a must do for both cycling enthusiasts and first timers.

Most importantly, proceeds from the Bluewater International Granfondo will support palliative care in Lambton County with funds being donated to St. Joseph's Hospice of Sarnia Lambton and Palliative Care at Bluewater Health Sarnia.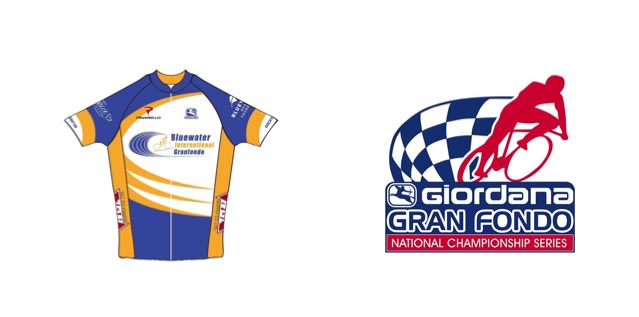 "We're excited to add the Bluewater International Granfondo to the series as a points event," said Reuben Kline, founder and president of the Gran Fondo National Championship Series. "The philosophy and format of the Bluewater International Granfondo fits well with the goals of GFNCS."

Ken MacAlpine, Chairman of BIGF stated "It is great to be able to combine our event with the Giordana Gran Fondo National Championship Series allowing participants to gain points while also visiting Canada. The start conveniently located 15 minutes from the Michigan/Ontario border."

About Bluewater International Granfondo
Bluewater International Granfondo is part personal challenge and part serious competition. The event will not be timed from start to finish as in traditional racing formats but instead will have timed sections. This structure allows for the focus to be about enjoyment while allowing your competitive juices to flow during the timed sections. The event is sponsored by NGL Supply Co Ltd, Uno Imports (Canadian distributors of Giordana and Pinarello), Lexus of London, TECSAR Engineering Inc, Libro Credit Union, Tourism Sarnia Lambton, McCafe, Bici Amore Mio, Blackwell Cycle, Bluewater Power, AskGuy and Lambton Sanitation. Bluewater International Granfondo is based in Sarnia Ontario Canada. For more information visit www.bigf.ca.

About Gran Fondo National Championship Series
The Gran Fondo National Championship Series was established in 2012 and is comprised of eight European-style ride/races staged in the United States. Founder and President Reuben Kline has more than 25 years of experience in the bicycle industry, including five years as a professional mountain biker, ten years as a full-time race director and 20 years as promoter of the Michaux Endurance Series. The company is headquartered in the Washington, D.C. area. For more information visit www.gfncs.com.