May 6/16 11:13 am - Tour d'Azerbaidjan: Stage 3

Posted by Editoress on 05/6/16

Boivin drops to 2nd at Azerbaidjan Tour

Matej Mugerli made it back-to-back wins for Synergy Baku Cycling Project, sprinting to victory on the third stage of the Tour d'Azerbaidjan. Second place again went to Markus Eibegger (Team Felbermayr Simplon Wels) ahead of Luca Wackermann (NASR-Dubai), one second back.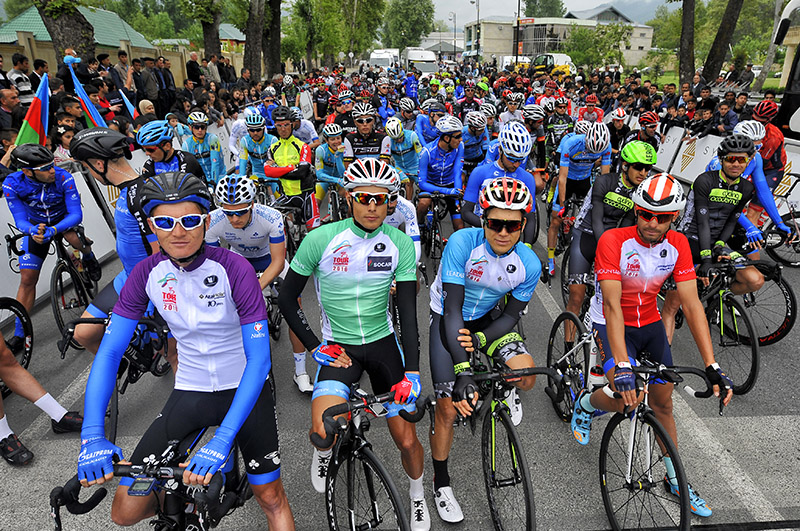 Jersey's before start
Race leader Guillaume Boivin (Cycling Academy Team) lost his jersey to Daniel Schorn (Team Felbermayr Simplon Wels) who finished fourth and on count back of finishing positions he is the new leader in the general classification. Schorn also assumes the lead in the green sprint jersey competition. The mountain competition and the best young rider saw no change after the stage stage, with Mauro Finetto (Unieuro Wilier) and Ildar Arslanov (Gazprom-Rusvelo) maintaining their leads.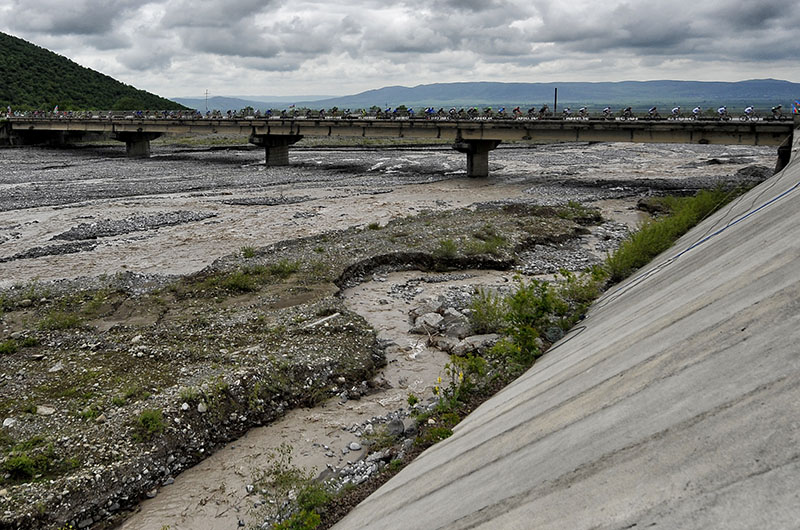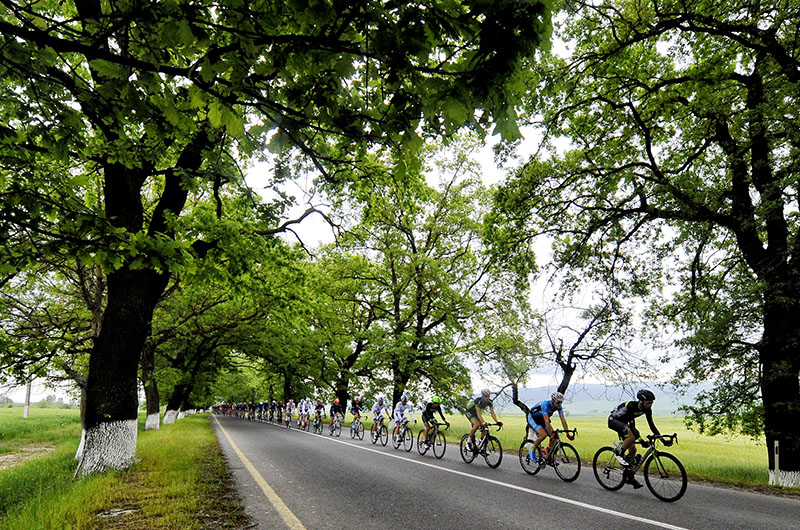 Photos © VeloImages
It was a five-man breakaway that led the way for most of the stage, but towards the final it was absorbed back into the field, making it to a bunch sprint that was won by Mugerli.

The peloton took off in Gabala under cloudy circumstances. It didn't take long for the breakaway to form, with Sulzberger (Drapac Pro Cycling), Kurbatov (Gazprom-Rusvelo), Tybor (Dukla Banska Bystrica), Scotson (Team Illuminate), Saleh (Terengganu Cycling Team) moving clear of the bunch after just a few kilometers of racing.

Having taken the win at the first intermediate sprint, Saleh dropped back from the leading group. Soon after, Kurbatov was also not able to follow the wheels leaving three leaders up the road. At the start of the first and only climb of the day's stage, the gap between the leaders and the peloton was 2:50.

Miles Scotson (Team Illuminate) won the mountain points after out sprinting Sulzberger (Drapac Pro Cycling) at the top of the climb. The three riders in the breakaway managed to maintain a decent advantage at the front of the race, with the gap hovering between two and three minutes for almost the whole stage. The second intermediate sprint was won by Tybor (Dukla Banska Bystrica), after this win he also was dropped from the leading group before they headed into the final 20 kilometres.

In the final 10 kilometres the two leaders were caught, making it a bunch sprint in Gabala. The final sprint was a tough, uphill rise making for a hard end to the stage, but Mugerli showed he was the strongest on the line, comfortably taking the win, and continuing his team's strong showing at their home race.
Press release
Stage 3: Gabala to Gabala, 177.2 km
1 Matej Mugerli (Synergy Baku Cycling Project), 4:18:44
2 Markus Eibegger (Team Felbermayr Simplon Wels )
3 Luca Wackermann (NASR-Dubai)
4 Daniel Schorn (Team Felbermayr Simplon Wels)
5 Michael Schwarzmann (Bora - Argon 18)
11 Guillaume Boivin (Cycling Academy Team), all s.t.

GC
1 Daniel Schorn (Team Felbermayr Simplon Wels), 12:22:48
2 Guillaume Boivin (Cycling Academy Team)
3 Alberto Cecchin (Team Roth)
4 Maksym Averin (Synergy Baku Cycling Project)
5 Markus Eibegger (Team Felbermayr Simplon Wels ), all s.t.


Jerseys
Blue "Synergy" (leader): Daniel Schorn (Team Felbermayr Simplon Wels)
Red "AZAL" (mountain): Mauro Finetto (Unieuro Wilier)
Green "SOCAR" (points): Daniel Schorn (Team Felbermayr Simplon Wels)
Magenta "Ata" (young): Ildar Arslanov (Gazprom-Rusvelo)