May 21/16 8:03 am - Tour de Delta Awarded $50,000 Sport Canada Hosting Grant

Posted by Editoress on 05/21/16

Tour de Delta Awarded $50,000 Sport Canada Hosting Grant

The Honourable Carla Qualtrough, PC, QC, MP for Delta and Minister of Sport and Persons with Disabilities, announced at a news conference on Friday the awarding of a $50,000 Hosting Grant from Sport Canada to the Tour de Delta, which includes the UCI 1.2 White Spot | Delta Road Race.

"This race, sanctioned by the Union Cycliste Internationale, is a big deal for cycling - and a big deal for sport in Delta, in British Columbia and in Canada," said Minister Qualtrough. "I know from personal experience how sport, through events such as this race, can help foster more active and inclusive communities. Many thanks and best of luck to the athletes, coaches, officials and race organizers, and especially to the local volunteers, whose contributions will ensure a very successful event."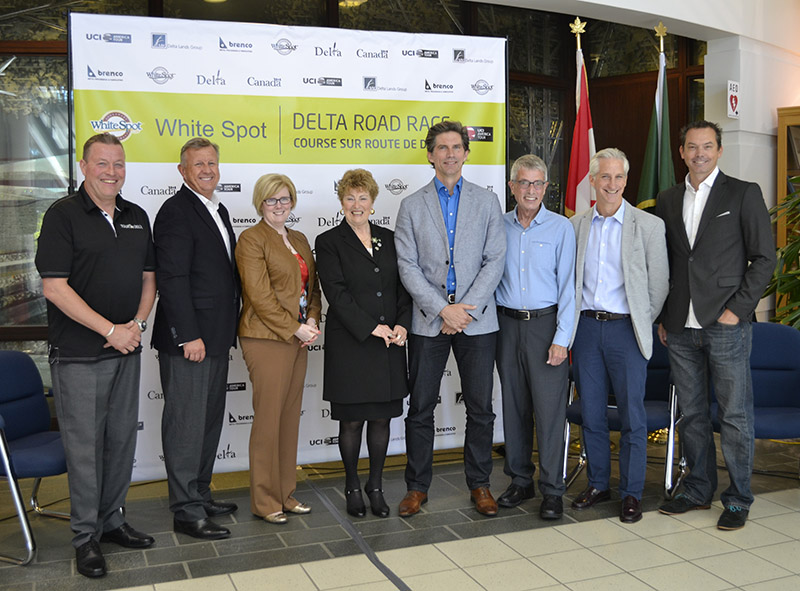 From left to right: Cal Traversy, Tour de Delta Co-Chair; Warren Erhart, White Spot President & CEO; Carla Qualtrough, PC, QC, MP for Delta and Minister of Sport and Persons with Disabilities; Mayor Lois E. Jackson, Corporation of Delta; John Tolkamp, Cycling Canada President; Councillor Robert Campbell, Corporation of Delta; Jim Richards, Cycling BC Executive Director; Mark Ernsting, Tour de Delta Race Director

"Contributions like this not only support a great community event, but also encourage athletes to pursue their dreams and inspire people to turn to sport as a key to a healthy lifestyle," said Delta Mayor Lois E. Jackson.

The grant is an exceptional contribution to the overall growth of the UCI 1.2 White Spot | Delta Road Race, which was won in 2015 by Eric Young (Optum p/b Kelly Benefit Strategies) for the men, and Shelley Olds (then with Alé-Cipollini, now with Cylance Pro Cycling) on the women's side. Old's win was part of a dominating performance at BC Superweek which saw her finish on the podium in eight straight races.

Tour de Delta Chair Cal Traversy feels the grant, along with community support, is imperative to the success of the event.

"I would like to thank all of our title sponsors and all of the Tour de Delta sponsors for their continued support all these years," said Traversy. "I would especially like to thank Minister Carla Qualtrough and the Government of Canada for the Tour de Delta once again receiving the Sport Canada Hosting Grant."

White Spot Restaurants is one of the sponsors which has supported the Tour de Delta so strongly for a number of years.
"At White Spot, we are so proud and fortunate to be part of this community event showcasing Delta to some of the best riders in the world," said White Spot President and CEO Warren Erhart.

Cycling Canada President John Tolkamp says a grant like this has a huge impact in helping to grow the sport and inspire young athletes to start to ride.

"We are pleased to see Sport Canada once again support the Tour De Delta with this hosting grant," explained Tolkamp. "This event, particularly the women's race, supports our strategic goals for developing cycling in Canada. The additional support and resources the grant brings will ensure a successful event and helps provide Canadian cyclists with a high level event on home soil."

Meanwhile, the international profile of the BC Superweek series and the Tour de Delta is growing more and more due to the support of the Government of Canada, Cycling Canada and valuable community partners.

"It's wonderful to see the Government of Canada and Cycling Canada directly support the Tour de Delta. Already a great event in a fantastic community, the additional resources will help elevate the efforts of all involved," said Jim Richards, Executive Director with Cycling BC. "Together, we are working to foster the sport of cycling in British Columbia and this funding gets us all a little closer to our goals."
Press release