May 29/16 14:04 pm - Podiums and Personal Bests for Canadians at La Bresse World Cup

Posted by Editoress on 05/29/16

Canadians had a strong showing for the third round of the Cross-country World Cup on Sunday, in La Bresse, France, with Catharine Pendrel (Luna) and Emily Batty (Trek Factory), finishing second and third respectively in Elite women. Canadian men also had top-20 performances, with Leandre Bouchard (Team Canada) finishing 20th in the Elite men, and Peter Disera (Team Canada) finishing 17th in the Under-23 Men's category.

Women
Jolanda Neff (Stoeckli Pro Team), the defending World Cup champion, took her first World Cup win of the season. However, she had a close battle with the two Canadian riders, Pendrel and Batty.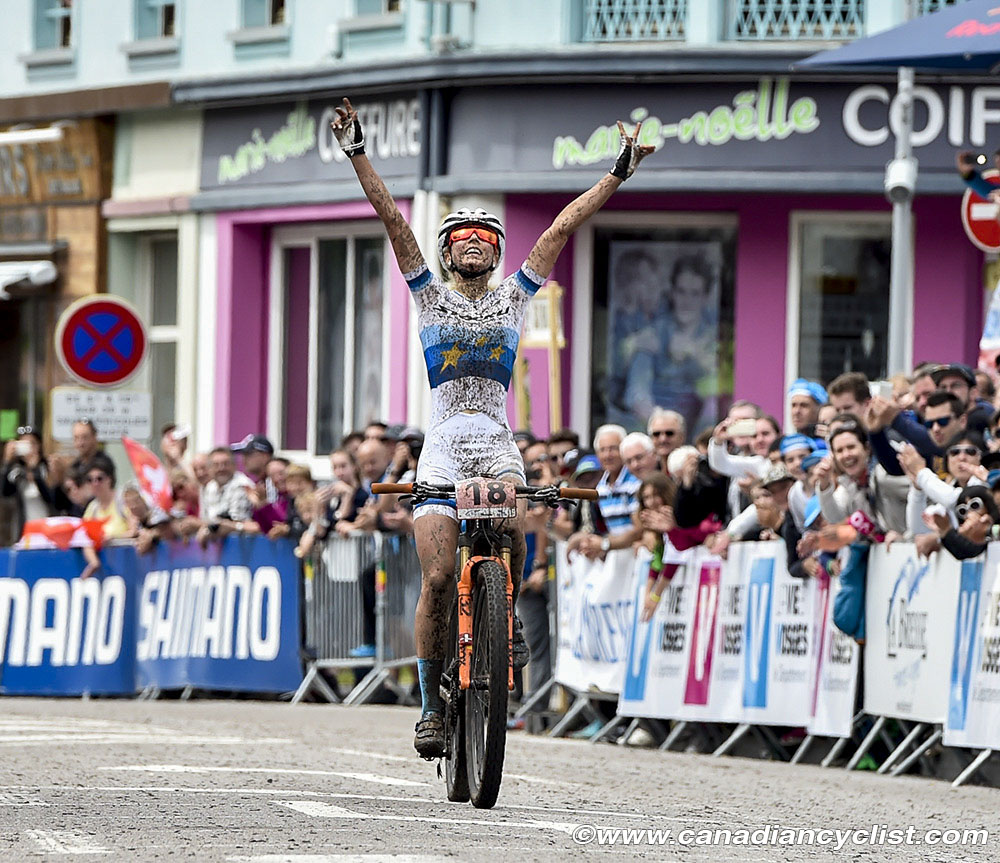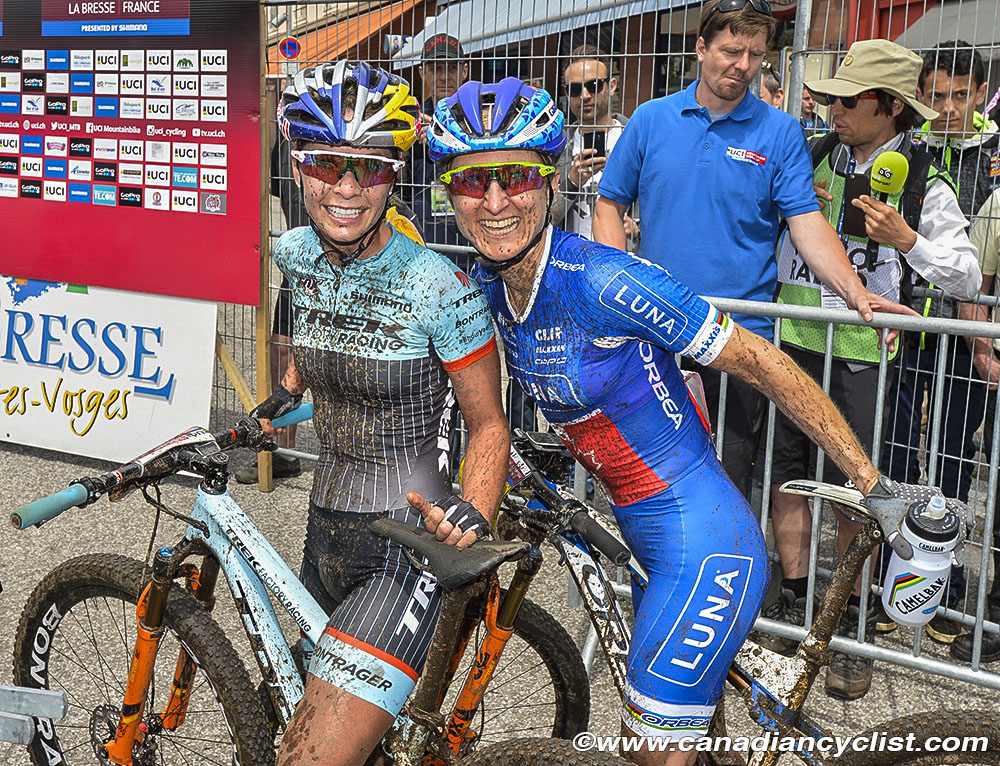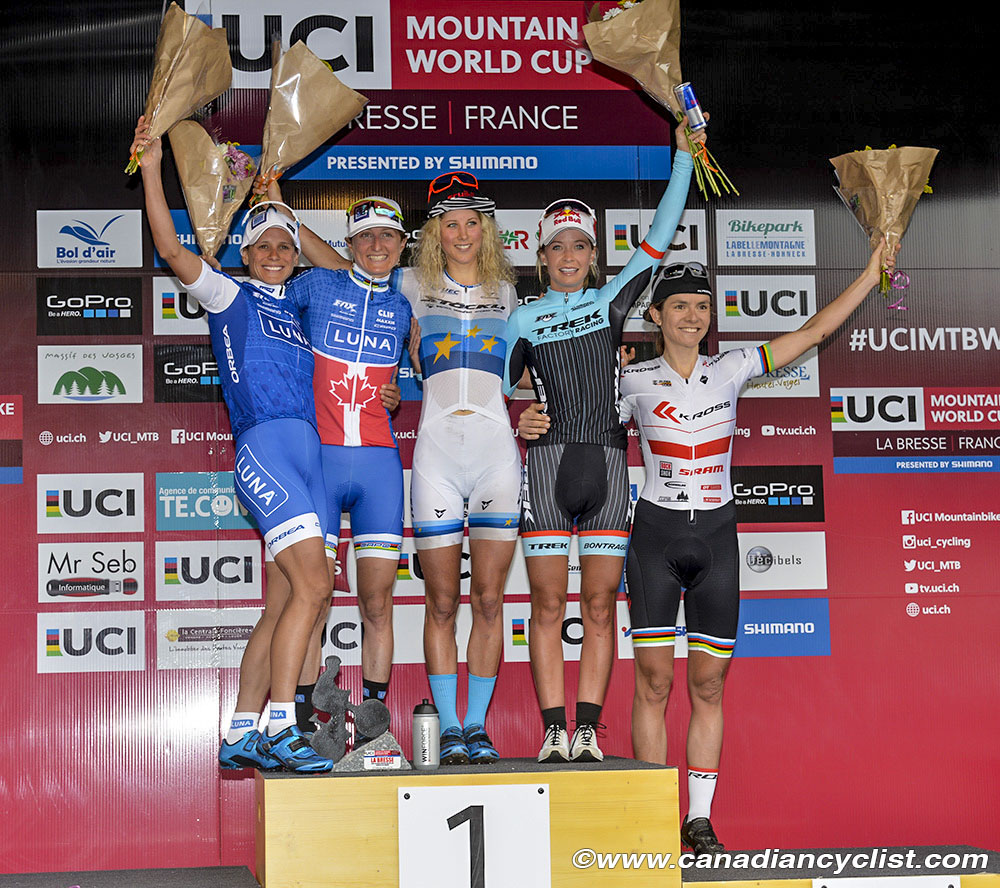 The rain that had been forecast for race day came the night before, leaving the descent muddy but rideable. After a long climb out of town, riders faced a technical section traversing the top of the course before a long, switchback descent back to the finish, for a total of 4.2 kilometres.

Neff missed the first round, choosing to skip the long trip to Cairns, Australia, and she was a last minute scratch last weekend in Albstadt, Germany, after falling sick. However, her form is good, having won the European Championships earlier in the month. She started the race strong, breaking away on the first long climb and then using her descending skills to further open a gap on the first lap. Behind, Batty, Katerina Nash (Luna), Jenny Rissveds (Scott-Odlo) and Lea Davison (Specialized) took up the early chase. Pendrel had got caught in traffic, but was working her way towards the front - 13th at the end of lap 1.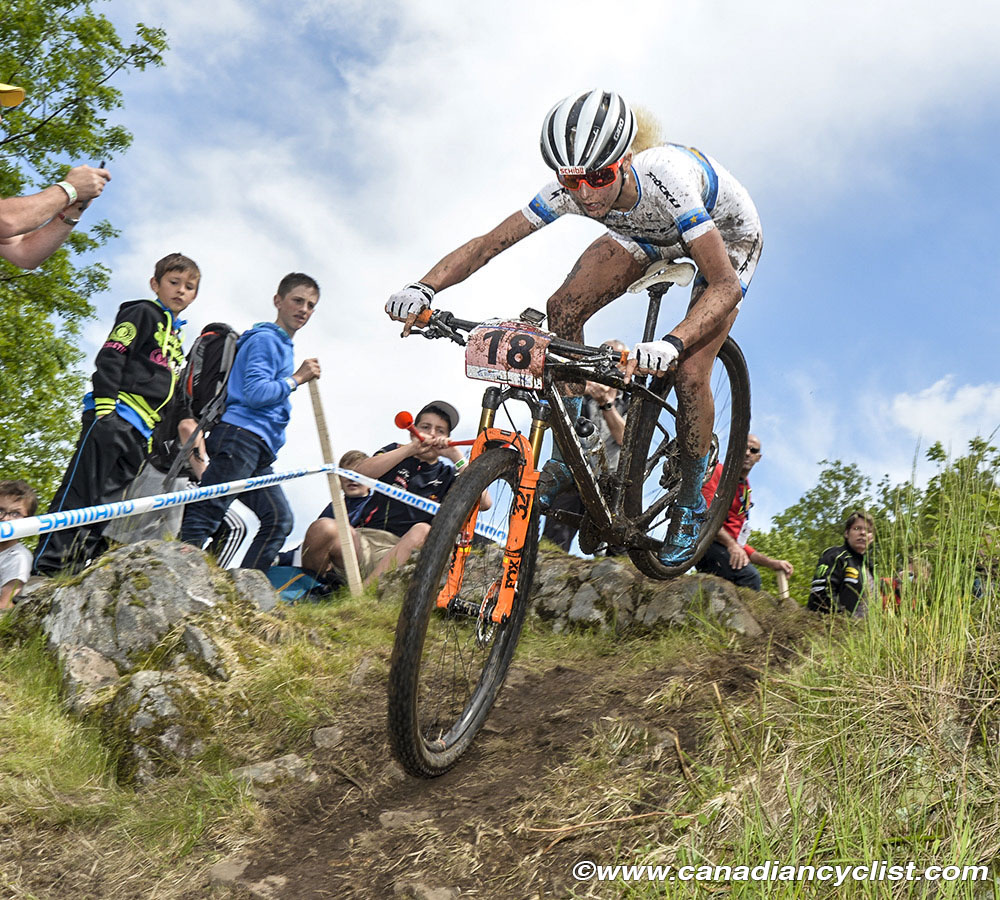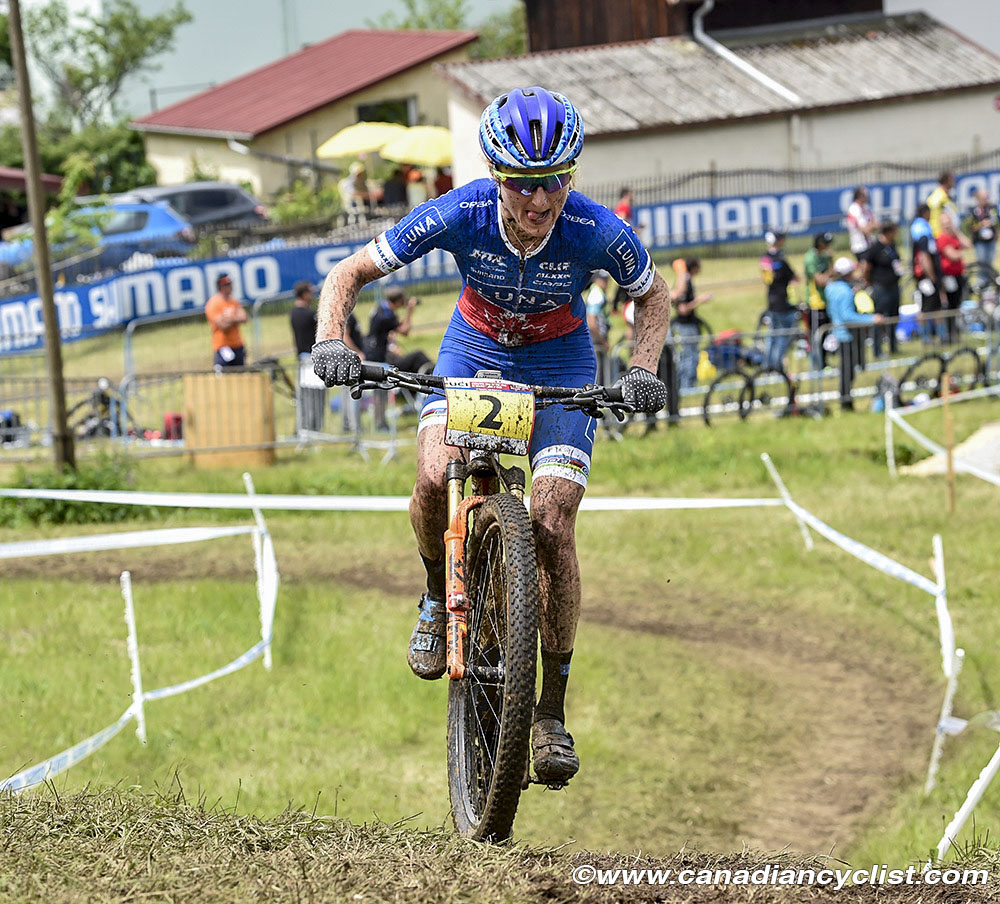 Rissveds, who had crashed heavily a week earlier pulled out after having difficulty on the descents with her injured wrist. Davison also crashed and fell off the pace, but Batty and Nash were chasing together until Batty dropped the Czech rider. By the fourth lap, Pendrel was up to third, and both she and Batty were closing on Neff, as the Swiss rider nursed a flat down the descent to the tech zone.

Batty took the lead as they started the final lap, but was soon joined by both Neff and Pendrel. Pendrel upped the pace on the climb, with Batty getting gapped, and then Neff attacked and Pendrel could not respond.

"I wasn't sure how I would feel on the final climb," said Neff, "because on the earlier laps I could just ride my own pace. But I had some energy left, so I was able to attack and go well. I'm not yet back at 100%, so today I really didn't know before the race how I was going to feel. So, I am extremely happy to have done so well and that I could ride. I am really looking forward to recover completely."

"The last couple laps were awesome," said Pendrel, "because I didn't have traffic to deal with. The first couple laps were really really frustrating, just trying to manage that and use that energy to get me forward whenever possible. Having a traffic free lap [by the third lap] and being able to choose your own lines, meant that you could carry your own pace and flow. I tried to set a hard tempo on the final climb, but I backed off a bit at one point, and then Jolanda went and I just couldn't follow her."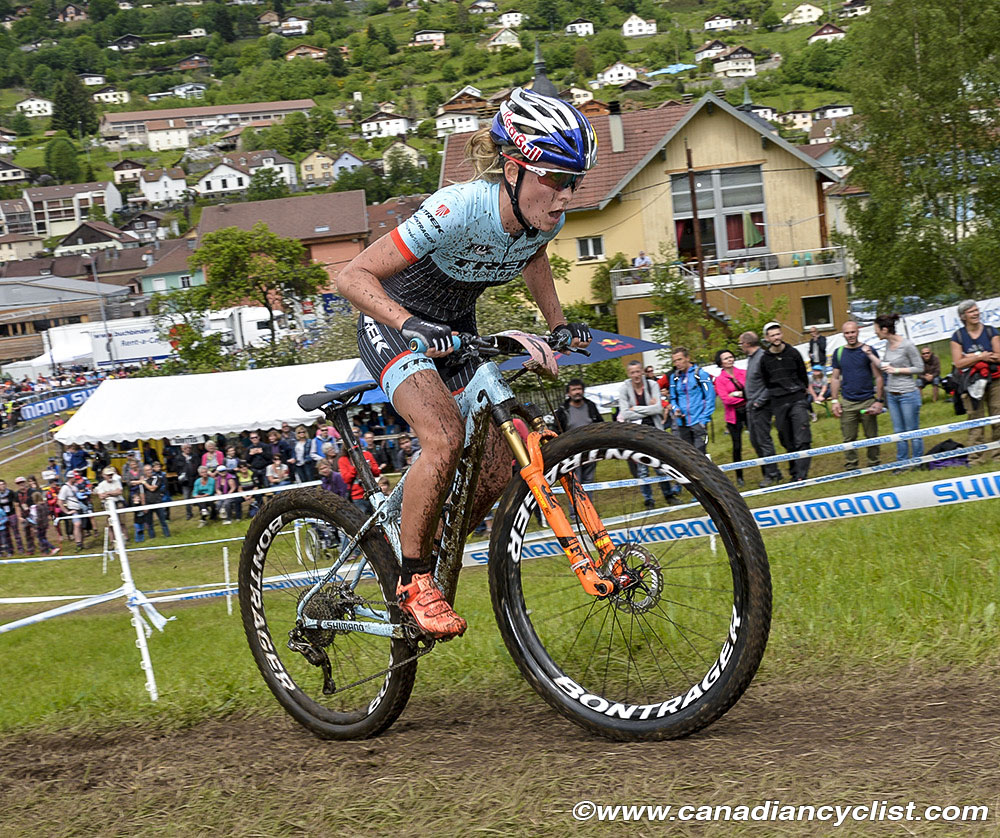 Batty was pleased to finally be back on the podium, "It's about time, I was getting a bit impatient! But I knew the fitness was there. We fine-tuned some things from last week because I wasn't going as good as I had hoped. It was such a dramatic race, because I was sitting just off the lead the whole way, it seemed. It was an awesome dramatic race for the top three. I'm still looking for my first win, but I'll take third for today."

Annika Langvad (Specialized), the winner of the first two rounds and the World Cup leader, was never in contention, and was covered in mud after the second lap; clearly having difficulty with the descents and finishing 15th. Langvad continues to lead with 576 points, but Pendrel is now only 66 points behind, making the competition tight for the second half of the season. Linda Indergand (Focus XC) is a distant third, at 373 points, only 8 points in front of Batty.

Other Canadian results were Sandra Walter (Team Canada) 50th, Rebecca Beaumont 51st, Haley Smith (Team Canada) 57th and Cindy Montambault 59th.
Video Interviews: Pendrel and Batty
Men
Julien Absalon won a record 31st cross-country World Cup in La Bresse. The win took place before a partisan crowd on a course less than 20 minutes from his home. Adding to the joy of the spectators, French riders took the next two spots on the podium, with Maxime Marotte (BH-SR Suntour-KMC) taking second and his team mate Victor Koretzky third. World Cup leader Nino Schurter (Scott-Odlo) suffered two flats and had to settle for fourth.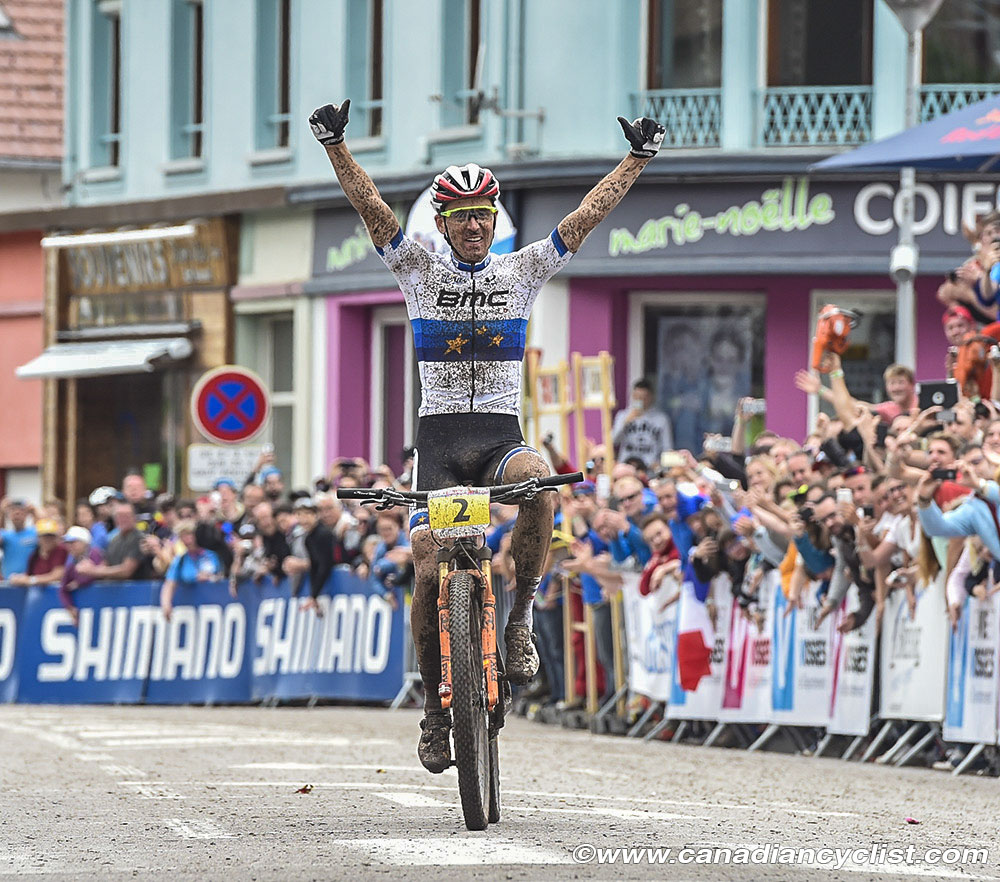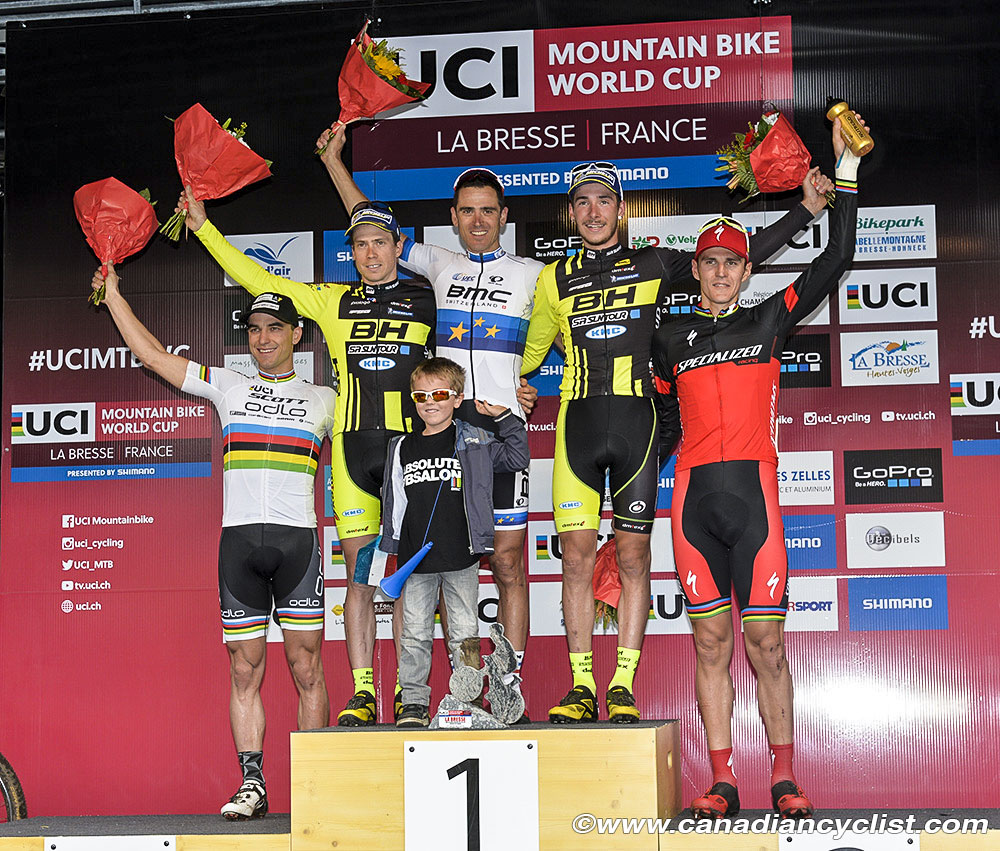 Absalon, Schurter and Mathias Fluckiger (Stoeckli Pro Team) opened a gap on the first climb, with Marotte, Koretzky and Jaroslav Kulhavy (Specialized) leading the chase. Absalon and Schurter dropped Fluckiger on the next lap, and then Schurter suffered his first flat, allowing Absalon to solo at the front.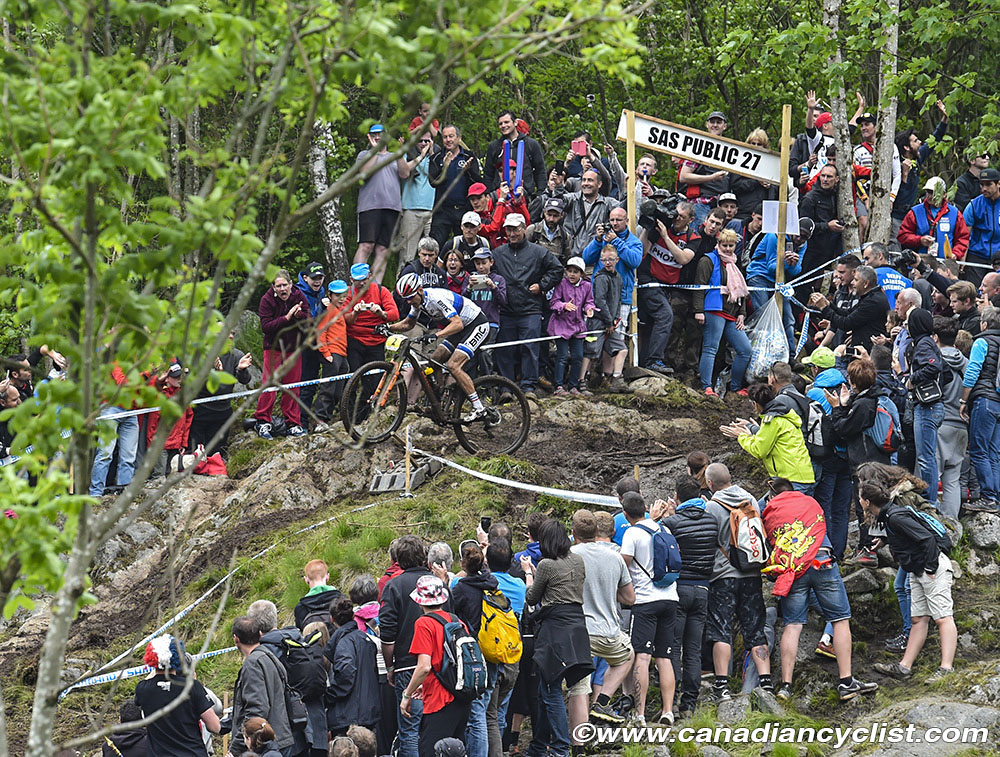 After a fast wheel change, Schurter was back into third, but on the fourth lap he suffered another flat, dashing any hopes of rejoining his rival. Meanwhile, Fluckiger was fading as Marotte and Koretzky were speeding up, pushed on by the cheers of the crowd. The top three was set, with Schurter recovering in the final two laps to move into fourth.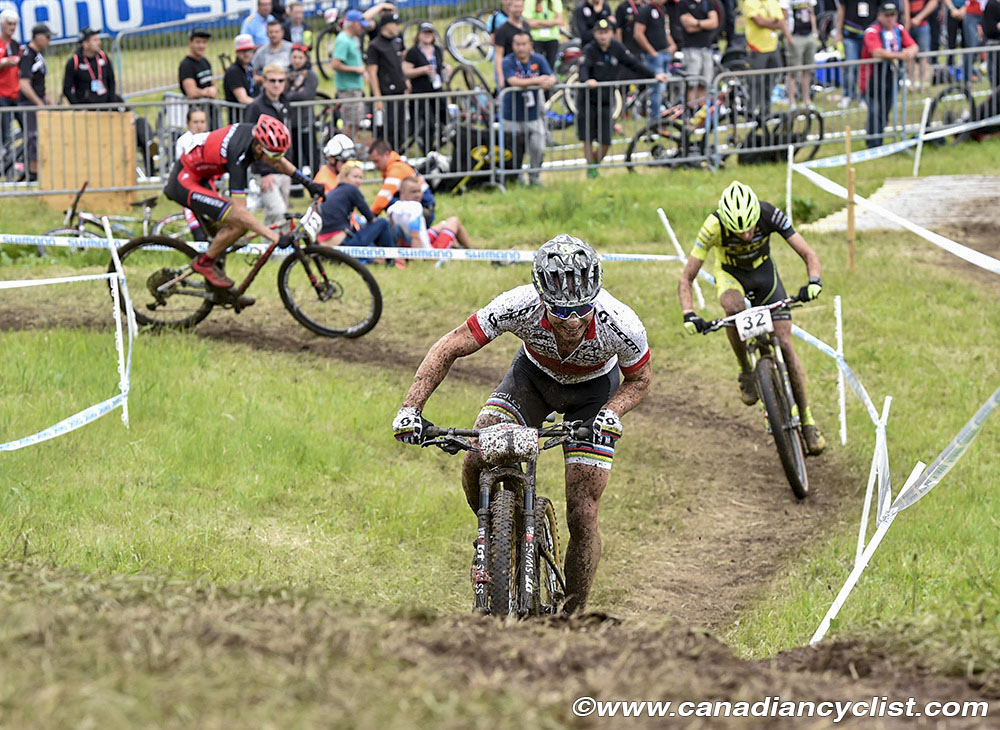 "It's incredible to win at home, but the pressure was really great," admitted Absalon. "It was really hard because it's important for me to go do a good race to thank all the spectators and all the guys who who work really hard during this last month [to build the course]. So, yes, I am really happy, and it will be one of the best moments in my career. Four years ago, in 2012 [when he also won here], it was a really great moment and also a really great moment today."

Canadian champion Raphael Gagne (Team Canada) had a strong start, and was in the top 15 on the first lap, but couldn't hold the pace, eventually finishing 34th. Bouchard, moved up very quickly on the first climb, and was up to 21st by the end of the first lap. He faded in the middle portion of the race before surging back in the final two laps, and outsprinted Florian Vogel (Focus XC) to take 20th. Derek Zandstra (Scott-3Rox) was the only other Canadian in the top-50, finishing 44th.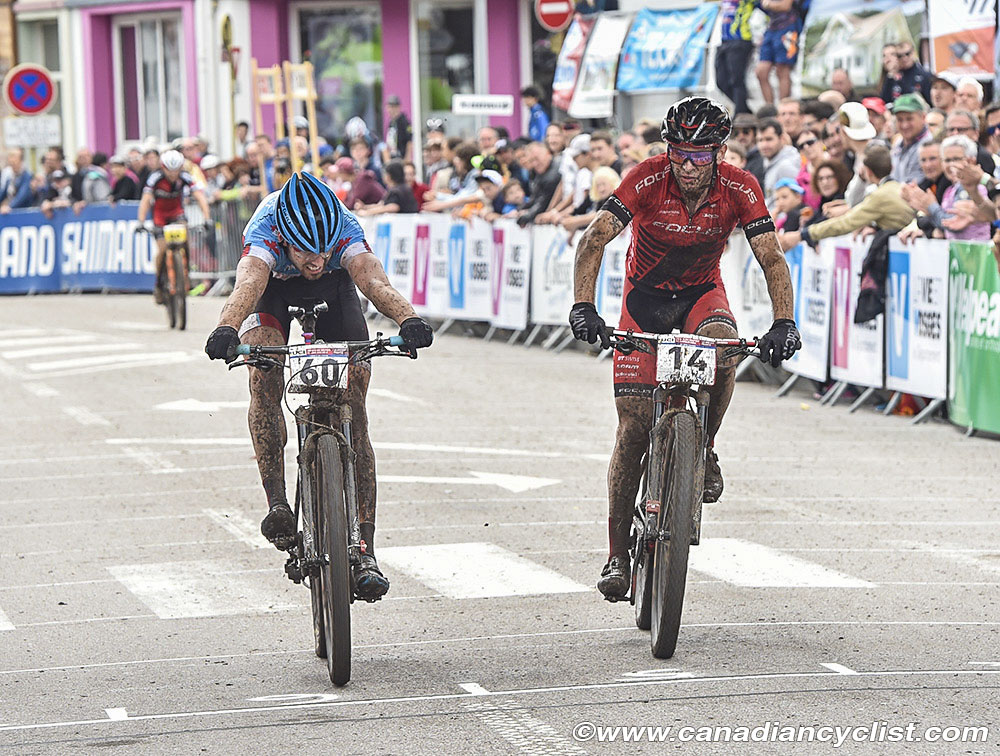 Bouchard beats Vogel for 20th
"I'm pretty proud about my first top-20 in Europe," said Bouchard. "I'm happy about how I am going in only my second year of Elite. I had a great start, and managed to stay up there. It's true that I am bigger and heavier, but I also have more power, which helped me at the start.

Schurter continues to lead the overall standings as the first half of the World Cup draws to a close, with 650 points. However, Absalon is now only 40 points back in second, with Marotte in third, another 50 points in arrears. Raphael Gagne dropped from 15th to 20th in the overall standings, with Zandstra falling from 20th to 28th and Bouchard moving up from 41st to 32nd.
Video Interviews: Bouchard, Gagne and Disera

Results
Fatal error
: Uncaught Error: Object of class PDO could not be converted to string in /home/canadiancyclistcom/canadiancyclist.com/public/modules/news.php:528 Stack trace: #0 /home/canadiancyclistcom/canadiancyclist.com/public/modules/news.php(517): getrelatedgallery() #1 /home/canadiancyclistcom/canadiancyclist.com/public/dailynews.php(58): getDailyNewsArticle() #2 {main} thrown in
/home/canadiancyclistcom/canadiancyclist.com/public/modules/news.php
on line
528