June 4/16 20:30 pm - Jocelyn Lovell Remembered

Posted by Editoress on 06/4/16

Jocelyn Lovell

A hilarious mime , a prankster, a showman, a mentor, an inventor, a perfectionist, a fierce competitor, an outstanding athlete and a friend. Jos was all of these things. I am sure there will be much written about this force of nature. I will certainly spend the next days recalling so many special memories.

His list of cycling achievements are a testament to his inner drive and his amazing ability. Nonetheless, let me share a few memories and things that stand out for me.

The Athlete-Showman. It is 2 weeks before the Munich Olympics and we are training and racing in Copenhagen. It's our last big meet before Munich. The stands are packed; it's a warm, late summer evening and the lights are on. There is gambling; crowd has placed their bets. The feature race is a handicap. Jos is second to last. Scratch Pederson is a huge Danish policeman and reigning sprint champion. The two waste no time catching everyone, end up side by side coming onto the home straight as they overtake the last of their handicaps. Pederson takes Jos all the way to the rail. Jos leans back into Pederson and in his incomparable, effortless style, throws his bike. A row of lights above the finish flood the white line . The chrome on their bikes forks sparkle – JL's wheel is clearly ahead! The crowd roared in shock and amazement.

The Prankster . It's Amsterdam and we are training with the daily 1:30pm road group. There are often 75 riders. Cyclists ranged from top notch juniors to professionals who are adding to the morning 4-5 hrs already pedaled. The group is riding 2 abreast. We're on a wide bike path with frequent sand drifts blowing across. We regularly overtake commuters and school kids. Jos spies a younger who seems to be enthusiastic to stay with the pack. The boy can't be more than 12, and we're moving at close to 40kph. So Jos grabs ahold of the boy, and pushes him all the way to second position alongside the line. Then he gives the boy a good shove, sending him temporarily past the lead riders. They glance over, probably think this is a sign they are too slow, and pick up the pace. Jos repeats the push a few more times. The pace gets even faster. Finally the dour pros at the front look over their shoulder to see Jos in mid-push. Everyone chuckles.

The Mentor. There is not an athlete that came up during Jocelyn's reign, that was not profoundly influenced by his professional approach to cycling. Jos never preached his knowledge, but somehow led us all by example. Whether it was equipment, diet, training or tactics – from an early age Jos had an innate understanding of the demands of cycling. He was also a keen observer, and questioned virtually everything others took for truths.

The Fierce Competitor. But for a very silly incident (The Cookie Caper), Jos was banned from the national team and missed the New Zealand Commonwealth Games. Understandably, he was furious about this, and the crazy thing was he was a sure bet to bring home several gold medals. So JL went to Holland and buried himself in the Dutch racing scene. There he rode everything from track, to criteriums to classics and stage races. He came back to Canada supremely fit. He entered and won almost every event at the National Champions, both road and track. And this was no easy task for a rider so gifted at track and field road sprints - as the Simon Fraser circuit was extremely hilly.

A Friend. The same year Jos went to Holland, I was at a cross-roads, wanting to move from track to road racing. So with a little CCA support (DND flights), I followed Jos to Holland. After a month with a local family, it wasn't working out – so Jos invited me to stay in his apartment. What I time we had, riding with the groups every day, racing both road and track several times a week. And when not riding, we played cards, listened to The Rolling Stones, discovered David Bowie, sang along to Jos' favourite country music; and we explored Amsterdam. All the while, I learned daily from Jos – all the fine details of how to become a better cyclist. Those lessons would be the foundation for my years as a professional.

In March of this year I visited Jocelyn. He was in hospital and bedridden. I came unannounced. Within minutes, it was as if the years all washed away. We talked for over two hours. About old times, about being in hospital, about life. As we sat – Toronto's worst storm of the winter was gathering force outside. But I could not leave. Only when Jos was too exhausted to continue did I depart. My heart heavy, knowing it was likely the last time I would see my friend. I am so glad he made it home for a few days. As I said fortuitously to our once coach Barry Lycett yesterday - when I learned he was home this week "It must have felt like heaven".

Ride like the wind my friend.
Ron Hayman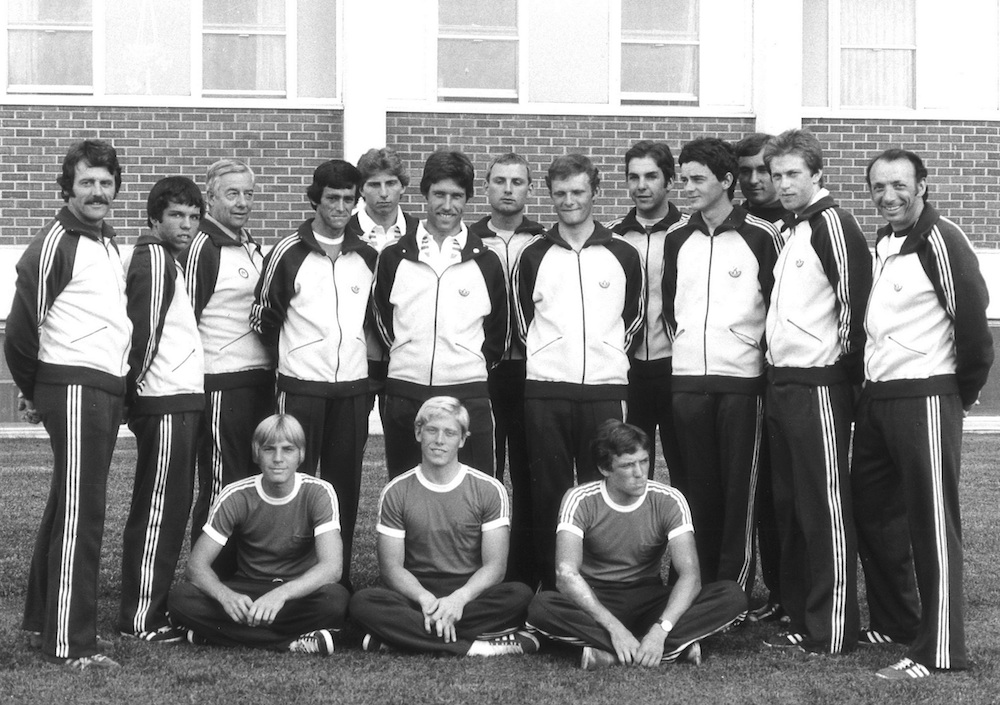 Team Canada 1978
L to R: Frank Ludtke (coach), David Watkins, Erick Oland (manager), Eon d'Ornellas, Hugh Walton, Ward Kemerer, Jocelyn Lovell, Martin Cramaro, Pierre Harvey, Louis Garneau, Normand St-Aubin, Ron Hayman, Norman Sheil (coach).

Seated: Steve Bauer, Gord Singleton, Peter Suderman
Cycling Canada archives