June 6/16 12:42 pm - Batty & Disera Dominate Horseshoe Canada Cup

Posted by Editoress on 06/6/16

Fresh off strong World Cup performances in Europe, Emily Batty (Trek Factory Racing) and Peter Disera (Norco Factory) dominated the Elite categories at Round 3 of the Cross-country Canada Cup in Horseshoe Valley, ON, on Sunday.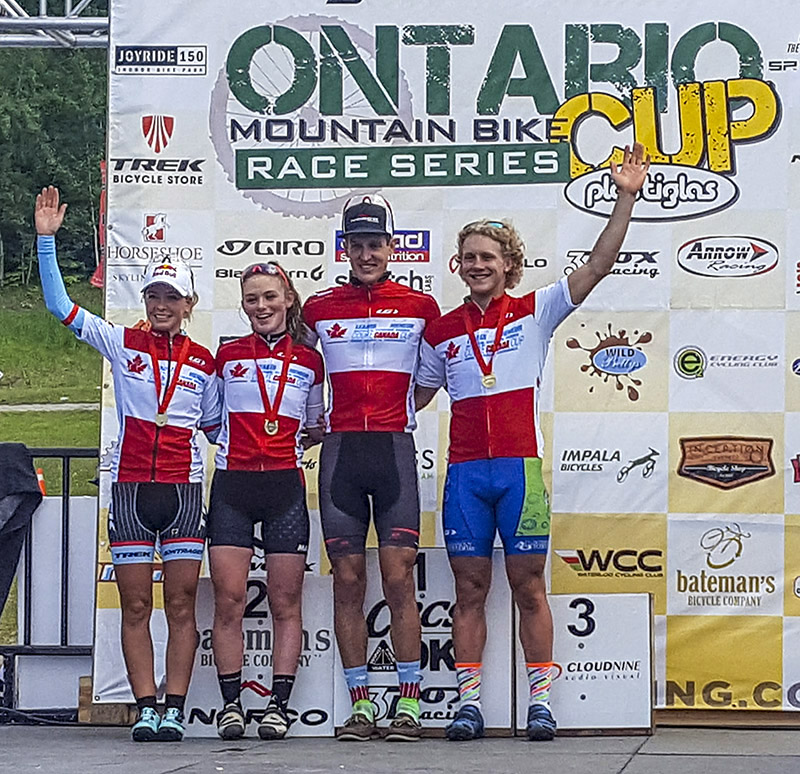 Canada Cup leaders: Emily Batty, Emily Handford, Evan McNeely, Quinton Disera
Batty, fresh off a third place result on the World Cup circuit, came through the end of the first lap with Haley Smith (Norco Factory), but dropped her rival on the second lap of the 27.55 kilometre race, to win by a margin of almost two minutes. Mikaela Kofman (Ridebiker Alliance p/b Sho-Air), the winner of Round 2, had a slow start but began gaining on Smith in the middle of the race, only to fade slightly in the final two laps to take third, 14 seconds behind Smith. Batty takes over the lead in the Canada Cup standings, after her win and second place in the opening round gives her 375 points. Kofman drops to second, 20 points back, with Smith a further 40 points in arrears.

"I'm very happy to have two Canada Cups in Ontario again this year," said Batty. "I wasn't expecting to be rewarded with the leader's jersey after this race, and I'll wear it proudly again at Hardwood [Round 4]. The Canadian series is our premier domestic mountain bike race series, from which much of our talent pool comes through the ranks and develops. It's also a great opportunity to connect and engage with local fans and riders within the community."

In the men's 32.91 kilometre race, Disera rode the first lap with Evan Guthrie (Norco Factory) and Derek Zandstra (Scott-3Rox), but then pulled away on the second lap to win by 49 seconds. Guthrie and Zandstra battled together until the final lap, when Guthrie was finally able to drop his rival by 11 seconds to take second. Evan McNeely (Norco Factory) continues to hold the lead in the men's series with 460 points, followed by Andrew L'Esperance (Norco Factory) at 400 points, and Zandstra at 330 points.

"Horseshoe is always a special race," said Peter Disera. "Living a short 500 metres away from the start-line makes this a stress free race. The course is a true test to some of the area's best riding. The race went the same as last year: on the second lap I found myself out front and never looked back! Super stoked with my first Elite win of the year and it couldn't have been at a better venue. Thanks to all my supporters, all the little rippers that came out for the Trillium Trail Blazers and Norco Factory Team."

In the Junior Expert categories, Emily Handford (Rocky Mountain Factory) opened a small gap in the women's race on the first lap, holding on to win by 11 seconds over Sophieanne Samson (CVM Sigma Assurances). Handford leads the standings with 270 points, followed by Samson at 220. In the men, Quinton Disera (Angry Johnny's p/b Norco & Garneau) immediately opened a gap on his rivals, to win by one minute and 48 seconds over Gunnar Holmgren (Team Progressive p/b 3Rox/Maverix). Disera regains the men's jersey from Sean Fincham (Cycling BC), with 285 points to Fincham's 185.

Quinton Disera commented, "Racing right outside the front door of my house is always something special. So many family and friends come out just to support us. The course was steep, punchy, and super fast playing right into my strengths. I am very honoured to have landed the top step at the Horseshoe Canada Cup 2 years in a row, along with my brother Peter. Thanks to all the people who came out and have helped me in the process."

The Cross-country Canada Cup continues with Round 4 next weekend (June 10-11) at Hardwood Ski & Bike Centre, north of Barrie, Ontario.