July 2/16 14:12 pm - Batty Takes Bronze in Elite Women XC, Pendrel 5th

Posted by Editoress on 07/2/16

Emily Batty took Canada's first medal of the 2016 Mountain Bike World Championships on Saturday in Nove Mesto na Morave, Czech Republic, finishing third in the Elite women's cross-country race. Catharine Pendrel finished fifth. In the Under-23 Men's competition, also held on Saturday, Marc-Andre Fortier was the top Canadian, in 36th place.

Denmark won its first Elite cross-country title since the 1990's, with Annika Langvad's dominant performance in the Elite Women's race. Lea Davison (USA) took silver after the two riders in front of her flatted on the final lap, while Emily Batty took bronze in a dramatic sprint finish.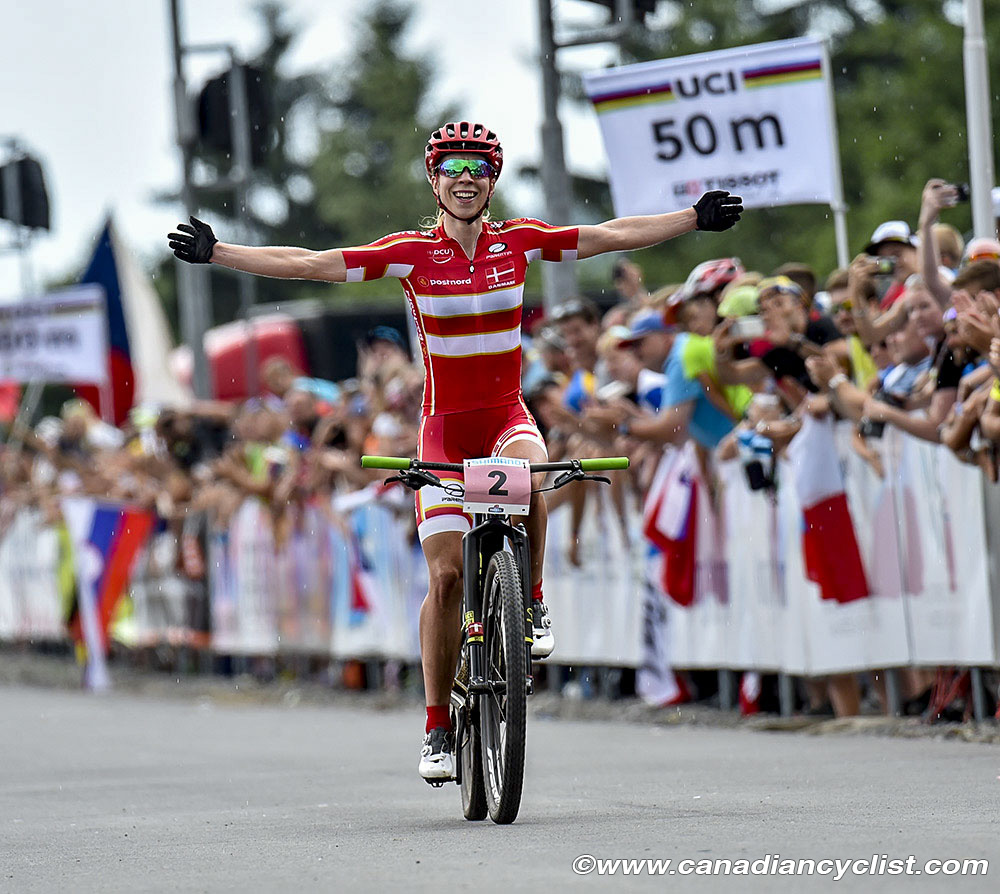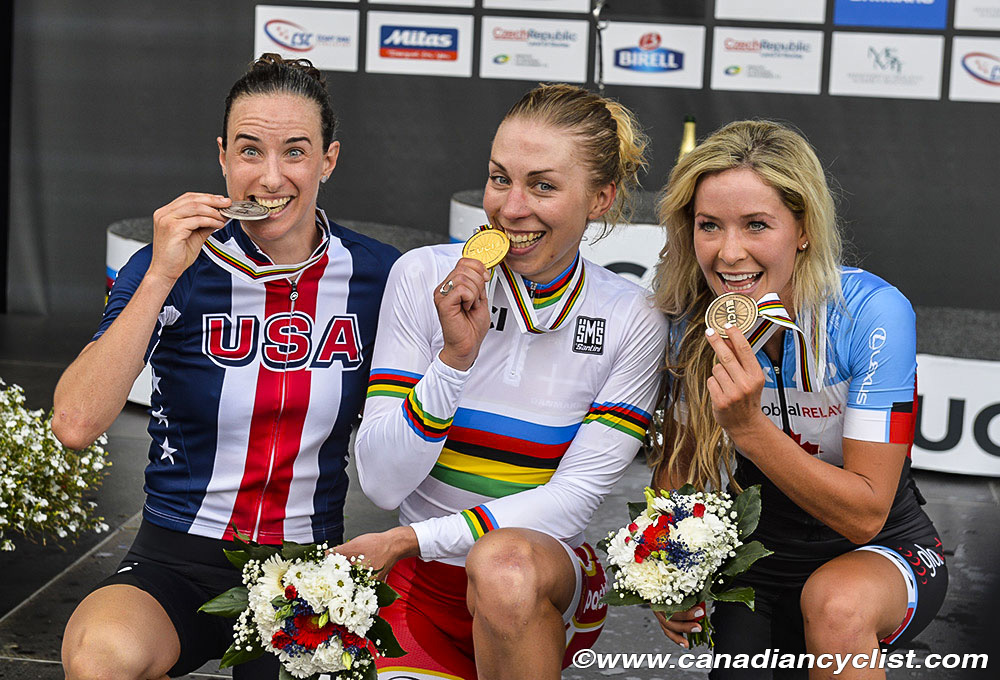 Davison, Langvad, Batty
The women's race was down to eight riders by the end of the start loop, with Pendrel setting the pace, followed by Langvad, Jolanda Neff (Switzerland), Katerina Nash (Czech Republic), Batty, Sabine Spitz (Germany), Maja Wloszczowska (Poland) and Linda Indergand (Switzerland). Missing from the group was perennial favourite Gunn-Rita Dahle Flesjaa (Norway), who went down in a crash at the start, breaking her handlebars and having to drop out. This group was quickly whittled down to Langvad, Pendrel, Wloszczowska and Nash, with Batty and Spitz dangling off the back.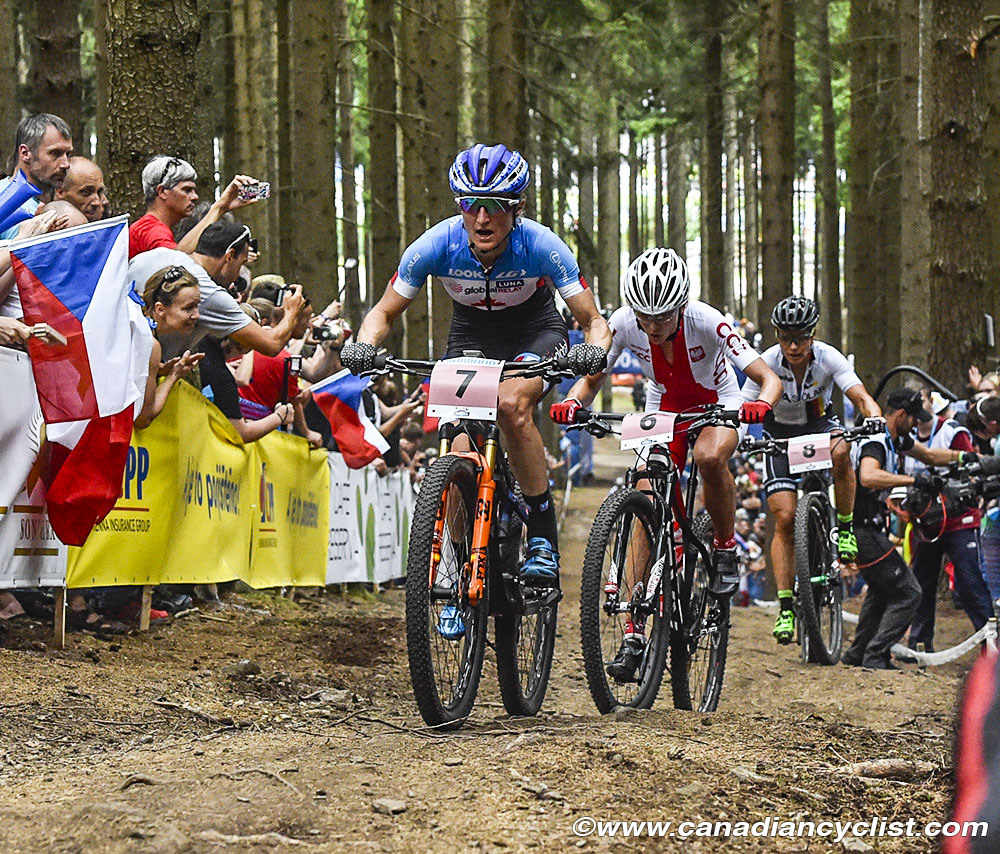 Pendrel leading the chase
Langvad then showed her climbing skills, riding everyone off her wheel on the next lap. Wloszczowska and Pendrel started the lap chasing together, but the Canadian had to back off the pace, leaving Wloszczowska alone in second. Spitz recovered to move into third, with Davison moving up to fourth by the third lap, followed by Batty and Pendrel.

"I knew on this course you have to be at the front because there are so many places you can't overtake," explained Langvad. "This year I feel so good. I arrived [at the Worlds] with lots of confidence and I kept everything together. I knew I didn't have to overdo things, because I knew I was strong. When you're at the front you can ride your own race and you can also make a few mistakes, because nobody rides this race on this course without making a few mistakes."

Then disaster struck for Spitz and Wloszczowska, who both flatted in the final lap, enabling Davison to move into the silver medal spot. Batty also passed Wloszczowska in the Tech Zone, but the Polish rider caught up to her in the final 400 metres, setting the stage for a dramatic sprint, with Batty winning the bronze medal by a bike throw at the line.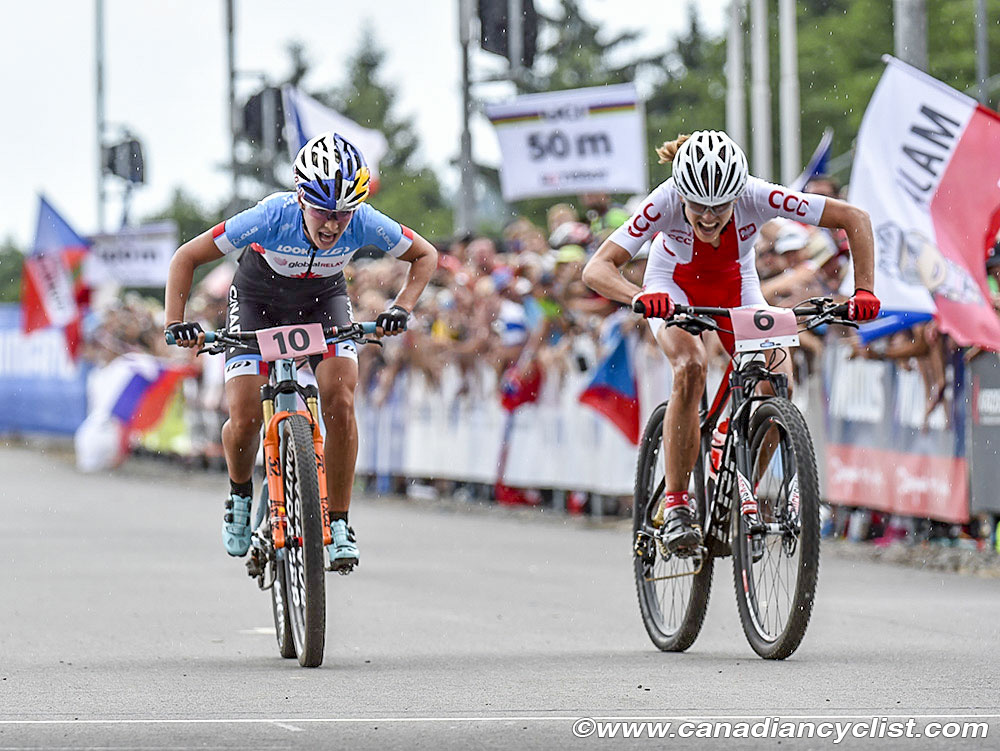 Batty sprinting against Wloszczowska for bronze
"Coming into the last 300 or 400 metres I saw Maja in the pit with a rear flat," explained Batty. "I knew I had to leave it all out there, because this is a bronze medal. Maja was able to bridge back up and I knew she was behind me, and getting a draft. But I was running a bigger gear selection than usual, so I was able to lead the sprint out and still win by a few inches. I'm ecstatic, I can't even describe what this feels like."





New Zealand's Samuel Gaze continues his domination of the Under-23 men's category this season, adding the world title on Saturday to his two World Cup wins. Victor Koretzky (France), who was a member of the winning French squad in the Team Relay took second, with Marcel Guerrini (Switzerland) finishing third to complete the podium.

Five riders took the lead on the start lap - Gaze, Koretzky, Guerrini, Titouan Carod (France) and Simon Andreassen (Denmark). The Danish rider was dropped by the second lap, and Caroud was starting to come adrift on the steep climbs each lap.

Gaze attacked on the fourth lap, on the longest climb, immediately opening a gap on Koretzky and Guerrini. By the end of the lap, and starting the final lap, Gaze was 24 seconds clear and continue to extend his lead to finish 50 seconds ahead of Koretzky, with Guerrini a further 14 seconds behind.

"I knew Victor was the one I had to watch," said Gaze. "I tried to stay relaxed and wait until the right moment to attack. This is incredible; I have always dreamed of winning the world championship, and now it has happened. It's crazy."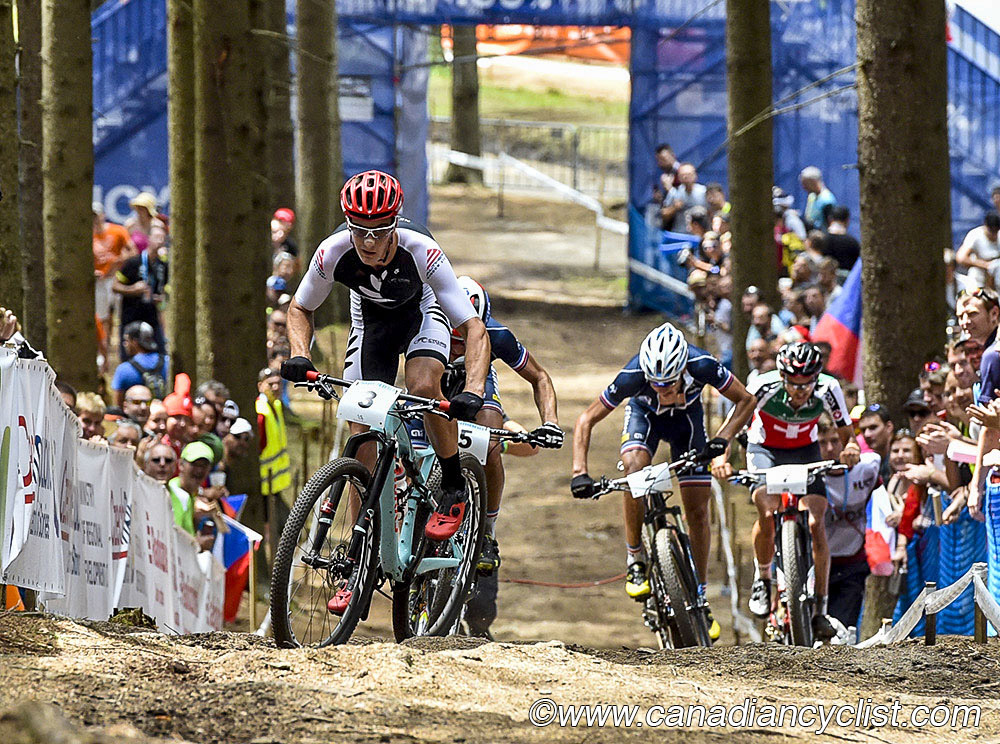 Sam Gaze starts his attack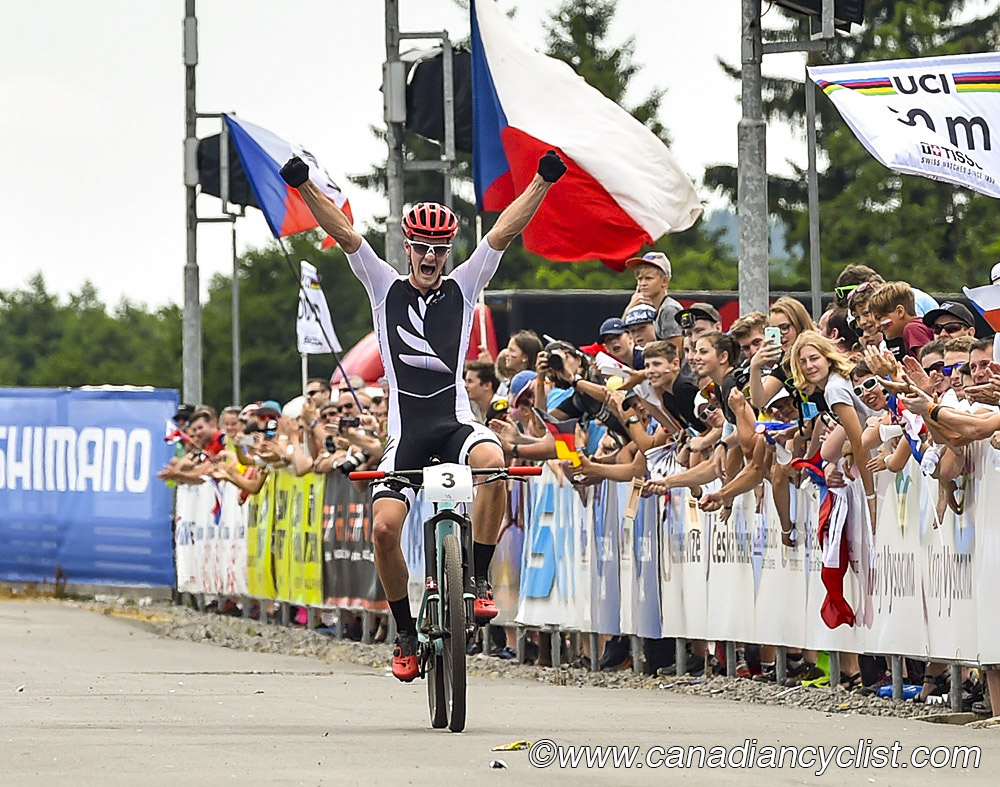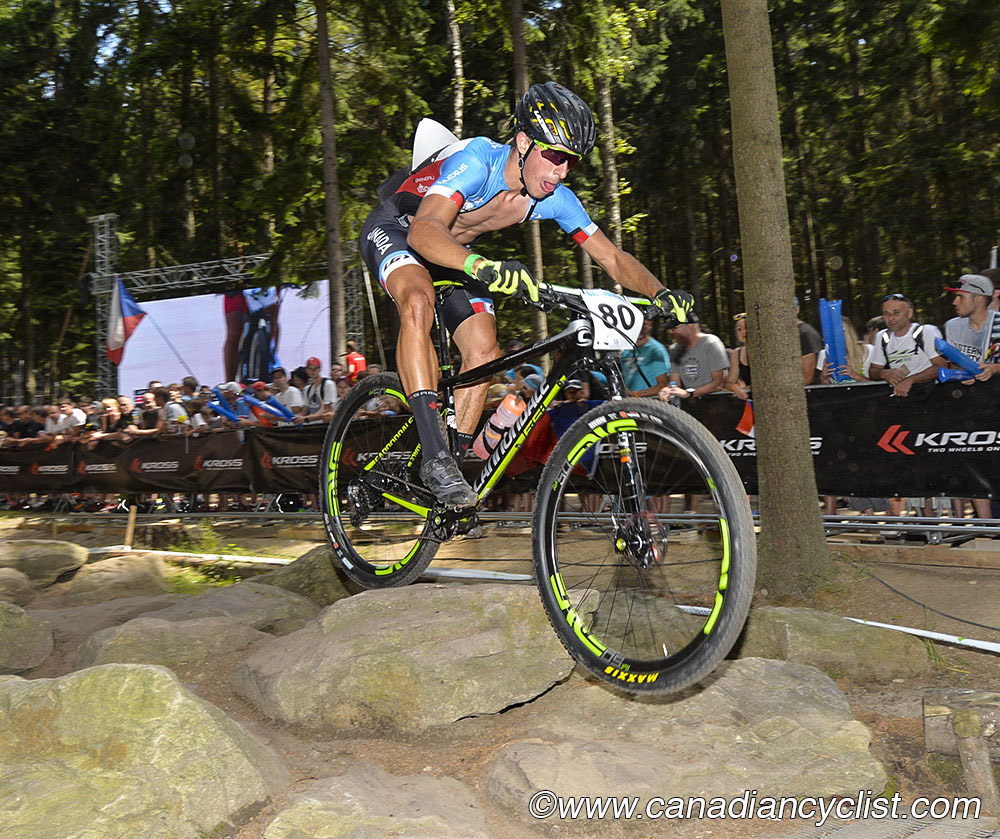 Marc-Andre Fortier
Fortier moved up steadily all race, after starting from the back of the field with plate number 80. He had moved into the top-40 by mid race, and continued to improve his position until the finish line. Other Canadian results include Peter Disera (Barrie, ON) in 41st, Marc-Antoine Nadon (Timmins, ON) in 52nd and Alexandre Vialle (Prevost, QC) in 68th.

"I was a bit disappointed with my start," admitted Fortier, "but I just kept going every lap and took positions all race long. It was motivating to keep passing people, and to finish 36th was really good for me. I'm really happy about the result."



Results
Fatal error
: Uncaught Error: Object of class PDO could not be converted to string in /home/canadiancyclistcom/canadiancyclist.com/public/modules/news.php:528 Stack trace: #0 /home/canadiancyclistcom/canadiancyclist.com/public/modules/news.php(517): getrelatedgallery() #1 /home/canadiancyclistcom/canadiancyclist.com/public/dailynews.php(58): getDailyNewsArticle() #2 {main} thrown in
/home/canadiancyclistcom/canadiancyclist.com/public/modules/news.php
on line
528