July 6/16 11:11 am - MIVA Boxwood Criteriums, June 28th and July 5th

Posted by Editoress on 07/6/16

Coal City Boxwood Criterium, July 5th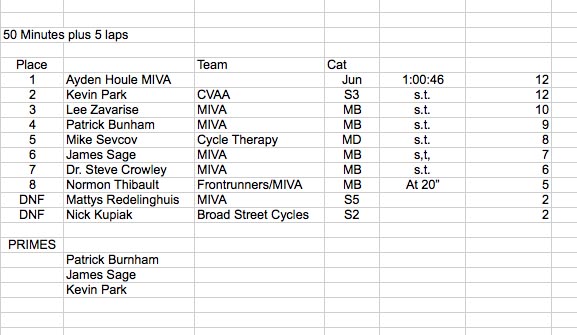 Coal City Boxwood Criterium, June 28th

40 lap points criterium
This was one of the best MIVA points criteriums in the last couple of years! Although there was a small field, nearly all the riders were out to score and only four failed to get prime points.

We had three new starters – Joel de Schiffert, Lech Pekesza, and Angelina Landry, who leads the MIVA Intermediate rides on Wed- nesday evenings so the riders agreed to an initial neutralised 5 laps. Once the race proper was underway, the pack rode aggressively,
with even the newbies showing at the front.

The first of the 7 primes was won by Normon Thibault who edged Junior, Ayden Houle and MIVA's Neil Bryant. The action continued throughout the race, with the next sprint taken by Cycle Therapy's Dave Beggs from Normon and James Sage (MIVA),

The third prime was for double points, where Patrick Burnham, the club's equipment manager, held off first-timer,Joel de Schiffert and Mike Sevcov (Cycle Therapy).

Results for the next three sprint were spread around as follows

4th, Aiden, Joel, James
5th. Patrick, James, Dave
6th.Lech, Dave, Ayden

With only the final sprint left to contest, Patrick was leading, with 15 points, with Ayden and Joel having 10 points each, Normon close behind with 8 and Dave and Lee Zavarise with 6, so it was still anybody's race. As the pack rounded the final turn and sped to the line, Ayden came surging through to take maximum points and the overall win, with MIVA regulars Lee Zavarise and Mike McCarney earning six and four respectively to put them on the scoreboard.

Congrats. To our first-timers, who all were in evidence at the front of the pack and two of whom scored sprint points; well done!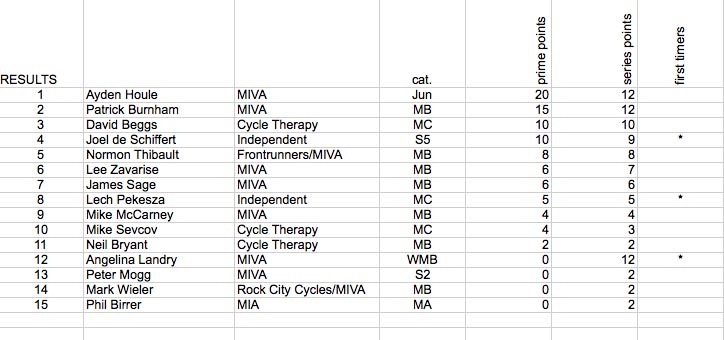 Courtesy Peter McCaffery