July 10/16 16:20 pm - Canadians Fight Back from Technical Problems at Lenzerheide

Posted by Editoress on 07/10/16

It was a frustrating day for Canadian riders on Sunday, at Round 4 of the XCO World Cup in Lenzerheide, Switzerland. All three of Canada's top performers suffered mechanical problems, with Catharine Pendrel (Luna) crashing, and both Emily Batty (Trek Factory) and Leandre Bouchard (Canadian National) flatting. Despite that, all three fought back to record strong results, with Pendrel, seventh, Batty eighth and Bouchard 18th. The only other Canadians to race, Sandra Walter in Elite women and Alexandre Vialle in Under-23 men, finished 28th and 57th, respectively.

Lenzerheide takes the riders to heat and altitude on a fast but rough and rooty course. Many a rider has gone out hard only to pay for it later in the race.

In the elite women's race, world champions finished 1-2, with the new Under-23 world champion, Jenny Rissveds (Scott-Odlo), beating the Elite world champion, Annika Langvad (Specialized Racing). Local favourite Jolanda Neff (Stockli Pro) took third.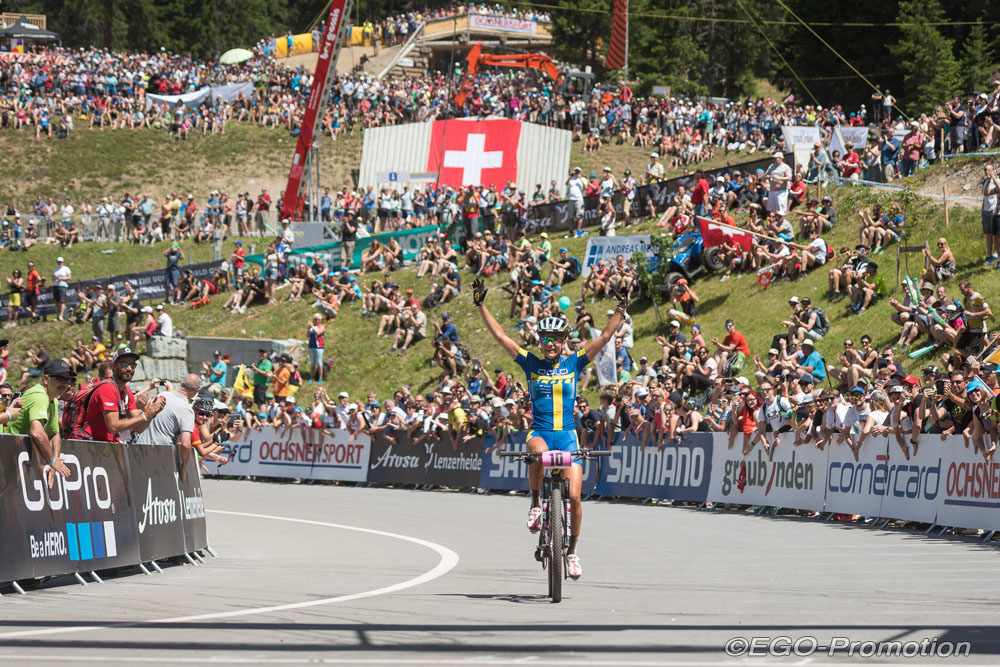 Jenny Rissveds wins
Rissveds, Pendrel and Langvad opened a gap on the rest of the field on the first lap of the seven lap race. Neff, who went out hard last year and then blew up, took a more conservative approach, riding in the chase for the early part of the race.

The three leaders had a 30 second gap on Katerina Nash (Luna) and 38 seconds on Neff and Maja Wloszczowska (Kross Racing) as they started the third lap, when Pendrel crashed hard on a descent in that lap. The Canadian champion got going quickly, but her saddle was bent and she lost multiple places as she rode more slowly to the Tech Zone for assistance.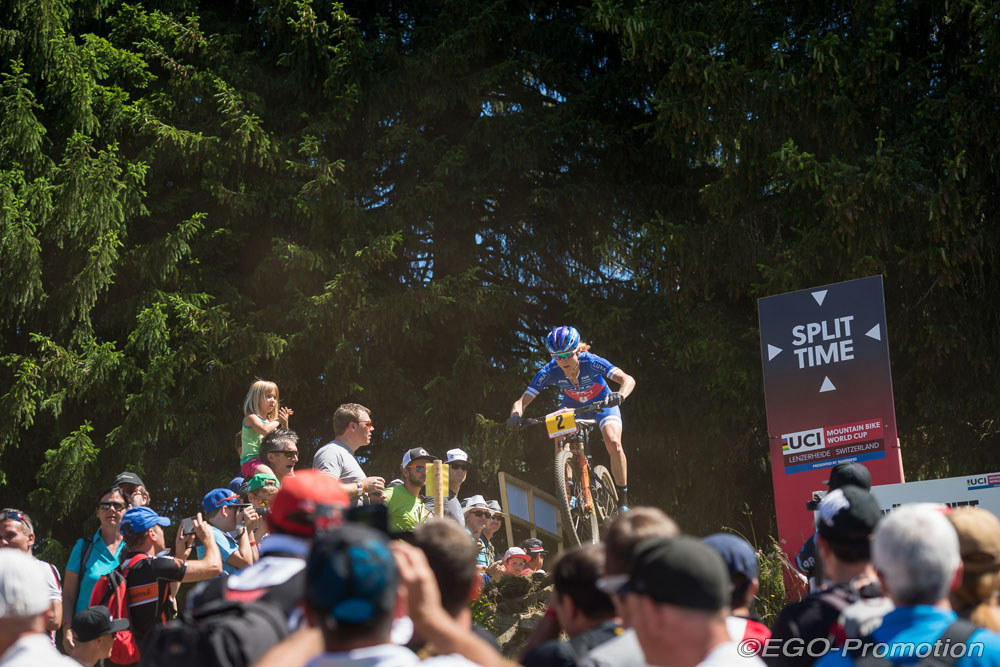 Catharine Pendrel
"Annika and I had gotten away from Jenny on the climb and then on the next descents I got my front wheel caught in a hole and went down twisting my saddle to 90 degrees," explained Pendrel. "I couldn't fix it, so had to ride it to the tech zone, losing four or so positions, but was still in the game. I was fine after the crash; hurt my right hand a bit but nothing serious. I was riding in fifth with Maja [Wloszczowska, Poland] and Alessandra [Keller, Switzerland] when again another unfocused crash allowed them to get away. Frustrating but the form is there."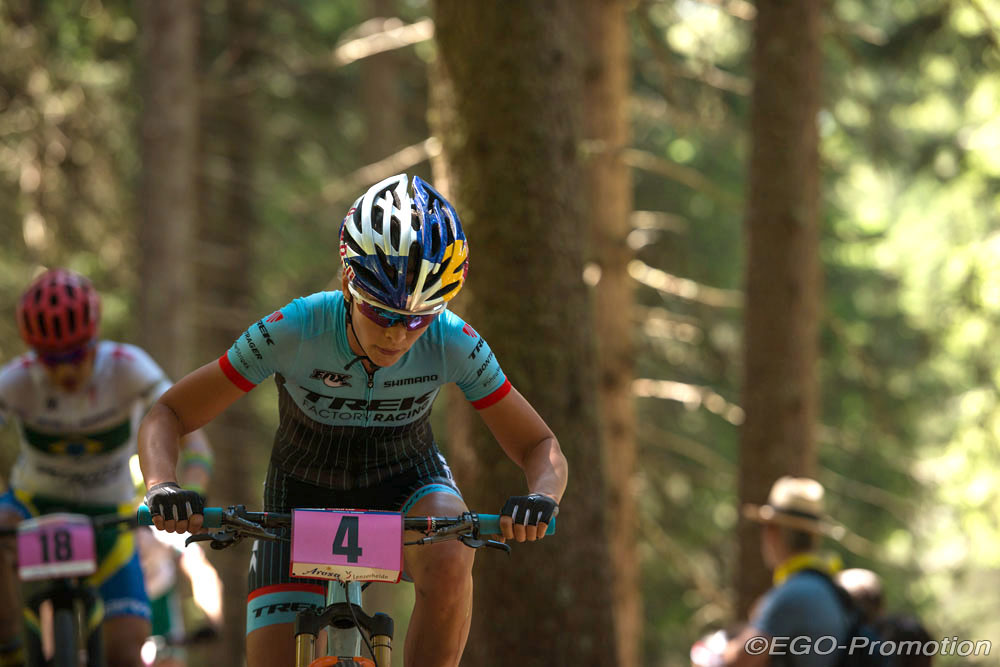 Emily Batty
Batty, the bronze medalist at the world championships a week earlier, flatted on the first lap, dropping back into the mid-20s, before battling her way back into the top-10. For Batty, it was a frustrating start to the race. "The flat happened on the first downhill," Batty said. "As I was moving up, I was pushed off my line by another rider and I hit a stump with my rear tire. It cut the sidewall of the tire instantly. I ended up riding it to the Tech Zone but lost a lot of time and energy. It's unfortunate because I felt even better then World Championships. I'm also motivated for a strong finish in the World Cup this season. I was focused on every spot I could get after I flatted. It was really bad timing but I was able to work my way close to the podium and collect as many points is I could given the circumstances."

At the front, Langvad attacked on the third lap, opening a gap over Rissveds that was up to nearly 30 seconds by the start of the fifth lap, with Neff moving up to catch Rissveds. It looked like Langvad was about to take her third win of the season, but Rissveds began to surge in the final two laps, dropping Neff and catching Langvad, before attacking almost immediately to pull away and win by over a minute.

"I can't believe, it's just crazy," said Rissveds about her first Elite World Cup win. "Last weekend I became world champion in Under-23, and today I compete against the Elite world champion and the world's best ... and I won! I didn't think I could catch [Langvad], but I just tried to push as hard as I could, and stay calm, and then accelerate towards the end of the race. Then I caught Annika and attacked her, and got a gap."

With two more rounds left, Langvad continues to lead the overall standings with 776 points, followed by Pendrel at 620, while Rissveds jumps to third with 550 points. Batty drops from fourth to seventh, 311 points back.

Newly crowned world champion Nino Schurter (Scott-Odlo) took his third World Cup win of the season in Elite men, holding off a late charge by Julien Absalon (BMC). Maxime Marotte (BH-SR Suntour-KMC) took third.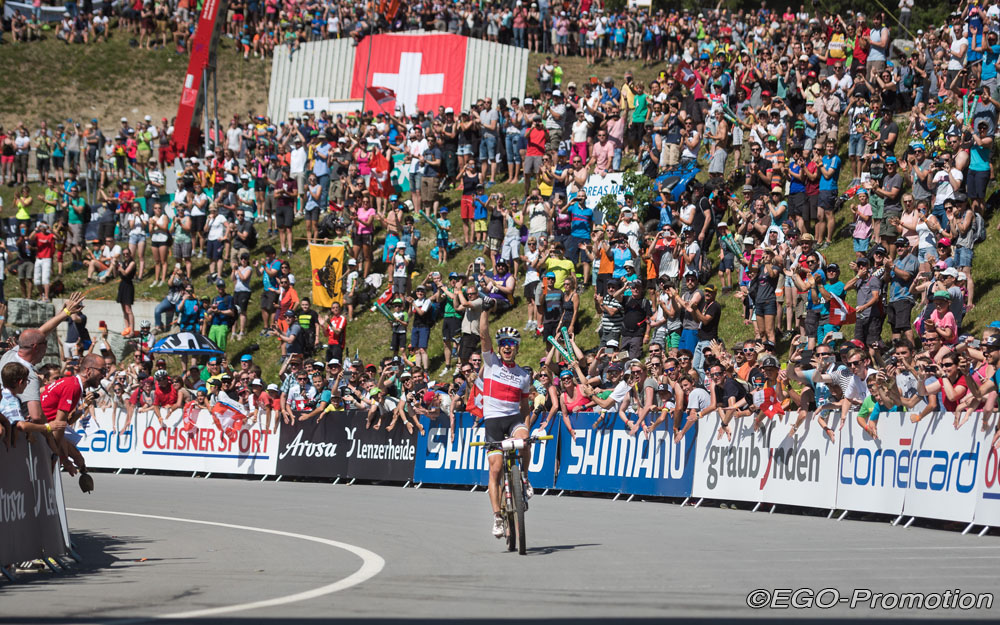 Nino Schurter wins
The eight lap race did not start well for Schurter, who pulled his foot out of his pedal at the start, immediately losing more than a dozen spots as his main rivals sprinted at the front. However, he was able to quickly make his way back to the leaders, joining Absalon and defending Lenzerheide champion Jaroslav Kulhavy (Specialized Racing) at the front.

Kulhavy set a hard pace on the second lap, gapping the other two on the main climb. Schurter bridged across but Absalon couldn't respond, eventually getting passed by Marotte and Victor Koretzky (BH-SR Suntour-KMC), who both joined Kulhavy and Schurter at the front.

On the third lap Schurter attacked, with Kulhavy chasing, followed by the two BH-Suntour riders, however, the Czech then flatted, dropping to nearly a minute back before getting a wheel change, joining Absalon. Kulhavy got a slight gap on Absalon, but the race order looked to be set as the riders began the second half, with Schurter out in front, followed by Marotte, then Koretzky, then Kulhavy and finally Absalon.

Absalon then began a late race surge with two and a half laps remaining, passing and dropping both Kulhavy and Koretzky to move into third. With half a lap to go, Absalon had caught and dropped Marotte to move into second, and in the final lap made up more than 40 seconds on Schurter.

"I had a really bad start," agreed Schurter, "I couldn't get into my pedals and then by the top of the first climb I was maybe 20th, and it took quite a bit of energy to get to the front. It was amazing to race back home, I love this track. I didn't know that [Kulhavy] had punctured, but I just did my own race and went as fast as I could. I've had two great races in a row now, so it gives me confidence as I go into my final preparations for Rio."

"It was a really hard race today, and Nino was very strong," said Absalon. "I was not so strong at the beginning, but I did a really good finish, so I'm happy about that. Now we go to Mont-Ste-Anne, and Nino will not race there, so it could be possible for me to take the lead."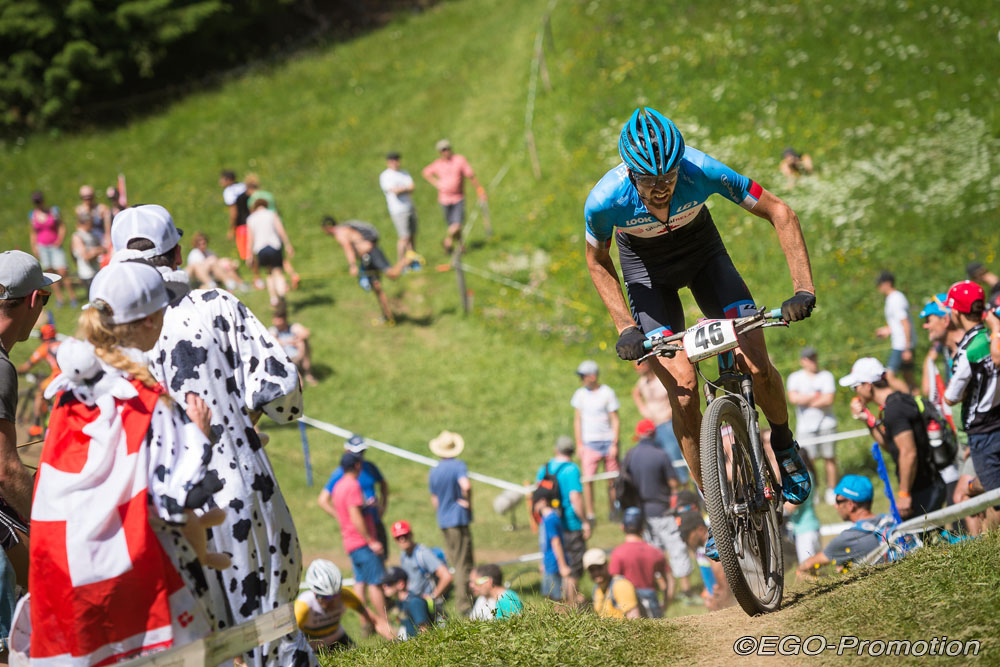 Leandre Bouchard
Bouchard steadily worked his way up through the field to 13th place in the final lap, before suffering a flat. The result is still Bouchard's third top-20 of the season in the World Cup, and moves him up from 32nd to 28th in the overall standings.

"I started well but the first lap is pretty short and I had no passing opportunities when the race hit the first climb," said Bouchard. "I was around 25th, in a big group at the start of the climb. Then, I started picking off places, catching [Australian champion] Dan McConnell's wheel and moving up really well. On the last lap, I flatted while I was still with Dan [who finished 11th]. I lost a few spots, but I'm still really happy about how strong I rode, and it was my best finish position ever in a World Cup!"

Schurter, with his third win of the season continues to lead the standings with 900 points, however, Absalon is only 90 back, and Marotte remains in third at 720 points.
Results
U23 Women
Fatal error
: Uncaught Error: Object of class PDO could not be converted to string in /home/canadiancyclistcom/canadiancyclist.com/public/modules/news.php:544 Stack trace: #0 /home/canadiancyclistcom/canadiancyclist.com/public/modules/news.php(533): getrelatedgallery() #1 /home/canadiancyclistcom/canadiancyclist.com/public/dailynews.php(58): getDailyNewsArticle() #2 {main} thrown in
/home/canadiancyclistcom/canadiancyclist.com/public/modules/news.php
on line
544