July 13/16 10:06 am - Mardis de Lachine: Stage 6

Posted by Editoress on 07/13/16

Jean-François Laroche, Regis Cycles, came close to perfection in the sixth stage of Mardis de Lachine, which allowed him to retain the yellow jersey.

Fully supported by his teammates throughout the evening, Laroche won the race in 1 hour 2 min 3 sec and let go a cry of satisfaction and raisied a fist crossing the finish line .

At the last corner, the five-time winner of des Mardis cyclistes was on the wheel of his teammate Charles-André Bilodeau who guided him to the finish line where Laroche beat Hendrik Pineda, Transport Lacombe / Devinci. Bilodeau finished a fine third place after his well-deserved great team work.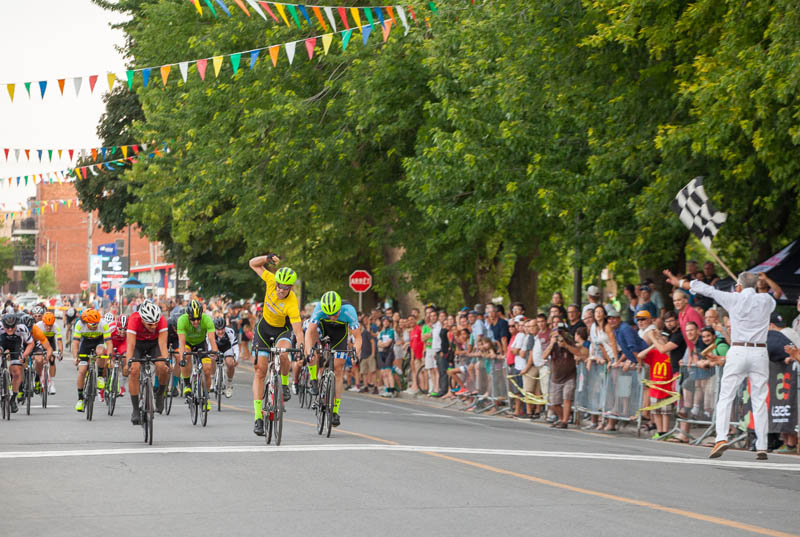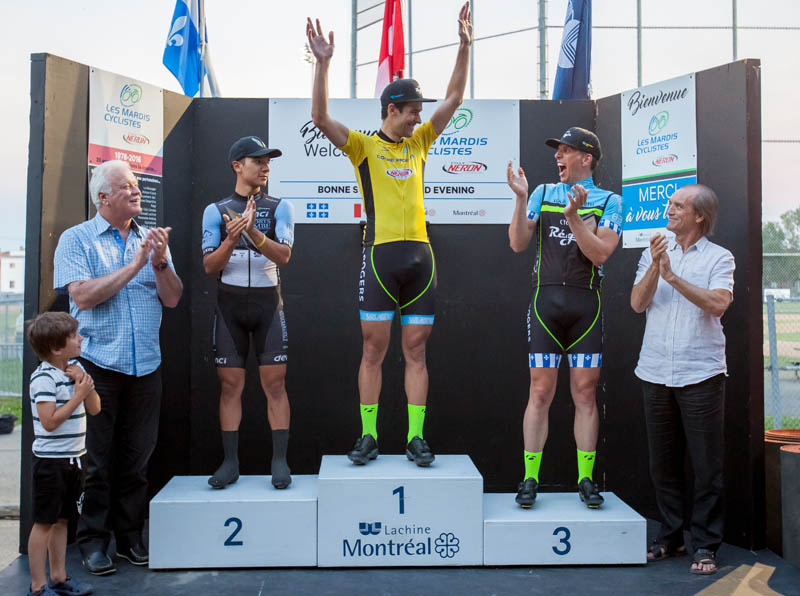 The rider from Cycles Regis won all sprints, except the third when he finished second behind Pineda, which allowed him to accumulate 154 points out of a possible 155. Pineda finished 2nd preventing Laroche and his team's perfect evening.

"It was an effort to gain the most possible points said Laroche. As a team, we have accumulated an orgy of points. Everything went as planned. The guys chased those who wanted to escape while I kept my energy. And in the sprints, they fired me before tapering off and leave me free way. The guys did a fantastic job for me. "

Team Cycles Regis have established their plan throughout the weeks, in addition to relying on the presence of three-time winner of des Mardis cyclistes, Sébastien Moquin, in their ranks. Laroche could not ask for better.

"Jean-François had already helped me, so it was my turn to return the courtesy, Moquin said that removed the titles in 2003, 2005 and 2006. Our goal was to stay together and launch J.- F. at the end. We had great fun. "

Laroche's performance allowed him to seize the yellow jersey, and his lead now totals 529 points.

Olivier Brisebois, Garneau-Quebecor absent in the sixth stage, is second with 415 points, seven points ahead Pineda (408).

Laroche chose a perfect night for the win and was hugged by the club's owner, Louis-Yves Cloutier,when he crossed the finish


Young New Zealand juniors invited by Tino Rossi, were fighting the the jetlag of 16 hours, but nothing could dampen their spirit, they showed they (still) had good legs. They were frequently seen leading the peloton of 133 cyclists, too often for the taste of their technical director. On the penultimate lap, three of the top four riders at the front of the peloton were wearing the "All Blacks' jersey.

"Fantastic, unbelievable, what a race," commented Bradley Leitch. "Extraordinary, we played the elbow at times and it was good fun," for his part mentioned the dashing James Fouche.

Ethan Batt their companion was equally enthusiastic.

"What a great race. It was fast. The peloton really could go. The guys knew how to behave. Congratulations, "praised Batt.

Young New Zealanders will participate next week in the Tour de l'Abitibi, a stage of the World Cup juniors.


In Women's Cup, Raphaele Lemieux, iBike, continued her domination and took another victory.

Luce Bourbeau, SAS-Macogep-Acquisio, finished in second place, ahead Evelyne Gagnon, Stingray / Trek / Lacasse.

Lemieux is atop the standings with 353 points, while Bourbeau is second with 164 points, 10 more than Gagnon.
Report by Léandre Drolet
Photos by Elias Raposo
Results

Men
1 Jean-François Laroche (Cycles Régis) 1:02:03
2 Hendrik Pineda (Transports Lacombe-Devinci.
3 Charles-André Bilodeau (Cycles Régis) both s.t.

Men's GC
1 Jean-François Laroche (Cycles Régis) 529 pts
2 Olivier Brisebois (Garneau-Québecor) 415
3 Hendrik Pineda (Transports Lacombe-Devinci) 408
4 Sébastien Cossette (Scott-RackUltra) 339
5 Félix Côté-Bouvette (H&R Block Pro Cycling) 329
6 Michel Henri (Cycles Dupuis) 323
7 Didier Godbout (Vélo-Station, 312
8 Marc-Antoine Soucy (Garneau-Québecor) 289
9 Simon-Pierre Gauthier (Garneau-Québecor) 166
10 Pierre-Olivier Boily (Cycles Régis) 143
Women
1 Raphaele Lemieux (IBike)
2 Luce Bourbeau (SAS-Macogep-Acquisio pp Mazda)
3 Évelyne Gagnon (Stingray/Trek/Lacasse)

Women's GC
1 Raphaele Lemieux (IBike) 353
2 Luce Bourbeau (SAS-Macogep-Acquisio pp Mazda) 164
3 Évelyne Gagnon (Stingray/Trek/Lacasse) 154