July 30/16 12:10 pm - LowestRates.com to Race in Europe

Posted by Editoress on 07/30/16

LowestRates.com cycling team Director, Frédérick Gates was thrilled to announce that his team will be heading to Europe for the first time of its young history. They will face off against Professional European teams in what should be their biggest challenge yet. The Tour of Szeklerland will take place from August 11th to 13th in Romania.

"We received the invitation late last week from the organizers of the Tour of Szeklerland, an International 2.2 UCI stage race, and it was a big surprise. It's every young aspiring cyclist dream to race in a European peloton. The fact that we have the opportunity to send our athletes to Europe after only two years of operations is overwhelming but exciting at the same time," said Gates.

The LowestRates.com cycling team are based out of Gatineau, Québec with the core group of riders coming from the National Capital Region. The team raced its first season under the name Santé Universelle // Marin Bikes last year, and were able to score excellent results in races like Grand Prix Cycliste de Saguenay and the Tour de Beauce, both International UCI 2.2 stage races.

"We surprised many people last year with a eighth place finish and got the best Canadian result of the day at the first stage in Beauce, a race dominated by Caja Rural, a professional team from Spain. This year, after a challenging start at Tour de Beauce we once again managed to pull an upset with a third place finish on an uphill sprint finish in stage 3b. "It was the only podium from an amateur team in the race," added Gates.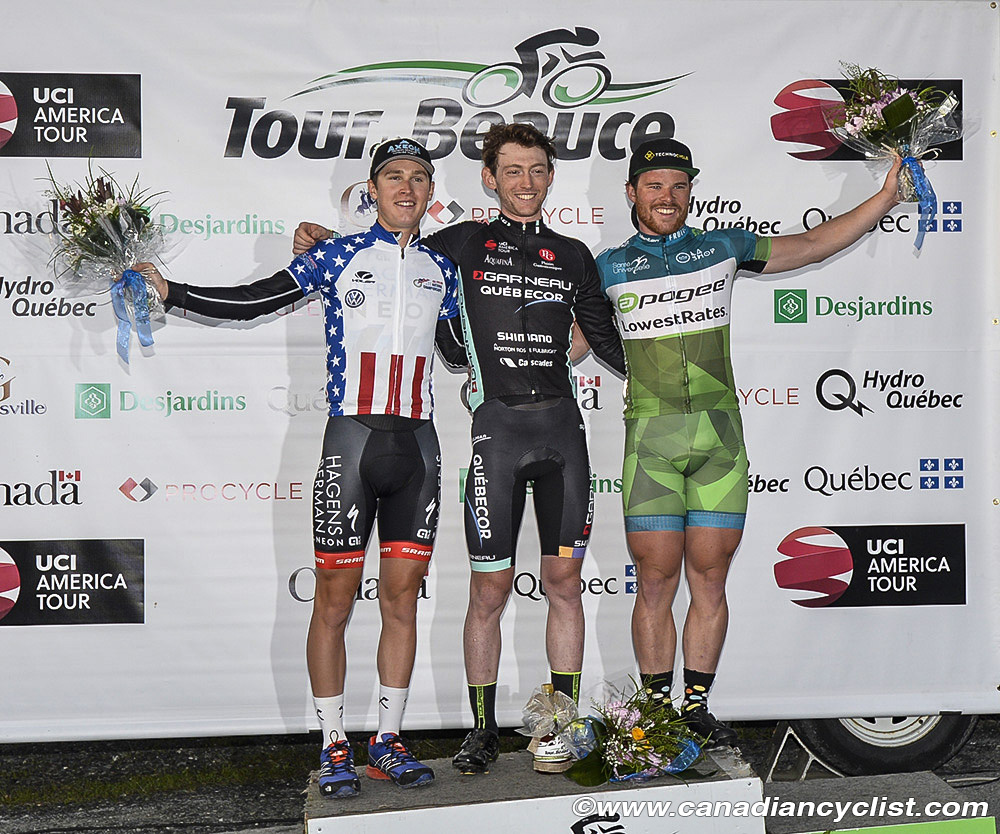 Tour de Beauce Stage 3B podium: Isaac Leblanc (far right)

The International podium obtained by Gatineau's Isaac LeBlanc in Beauce definitely opened new doors for the LowestRates.com team. It has also produced a lot of traffic and exposure on their Facebook fan page with followers from all over the World. "We have been pretty active on social media, it helped us build a fan base rapidly and it keeps our sponsors happy. It's also beneficial for race organizers as they receive great visibility and coverage for the tourism of the host regions".

The LowestRates.com team almost had to decline the invitation because of the unplanned financial reality aspect. "We planned our budget around the Grand-Prix Saguenay & Tour de Beauce race this season. Taking part in these two events cost the team around $17,000 and that's a big part of our team budget. We really wanted to offer this opportunity and life experience to our athletes. Everyone had to pitch-in and we were able to bring the dream to life." concluded Gates.

The Tour of Szeklerlandis a UCI 2.2 sanctioned International cycling road race. It takes place in Miercurea Ciuc, a county seat of Harghita County, Romania. It lies in the Székely Land, an ethno-cultural region in eastern Transylvania, and is situated in the Olt River valley. The event will be celebrating its tenth anniversary this season. The athletes will complete 4 stages in 3 days of racing.
Press release