July 31/16 19:22 pm - Kabush & Nieuwold Win Marathon Titles

Posted by Editor on 07/31/16

There were two first-time champions at the 2016 XCM Canadian Championships on Sunday, in East Hereford, Quebec. Elyse Nieuwold (PHI Hotel Group/P-K Express p/b Holiday Inn) won the women's title for Marathon, while multi-time XCO and Cyclo-cross champion Geoff Kabush (Scott-3Rox) took his first Marathon title in the men's category. This is Kabush's 15th national title.

The 82 kilometre race, the longest event in the cross-country discipline, saw the race open with a long climb, punctuated by sections of singletrack. After a descent at the 30 kilometre mark, riders began a series of climbs to the highest point of the course at 864 metres, 60 kilometres into the race, before descending steadily to the finish line.

Nieuwold was clearly the strongest rider in the women's field, finishing with a time of four hours, 29 minutes and two seconds, more then 11 minutes ahead of second place finisher Maghalie Rochette (Luna Pro Team). Caroline Villeneuve (Le Pedalier) was third, a further 6:40 back.
"It was a fantastic course, with grueling climbs and awesome singletrack descents," said Nieuwold. "Once I got a gap, I tried to increase it steadily on the 8km climb up Mount Hereford and the technical descent. I was really glad the race organizer suggested pre-riding the technical descent the day before because it meant I was able to confidently rip those trails on race day. I'm really happy with the win today and with earning my first national championship jersey!"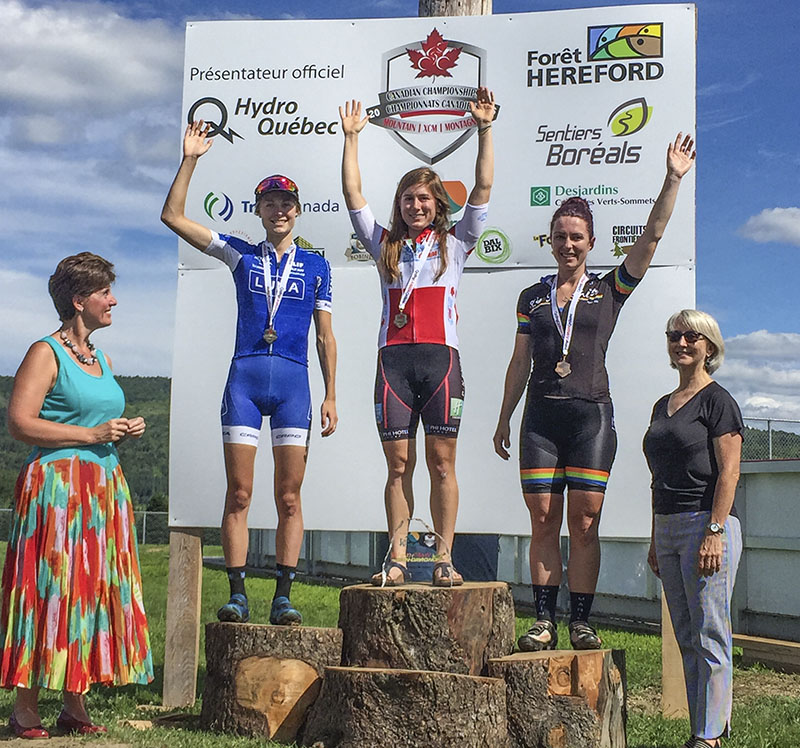 L to r: Maghalie Rochette, Elyse Nieuwol, Caroline Villeneuve - photo courtesy Scott-3Rox
The men's race was much closer, with the top three within 80 seconds after 82 kilometres of racing. Kabush finished with a time of three hours, 52 minutes and 21 seconds, followed by Cory Wallace (Kona Factory Team) at 56 seconds, and Jeremy Martin (Focus Bikes / iWill Pro Cycling) a further 24 seconds in arrears.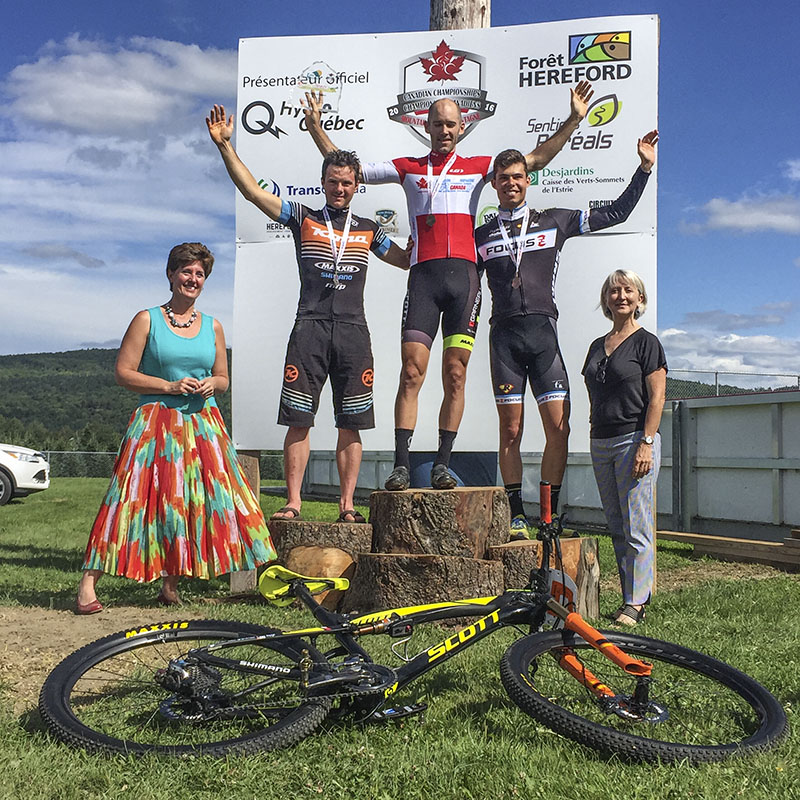 L to r: Cory Wallace, Geoff Kabush, Jeremy Martin - photo courtesy Scott-3Rox
"I wasn't sure what to expect," admitted Kabush, "but the organizers in East Hereford put on a fantastic event for Marathon Nats. It was a great atmosphere camping out with the whole community and the trail network is really impressive. The 82km course was definitely a big test, with lots of rocky but fun singletrack along with some serious climbing. It was great to see we had a competitive field with endurance strong men like BC Bike Race Champ Cory Wallace, Test of Metal Champ Quinn Moberg, Singletrack 6 Champ Mathieu Bélanger-Barrette. As well we had strong XC guys like Alex Vialle, and Jeremy Martin who did a really impressive double weekend after the US Cup in Boston."

"With such a long tough race I really focused on my nutrition after my biggest bonk in recent memory during my last attempt at Marathon Nats a couple years ago in Squamish. The race slowly came to a climax when we approached the big climb to the top of Mount Hereford which topped out at over 800m. I barely stayed in touch with Jeremy and Cory who attacked the climb hard and entered the most technical descent of the day about 10-15 seconds down. After getting past Jeremy I caught Cory, who surprised me with some serious power after getting dropped several times early on."

"I was able to counter into some singletrack with 40 minutes to go and got a gap but was never able to relax with lots of super sharp slate littering the trail. I was really happy to finally cross the finish line and win the Canadian Marathon Jersey for the first time. I'll definitely be racing more endurance and trail events next year and looking forward to wearing the jersey."