August 1/16 20:35 pm - Silber Wins Stage 1 of Tour of Utah

Posted by Editoress on 08/1/16

Silber Pro Cycling's Kris Dahl (Canada) sprinted to victory on Stage 1 in front of a fast-charging peloton to take the overall lead at the 2016 Larry H. Miller Tour of Utah. Dahl outkicked Axeon Hagens Berman's Colin Joyce (USA) and BMC Racing Team's Rick Zabel (Germany), who finished second and third respectively, for the finish in Cedar City. Dahl claimed the first Larry H. Miller Group of Companies Overall Leader jersey of the 2016 Tour of Utah.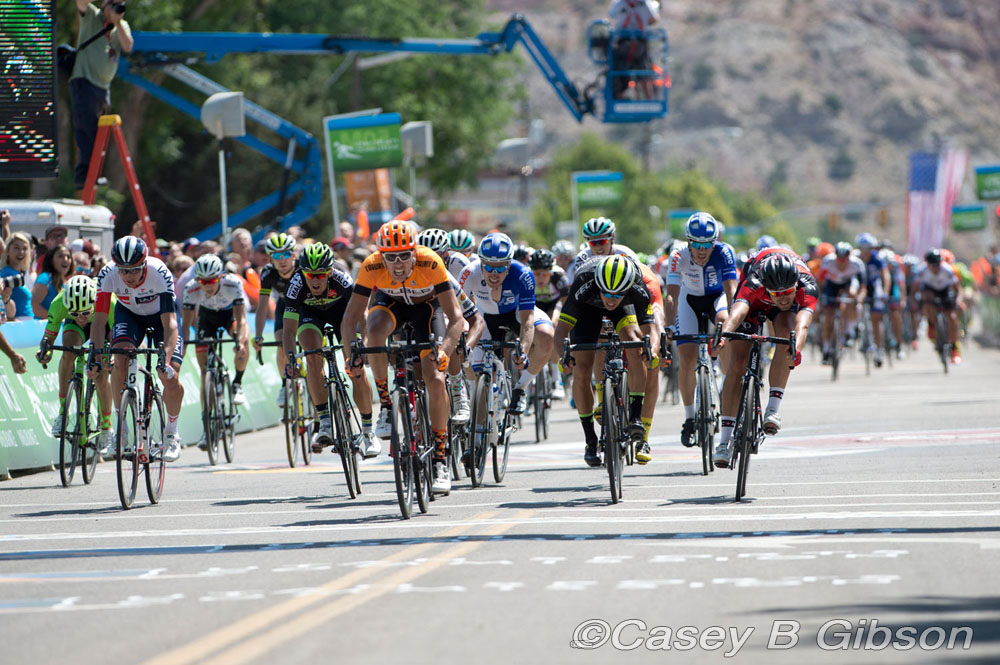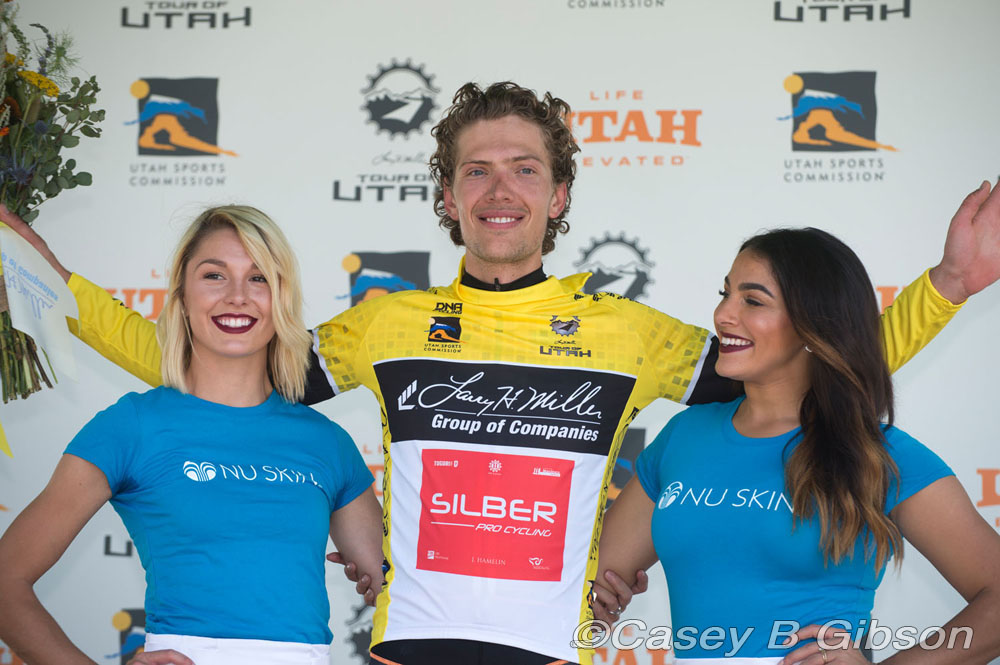 "For the Silber Pro Team, it's an amazing victory today," Dahl said, whose Continental team is making its inaugural appearance in Utah. "To end up in yellow our first year at the Tour of Utah, that's really special. Everybody can expect the Silber Team to be very active the rest of this race."

Dahl surprised the disorganized peloton by opening his sprint early along the downtown circuits in Cedar City to claim the biggest victory of his career. "Coming into the finish it was pretty hectic. There were all sorts of things happening. There were attacks and lead out trains that were overtaken. I found myself with one (kilometre) to go on the outside of the group. I started early and just hung on for the win."

Stage 1 presented by Workers Compensation Fund began in the shadows of the jagged spires of The Watchman, one of the most prominent peaks in Zion National Park. This year's Tour coincides with the National Park Service Centennial, providing a once-in-a-lifetime opportunity to promote the Centennial goal of connecting with and creating the next generation of park visitors, supporters, and advocates. Through the park, cyclists proceeded as a neutral ride following the pace car, providing a cycling demonstration to highlight alternative, non-motorized ways to enjoy the park and to promote exercise and outdoor recreation.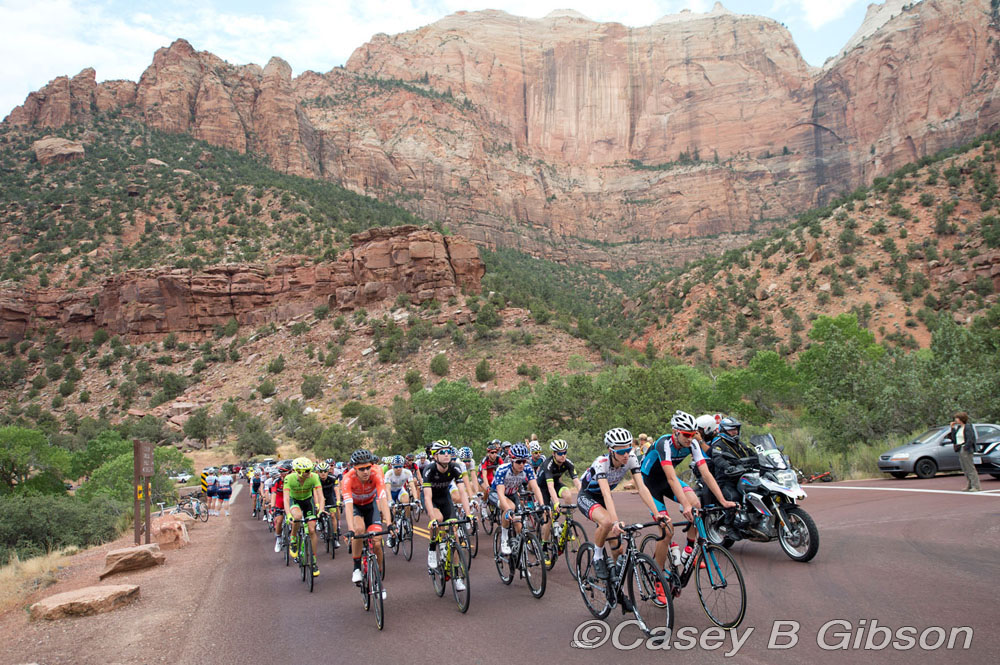 "The scenery was beautiful. I come from the East Coast and we do not have anything like that. I'd like to thank the Tour of Utah and the National Parks for giving us the opportunity to ride here. A lot of riders come from Europe and will take this memory back with them," said Cannondale-Drapac Pro Cycling's Ben King (USA), who raced in six previous editions of the Tour of Utah. King was voted America First Credit Union Fan Favorite for Stage 1, in the category of Best Ambassador (Statesman).

Racing began after the peloton exited the East Entrance to the park. Four riders escaped 10 kilometres into the 135 kilometre stage and managed to get a five-minute gap on the climb to the first Utah Office of Tourism King of the Mountain (KOM) climb of the day at Duck Creek. The gap started to come down on the second KOM of the day at Bristlecone, where the riders crested at 9,600 feet above sea level near Cedar Breaks National Monument. The peloton caught the last two riders of the breakaway in the second of the three finishing circuits in Cedar City, cheered on by enthusiastic crowds.

Second-place finisher Joyce will wear the Subaru Best Young Rider jersey on Tuesday. UnitedHealthcare Pro Cycling Team's Daniel Alexander Jaramillo Diez (Colombia) took the points for the two Utah Office of Tourism KOM climbs and will wear the classification jersey. For his part in the breakaway, Silber Pro Cycling's Matteo Dal-Cin (Canada) was awarded the Larry H. Miller Dealerships Most Aggressive Rider jersey. The Utah Sports Commission Sprint jersey was awarded to stage winner Dahl.

Stage 2 presented by America First Credit Union finds familiar territory on Tuesday. The race will follow Scenic Byway 12, an All-American Road that weaves its way through picturesque Garfield and Wayne counties. A new start this year will be hosted in Escalante, which sits in close proximity to Grand Staircase-Escalante National Monument. Escalante, which has seen the race pass through in 2013 and 2014, sets the stage for 159.3 kilometres of racing. The peloton will gain 9,435 vertical feet on the day. A sweeping descent will be made into Torrey, with the addition of two 27 kilometre circuits through the town of Teasdale and in the shadow of the red rock spires of Capitol Reef National Park. Sprint lines will be held in Boulder and Torrey.

Larry H. Miller Tour of Utah Award Jerseys

Larry H. Miller Group of Companies Overall Leader jersey - Kris Dahl (CAN), Silber Pro Cycling

Utah Sports Commission Sprint jersey - Kris Dahl (CAN), Silber Pro Cycling

Utah Office of Tourism King of the Mountain jersey - Daniel Alexander Jaramillo Diez (COL), UnitedHealthcare Pro Cycling Team

Subaru Best Young Rider jersey - Colin Joyce (USA), Axeon Hagens Berman

Larry H. Miller Dealerships Most Aggressive Rider jersey - Matteo Dal-Cin (CAN), Silber Pro Cycling

America First Credit Union Fan Favorite jersey - Ben King (USA), Cannondale-Drapac Pro Cycling