August 5/16 15:00 pm - Dorel Reports Downturn & Layoffs in Cycling Segment

Posted by Editoress on 08/5/16

On Thursday, Dorel Industries Inc. announced results for the second quarter and six months ended June 30, 2016. Dorel's business includes the Cycling Sports Group (CSG), with brands such as Cannondale, Caloi and GT.

Dorel Sports' second quarter revenue decreased by (US) $14.6 million or 5.8% to (US) $236.5 million compared to (US) $251.1 million last year. After removing the impact of varying year-over-year foreign exchange rates, organic revenue declined by approximately 4.8%. In the independent bicycle dealer (IBD) channel, Cycling Sports Group (CSG) global revenue declined versus prior year amid a soft and competitive North American market. While Cannondale branded bicycles' market share increased during the first half, continued industry-wide discounting due to excess inventories at the supplier and retailer levels impacted the segment's profitability. Caloi's sales declined due to the continued economic challenges in Brazil, including foreign exchange rate pressures.

Year-to-date revenue decreased by (US) $27.0 million, or 5.6% to (US) $453.0 million compared to last year's (US) $480.0 million. Organic revenue declined by approximately 3.7%, after removing the impact of varying foreign exchange rates year-over-year.

The segment has begun restructuring activities in the third quarter of 2016 which are estimated at (US) $9.5 million pre-tax, of which (US) $5.9 million is non-cash, to simplify and focus its business with a view to bolstering the bottom line. The segment's most significant initiatives are:

• In the Chinese independent bike dealer channel, the business will move distribution for its GT brand to a third-party distributor, similar to the current route-to-market for the brand in many other countries across the world.

• By the end of Q4, the majority of Pacific Cycle's mass market and distribution operations will be relocated from Illinois to Savannah, Georgia to better serve customers.

• Dorel Sports will also be exiting its three U.S. "Cannondale Sports" named retail outlets.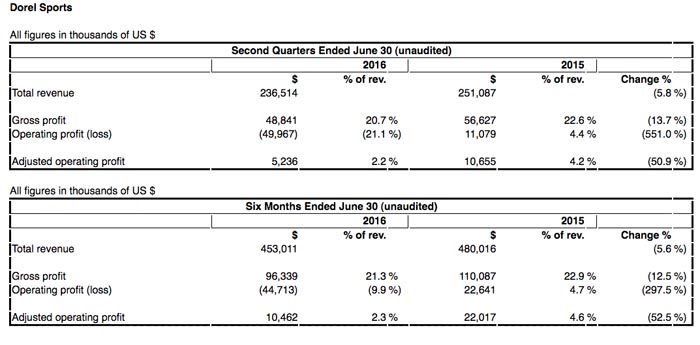 In total, all restructuring actions will result in an approximate 4% reduction in Dorel Sports' global workforce. Annualized savings of US$5.0 million are anticipated, commencing next year. The goal of these activities is to refocus the business to deliver enhanced profitability during all business conditions.

In light of challenging market and highly competitive conditions in the independent bicycle dealer (IBD) channel and foreign exchange pressure, Dorel Sports has recorded a goodwill and intangible assets impairment charge of approximately US$55 million in the second quarter.

As such, the segment reported an operating loss in the second quarter of US$50.0 million compared to an operating profit of US$11.1 million in 2015. Year-to-date, the segment reported an operating loss of US$44.7 million compared to an operating profit of US$22.6 million last year.

Adjusted operating profit for the second quarter decreased to US$5.2 million from US$10.7 million due to a decrease in sales and a 190 basis point reduction in gross profit, which more than offset a 5.1% reduction in operating expenses. Six month adjusted operating profit decreased by US$11.5 million, or 52.5% to US$10.5 million from US$22.0 million in 2015.

"Dorel Sports is taking the necessary steps to maintain its strong position in the face of a continuing tough market. Results have been affected by sustained discounting in North America and the reality of depressed foreign exchange rates, as IBD sales outside the U.S. are significant. Nonetheless, we remain confident and excited about our bicycle business. The recently launched Cannondale Scalpel and Quick models have been well received and are selling at traditional margins. A new e-mountain bike has been introduced in Europe and will be shipped in the fourth quarter and we anticipate excellent reaction. The measures we are taking are expected to benefit the segment going forward," commented Martin Schwartz.