August 5/16 18:20 pm - 2016 Cycling Hall of Fame Inductees Announced

Posted by Editoress on 08/5/16

The Canadian Cycling Hall of Fame, which has its permanent home at the Mattamy National Cycling Centre in Milton, Ontario, is pleased to name its class of inductees for 2016.

1908 Men's Team Pursuit
1908 Olympic Bronze medal - 4000m Team Pursuit: William Anderson, Walter Andrews, Frederick McCarthy and Willie Morton. At the London 1908 Olympic Games Canada sent a team of ninety-one athletes, of which sixteen won medals. The Men's Team Pursuit was 1,980 yards (1,810.5 meters), which was three laps of the track. In addition to the MTP the four combined for an additional twenty-two event entries at those Games.

Gord Fraser
Fraser was a three-time Olympian and five-time Commonwealth Games competitor who logged over two hundred individual race or stage victories in his career. He is considered the most successful professional sprinter in North America. In addition to his three wins in the Tour de Langkawi (2000, 2001 & 2004) he also had wins in the GP du Midi Libre, Criterium International, and GP Rennes. Other highlights included winning two NRC season points' titles, a Canadian National Championship and a memorable silver medal in the1999 Pan Am Games on home soil, where team mate Brian Walton won the gold. His top Olympic result was 16th in Sydney.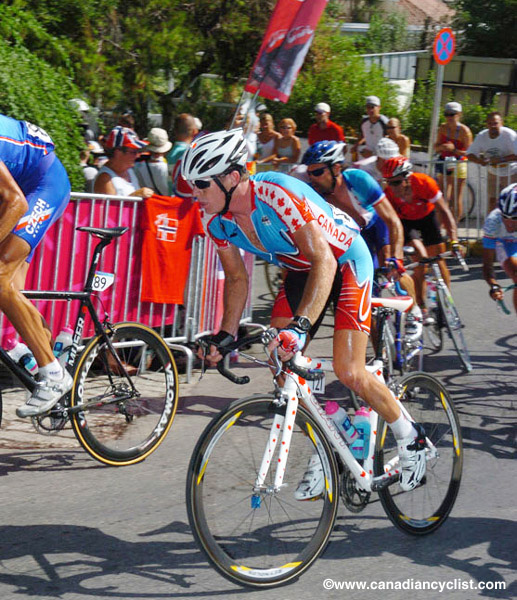 Gord Fraser racing at the 2004 Athens Olympics
Louise Lalonde
The primary focus at sporting events is rightfully on the participants, but behind the scenes are individuals who provide the framework that ensures the competition takes place. One such person is cycling commissaire Louise Lalonde. Highly regarded as an international commissaire for road, track, and para-cycling, Lalonde has also officiated in mountain biking, cyclo-cross, BMX and served as an anti-doping officer. She has served at countless events, from local races to the Olympics in addition to serving on the Cycling Canada Officials' Committee. Louise was also the first person certified by the UCI to train commissaires in the discipline of para-cycling and wrote the initial curriculum.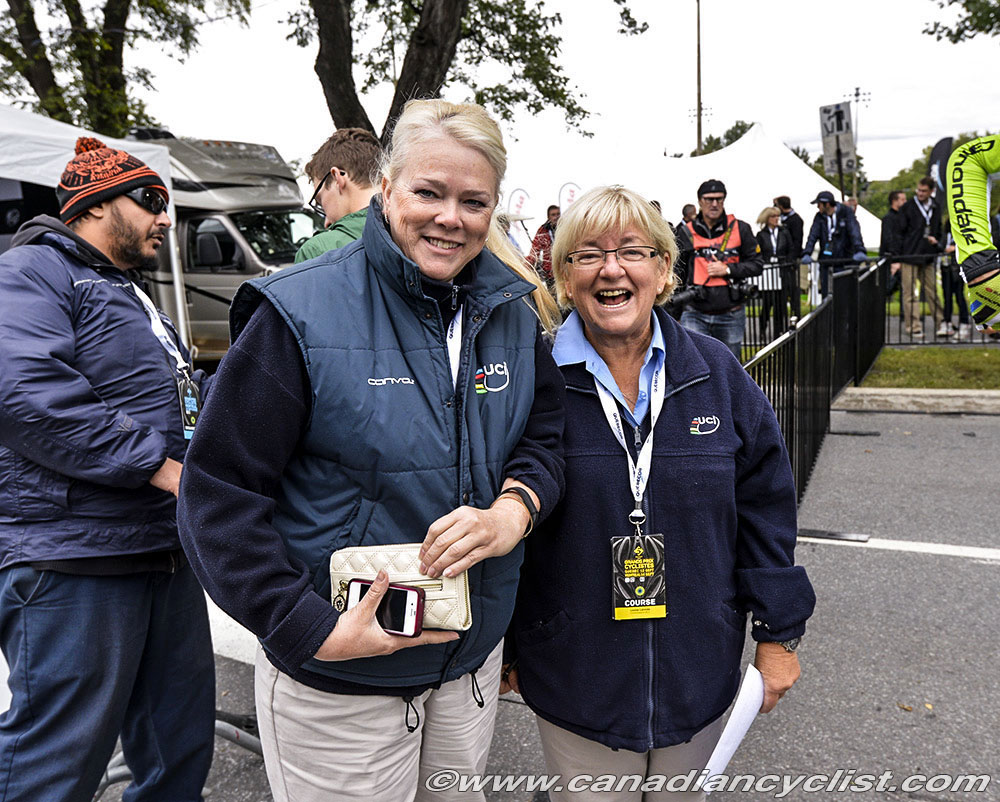 Canadian officials Josée Bédard and Louise Lalonde at the 2014 GP Montreal
Marie-Hélène Prémont

Prémont was the National Champion in Cross Country Mountain Bike from 2003 to 2009 successively. Internationally, her record is outstanding, including 2008 where she won a medal in every World Cup she entered (2 gold, three silver, three bronze). The two-time Olympian claimed the silver medal at the 2004 Olympic Games to add to her World Cup Gold Medals obtained in 2005 and 2006. In 2007 she was second overall in the World Cup standings and fourth overall in 2011. She won a Commonwealth Games Gold in 2006 and Pan American Championships Gold in 2000 and 2001.


Right: Marie-Hélène Prémont, SIlver medal 2004 Athen Olympics

Alex Stieda
Stieda was the first North American to wear the Tour de France Yellow Jersey, taking honour on the second day of the 1986 edition. He went on to wear five jerseys in total that year, including the Polka Dot as best climber, White as best rookie, Red for intermediate points, and the Combination. After losing the Yellow, Alex held the Polka Dot jersey for an additional five days over the hills of northern France. At the 1982 Commonwealth Games in Brisbane, he won a bronze medal in the individual pursuit and claimed the same result at the 1983 Universiade.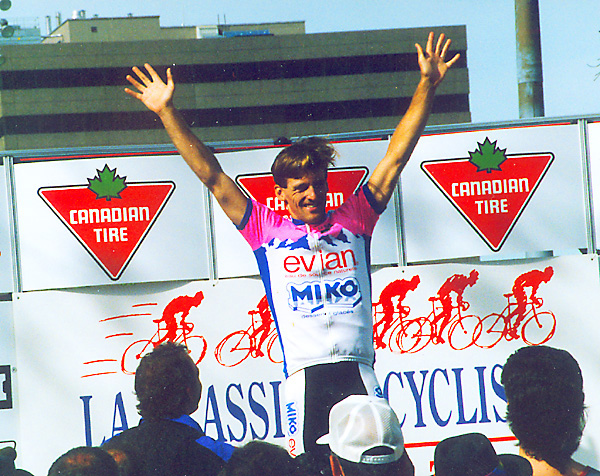 Alex Stieda- winner La Classique Cycliste
Brian Walton

Walton represented Canada at the Olympic Games on three occasions, with 1996 being the most successful with his silver medal performance in the Track Points Race. He was also a three-time 1995 Pan American Games medalist, including Gold in the Road Race and Points Race and the Bronze medal in the individual pursuit. At the 1999 Pan American Games in Winnipeg, Brian defended his Road Race title with another Gold medal performance. Brian won numerous international races including the 1989 Milk Race during his twelve-year professional career.
Brian Walton: 2003 Road Worlds, Hamilton ON
The induction of this class will take place on Sunday, October 2nd, in Milton at the Canadian Cycling Hall of Fame luncheon. This year's luncheon will be preceded by Cycling Canada's inaugural Legends Ride event, an exclusive opportunity for cycling fans and supporters to join the Hall of Fame inductees as well as current National Team athletes for a fully-supported VIP road ride around the beautiful Halton Hills area. Ticketing information and additional event details will be available soon at www.cyclingcanada.ca.