August 8/16 0:43 am - Pendrel & Batty Finish First & Third at MSA in Final Olympic Tuneup

Posted by Editoress on 08/8/16

Catharine Pendrel (Luna) and Julien Absalon (BMC) were the winners on Sunday at the Cross-country World Cup in Mont-Ste-Anne, Canada. Pendrel edged closer to World Cup leader Annika Langvad (Specialized) in the overall standings, after Langvad could only manage fourth, while Absalon moved into the lead of the men's standings after Nino Schurter (Scott Odlo) decided to skip MSA for his Olympic preparations. It is Pendrel's fourth win at Mont-Ste-Anne - setting a record in the women's field - and the 12th of her career.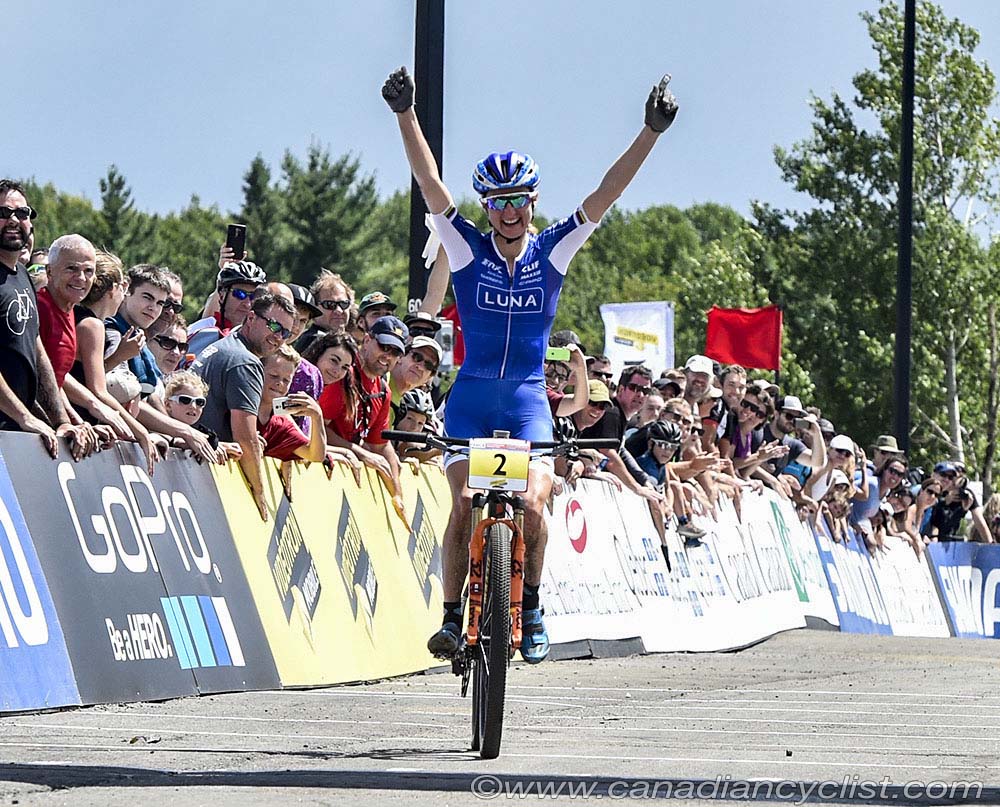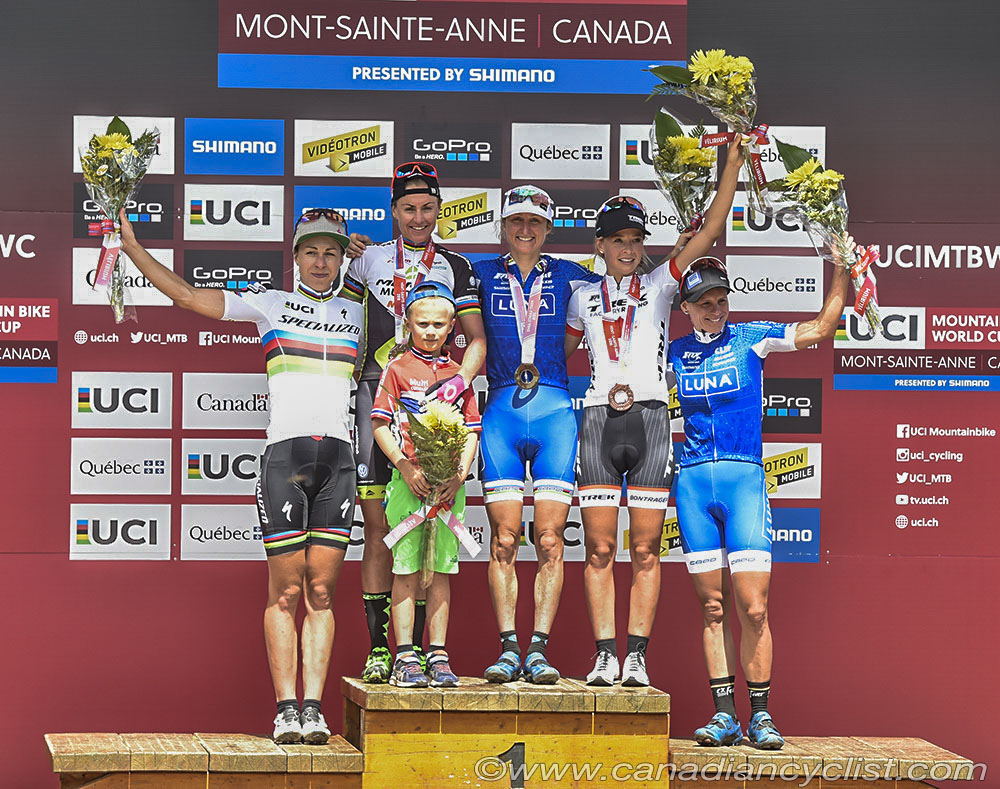 Mont-Ste-Anne is the oldest and one of the most storied venues on the World Cup circuit. It always offers a demanding circuit, with steep climbs and rooty, rocky descents. This year, MSA is the final major competition before the Olympic cross-country, and some Olympic-bound riders elected not to attend.

Pendrel went to the front on the first of six laps, opening up a 20 second lead on Gunn-Rita Dahle-Flesjaa (Multivan Merida) and Langvad, with Katerina Nash (Luna) following 10 seconds later and Batty just behind her. The gap hovered around the 30 second mark for much of the race, with Pendrel unable to extend it, but the chasers also unable to make up any time.

By the halfway mark, Dahle Flesjaa had dropped Langvad, who looked uncharacteristically slow on the climbs, while Batty had moved up to join Nash. The front two held on for first and second, but Batty caught Langvad in the final lap to take third, much to the delight of the Canadian crowd.

"On this course it's just super important to get out in front," said Pendrel. "A lot of people make mistakes in front of you so at least if you make a mistake you're in control. It was awesome there are so many people out on course ... it was amazing out there, trying to keep focused and not get distracted by what was going on."

"Of course I'm a little disappointed after having so many great results this year," admitted Langvad. "Mont Ste-Anne was never my favourite course, maybe it's the jet lag or I don't know, but my legs just never feel comfortable here. To date though, this is my best result on this course so I'm satisfied with it."

"I had a really bad start, I got caught up in traffic at the start and once I could get going I could see that Catharine Pendrel was really far ahead and it was quite hard to catch up. For awhile I was with Gunn-Rita battling for second and third. When it started raining I think I overcooked it a little and went over my limit and had to unclip a lot, and almost had a crash on the Beatrice [rock descent]. From there I had to ride within my limit, and today my limit was not for the victory."

"It's great to be having a consistent season, with top-5s and top 3s," said Batty. "Having all the Canadian spectators coming out to cheer for us was pretty wild, and help me have a burst of energy towards the end. I'm not starting quite as hard as the rest, but making sure I'm still in contention position. I've always been a strong finisher in races."

Langvad continues to lead the overall standings with 926 points and one race remaining, but her lead over Pendrel has shrunk to 56 points. Nash remains in third at 630 points, with Batty moving up to fourth from seventh, only five points further back.

The men's race saw a group of five riders establish themselves at the front in the early laps. Absalon, Mathias Fluckiger (Stoeckli Pro), Victor Koretzky (BH-SR Suntour-KMC), Matthias Stirnemann (Moebel Maerki MTB) and Jordan Sarrou (BH-SR Suntour-KMC) quickly opened a gap on the rest of the field. Koretzky attacked on lap four, with Absalon leading the chase. The Swiss riders, Fluckiger and Stirnemann fell off the pace, and then Absalon attacked with a lap and a half to go, quickly dropping Koretzky to solo in for the 32nd World Cup win of his career.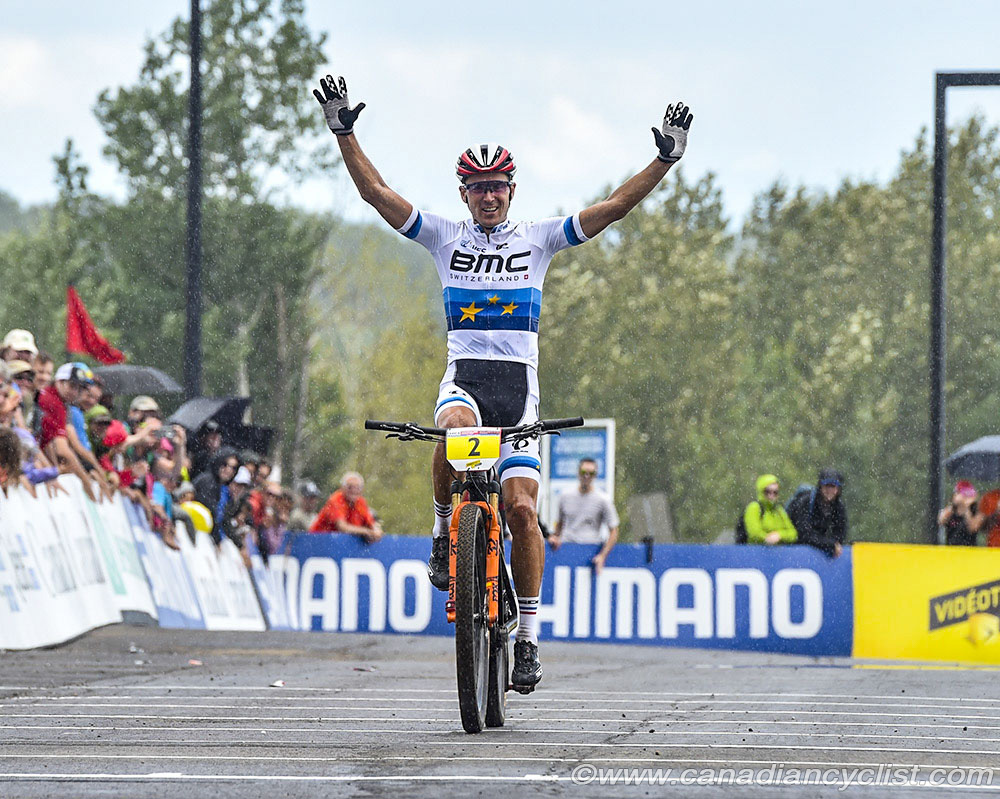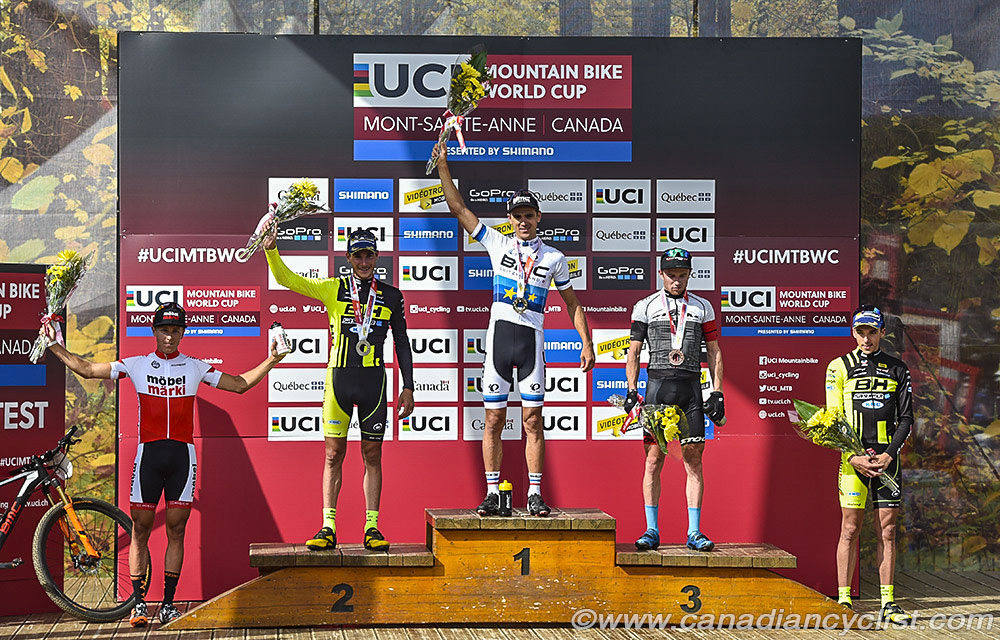 "In the beginning I was not able to go it alone," explained Absalon, "so I was sitting on the wheels of the others. I thought it was best to wait for a good moment during the last part of the race because it is so hard a course - if you start too fast it is hard to finish fast, and I like to finish fast. It was a good opportunity for me without Nino [Schurter] and Jaroslov [Kulhavy] here to take an advantage in the overall standings. So, it was a good win and also important for me to do this last test two weeks before the Olympics."

Canadian champion Derek Zandstra (Scott-3Rox) was the top Canadian finisher in the Elite men's race, finishing in 32nd place. Rio-bound Leandre Bouchard (Cyclone d'Alma) finished 38th and Raphael Gagne (Cannondale 360Fly p/b Sugoi) 45th.

Absalon moved in to the leader's jersey, with 1060 points. Schurter drops to second, 160 points back, followed by Maxime Marotte (BH-SR Suntour-KMC) at 798 points. Bouchard is the top Canadian, in 28th place, followed by Gagne in 33rd place.
Results
Fatal error
: Uncaught Error: Object of class PDO could not be converted to string in /home/canadiancyclistcom/canadiancyclist.com/public/modules/news.php:528 Stack trace: #0 /home/canadiancyclistcom/canadiancyclist.com/public/modules/news.php(517): getrelatedgallery() #1 /home/canadiancyclistcom/canadiancyclist.com/public/dailynews.php(58): getDailyNewsArticle() #2 {main} thrown in
/home/canadiancyclistcom/canadiancyclist.com/public/modules/news.php
on line
528