August 10/16 13:36 pm - Houle 21st in Men's Time Trial

Posted by Editoress on 08/10/16

Hugo Houle of Sainte-Perpétue, Quebec, finished 21st on Wednesday, in the Men's Time Trial at the Olympic Games in Rio de Janeiro, Brazil. Houle finished four minutes and 46.62 seconds behind Fabian Cancellara of Switzerland, who won the gold medal. Tom Dumoulin of the Netherlands won the silver medal and Christopher Froome of Great Britain took bronze.

The 54.5 kilometre course was one of the most difficult in Olympic history, with the men completing two laps of a circuit that included major climbs and twisting descents. The men started with wet roads that gradually dried, and gusting winds throughout the event made it even more difficult.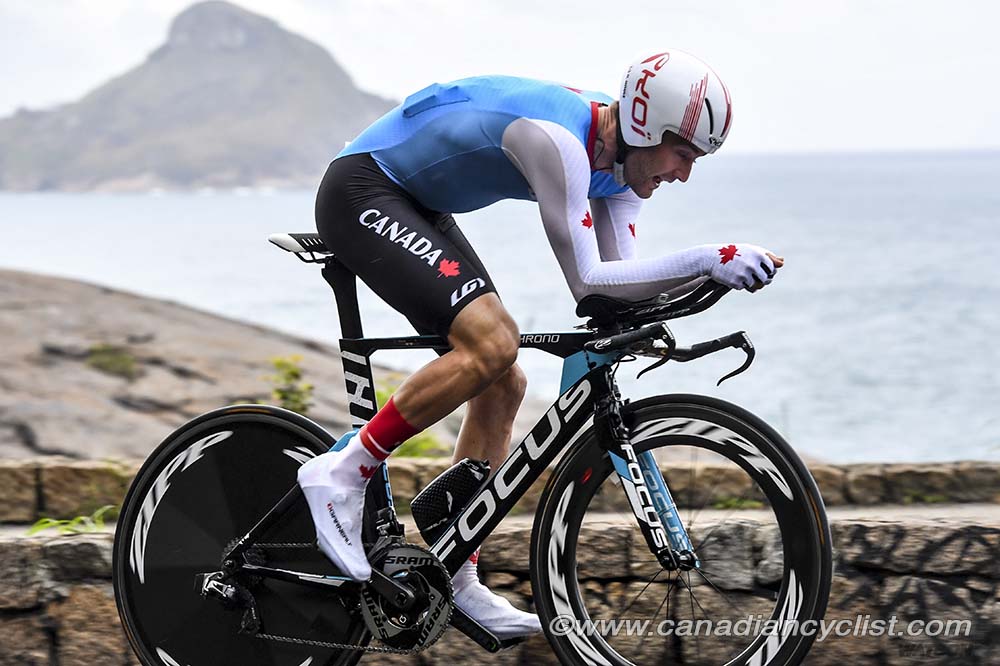 Houle was the second rider off in the final wave of riders and had a strong start, catching the rider in front of him. At the intermediate time split he was 20th, but dropped one spot in the final run in to the finish.

Rohan Dennis (Australia) was leading in the early splits, but Cancellara - the 2008 Olympic champion, who has already announced his retirement at the end of the season - came on strong for the second half of the race. Cancellara had already taken the lead when Dennis had to stop and change bikes, but it dropped the Australian out of second place and he eventually finished fifth. Dumoulin, still suffering from injuries suffered in a crash at the Tour de France, moved up to take second, with Tour de France champion Froome also having a stronger second half in the race.

"For me it was a personal best performance," said Houle. "The result is not as good as I would have liked, I would have like to finish between 10 and 15. But I did my best with what I had, it was as fast as I could go. In a time trial you have to keep pushing, keep pushing. I tried to enjoy the experience as much as possible, and it was an honour to be here and represent Canada. I know what I have to do for the next four years - to train hard to be with the best. I'm making progress, but I'm not there yet."

"It was a really technical course, especially with the rain at the beginning. On the descents I went pretty conservative because I didn't want to crash. It was a really nice course, but you had to really manage your power and pace yourself. The climbing was hard, especially the really steep part on a time trial bike. It had a bit of everything, so it was a good course for an Olympic time trial."

Jacques Landry, Director of High Performance for Canada, summed up the Road events at the end of the Men's Time Trial. "It was always a long shot to do anything in the Road Races; Leah [Kirchmann] didn't have the legs and Mike Woods is really only in his 20th race of the season because of numerous injuries. So for the road races we weren't expecting anything."

"On the time trial side of things, I'll be honest, for Tara [Whitten] I was hoping for a medal. I think she's capable of it, but she was just beat by some stronger women on the day. She did a really good technical race and she really did dig deep. So that would be the [event] where I'm slightly disappointed, but not too much. I don't think we would change the strategy going in because she has demonstrated that she is one of the top time trialists that we've ever had."
Race Note: Cancellara was asked if he would consider continuing until the next Olympics, since he is "only 35" and Kirstin Amstrong won her third title as she is about to turn 43. His answer was a succinct 'No'.

He was also asked if he would retire immediately now, and said that he was going to talk to his team and family. He said he wasn't going to do a 'farewell tour', but did hold out the chance that, given his result here, he might hold on until the world championships.