August 11/16 21:16 pm - Canada Qualifies Fourth in Women's Team Pursuit

Posted by Editoress on 08/11/16

Canada qualified fourth in the Women's Team Pursuit on Thursday, at the opening night of track competition at the Rio Games. The team of Allison Beveridge, Jasmin Glaesser, Laura Brown and Georgia Simmerling, finished the 4000 metre race with a time of four minutes and 19.599 seconds. Great Britain, the defending Olympic champions, qualified first with a world record time of four minutes and 13.260 seconds.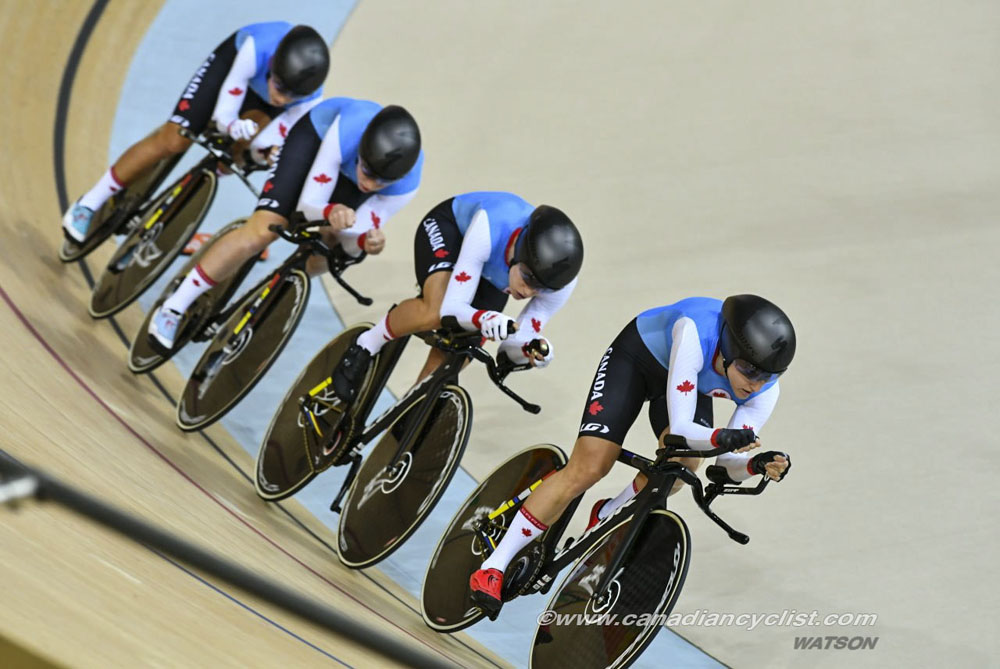 By qualifying fourth, Canada is still in a position to challenge for the gold medal, however, to do so they will have to beat the British team in the next round, on Saturday. If they do not beat Great Britain but finish with a top-4 time, they will race for bronze.

"It's the Olympic Games, so you know everyone is going to come out swinging," said Beveridge. "The Brits got it right today, for sure, and they have been strong for the past eight years. It's going to be a big task to take them on in the next round, but getting to the gold medal final has always been our goal, so there's no reason to back down now. We know that we have more than what we rode today, and we just have to go out there and execute. Anything can happen in the next head-to-head race, and we can't be afraid to go after it."

National coach Craig Griffin said, "the first ride is always a nervous one, we've been waiting for quite a few days just to get on the bikes and race. It was an okay outing, but we have a lot more than showed. We'll change a few things, probably change our lineup; we've got two days to sort it out."

"I think it was a little bit of a disappointment," admitted Glaesser about the Canadian ride. "It's always a bit of a guessing game about how fast the track is going to be on race day. We expected every team to bring their A game, and that's what we're seeing out there. Obviously, Great Britain's done a great time, so it is possible to go fast here. We need to put it together a bit better and execute better. definitely we can go faster; we didn't get the pacing we were shooting for, and that just comes back to better execution."
Fatal error
: Uncaught Error: Object of class PDO could not be converted to string in /home/canadiancyclistcom/canadiancyclist.com/public/modules/news.php:528 Stack trace: #0 /home/canadiancyclistcom/canadiancyclist.com/public/modules/news.php(517): getrelatedgallery() #1 /home/canadiancyclistcom/canadiancyclist.com/public/dailynews.php(58): getDailyNewsArticle() #2 {main} thrown in
/home/canadiancyclistcom/canadiancyclist.com/public/modules/news.php
on line
528