August 15/16 11:53 am - Olympic Profile - Erin Hartwell

Posted by Editoress on 08/15/16

Erin Hartwell is Canada's national coach for the Sprint events - the Team Sprint, Sprint and Keirin. However, he is also an Olympic medalist in his own right, with a bronze medal in the 1000 metre Time Trial from the 1992 Olympics and a silver medal in the same event at the 1996 Olympics (where he missed the gold by two-tenths of a second). He held both world and Olympic records.
In July of 2014, Erin was hired to oversee the development of an expanded Track Sprint program, with the opening of the permanent training facility at the Milton velodrome, and the approaching Pan Am Games.
Canada has had past success in the Sprint events, with Lori-Ann Muenzer winning Olympic gold in the 2004 Olympics, Curt Harnett winning three Olympic medals, Tanya Dubnicoff's world title in the Sprint and Gord Singleton's world title in the Keirin. However, this is the first time that Canada has had an actual program and permanent training facility.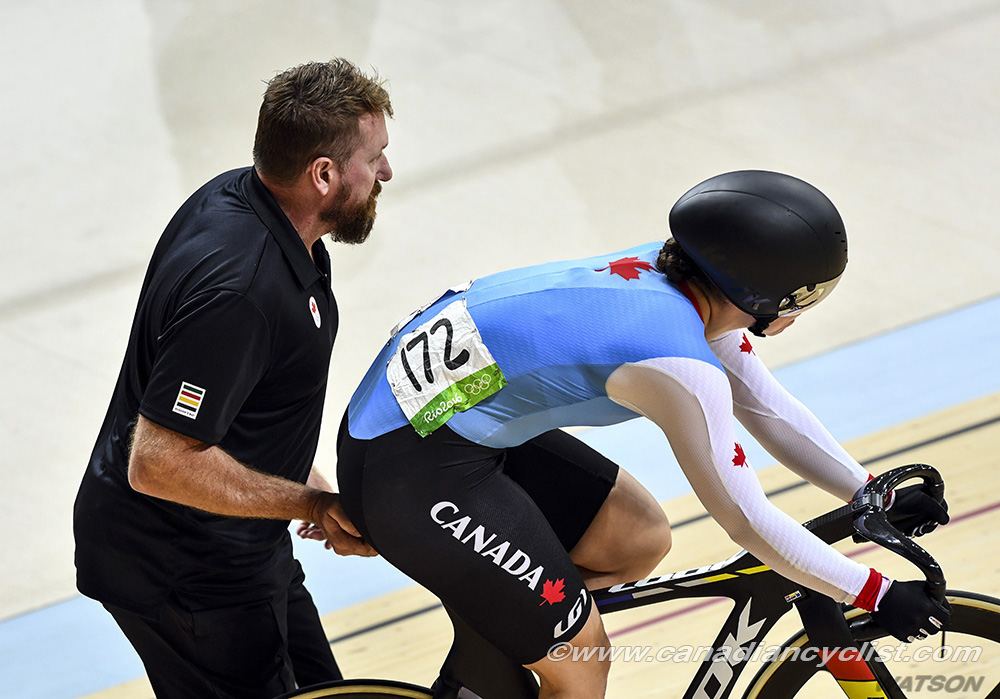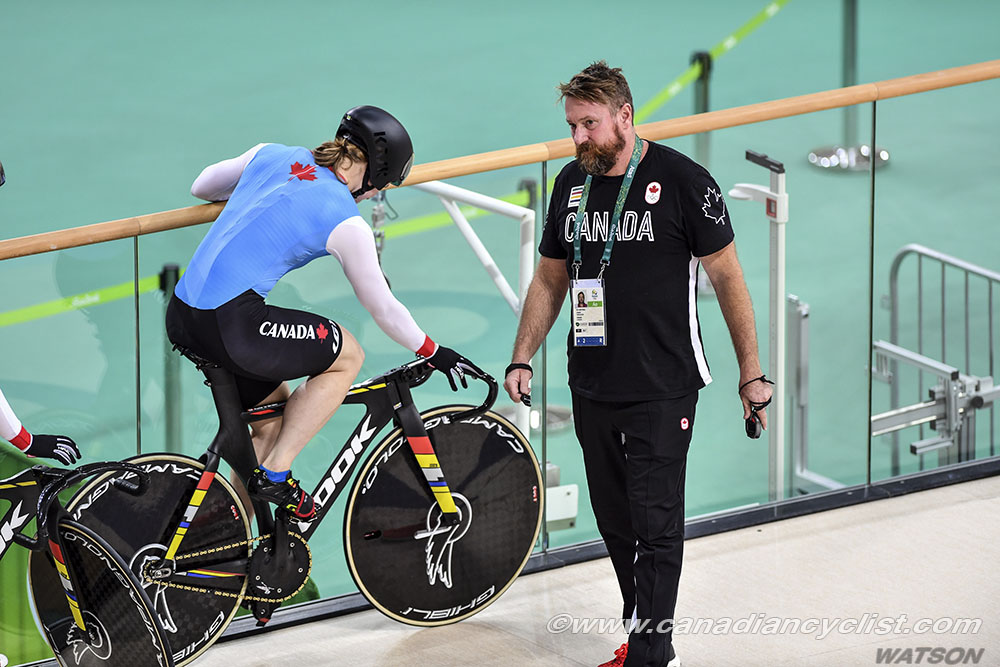 Erin Hartwell with Monique Sullivan and Kate O'Brien in Rio
The results have been quick to follow, with a total of six gold medals on the track at the Pan Am Games; five of them from the sprint squad. The Sprint team also won a silver and a bronze. Other results include a silver medal at the World Cup final in the Men's Keirin this season, plus fourth in the Women's Keirin and sixth in the Women's Sprint at the world championships. Canada qualified riders in all three Sprint events for the women and in the Keirin for the men.
"I was a six time world championship and Olympic medalist as a rider, switching from Sprint to endurance events after the 1996 Games, and then rode for two years on the road before retiring after injuries in 2002. Overall, I was pretty happy with what I was able to accomplish on the bike."
"After retiring I went to university in North Dakota for commercial aviation and statistics, but the downturn in the aviation industry after 9/11 [the terrorist attacks on September 11, 2001], got me thinking it could be a long time before I had a career. So an opportunity came up to coach in Wales, and here we are."
"That was back in 2003, 2004, and I've been in coaching ever since. I had a great opportunity in Trexlertown [Pennsylvania] in 2005 to 2009, where I ran the track for four years. But the coaching bug in me is pretty strong, and an opportunity came up to go down to Trinidad and Tobago, where I got to work with [sprinter] Njisane Phillip, who was fourth in London in 2012. Then this opportunity came open here in Canada, and I've been happy ever since."
"When I came in, we hit the ground running. The directive to me initially was 'let's focus on Tokyo 2020', but we had some existing athletes who were ready to try for Rio. But, to a certain extent, we had to start over; Monique Sullivan came out of retirement, and we had a talent sweep all across Canada and discovered a number of athletes, including Evan Carey and Kate O'Brien."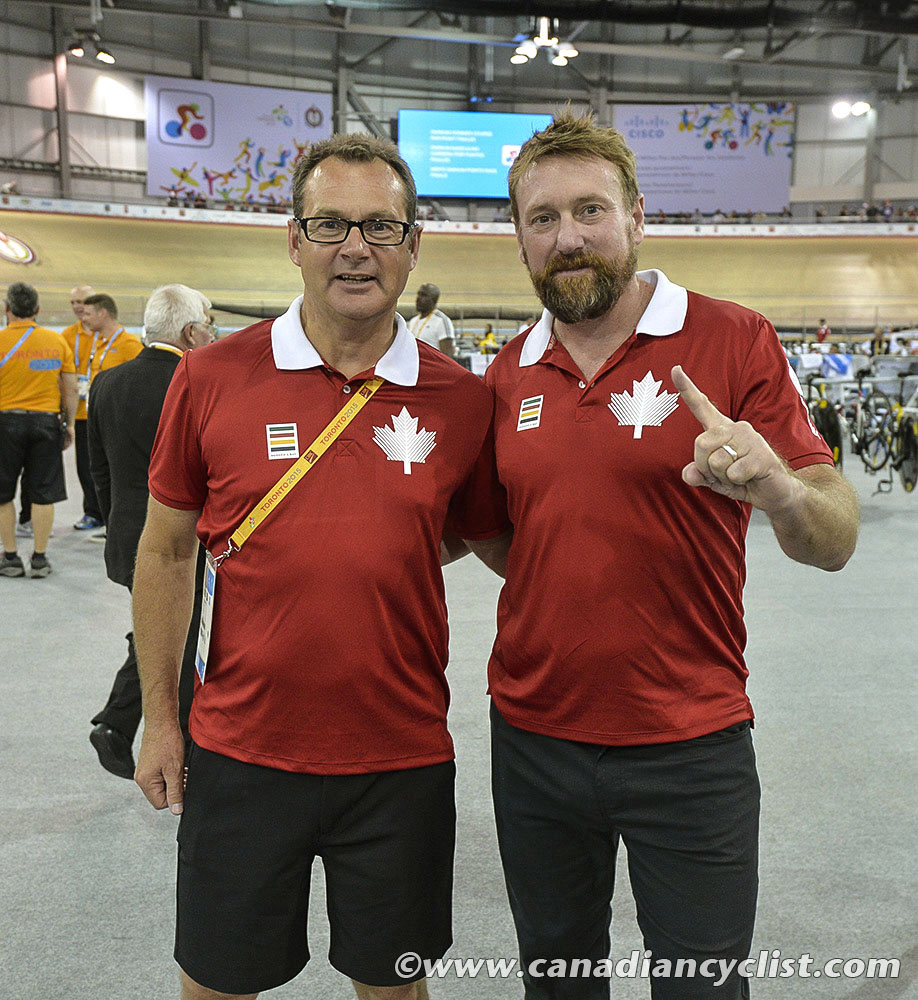 Team Canada coaches Craig Griffon and Erin Hartwell at the 2015 Pan Am Games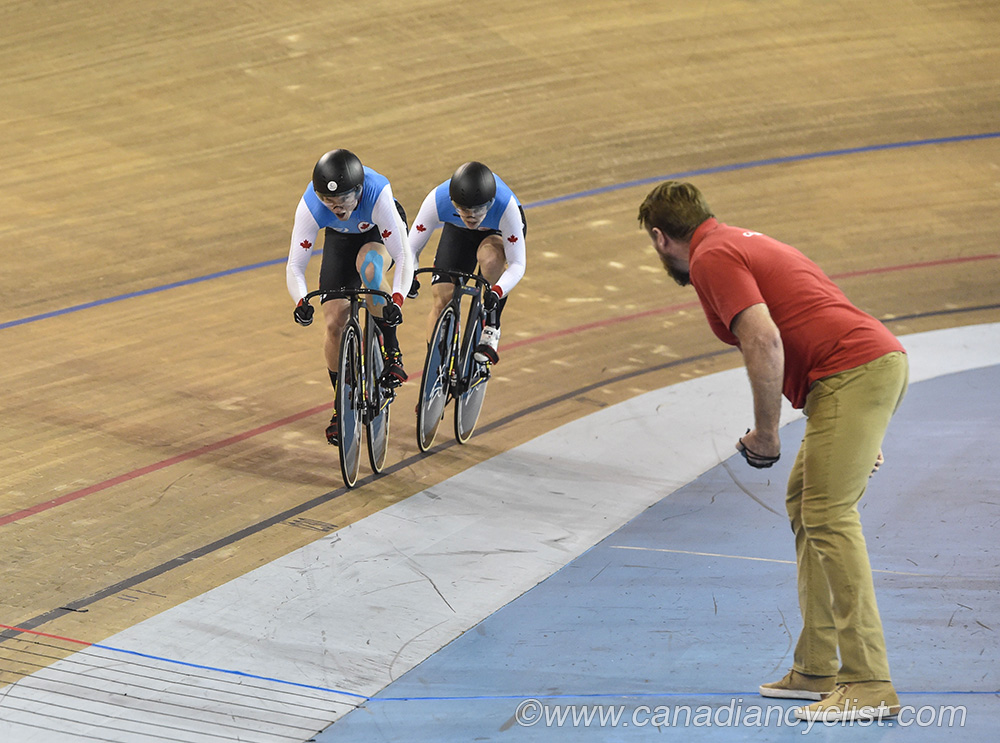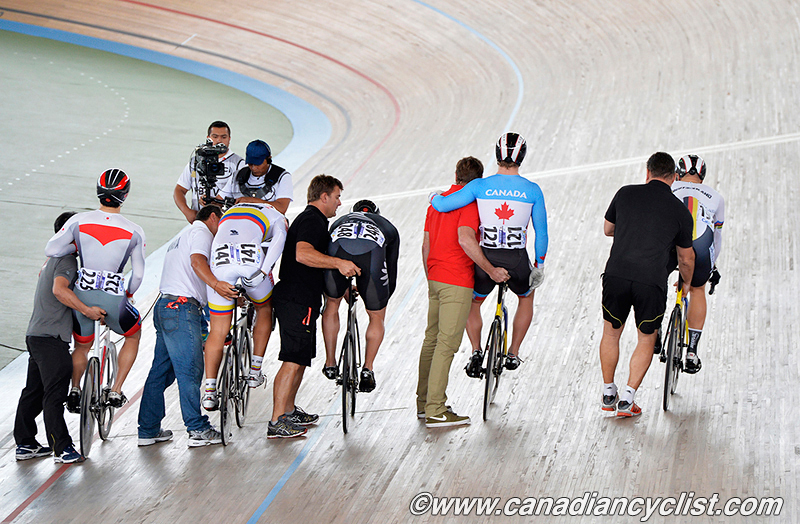 "I definitely think we have a program that is being put in place, but the game changer, as Curt Harnett has always said, is the facility in Milton. We have strong infrastructure, we have great staff, and we have athletes that are getting on board, but we also now have a program for athletes to come in to; it isn't just a transient program, based in Los Angeles, we're bonafide right here in Milton. I think that is probably our strongest asset. This is the best organization I have ever worked for in my 30 years of cycling. We are medal capable, but are we going to win medals? That's why we race ... to find out."