August 17/16 10:44 am - Olympic Profile - Catharine Pendrel

Posted by Editoress on 08/17/16

Catharine Pendrel is one of Canada's most decorated cross-country mountain bikers, with two world titles to her name, plus two overall World Cup titles and 12 World Cup wins. Catharine is also a Pan Am Games and Commonwealth Games champion. The Kamloops, BC based rider is originally from Harvey Station, New Brunswick.

Catharine - known as Kika - began cycling at age 16, following in the footsteps of older brother Geoff, who was a member of the national Downhill mountain bike team. When she moved to the west coast to attend the University of Victoria, Catharine continued cycling, and was first selected to the national team for the world championships in 2004.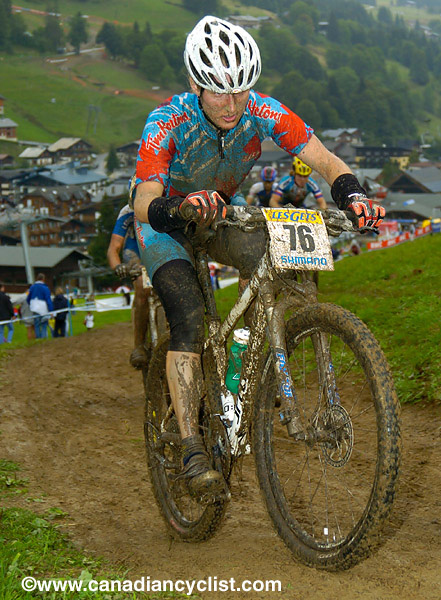 2004 MTB World Championships, Les Gets, France
Her first significant international success was in 2007, when she won the Pan Am Games gold medal, in Rio de Janerio, no less. In 2008, she was selected to the Canadian team for the Beijing Games and finished fourth, after riding much of the race in the bronze medal position. In the 2012 London Games, Catharine was a disappointing ninth, after going in as one of the favourites.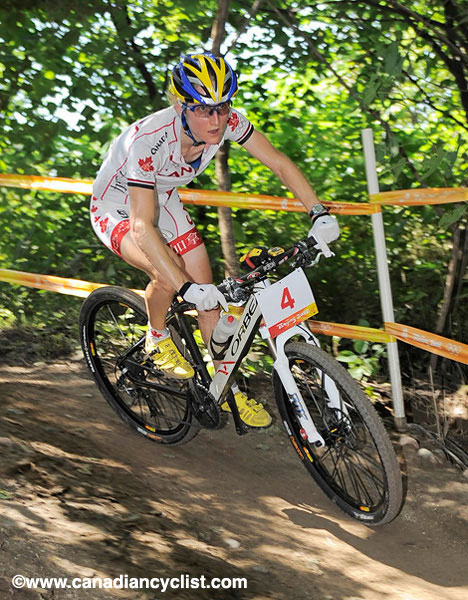 2008 Beijing Olympic Games

This was the beginning of a string of successes, with her first World Cup win coming in 2008, in Bromont, Quebec, and her latest two weeks before the Rio Games race, at Mont-Ste-Anne, Quebec. Catharine now holds the record for MSA wins, with four. Catharine won the overall title in the Wold Cup in 2010 and 2012.
2011 World Champion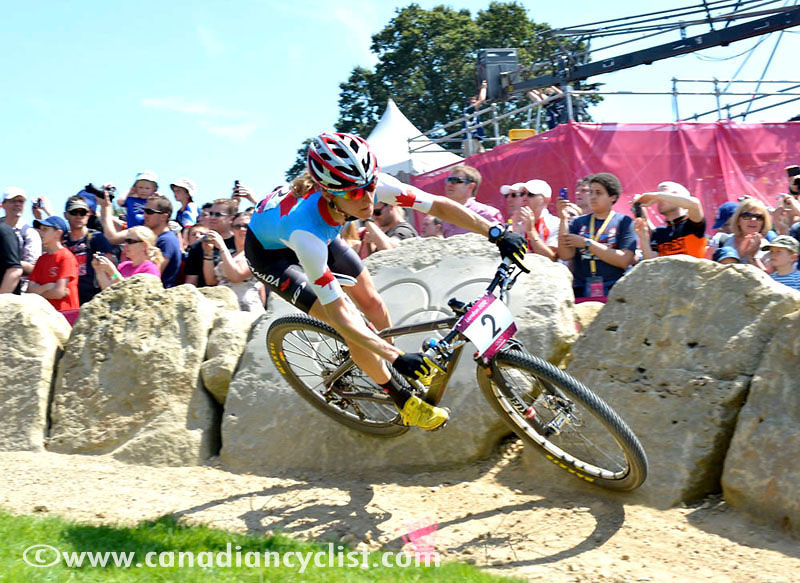 2012 Olympic Games, London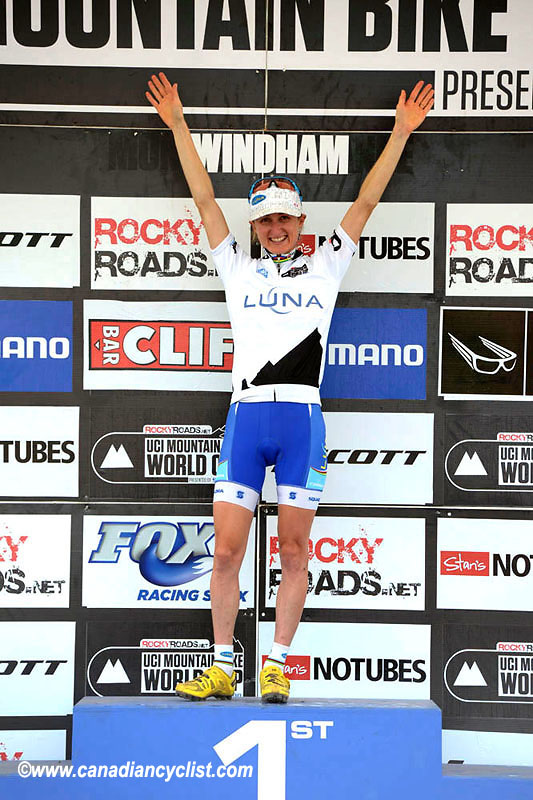 2012 World Cup winner

The 2011 season saw Catharine take her first world title, in Champery, Switzerland; the first cross-country title by a Canadian woman since Alison Sydor in 1996. In 2014, she took her second title in Hafjell, Norway, coming back from a broken collarbone earlier in the season. 2014 also saw Catharine win the Commonwealth Games gold medal in Glasgow, Scotland, and her second national cyclo-cross title.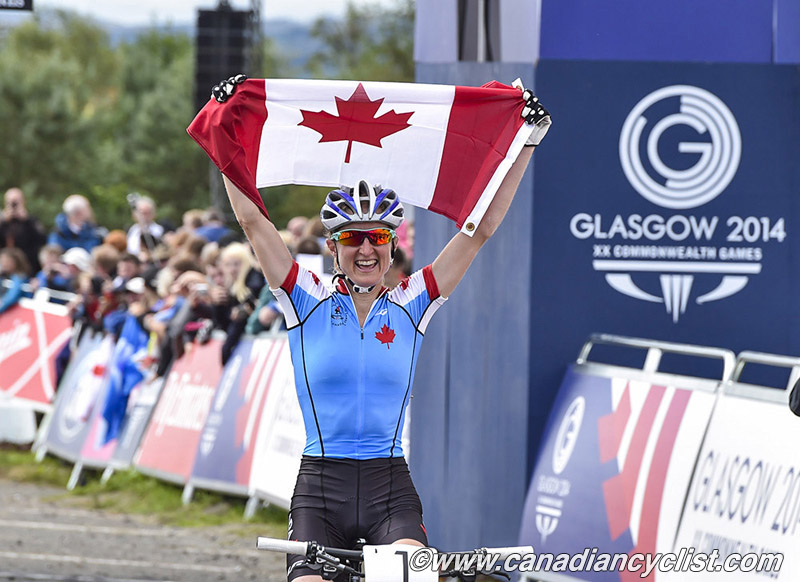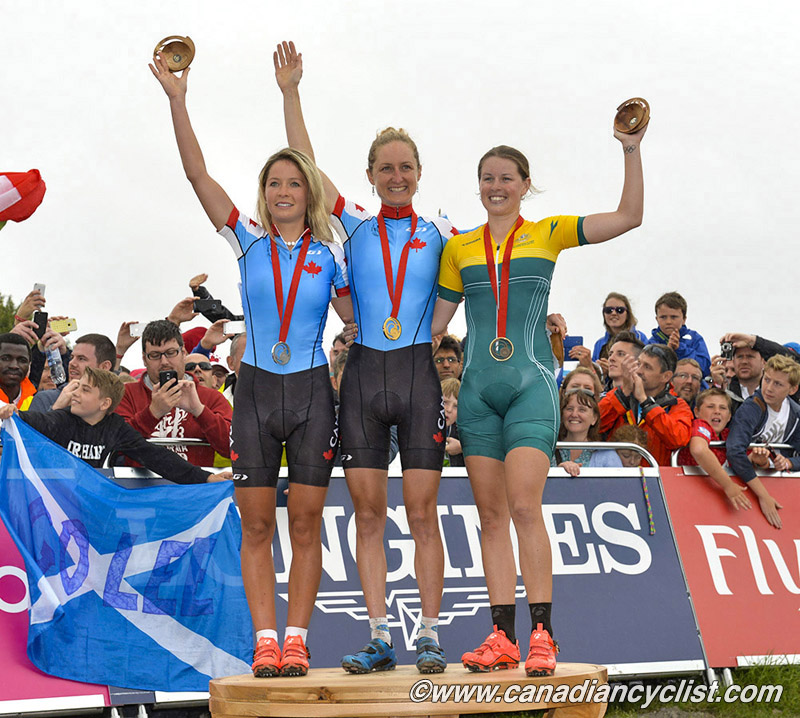 2014 Commonwealth Games champion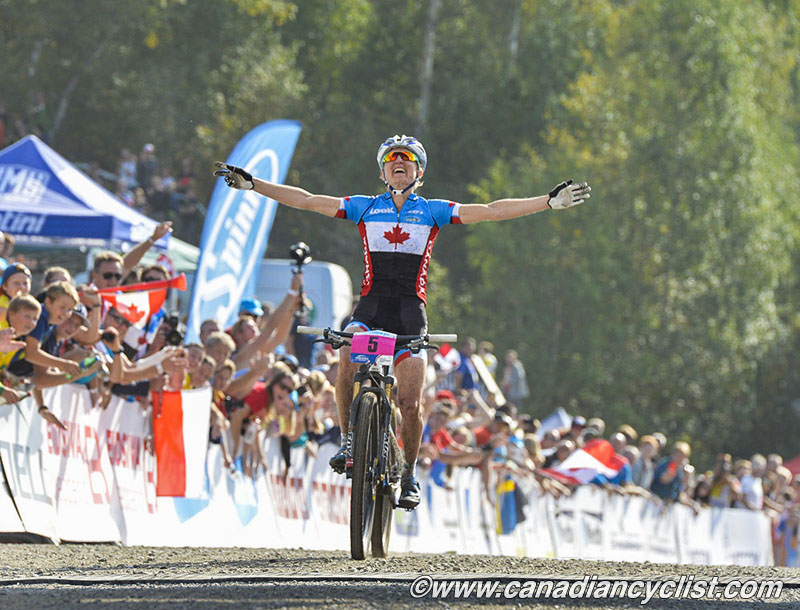 2014 World Champion, Hafjell, Norway

"We were here last October for the test event, and we spent a lot of time getting the course dialed in and took lots of video. So on Wednesday (August 17th), we are all going to go out and do a lap together and share our knowledge. We've been following the course designer on Twitter and watching all the changes that have happened. I think we are very well prepared and will be able to consolidate our information on Wednesday. So Wednesday will be a big training day, and after that it will be recovery and final race prep."

"I think it [the race] will be technical to a point, but I think you will see an early selection, particularly if it doesn't get too hot. It will come down to a smaller group of women, probably after the 30 minute mark, and then eventually blow apart."

"I think most of us will be on a hardtail, and that is currently my plan, unless there's been some big changes we don't know about. If it rains I'm not sure how that will change the course. I believe they have done enough fortification of it that it won't change a lot. Cooler weather would be better, but we all have prepared for heat and humidity. But if it is cooler you are going to see faster, harder racing. That's what I'm hoping for because that's the way I like it."

"I think the gold medal favourites are Annika Langvad, Jolanda Neff, Jenny Rissvids and myself. We've all won World Cups this year. But there are a lot of women that I feel could medal at this race, and it's the Olympics, and it doesn't always come down to what you've done already this season. It's who puts it together on the day, when it matters. That's part form, part mind, part tactics and a little bit of luck. Hopefully it will be Canada showing the flag on the podium."

"I feel way more relaxed and confident coming into this Games, even though in 2012 I was riding off of stronger results. 2011 was probably my best season ever and the start of 2012 was strong. I felt a little fatigue [at the 2012 Games]. This year I've taken a much more relaxed approach and I know what worked for me in Beijing [4th] was keeping it fun and light. In London I was much more serious and medal-focussed; now I'm more performance focussed. I think having a good performance can get me a medal, but it's more about putting together a ride that I'm satisfied with. Maybe that's a medal, maybe it's fifth, maybe it's less than that. But it's about giving as much as I can on the day."