August 21/16 16:35 pm - Rio: Men's Mountain Bike, Bouchard 27th

Posted by Editoress on 08/21/16

Leandre Bouchard was the top Canadian in the Olympic mountain bike race for men on Sunday, finishing 27th. Raphel Gagne, Canada's second rider, finished 40th. Bouchard finished the 34.5 kilometre race in a time of one hour, 42 minutes and 43 seconds. He was nine minutes and 15 seconds behind gold medalist Nino Schurter of Switzerland. Defending Olympic champion Jaroslav Kulhavy of the Czech Republic took the silver medal and Carlos Coloma Nicolas of Spain won bronze.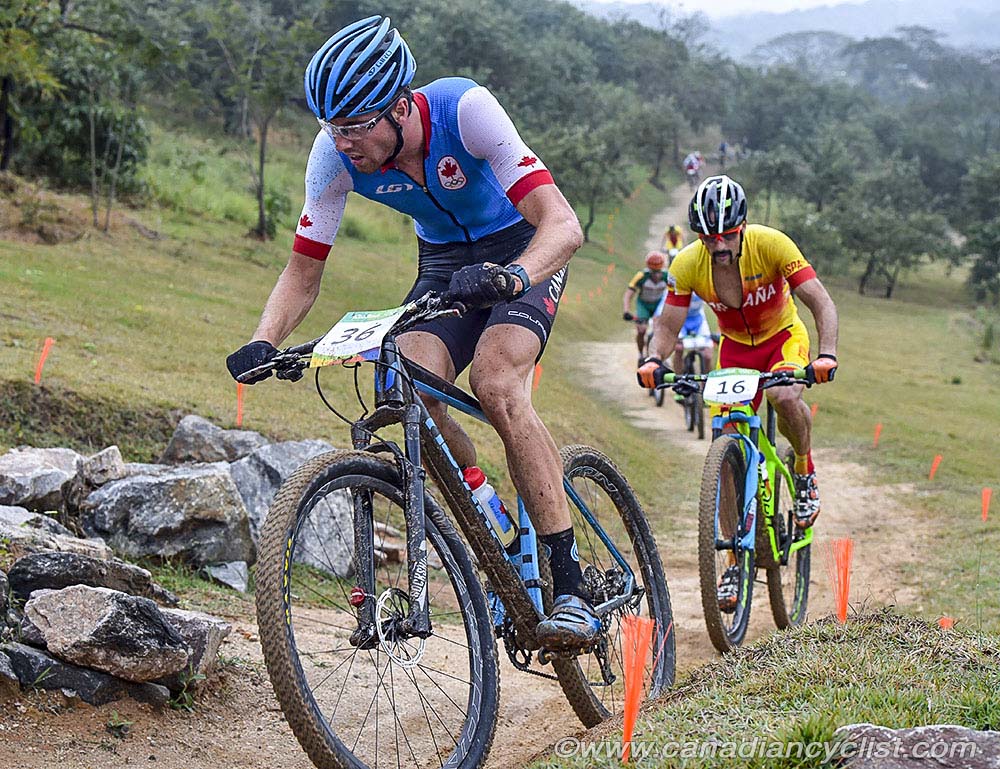 Heavy rain overnight made the course muddy and slippery. Both Bouchard and Gagne had good starts, exiting the start loop for the first of seven laps positioned in the mid-20s. Gagne struggled with the slippery conditions and dropped back, while Bouchard maintained his positioning until the second lap, when a rider stopped abruptly in front of him in the feedzone, causing the Canadian to crash. He dropped to the mid-30s, but gradually moved up in the final two laps from 32nd to his final finish of 27th.

"A rider stopped in front of me very quickly," explained Bouchard, "and I had too much speed to brake or go around him, so I had a crash. But I tried to keep thinking positive and keep riding. It was more slippery after the rain than I expected, but it was the same for everyone. I'm satisfied with this result."

"I am happy just to be here at the Olympics, it's really amazing, everything is so big and it was like magic. After our team mates Catharine [Pendrel, bronze in women's mountain bike] and Emily [Batty, fourth] did so well it helped my preparation. It was inspiring to see them, and I know that at my age I can still progress. This was a good experience for future Olympics."

"It was definitely a hard race and I am disappointed with my result," admitted Gagne. "My goal was top-20, so I'm disappointed. I was too far back for the first technical climb and got caught in traffic. Then I had problems getting into a good rhythm. It was pretty slippery and I maybe didn't have the best tire on the back, but it was the same for everyone around me; everyone was off their bike to run up the climb. I have no regrets, I prepared as best as I could, and July and August was really good training. I just didn't have it today."

Canada concludes the Rio Games with two bronze medals in cycling, the best result since 2004.

Jacques Landry, High Performance Director for Cycling Canada, summed up the Canadian results in Rio. "Coming in, we had two podiums that we were focussing on - mountain bike and women's track endurance. We hit that goal with two bronze medals. There were some other events where we could have been a bit luckier, such as Women's Omnium and Women's Time Trial, but all in all, we're pretty satisfied with the overall outcome of these Games."

"It's also important to note that some major cycling nations like France and Spain only won one medal here in cycling, and we took two."

"We are going to debrief soon, so we will get feedback from athletes, the coaches and the staff. Right now, I think a lot of countries are scratching their heads about the track; with regards to the British [who won 11 medals, including six gold] and figuring out what they are doing that all the rest of us aren't doing."

"From my perspective, we did everything right, whether it be mountain bike, the track, the road on the time trial side of things, but obviously we missed some areas where we will have to improve."

"On the men's mountain bike, we focussed on getting more experience and development. We are still building men's track endurance, and hopefully by the end of this quad [four years] we will be safely in the top eight nations for Men's Team Pursuit. With regards to sprinting, we are looking at some strategies to improve our program and cooperating with some other countries, to lookat ways to get closer to the gap between the other countries and the British. For BMX we are looking more grassroots and develop it from the bottom up; it's not good that we have only one good rider [Tory Nyhaug], we have no depth and have to go back to basics."
Rio: Men's Mountain Bike results
Fatal error
: Uncaught Error: Object of class PDO could not be converted to string in /home/canadiancyclistcom/canadiancyclist.com/public/modules/news.php:528 Stack trace: #0 /home/canadiancyclistcom/canadiancyclist.com/public/modules/news.php(517): getrelatedgallery() #1 /home/canadiancyclistcom/canadiancyclist.com/public/dailynews.php(58): getDailyNewsArticle() #2 {main} thrown in
/home/canadiancyclistcom/canadiancyclist.com/public/modules/news.php
on line
528