August 21/16 16:41 pm - Rio: Men's Mountain Bike, Nino Schurter Finally Takes Olympic Gold

Posted by Editoress on 08/21/16

On Sunday, Nino Schurter of Switzerland finally achieved the one result missing from his resume - Olympic champion. Schurter rode away from defending champion Jaroslav Kulhavy (Czech Republic) to take the gold medal. Kulhavy won silver and Carlos Coloma Nicolas of Spain took the bronze medal. Schurter now has a complete set of Olympic medals; gold here in Rio, silver in London (2012) and bronze in Beijing (2008).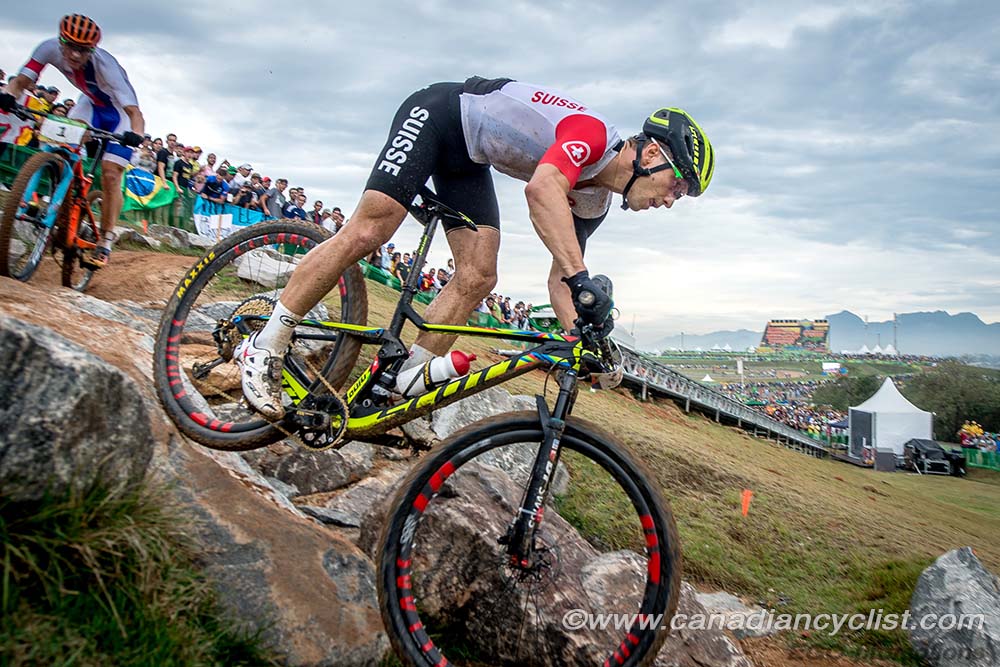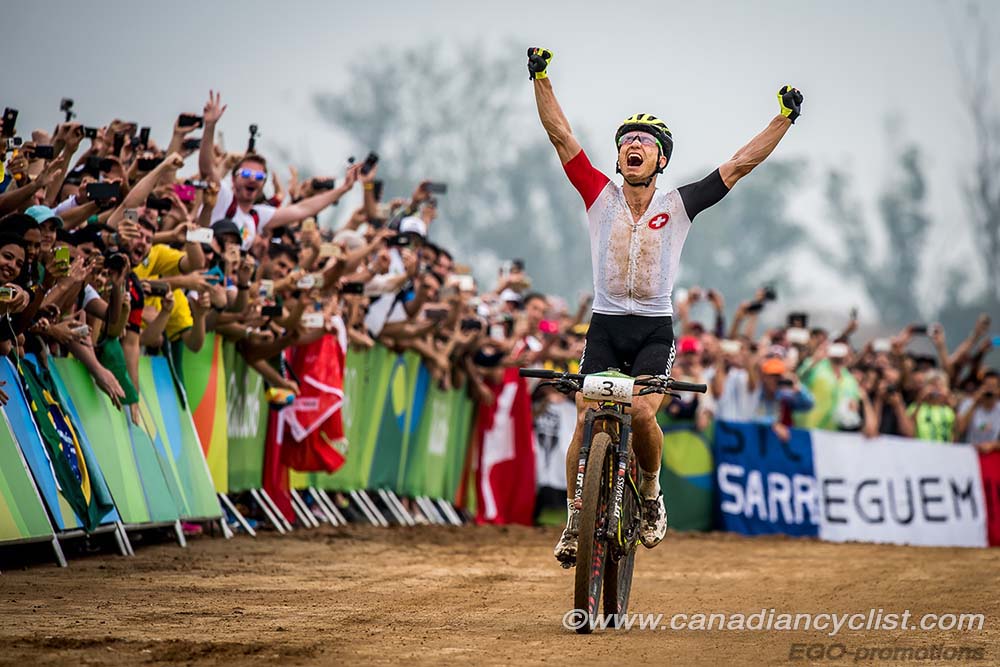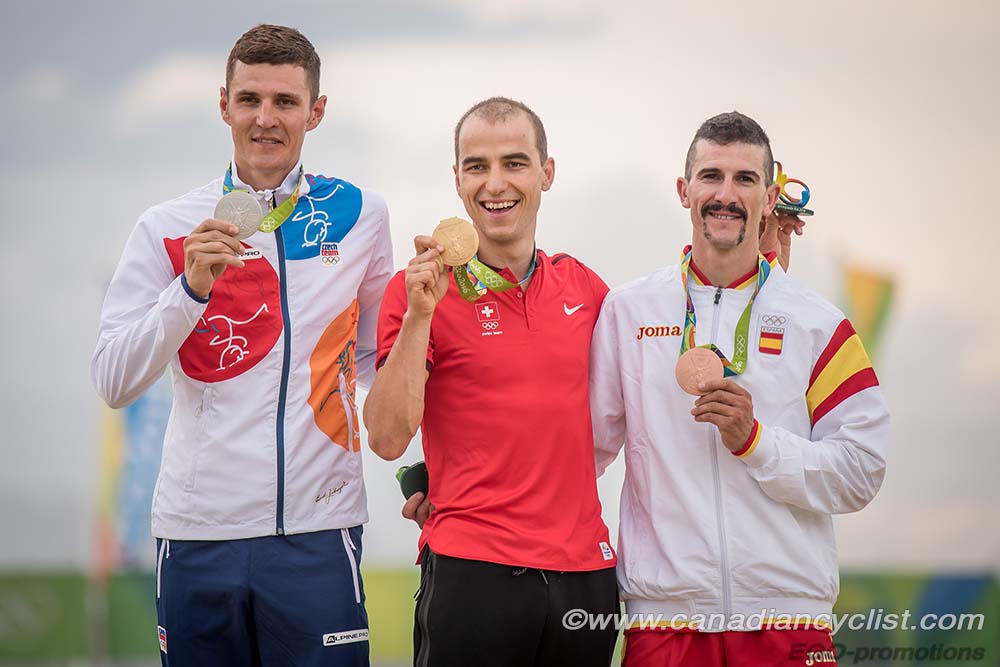 Kulhavy, Schurter, Coloma
Heavy rain overnight soaked the course and, while it did not rain during the race, the track was muddy and slippery on some climbs, and treacherous in the rock gardens. At the end of the start loop a group of seven took the lead, including the three eventual medalists, Marco Fontana (Italy), Victor Koretzky (France), Shlomi Haimy (Israel) and Peter Sagan (Slovakia). Road world champion Sagan caused a stir earlier in the year, when he announced he would compete in mountain bike at the Olympics rather than road.

The group finished the first lap together, but the eventual final selection began on the second lap. Haimy was dropped and Koretzky, Fontana and Sagan all suffered punctures, although Fontana and Sagan had already been gapped by the leaders. Coloma was dropped by Schurter and Kulhavy on the fourth lap, and battled for the rest of the race against Maxime Marotte (France) for the bronze medal.

At the front, the two leaders worked together until the sixth and penultimate lap, when Schurter attacked on a climb and Kulhavy could not respond. The reigning world champion entered the final lap with a 33 second lead and extended that to 50 seconds by the finish line. Kulhavy finished alone in second, while Coloma managed to hold off Marotte by ten seconds at the finish.

"It's a dream come true," said Schurter. "I cannot believe it. I have been working four years for this gold, and I'm so happy that everything went well. I felt very good and strong throughout the entire race. Everything went to plan and in the end I was able to ride alone to the finish line. If I look back, then I needed that silver in London to get strong for here. For me it is the perfect story; I have bronze in Beijing, silver in London and now gold in Rio."

"For me it was a very hard race and I was at my maximum effort," said Kulhavy. "After my [hand and wrist] injury this season, I am happy to have silver. The course was incredibly tough; the rain made the course very different and slippery on the rocks, and the downhills much more difficult. It was a different race in London [2012], but today it was me and Nino again. I'm happy for both of us because Nino is the strongest rider this year."
Rio: Men's Mountain Bike results
Fatal error
: Uncaught Error: Object of class PDO could not be converted to string in /home/canadiancyclistcom/canadiancyclist.com/public/modules/news.php:544 Stack trace: #0 /home/canadiancyclistcom/canadiancyclist.com/public/modules/news.php(533): getrelatedgallery() #1 /home/canadiancyclistcom/canadiancyclist.com/public/dailynews.php(58): getDailyNewsArticle() #2 {main} thrown in
/home/canadiancyclistcom/canadiancyclist.com/public/modules/news.php
on line
544