September 4/16 2:07 am - Vallnord World Cup DH: Iles, Atherton and Gwinn claim overall titles

Posted by Editoress on 09/4/16

The 2016 Downhill World Cup concluded on Saturday in Vallnord, Andorra, with Round 7. Rachel Atherton (Trek Factory) took the women's title after sweeping all seven rounds, with Danny Hart (MS Mondraker) winning the men's final round for his third straight victory, but Aaron Gwin (The YT Mob) won the men's overall title. Canada's Finnley Iles (Specialized Racing) won the Junior men's overall title.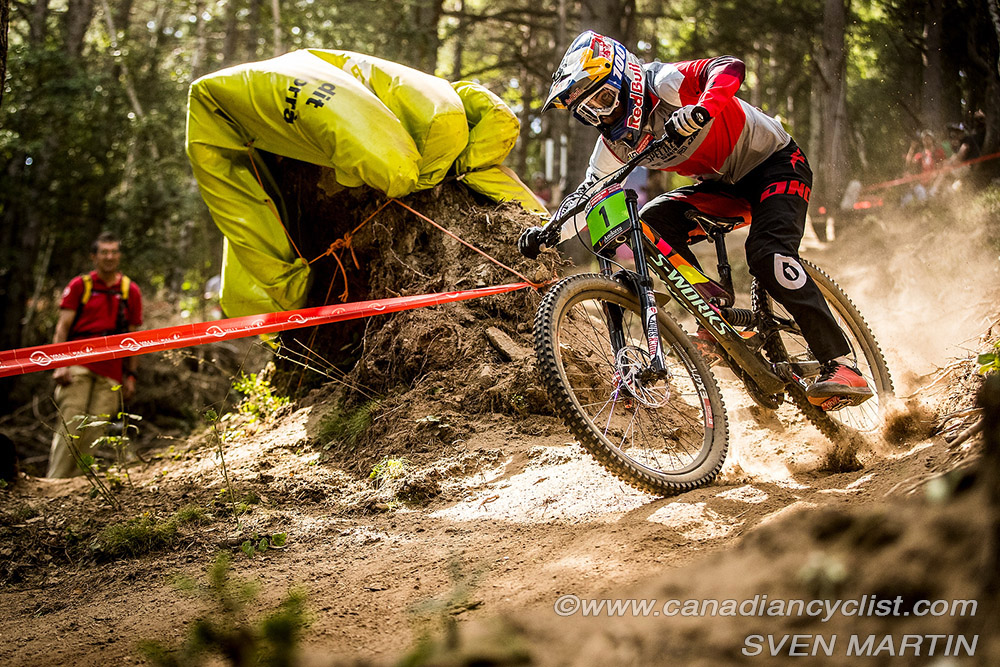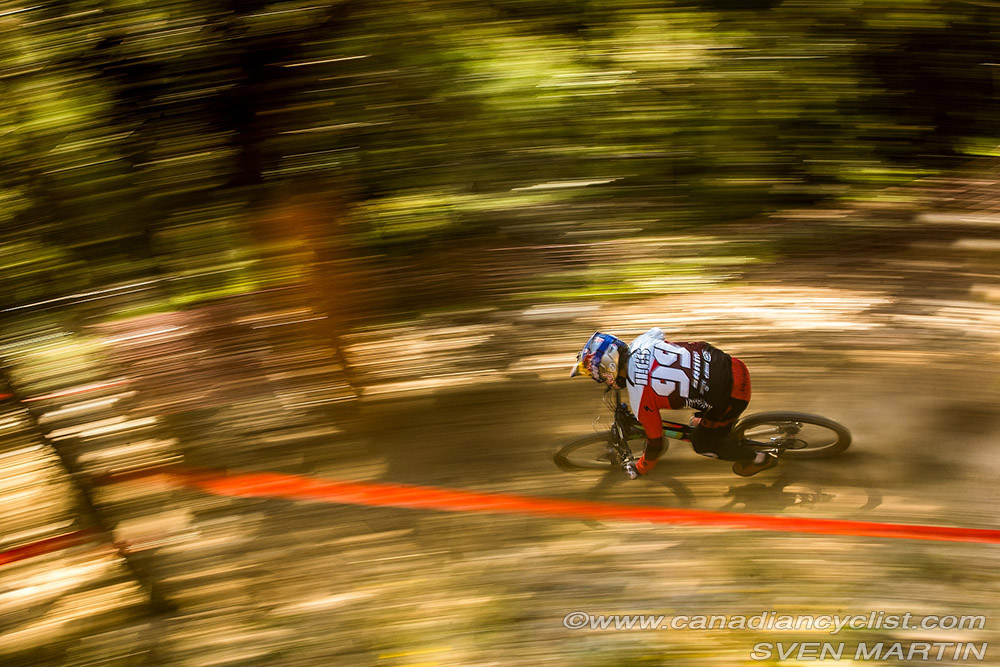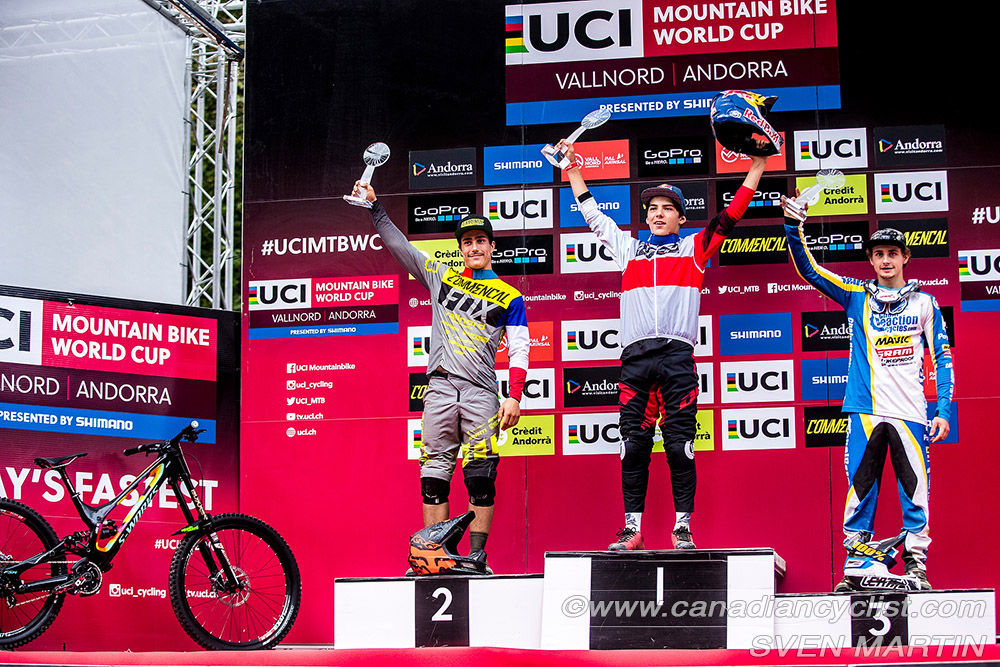 After qualifying first, Iles finished second in the final run to Gaetan Vige (Commencal/Vallnord), 3.099 seconds down. Elliott Heap (Chain Reaction/Paypal) took third, and Canadian rider Magnus Manson (Canadian National) was fourth. In the overall standings, Iles had 300 points, with three firsts and three seconds, after missing Round 2 due to injury. Vige was second, 15 points back. Manson improved from tenth to ninth in the overall standings after the final round, with 64 points after competing in four rounds.

Atherton went one better than last year, when she lost one round, to win all seven this year; her 13th consecutive World Cup victory. The British rider finished 6.568 seconds ahead of Australian champion Tracey Hannah (Polygon UR), with Myriam Nicole (Commencal/Vallnord) third. Canadian champion Miranda Miller finished eighth. Other Canadian results include Georgia Astle in tenth and Vaea Verbeeck 19th. Atherton ends the season with 1700 points for her fifth World Cup title, followed by Manon Carpenter (Madison Saracen) at 1140, barely holding off Hannah at 1130 points. Miller improved from 11th to tenth in the final standings, with 387 points, after attending only three rounds and finishing on the podium twice. Astle was 17th and Verbeeck 19th.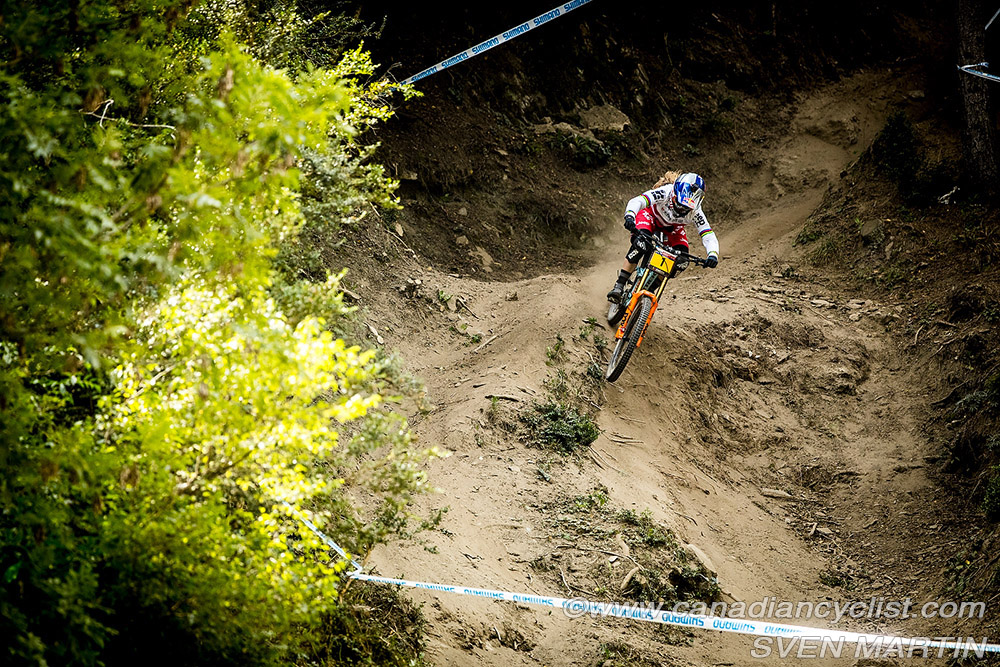 "It was pretty hard I'd say," commented Atherton, "probably the hardest track of the year. It was just so blown out compared to this morning after the men rode it [in training], it was pretty gnarly. Gee [her brother] said 'watch out for the holes' and you kind of brace yourself and get ready for them, but it's incredible that we can actually ride it and race it."

"I didn't even expect it [to win seven in a row]. I thought that today I was on damage limitation. I definitely thought Pom Pom [Nicole] or Tracey [Hannah] would get me here. I didn't really think about it, I haven't let myself think about it, because I didn't think I could do it. I didn't think it was possible, so yeah it's pretty cool."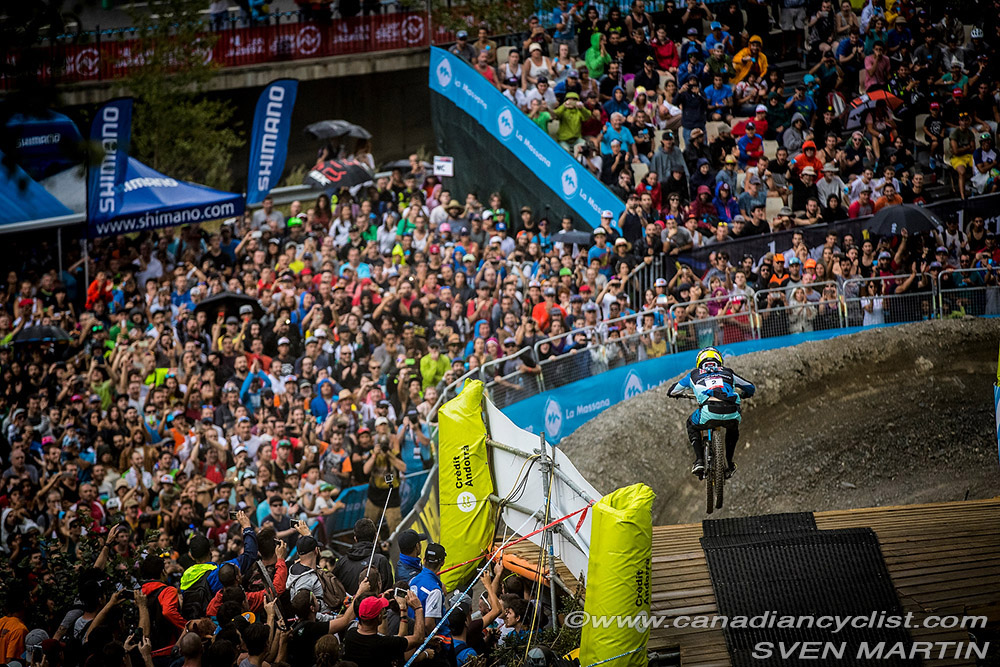 Danny Hart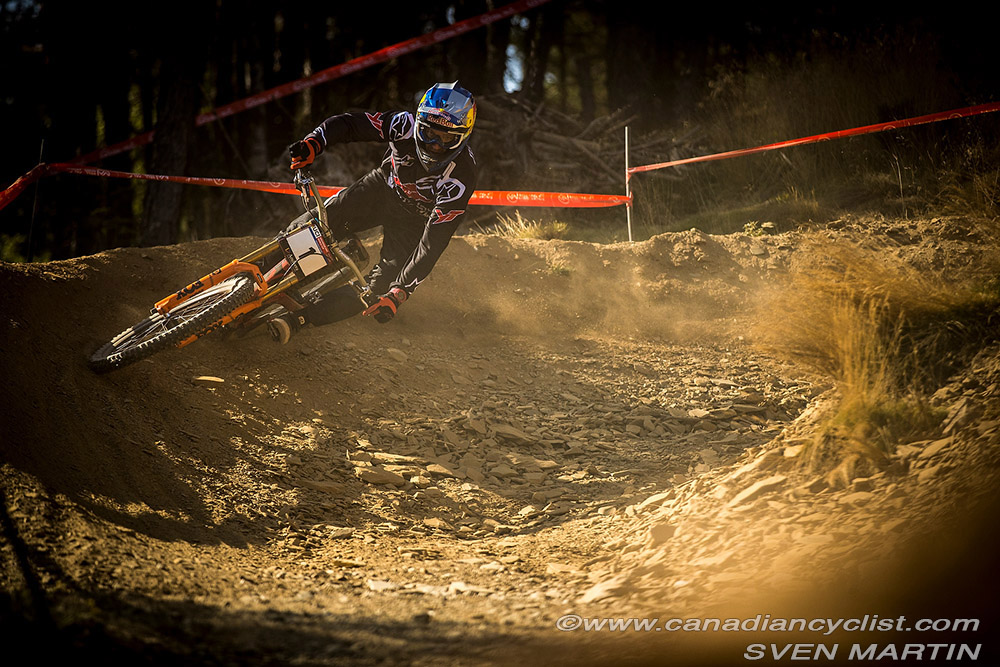 Aaron Gwinn
The men's race saw a significant change in conditions for the final and fastest qualifiers. It began to rain for the final 20 riders, getting muddy and slippery for the final 12 starters. Hart set the fastest time with six riders to go and Gwin, needing just to finish to take the title, rode conservatively to finish 55th. Mark Wallace (Devinci Global Racing) was the top Canadian, in 33rd place. Canadian champion Kirk McDowall was 50th.

Gwin took the overall title with 1252 points; never finishing out of the top-4 until Vallnord. Hart remains in second, but closed to within 26 points after three straight wins. Australian champion Troy Brosnan held onto third with 1031 points, after also playing it cautious in his run. Mark Wallace finished 22nd overall.

"I did all I could, you know," said Hart [to catch Gwin in overall]. "I had an average qualifier and I knew I had a lot of work to do. I've been struggling all day. Obviously the rain played a factor but I came down in the rain as well obviously not as much, but I did what I could. Aaron rode a smart race, sensible, did what he had to do. I didn't change my run at the top; I went out straight away. It was just so slippery, I got loose a couple times which I haven't done in the past few races but with the conditions like they are what can you do."

"Yeah it was tough," admitted Gwin. "I never like racing for anything less than a win and that was the plan all day. I didn't want to know how anybody did. I just wanted to try and win it. I felt good here all week and I thought I could really do some damage on. We just got unlucky with the weather. It was just bucketing down up at the top for like 20 minutes before my run."

"I dropped out of the start thinking maybe I still had something and then I went into the first couple corners and the roots up there .... I almost lost it on the second turn and then reality hit pretty quick and I started thinking about having a really big crash, hurting myself and messing the bike up just to try to push for a win. Those conditions would've been pretty gnarly with what I had on the line, so I just had to ride smart. It is what it is. I'm pumped to wrap up the overall title."
Vallnord World Cup DH: Women and Junior Men final results
Vallnord World Cup DH: Elite Men final results