September 9/16 22:11 pm - RIO Paralympics: Track Day 2, 2 silver medals

Posted by Editoress on 09/9/16

Canada won two silver medals on Friday, the second day of track cycling competition at the Paralympic Games in Rio de Janeiro. Ross Wilson of Edmonton, Alberta, took silver in the Men's C1 Individual Pursuit, as did Tristen Chernove of Cranbrook, BC, in the Men's C2 Individual Pursuit. Michael Sametz of Calgary, Alberta, finished just off the podium, in fourth place, in the Men's C3 Individual Pursuit.

Wilson finished second to Li Zhangyu of China in the 3000 metre final of the C1 competition, qualifying second to Li, who set a world record in his qualifying ride. In the final, Wilson was caught by his rival, automatically ending the race.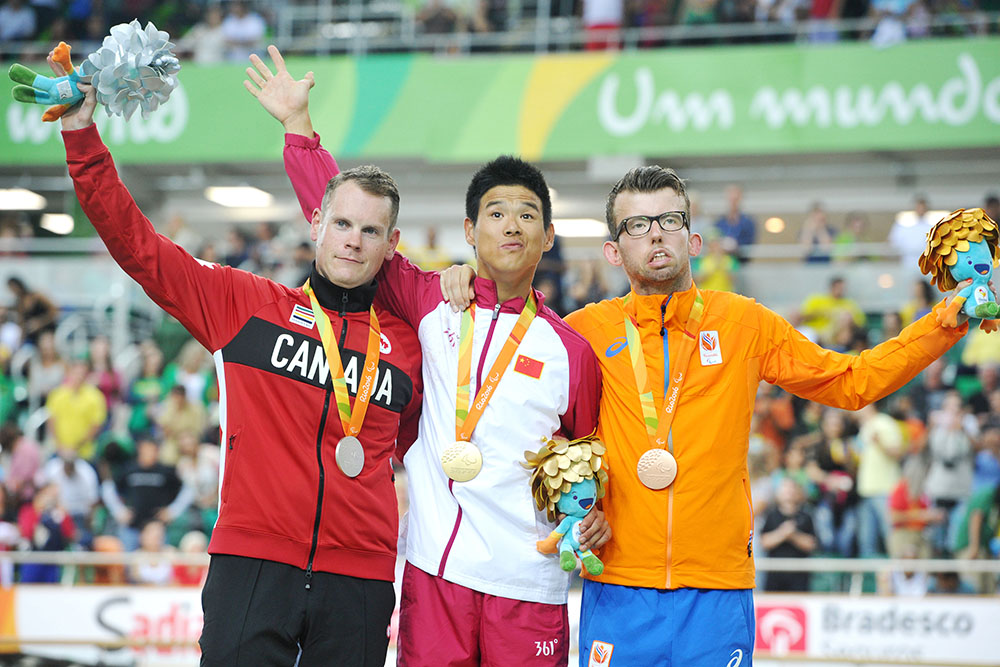 Photo by Jean-Baptiste Benavent/Canadian Paralympic Committee

"The goal was the gold and I fell just short of that," said Wilson. "I rode the fastest I have ever ridden, so I think I can be proud and hold my head high. I think it's pretty cool to win the first medal and I hope this opens the floodgates."

In the 3000 metre C2 gold medal final, Chernove finished with a time of three minutes and 47.412 seconds, just under three seconds behind Liang Guihua of China, who won the gold medal.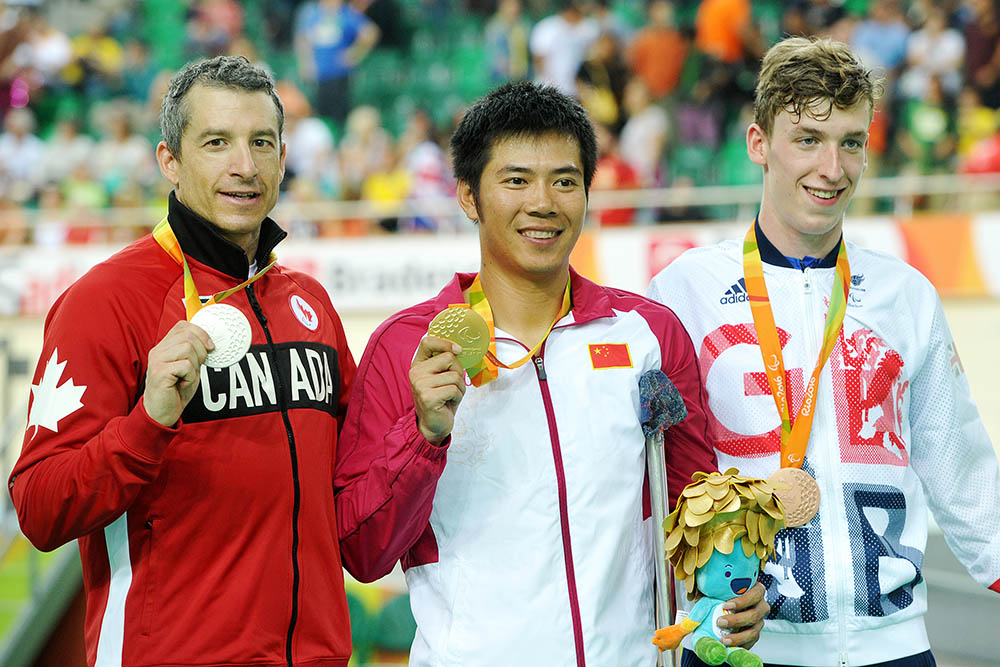 Photo by Jean-Baptiste Benavent/Canadian Paralympic Committee

"It is wonderful to be on the podium," said Chernove, "but I still have a lot to learn. I didn't have my best rides today, which is hard. It's wonderful to have a silver medal, but this was far from my best ride. But this isn't the end and I'm going to harness my energies, refocus and get back on top of my game."

Sametz qualified third in the 3000 metre C3 competition, putting him in the bronze medal final against Clifford Eoghan of Ireland. Eoghan took the bronze medal with a time of three minutes and 40.201 seconds, 1.389 seconds faster than Sametz. David Nicholas of Australia won the gold medal.

"I think I lost concentration at the halfway point," explained Sametz, "then I was able to bring it back later in the race, but then I just didn't have enough time to catch [Eoghan]. I have learned that I need to work on my mental preparation and also my physical level, so I will get better for Tokyo."
Results from the second day of Track cycling in Rio de Janeiro
Men's C1 3000m Individual Pursuit

Qualifying
1 Zhangyu Li (China)
3:50.373 WR

2 Ross Wilson (Canada)
3:53.666
3 Erich Winkler (Germany)
4:02.658
4 Arnoud Nijhuis (Netherlands)
4:04.052
5 Michael Teuber (Germany)
4:04.105
6 Billy Lister (USA)
4:08.275
7 Giancarlo Masini (Italy)
4:14.785
8 Rodrigo Fernando Lopez (Argentina)
4:17.966
9 Juan Jose Mendez Fernandez (Spain)
4:19.161
Final
Ride for Gold
1 Zhangyu Li (China)
2 Ross Wilson (Canada)
Caught
Ride for Bronze
3 Arnoud Nijhuis (Netherlands)
4 Erich Winkler (Germany)
Caught

Men's C2 3000m Individual Pursuit

Qualifying
1 Guihua Liang (China)
3:42.916 PR

2 Tristen Chernove (Canada)
3:44.731
3 Alvaro Galvis Becerra (Colombia)
3:49.238
4 Louis Rolfe (Great Britain)
3:49.908
5 Colin Lynch (Ireland)
3:53.300
6 Ivo Koblasa (Czech Republic)
3:55.437
7 Maurice Far Eckhard Tio (Spain)
3:57.786
8 Shota Kawamoto (Japan)
4:06.831
9 Roger Bolliger (Switzerland)
4:13.918
10 Mumuni Alem (Ghana)
4:59.965
Final
Ride for Gold
1 Guihua Liang (China)
3:44.553
2 Tristen Chernove (Canada)
3:47.412
Ride for Bronze
3 Louis Rolfe (Great Britain)
3:47.951
4 Alvaro Galvis Becerra (Colombia)
3:49.819

Men's C3 3000m Individual Pursuit

Qualifying
1 David Nicholas (Australia)
3:32.336 PR

2 Joseph Berenyi (USA)
3:34.394
3 Michael Sametz (Canada)
3:38.459
4 Eoghan Clifford (Ireland)
3:38.863
5 Masaki Fujita (Japan)
3:39.142
6 Eduardo Santas Asensio (Spain)
3:45.398
7 Kris Bosmans (Belgium)
3:48.308
8 Esneider Munoz Marin (Colombia)
3:50.319
9 Diederick Schelfhout (Belgium)
3:55.645
10 Yongsik Jin (Korea)
3:59.070
Final
Ride for Gold
1 David Nicholas (Australia)
3:33.028
2 Joseph Berenyi (USA)
3:34.042
Ride for Bronze
3 Eoghan Clifford (Ireland)
3:40.201
4 Michael Sametz (Canada)
3:41.590
Fatal error
: Uncaught Error: Object of class PDO could not be converted to string in /home/canadiancyclistcom/canadiancyclist.com/public/modules/news.php:528 Stack trace: #0 /home/canadiancyclistcom/canadiancyclist.com/public/modules/news.php(517): getrelatedgallery() #1 /home/canadiancyclistcom/canadiancyclist.com/public/dailynews.php(58): getDailyNewsArticle() #2 {main} thrown in
/home/canadiancyclistcom/canadiancyclist.com/public/modules/news.php
on line
528