October 19/16 12:17 pm - Team Colavita Announces 2017 Roster with 2 Canadians

Posted by Editoress on 10/19/16

Team Colavita/Bianchi has announced the final roster for the 2017 season. Reinforcing the squad with exceptional new signings and a thrilling new venture on developing riders, the team will concentrate primarily on the USA Pro Road Tour calendar, along with domestic UCI road races and a selection of international races.

"Every professional team wants to win," returning Director Sportif Mary Zider explains. "Winning will always be our program's ultimate goal, but we won't focus on the end result. We will focus on all the little steps along the way, done with excellence and attention to detail. As a team director, my goal has always been to give Colavita a program that will last and continue year after year. One that will be nationally recognized, and hopefully, forever impact riders' careers and personal lives."

Continuing their long-running support of women's cycling, Colavita is excited to partner with the Killington Mountain School in 2017 to form a Colavita/KSM Women's Development Program. At KMS, they strive to develop highly competitive junior cyclists, while ensuring that every athlete receives an exceptional college preparatory education.

"I am beyond excited to have our program now working closely with such an incredible junior development program," Zider said. "On occasion, the riders will get to travel with the pro team and see some of the biggest races in the world from a front row seat. It's going to be a valuable experience that I hope to see more of in the future to help us grow the sport and talent within the US."

The UCI women's roster boasts riders with diverse backgrounds and disciplines that will kick-off a winning campaign next season.

The team is extremely excited to announce the addition of Abby Mickey, a pure climber who will anchor the squad with a strong supporting cast and program set around the Colorado native. "Pure climbers like Abby are rare, so she is definitely a special rider," said Zider. "This year will be extremely exciting and rewarding for all involved."

Offering world-class support will be American Amber Pierce, who is returning stateside after spending several years racing in Europe. "Every team dreams of having a rider like Amber. She brings a wealth of knowledge and expertise from all the years of racing alongside some of the best in the world."

Australian Kendelle Hodges will be the sprint specialist for the team with a strong lead-out by her compatriot, Jessica Mundy. The powerful duo is sure to be a force to watch this season when combining Mundy's track background with Hodges strong tactical nose.


Using their strategic knowledge and road leadership, both will help mentor younger riders including Canadian duo Gillian Ellsay [from Trek Red Truck] and Ellen Watters [from The Cyclery-Opus]. Watters earned the "Most Aggressive Rider" this season at the North Star Gran Prix and helped her teammate, Tara Whitten, claim the overall win at the Cascade Cycling Classic. Meanwhile, Ellsay has earned the Best Young Rider jersey multiple times in addition to being the 2015 Junior Canadian National time trial champion.
Ellen Watters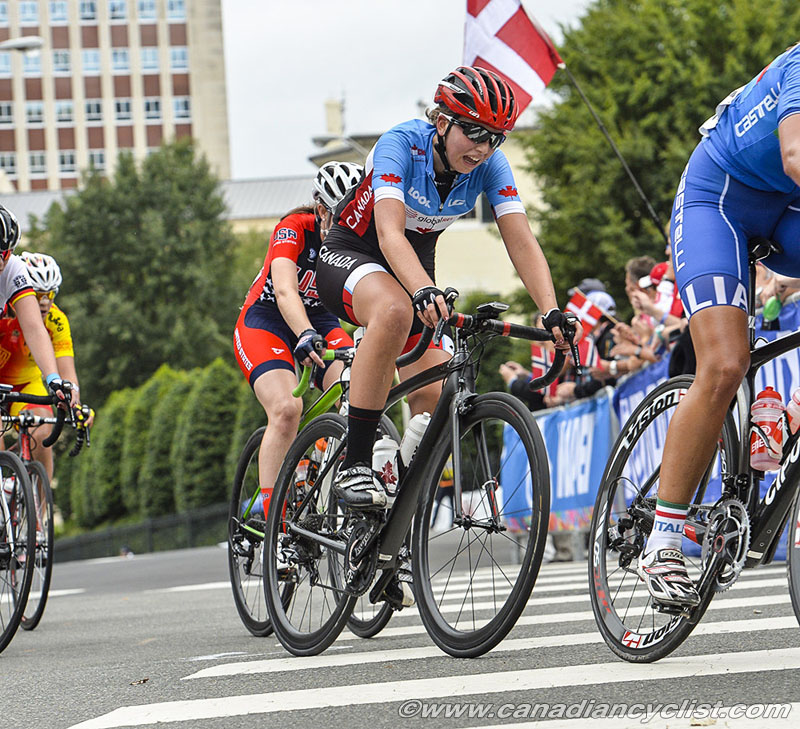 Gillian Ellsay
Bolstering the squad will be U-23 US National Cyclocross Champion Ellen Noble, looking to carry her talents over to the road. Rounding out the team include our longest running member on the squad, an outstanding workhorse and time trialist, Whitney Allison, and Emma Grant who will be coming back next year healthy and stronger than ever.

"I'm very excited about our 2017 roster," Zider stated. "Each rider brings something different and valuable to our team. You can expect to see these extremely talented athletes leverage and benefit from our collective experience, seasoned leadership and focus. We plan to accomplish team goals through a combination of selfless teamwork, tactical excellence, hard work, persistence, and a touch of creativity."

Team Colavita/Bianchi

Gillian Ellsay | Canada
Kendelle Hodges | Australia
Abby Mickey | USA
Amber Pierce | USA
Jessica Mundy | Australia
Ellen Noble | USA
Ellen Watters | Canada
Whitney Allison | USA
Emma Grant | UK