October 19/16 16:04 pm - Taiwan Factory Tour Day 1

Posted by Editor on 10/19/16

Chad Grochowina of Dundas Speed Shop is in Taiwan this week for a tour of some of the factories that make up the Taiwanese bike industry - among the largest in the world, and where many of the brands used on most bikes originate. The trip is centred around the city of Taichung, where much of the industry is headquartered.

Chad's Day 1 Report

Our week in Taichung started off with a press conference by the Taiwan External Trade Development Council (TAITRA) who is the organizer of Taipei International Cycle Show (and a sponsor of this trip). 2017 marks the 30th anniversary for the Taipei Cycle Show, with the Show taking place between March 22nd and 25th next year.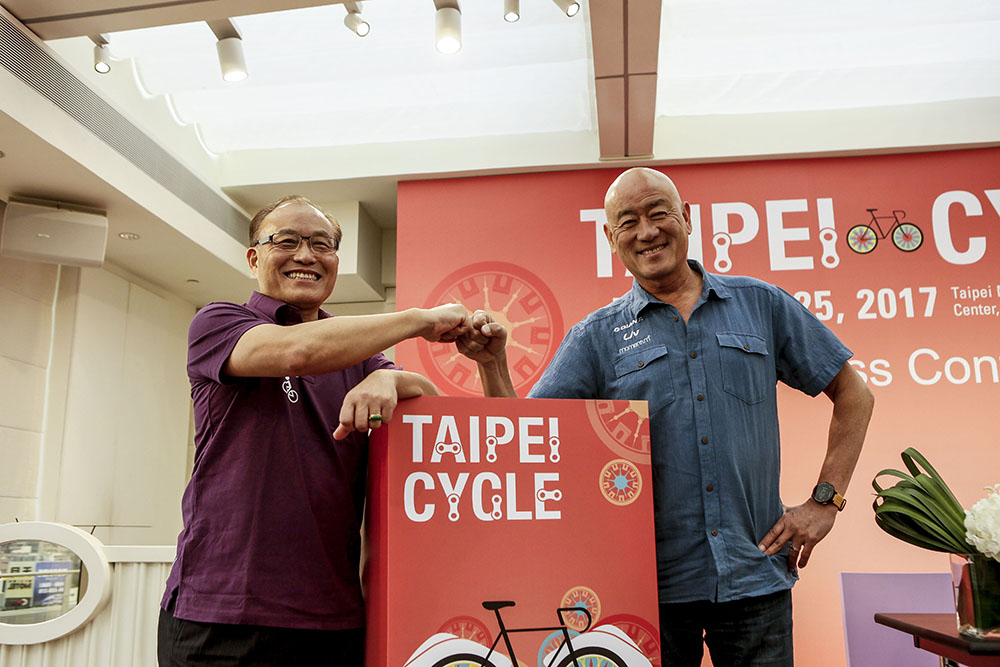 Peter Huang, President of TAITRA (left) and Tony Lo, chairman of TBA (right)
The show itself acts as a link connecting the bicycle industry to international markets; and with over 1100 exhibitors and 3340 booths, you can guarantee any bike company worth their weight in salt will attend. Companies such as Maxxis, Merida, Shimano, and Pon Bicycle Group are all participants, with 27% of exhibitors coming from abroad.

Peter Huang, the President and CEO of TAITRA, briefly commented on the current state of affairs in the industry. For 2016, complete bike exports has fallen 26%, however, component exports grew significantly, with sales growth of 32%. Huang also mentioned that Ebike sales to Europe and North America are up 105.25% over 2015. Ebikes are still considered an emerging market, with Europe being the largest export market.
FSA (Full Speed Ahead)
Our first company stop on the tour was with FSA, who just launched their first wireless electronic groupset. Six years in the making and several million Euros later comes the KForce WE. FSA's new group offers some unique features when compared to SRAM Etap and Shimano Di2.

The KForce levers communicate wirelessly to the front derailleur using ANT+. Like Shimano's Di2 Etube project, the FSA group can be customized using a simple App on your cell phone. At press time, only an Android app exists but we were assured there is an iOS version in the works.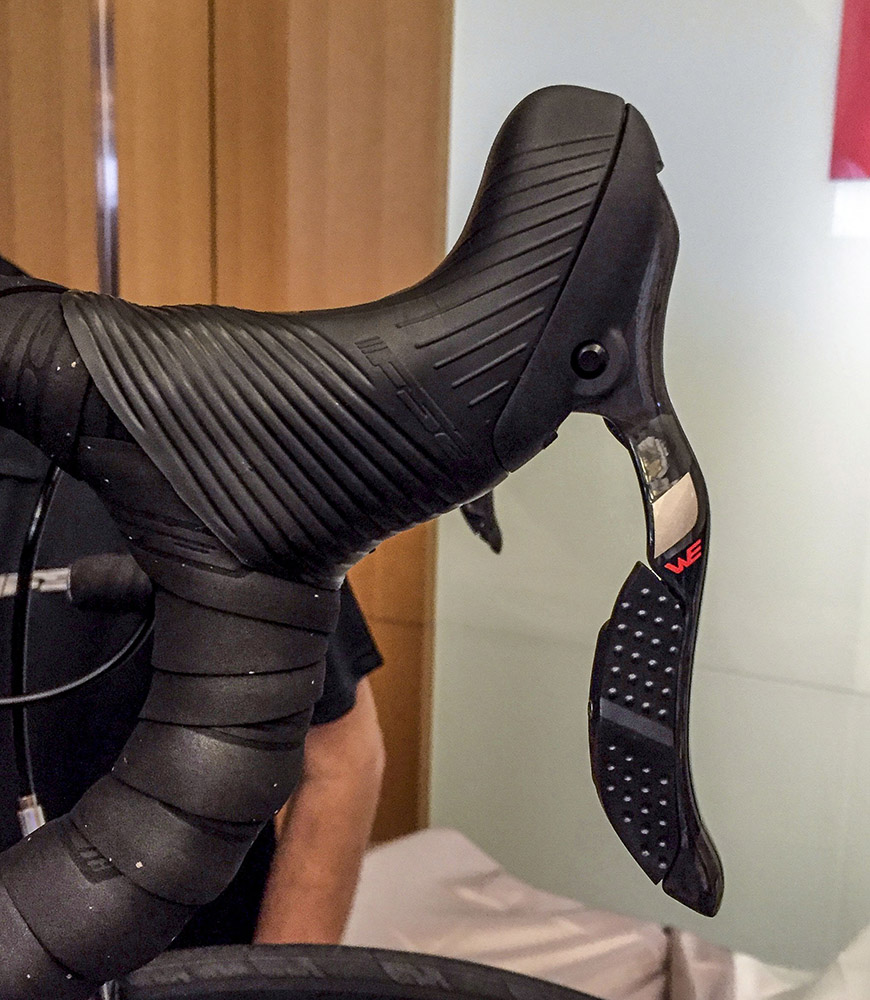 After feedback from the professionals, FSA decided to offer two different lengths for the brake lever blades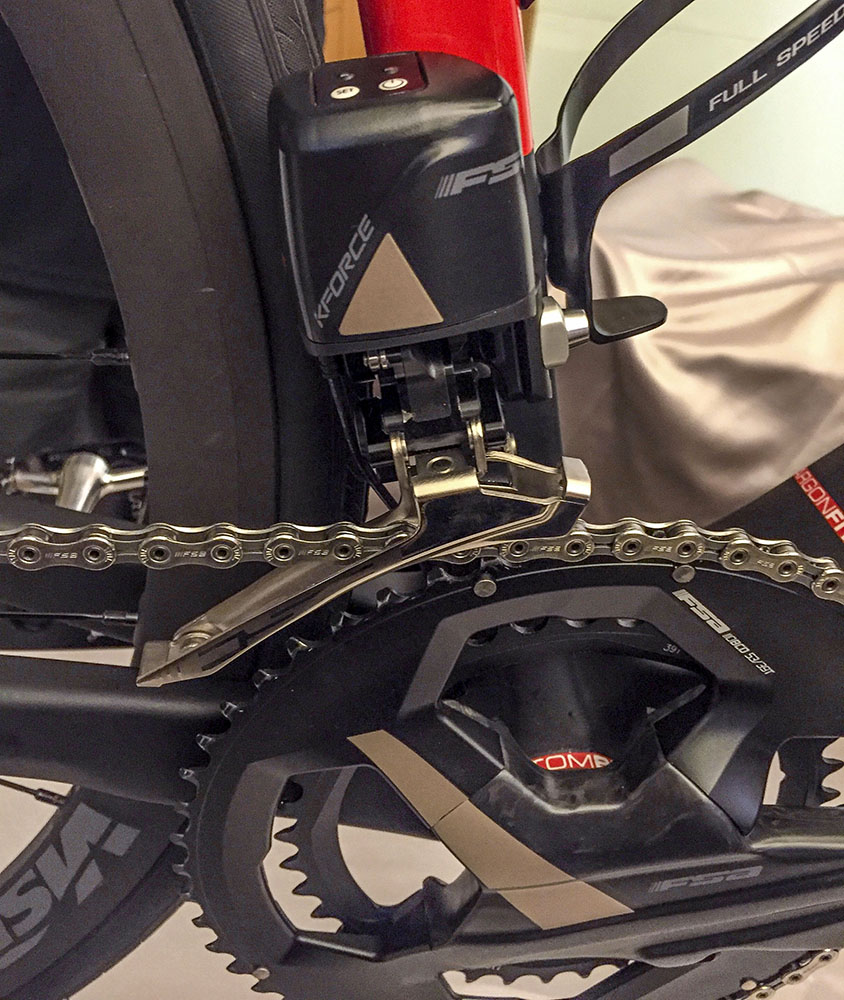 KForce front derailleur is a similar size to Di2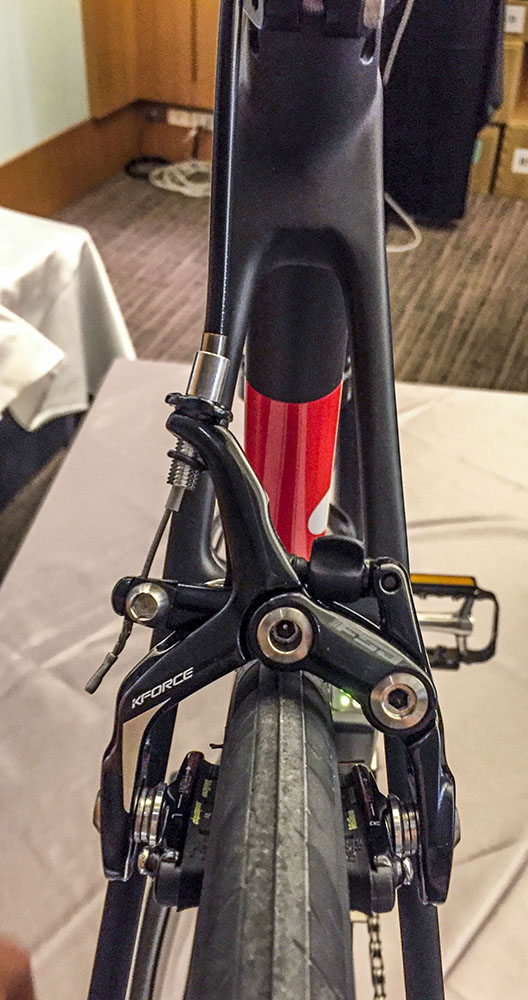 Dual pivot brake caliper is optimized for wider rims
KForce WE isn't completely wireless per se - both front and rear derailleurs are wired together and connected to an internal seatpost battery. The reasoning behind this is battery life. The larger seatpost battery allows a very long time between charges (4000-6000kms depending on use).

Other things of note: the KForce crank is made from hollow carbon and spins on a BB366EVO bottom bracket. It's a 4 arm design with a 110 BCD and covers chainring sizes 50-34T, 52-36T and 53-39T. The 11 speed cassette is unique in that the titanium coated cogs have a wider stance, which stops them from gouging aluminium freehub bodies. Also, the dual pivot brake calipers have been optimized for wider rims.

The total weight of the group is 2100g and, at press time, FSA was only showing their road group with rim brakes. However, there is a TT/Tri group in the works as well as disc brake option for the ever-growing gravel bike sector.

For 2017 FSA will be ever-present in the professional peloton with five teams already on board: Direct Energy, Cofidis, Astana, Jelly Belly Maxxis, and Skydive Dubai.

Neco
Neco is a bicycle parts manufacturer founded in 1986 in Taichung. They manufacture headsets, bottom brackets, cranksets, hubs, and pedals for both OE and aftermarket sales.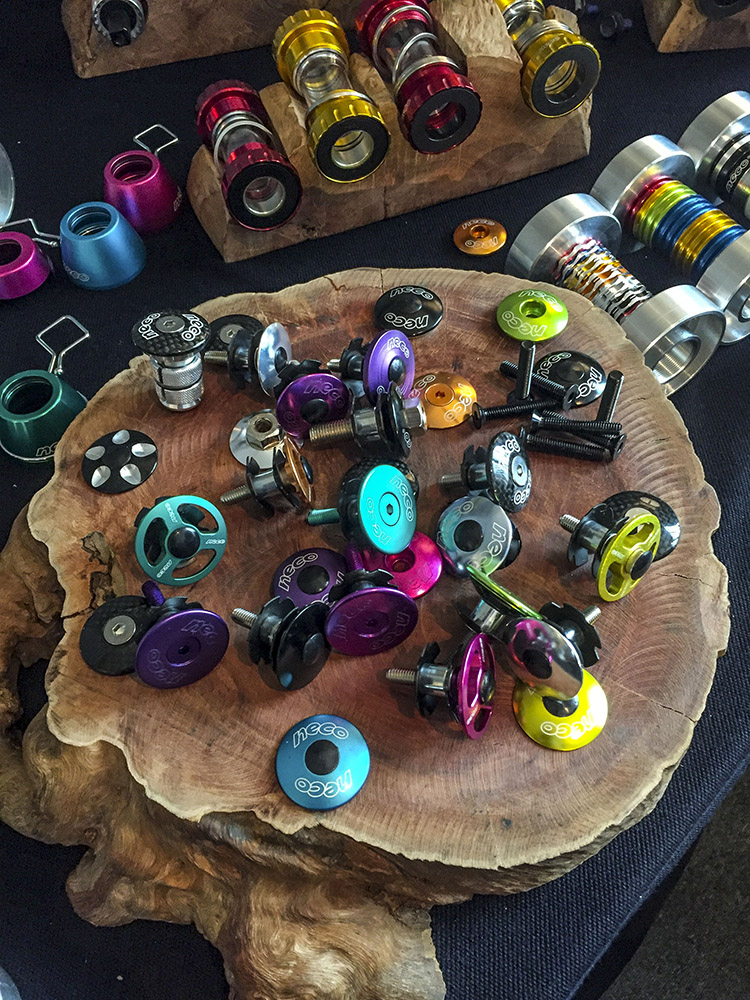 Colourful bottom brackets and headsets by Neco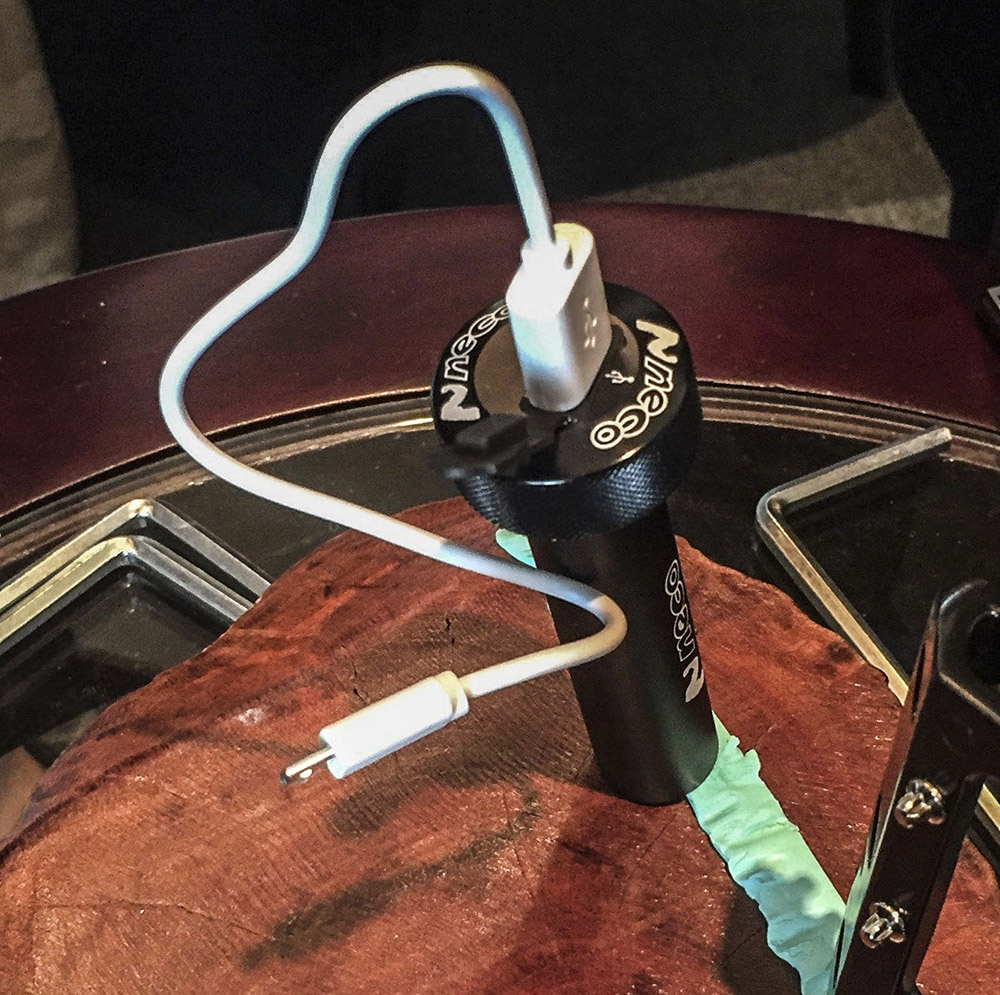 Neco s sleek .3 charging device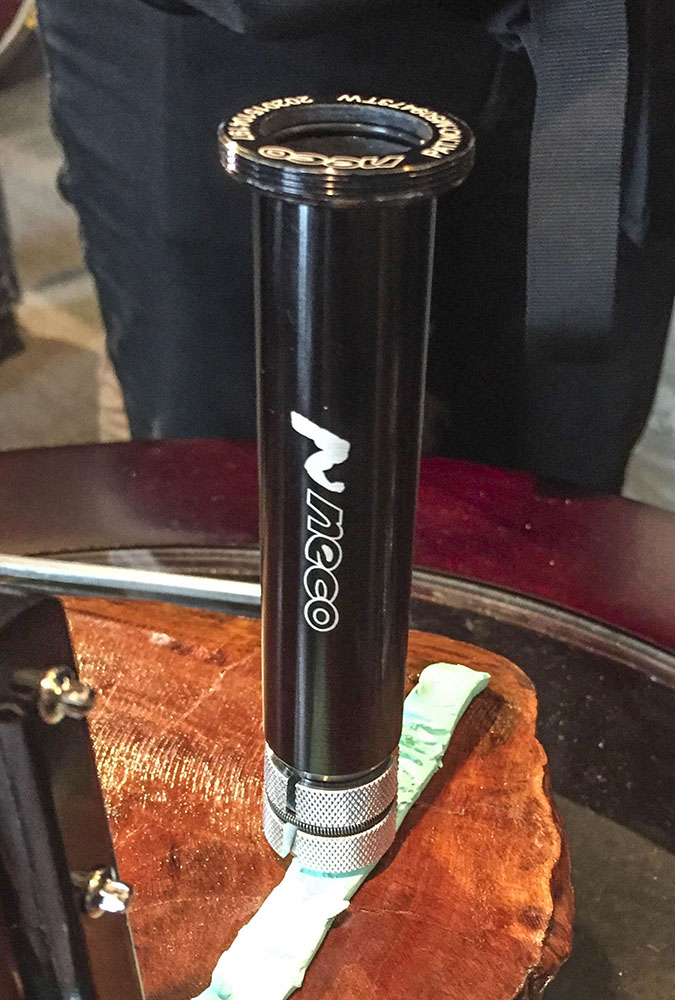 Neco's steerer tube wedge acts as a housing for their battery charge
One of the standout products in their lineup is the Neco .3 portable battery charger. It's a two piece system designed to fit into the fork steerer tube. The first piece replaces the traditional steerer tube expander plug and the second piece (the rechargeable battery) threads into it. From the battery is a USB port and wire that allows you to charge a myriad of electronic devices on the go.
Fatal error
: Uncaught Error: Object of class PDO could not be converted to string in /home/canadiancyclistcom/canadiancyclist.com/public/modules/news.php:528 Stack trace: #0 /home/canadiancyclistcom/canadiancyclist.com/public/modules/news.php(517): getrelatedgallery() #1 /home/canadiancyclistcom/canadiancyclist.com/public/dailynews.php(58): getDailyNewsArticle() #2 {main} thrown in
/home/canadiancyclistcom/canadiancyclist.com/public/modules/news.php
on line
528