October 20/16 7:08 am - 2017 Tour de France Route Unveiled

Posted by Editoress on 10/20/16

Starting in Dusseldorf, Germany and also visiting Belgium and Luxembourg, the 2017 Tour de France will, for the first time in a quarter century, include all five of France's major mountain ranges - Vosges, Jura, Pyrenees, Central Massif and Alps. It will also stick to the eastern and southern parts of France, completely skipping the Atlantic coastal regions.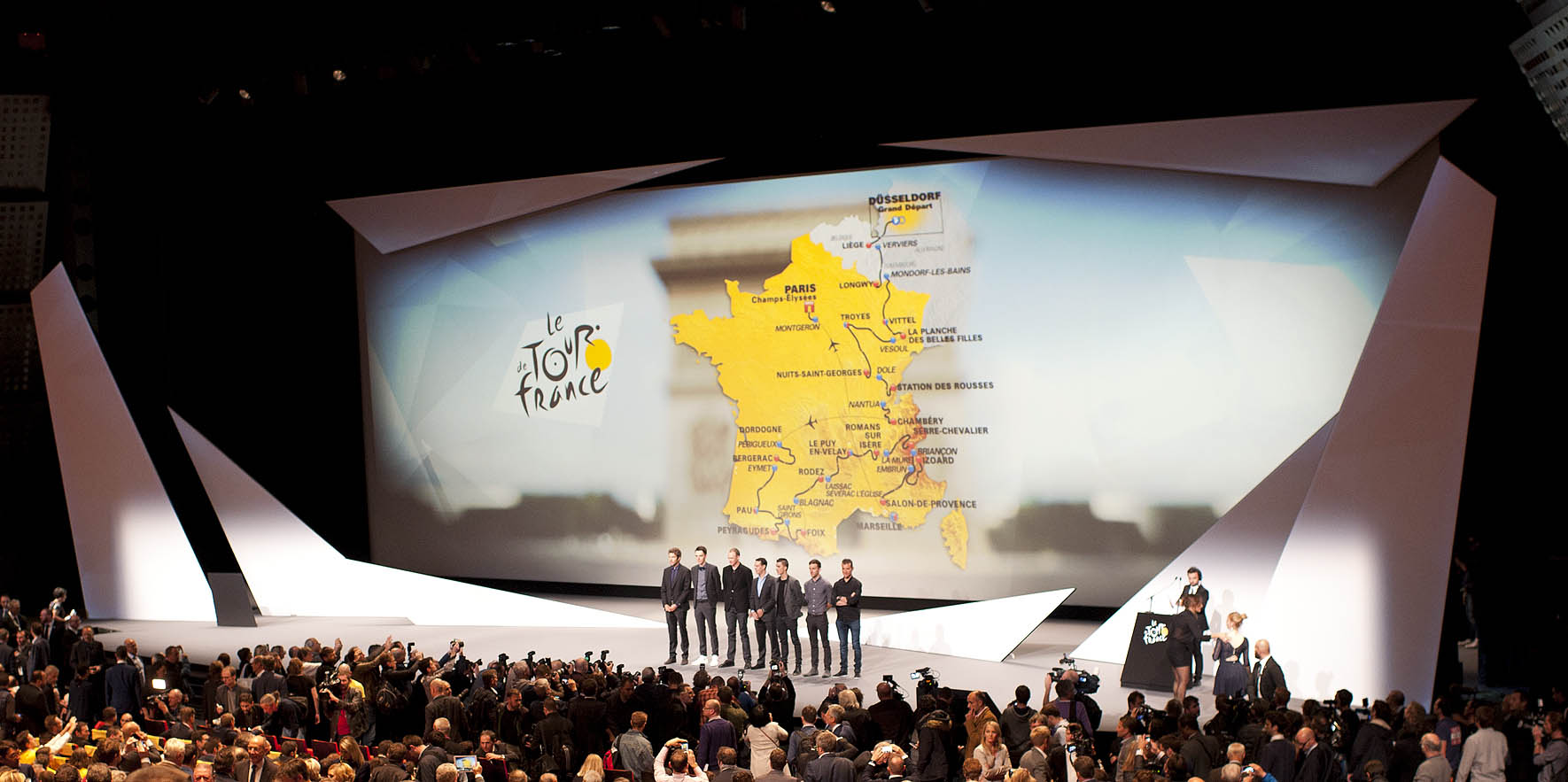 Pro riders at the 2017 route presentation in Dusseldorf
Dusseldorf Mayor Thomas Geisel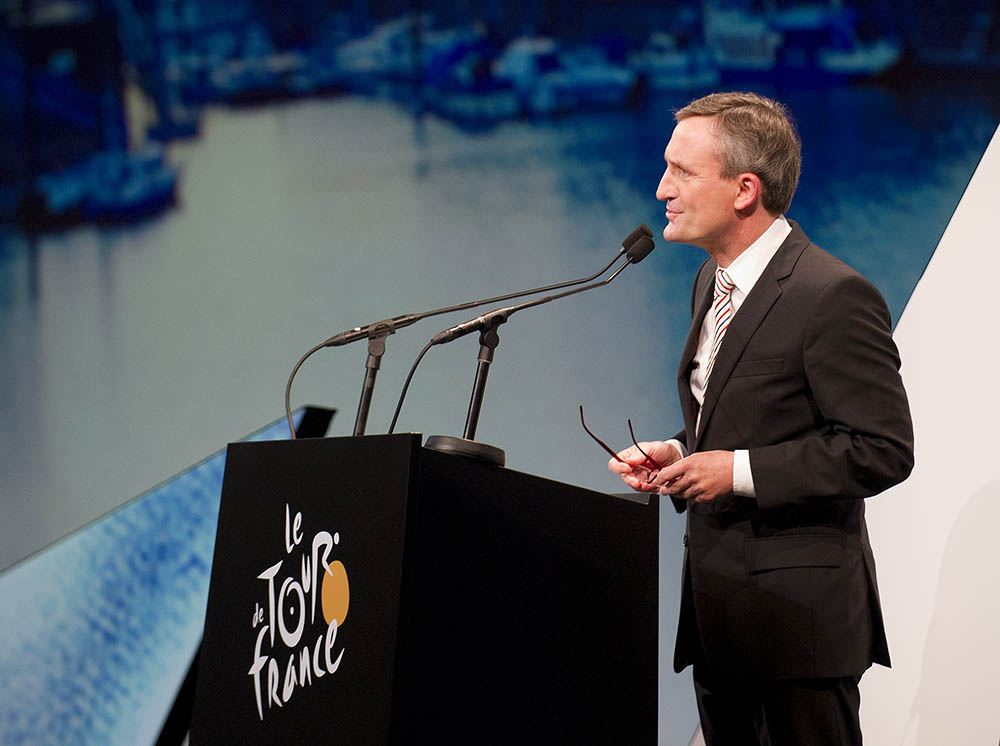 Dusseldorf Mayor Thomas Geisel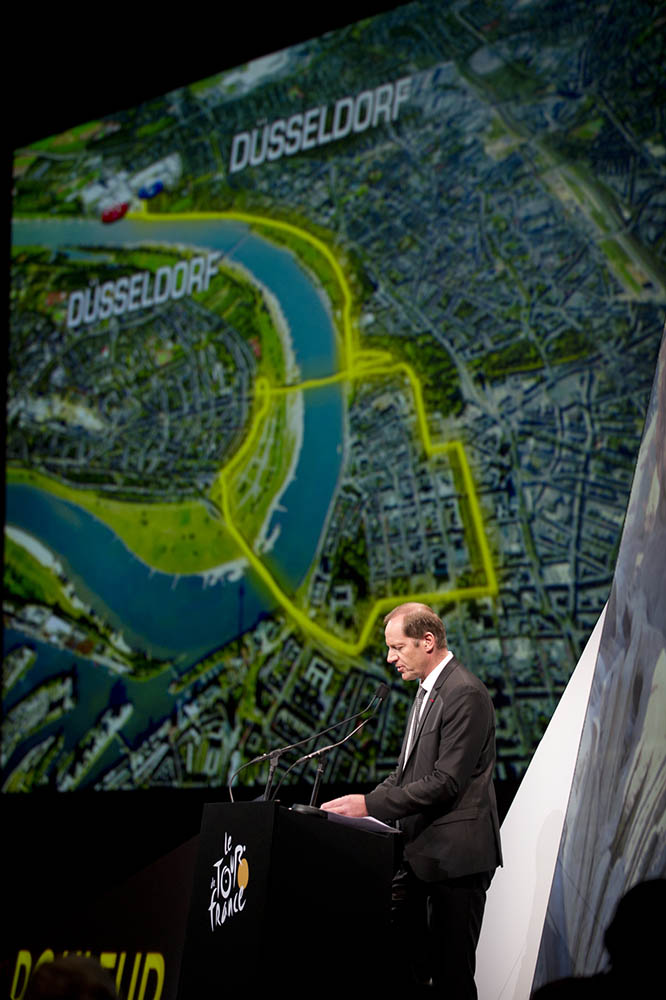 Tour de France Director Christian Prudhomme describes the 1st stage of the 2017 TDF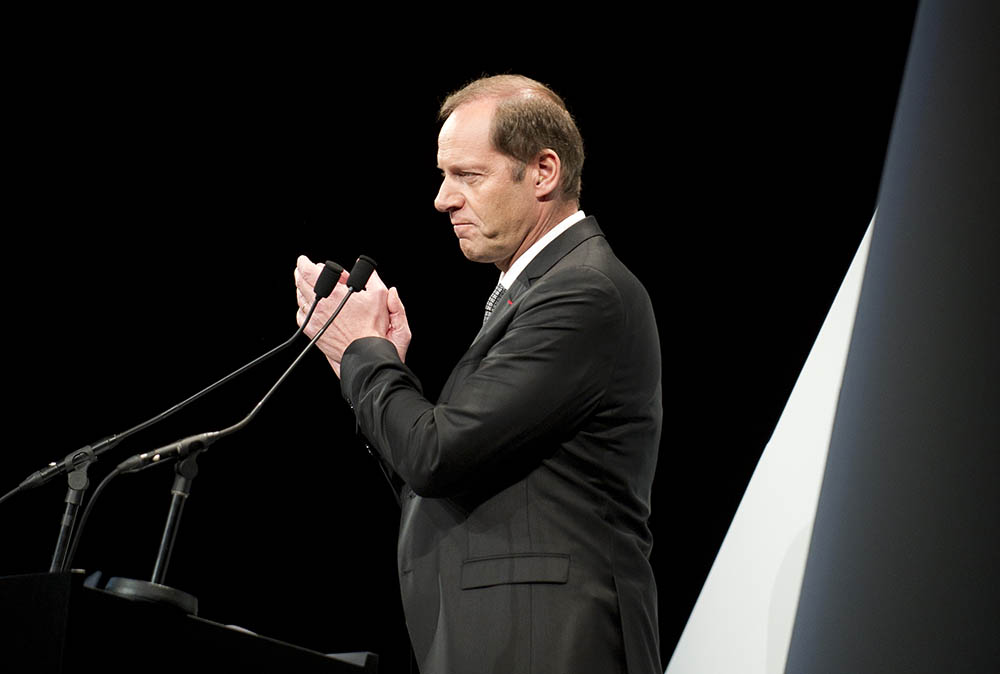 Tour de France Director Christian Prudhomme
Photos by Frank Bodenmüller Photography
This 104th edition of the Tour will actually have fewer mountain stages than usual [only three summit finishes and 23 categorized climbs], but the ones it does have will be harder and steeper. Some of those steeper slopes include 22% on the Col du Grand Colombier, 20% on the La Planche des Belles Filles, 18% on the Pur de Peguere, 16% on the Peyragudes, 15% on the Mont du Chat and 14% on the Col de Peyra Taillade. It appears that this is partially to cut back on the ability of teams like Sky to control the race with domestiques - they won't be as much help on a 20% grade, when it is every rider for themselves. Time bonuses of 10, 6 and 4 seconds will be awarded for each road stage. The Mountains classification will award extra points on the Hors Category climbs.

The race will have two individual time trials - the opening 13 kilometre on in Dusseldorf, and a 23 kilometre one in Marseille on the penultimate day. there will be eight stages over 200 kilometres, with the longest Stage 19, at 220 kilometres. From Marseille, on the Mediterranean coast, the peloton will fly back north to Montgeron for the final 105 kilometre stage ending on the Champs Elysees.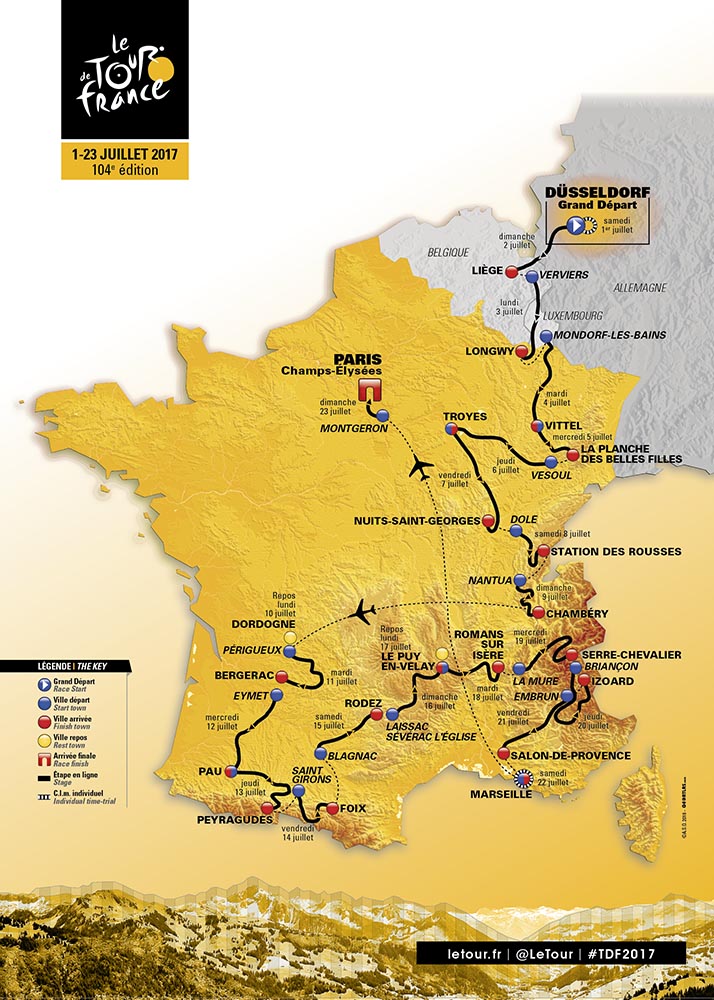 Stages

Stage 1 (July 1) Dusseldorf (ITT), 13km
Stage 2 (July 2) Dusseldorf - Liege, 202km
Stage 3 (July 3) Verviers - Longwy, 202km
Stage 4 (July 4) Mondorf-Les-Bains - Vittel, 203km
Stage 5 (July 5) Vittel - Planche des Belles Filles, 160km
Stage 6 (July 6) Vesoul - Troyes, 216km
Stage 7 (July 7) Troyes - Nuit-Saint-Georges, 214km
Stage 8 (July 8) Dole - Station des Tousses, 187km
Stage 9 (July 9) Nantua - Chambery, 181km
Rest Day 1 (July 10)
Stage 10, (July 11) Perigueux - Bergerac, 178km
Stage 11, (July 12) Eymet - Pau, 202km
Stage 12, (July 13) Pau - Peyragudes, 214km
Stage 13, (July 14) Saint-Girons - Foix, 100km
Stage 14, (July 15) Blagnac - Rodez, 181km
Stage 15, (July 16) Laissac-Severac L'Eglise - Le Puy-en-Velay
Rest Day 2 (July 17)
Stage 16 (July 18) Le Puy-en-Velay - Romans-Sur-Isere, 165km
Stage 17 (July 19) La Mure - Serre-Chevalier, 183km
Stage 18 (July 20) Briancon - Izoard, 178km
Stage 19 (July 21) Embrun - Salon-de-Provence, 220km
Stage 20 (July 22) Marseille (ITT), 23km
Stage 21 (July 23) Montgeron - Paris Champs Elysees, 105km