October 22/16 22:14 pm - Taiwan Factory Tour Day 3

Posted by Editor on 10/22/16

Chad Grochowina of Dundas Speed Shop is in Taiwan this week for a tour of some of the factories that make up the Taiwanese bike industry - among the largest in the world, and where many of the brands used on most bikes originate. The trip is centered around the city of Taichung, where much of the industry is headquartered.

Chad's Day 3 Report

United Engineering-KHS Bicycle
KHS Inc. was established in 1954 and began manufacturing bicycles in 1972. They were the first brand to ship high-quality Taiwanese bikes into the USA, starting in 1974. Today, with a market capitalization of $2.61million USD and average annual sales of $40 million USD, they employ 120 people at their Taiwan factory. The facility operates a total of 6 welding lines, 2 fully automatic brazing lines, 2 electrostatic painting lines, and 4 robotic wheel building lines; a pretty large operation by any means.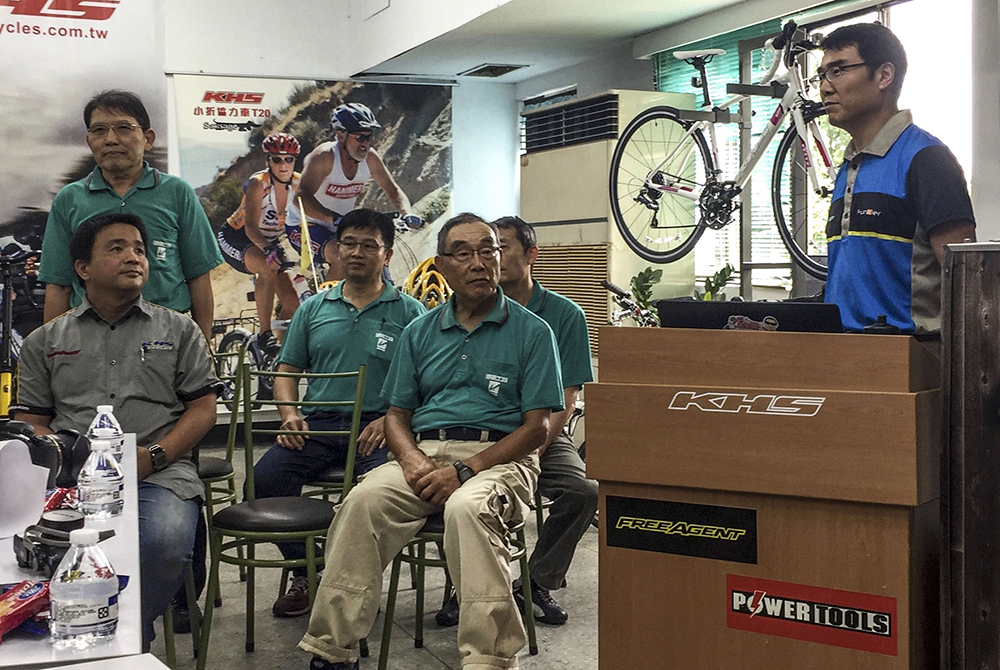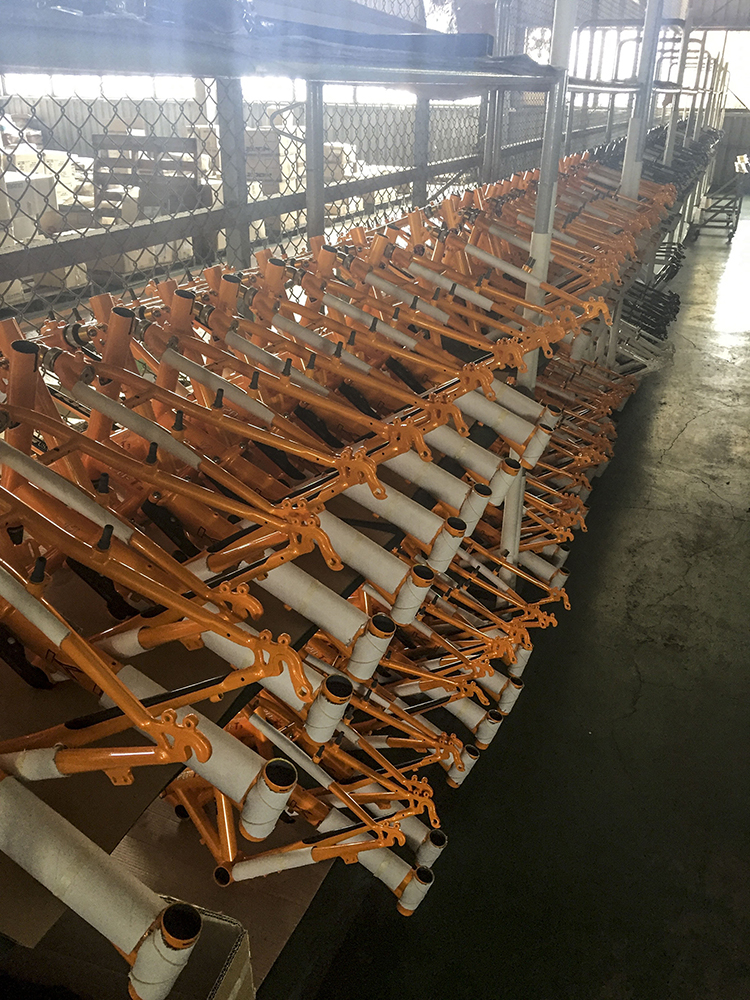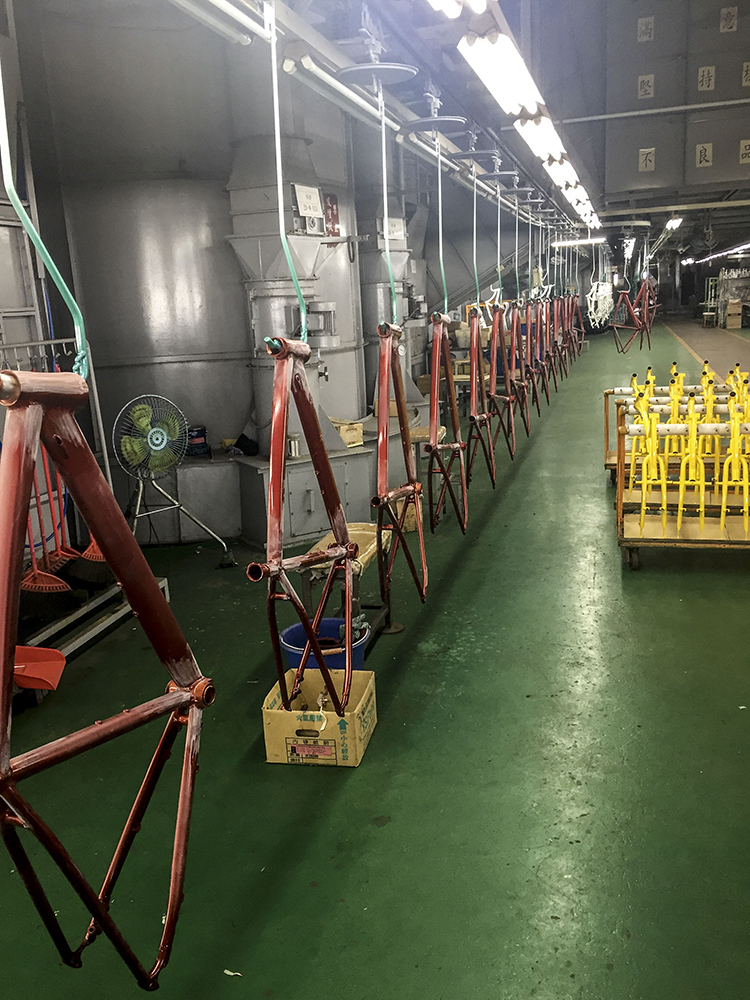 Under the umbrella of United Engineering are three bike brands: KHS, Manhattan, and Free Agent. The KHS brand itself offers all types of bikes whereas the Manhattan brand is a line of cruiser bikes and Free Agent is one of the better known BMX brands. Despite offering bicycles in all types of frame materials, KHS only makes steel and chromoly frames. All carbon and aluminium frames are sourced from other vendors in Asia.

2016 has seen a downturn in bike sales across the board and KHS has not been immune to this. Their worldwide sales are down almost 40%. And where other companies have been producing E-bikes as a way to balance revenues, KHS has yet to even think of the E-bike market. When asked the tough questions about where they're headed, they admitted that the E-bike market is an avenue they've yet to consider. After taking a quick peek into their shipping warehouse, and realizing it's busting at the seams with ready to ship boxed bikes, KHS likely has a rough road ahead in the near future.

Pacific Cycles
Pacific Cycles was founded in 1980 in Taoyuan, Taiwan. They have a market capitalization of $5 million USD, 2 offices (one in Taiwan and one in Shanghai), two factories, one coffee shop and one museum. They have distribution in 28 countries. Over the years, Pacific Cycles has manufactured bikes for dozens of other brands, as well as specializing in their own development of folding bikes, E-bikes, and also the adaptive cycle market. In the OEM market, Europe and the USA account for 80% of their sales, while 10% of their sales go to Australia and the remaining 10% going to the rest of the world. Familiar brands such as Bianchi, Bergamont, Niner, Orbea, Banshee, and Canfield all come from Pacific.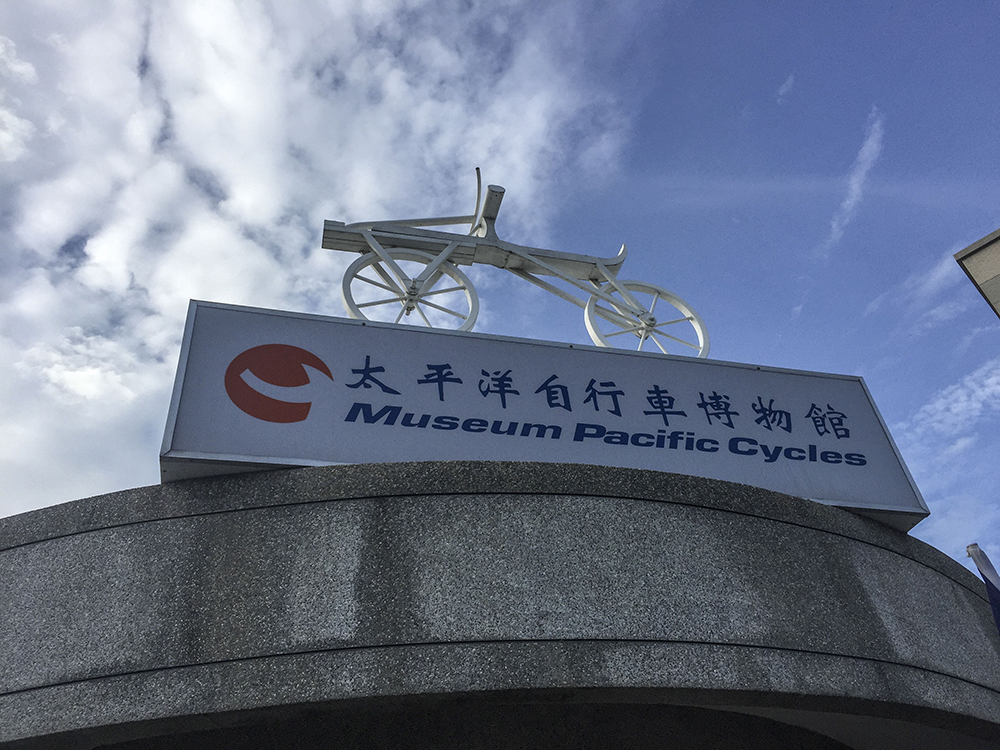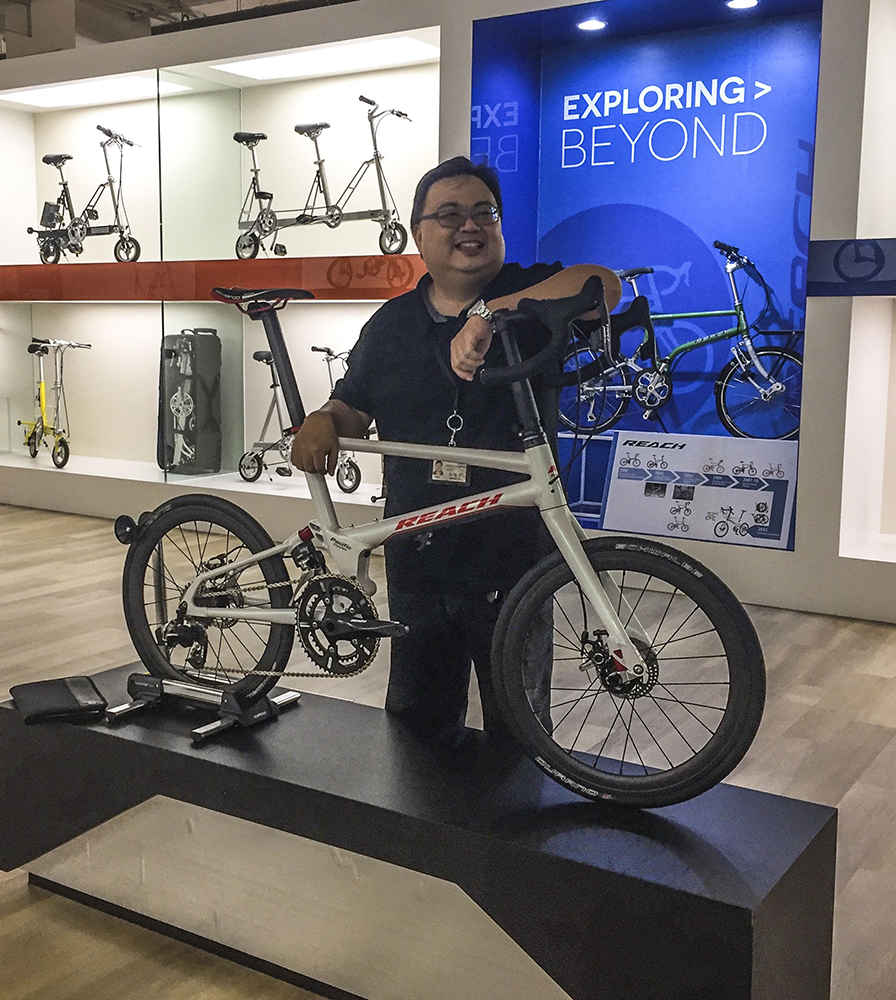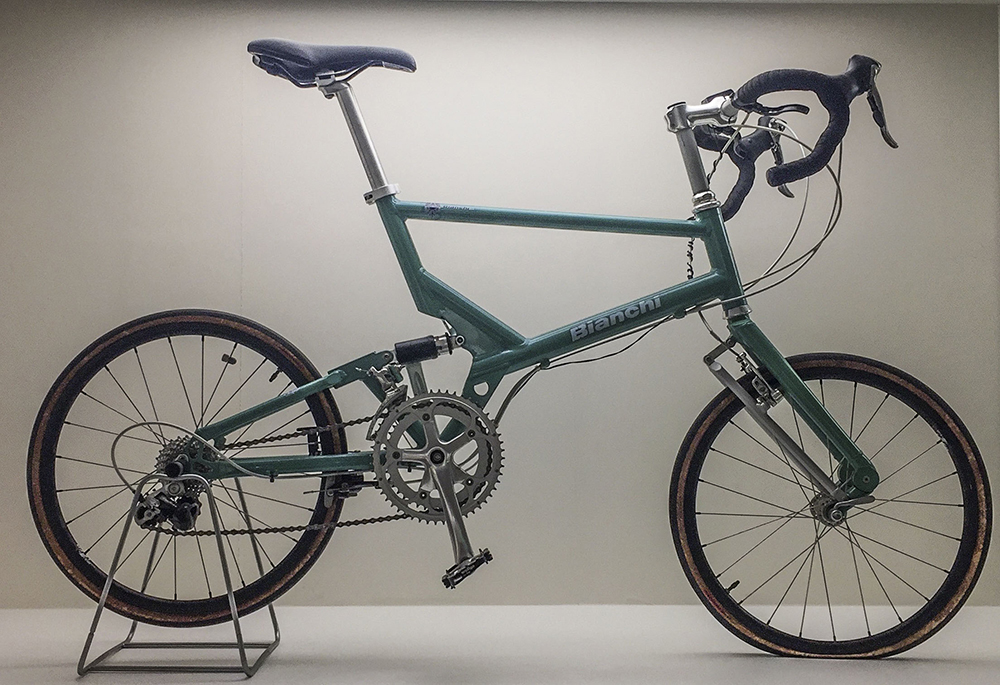 In the OBM market, Asia and Europe account for 80% of sales, at 50% and 30% respectively. Under the Pacific Cycles OBM umbrella are the brands Birdy, Carryme, IF, and Reach. All brands are unique yet share one thing in common: they are folding bikes, designed to fold up and travel alongside their customer no matter where they are going. Rapid prototyping through the use of 3D printing and being in close proximity the bike industry has helped keep Pacific at the front of this unique section of the bicycle market.

I'll admit, I have very little interest in folding bikes despite how functional and well designed the Pacific brands are. However, it was refreshing to see how excited they are as a company and how their forward thinking approach in getting products to market will likely insulate them through this economic downturn. It was certainly a stark contrast to some of the other factories we visited. Some of the other companies seemed to be barely treading water, and some seemed to be throwing shit at the wall hoping it'll stick, yet the employees at Pacific are genuinely psyched on the products they produce.

Hitech Energy
Hitech Energy was the last stop on our tour. They are a custom battery manufacturer for some of the bigger players in the E-bike world. Their headquarters and manufacturing are located in Taiwan, with a second manufacturing facility in mainland China. They also have an office in Germany. They employ just over 100 employees and have a target production rate of 300 batteries/day in each production facility. Their 2016 goal was to produce 200,000 units.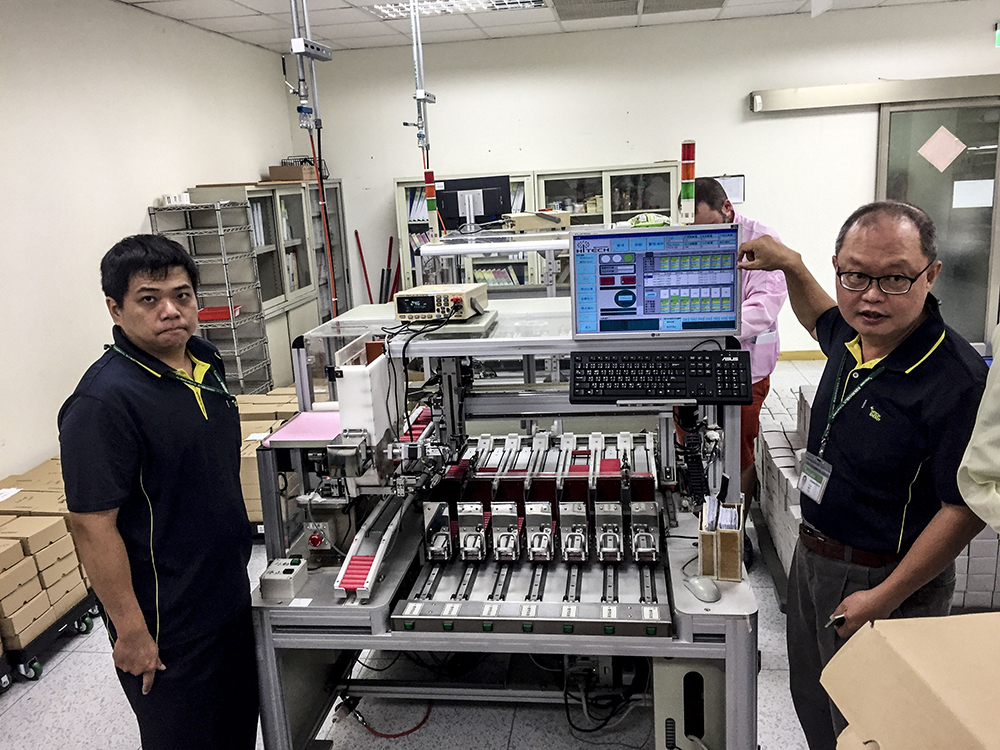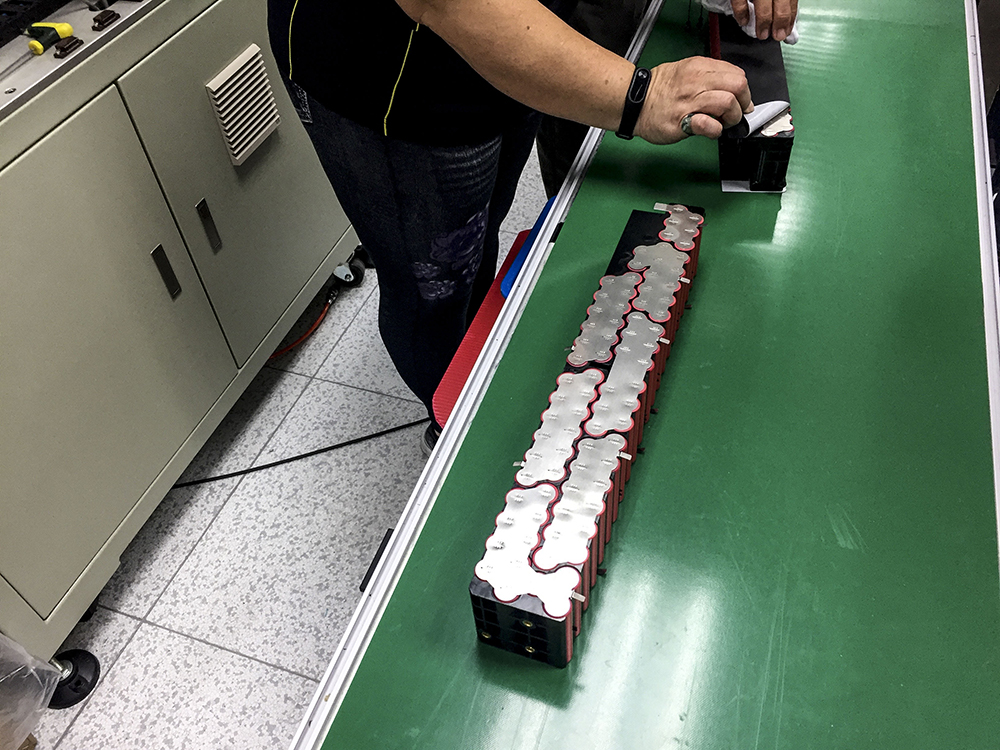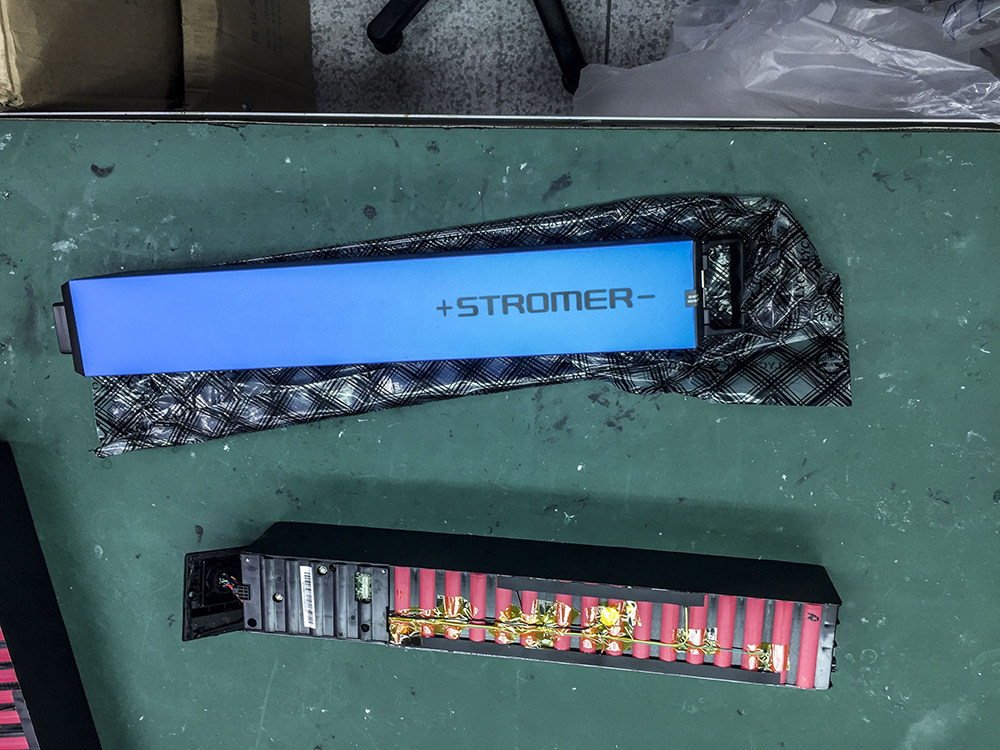 Hitech sources their battery cells from either Samsung or Panasonic. Once the single cells arrive in-house, they are assembled into custom configurations for their customers. It was interesting to hear the comments from Hitech's management team regarding the state of the battery industry. 2016 was a difficult year for E-bike batteries as there was a shortage of them headed to Europe.

The bicycle industry sits third in the pecking order of battery delivery behind the automotive and power tool sectors. With only four players in the lithium battery world, all of which were vying for the lucrative Tesla motors contract, the bike industry was left chasing after the scraps. Panasonic won the Tesla contract, which essentially cut the battery supply chain outside of the automotive sector by 25% and further cut Hitech Energy's access to supplies by 50%.

Further complications that Hitech Energy has to battle are shipping logistics. Batteries are small and can not fill shipping containers; and because they're considered dangerous goods, shipping them to Europe (their biggest market) is getting very expensive. As the industry grows and demand for more batteries increases, Hitech Energy is being forced to open a third manufacturing facility in Europe.


We want to thank TAITRA and the companies who took part in this factory tour for the opportunity to participate in this trip. Neither TAITRA nor the companies involved previewed or had input into our reports.
Fatal error
: Uncaught Error: Object of class PDO could not be converted to string in /home/canadiancyclistcom/canadiancyclist.com/public/modules/news.php:528 Stack trace: #0 /home/canadiancyclistcom/canadiancyclist.com/public/modules/news.php(517): getrelatedgallery() #1 /home/canadiancyclistcom/canadiancyclist.com/public/dailynews.php(58): getDailyNewsArticle() #2 {main} thrown in
/home/canadiancyclistcom/canadiancyclist.com/public/modules/news.php
on line
528