November 4/16 18:16 pm - Canada Wins Bronze in Mens Team Pursuit at Glasgow Track World Cup

Posted by Editoress on 11/4/16

Team Canada took their first ever World Cup medal in the Mens Team Pursuit on Friday evening in Glasgow, Scotland, with a bronze medal performance.


Continues below





The team of Aidan Caves (Vancouver, BC), Adam Jamieson (Barrie, ON), Jay Lamoureux (Victoria, BC) and Ed Veal (Toronto, ON) qualified third on Thursday, and went up against number two qualifier France on Friday afternoon. Despite finishing second to France, the Canadian squad once again had the third fastest time overall, at four minutes and 3.056 seconds, which put them into the bronze medal race against fourth fastest Switzerland. For the Final, Canada swapped out Ed Veal for Bayley Simpson.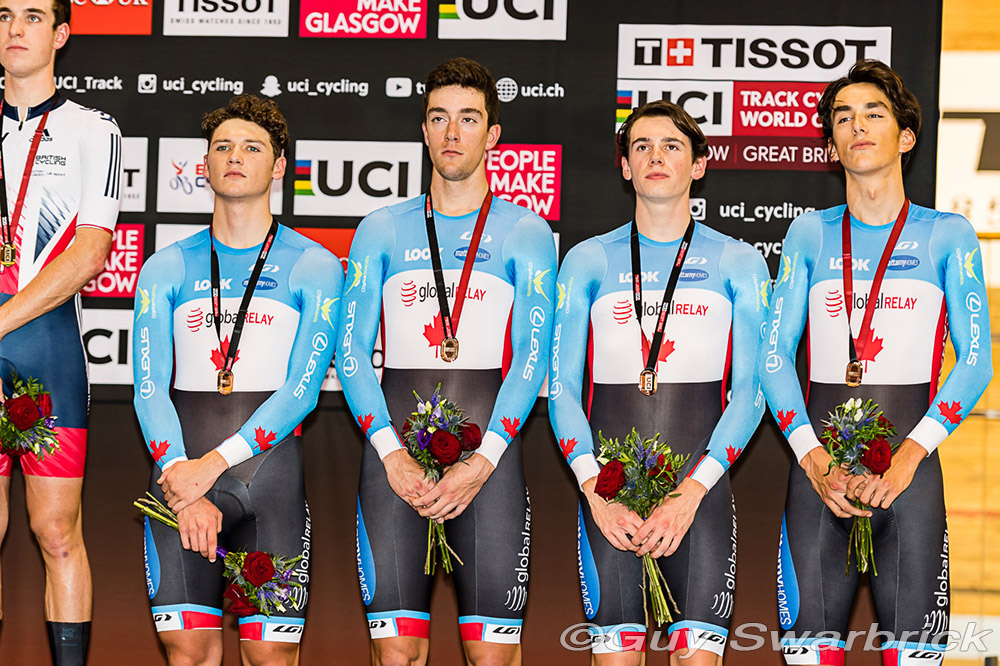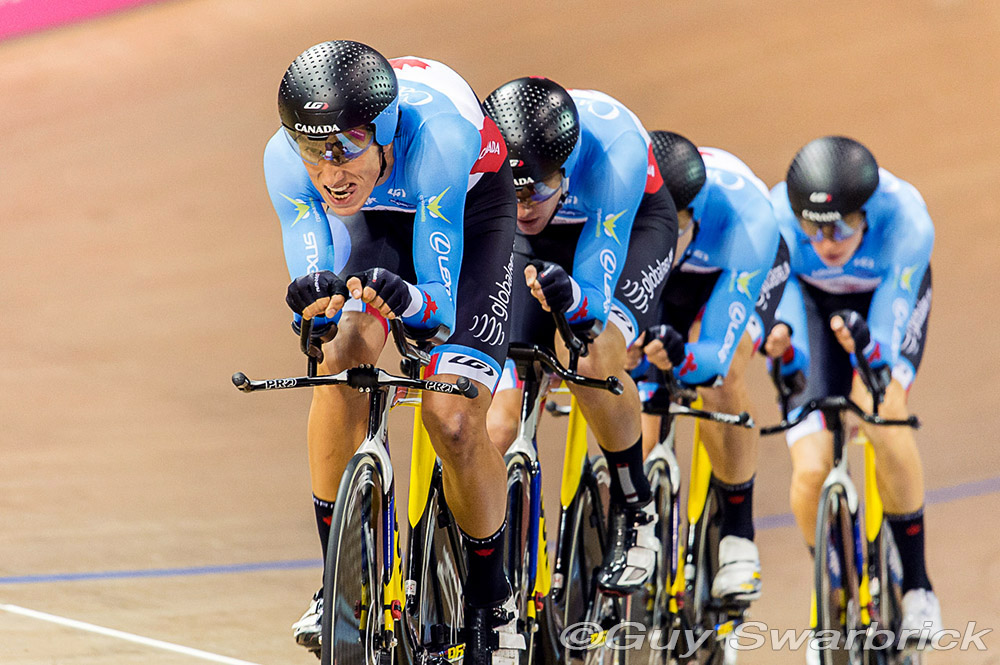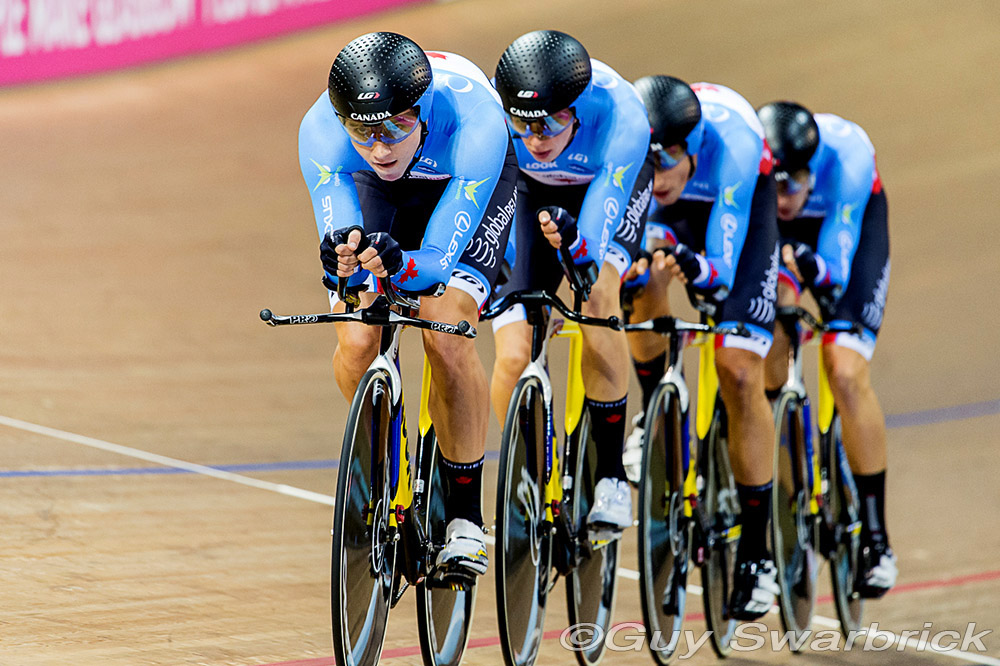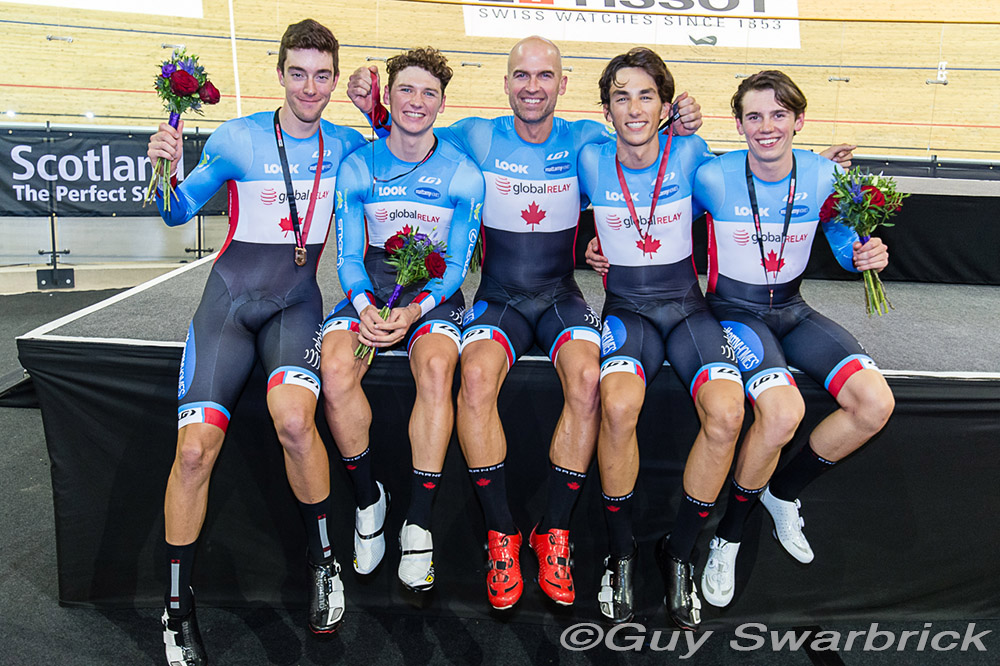 In the medal final, Canada was clearly the stronger team, taking the lead after the first half lap of the 4000 metre race, and pulling away to win by over three seconds, with a time of four minutes and 1.958 seconds. Olympic champions and world record holder Great Britain won the gold medal race against France.

"To go from our best World Cup result being ninth in New Zealand last year, to coming here, the first World Cup of this season, and be five seconds faster then any race last year ... it is incredible," said Jamieson. "We lost a couple of our strongest guys [Sean MacKinnon, who signed for professional road team and Remi Pelletier-Roy, who returned to school] and, to be honest I was a little worried, and I think everybody else was too, that we would not be as strong. But we have proved now that we are a solid, solid team, and we are going places."

After finishing second at the Pan Am Championships and now third in the World Cup, Canada is in a strong position to qualify for the world championships.


Results
Men Team Pursuit

Round 1
Heat 1
1 Switzerland (Claudio Imhof/Stefan Bissegger/Reto Muller
/Loic Perizzolo)
4:03.123 QB
2 Italy (Alex Buttazzoni/Simone Consonni/Francesco Lamon
/Davide Plebani)
4:05.750
Heat 2
1 Belgium (Kenny de Ketele/Moreno de Pauw/Lindsay de Vylder
/Robbe Ghys)
4:03.250
2 Russia (Evgeny Kovalev/Vladislav Kulikov/Maksim Piskunov
/Sergey Rostovtsev)
4:05.568
Heat 3
1 France (Benjamin Thomas/Sylvain Chavanel/Corentin Ermenault
/Adrien Garel)
3:59.723 QG
2 Canada (Adam Jamieson/Aidan Caves/Jay Lamoureux/Ed Veal)
4:03.056 QB
Heat 4
1 Great Britain (Mark Stewart/Kian Emadi-Coffin/Andrew Tennant
/Oliver Wood)
4:00.571 QG
2 Poland (Alan Banaszek/Szymon Wojciech Sajnok/Daniel Staniszewski
/Adrian Teklinski)
4:04.059
Final
Ride for Gold
1 Great Britain (Mark Stewart/Kian Emadi-Coffin/Andrew Tennant
/Oliver Wood)
3:58.891
2 France (Benjamin Thomas/Sylvain Chavanel/Corentin Ermenault
/Adrien Garel)
4:00.230
Ride for Bronze
3 Canada (Adam Jamieson/Aidan Caves/Jay Lamoureux/Bayley Simpson)
4:01.958
4 Switzerland (Claudio Imhof/Stefan Bissegger/Reto Muller/Loic Perizzolo)
4:05.035