November 24/16 12:04 pm - Garneau Sponsors Mountain Bike Club

Posted by Editoress on 11/24/16

Louis Garneau, in collaboration with the President of the Association régionale de vélo de montagne Québec Chaudière-Appalaches, Mr. Gilles Morneau, announces a new mountain bike division to his Club cycliste Garneau Québec, which will serve all categories of mountain bikers starting in 2017.
"Our goal is to enable families living in or close to Saint-Augustin-de-Desmaures to have access to quality training. There has never been a major mountain bike club west of Quebec City. In addition, since mountain biking was born 40 years ago this year, we thought the timing was perfect!," states Louis Garneau.

"The Association régionale Québec Chaudière-Appalaches welcomes this initiative with enthusiasm, as it fills a need in this sector. This is a logical development considering Louis Garneau's involvement in mountain biking, which started 3 years ago with the organization of races on the regional circuit and now takes root with this club, joining some 20 others already in existence in the region and thus helping with the development of the sport," says Gilles Morneau.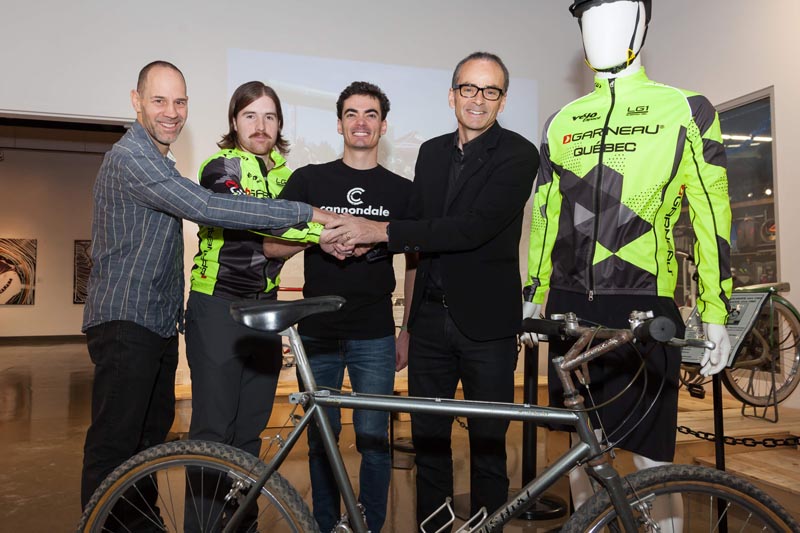 Garneau Quebec has recruited Jonathan Cantin as Chief Instructor for its mountain biking activities. Holder of a Bachelor's Degree in Sports Intervention, Jonathan is well-known in the mountain biking field in which he has been actively involved for several years. He will be in charge of formulating training programs that will enable recreational mountain bikers to enjoy taking on the trails, as well as elaborating a training program for cyclists wishing to start or continue to advance in their sport at the competitive level.

Garneau offers this new service in order to better serve the cyclists from the greater Portneuf region. The mountain bike division of the club will give its members the possibility of nurturing their passion for mountain biking at the recreational and/or competitive levels and will be open to the young and older, beginners or experienced.

People who wish to join the club will be able to so do online starting in mid-January at garneauclub.com or in person at the Vélo Espace Garneau Concept shop located at 40D des Grands-Lacs Street, St-Augustin, Quebec, G3A 2E6. They can also get in touch with the club by email at garneauclubquebec@louisgarneau.com; or by phone at (418) 878?4135, ext. 232.

The Club cycliste Garneau Quebec debuted in 2012, offering weekly road cycling rides. It has never stopped growing since, seeing the number of its members go from 75 in 2012 to 179 in 2016. It innovated in 2015 by organizing club rides with motor vehicle escort in order to ensure the safety of its members. Mountain biking is the logical next step in the club's development, which will thus offer a complete range of cycling services in 2017.
Press release