January 10/17 11:32 am - Pinarello Introduces latest Flagship Model - Dogma F10

Posted by Editor on 01/10/17

Italian high-end road bike manufacturer Pinarello has introduced the latest iteration of its top Dogma series - the F10. The F10 makes its first competition appearance with Team Sky, the WorldTour team of Tour de France champion Chris Froome (who won on the previous F8), and will be used by the team at the Tour Down Under later this month. The F10 has built-in integration with the new Shimano 9150 Dura Ace Di2 E-Link system, as well as full internal cable routing. The F10 is UCI approved for sanctioned racing.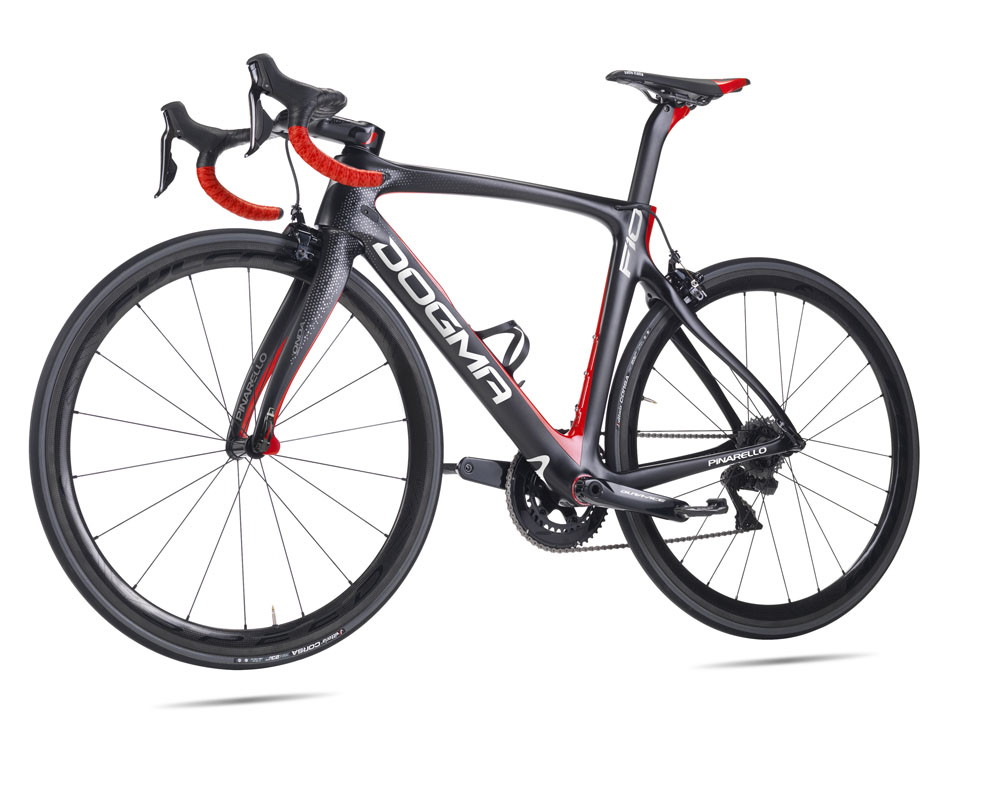 Canadian distributor Uno Imports will be shipping the F10 this week in the Black Lava paint design, with the BoB (Black on Black) design to follow later in the Spring. Suggested retail pricing has not been released, since Pinarello expects the vast majority of bikes sold to consist of custom builds by dealers. The Canadian cities that will first receive the Dogma F10 at Toronto, Vancouver, Montreal - check with your local Pinarello dealer.

The Dogma F10 builds on the highly successful F8, plus the Bolide TT time trial bike. The goal was to maintain the 'all-around' bike characteristics of the F8 with increased stiffness, reduced air drag and reduced weight. The F8 has won multiple design awards for its looks, so aesthetics continued to be an important consideration.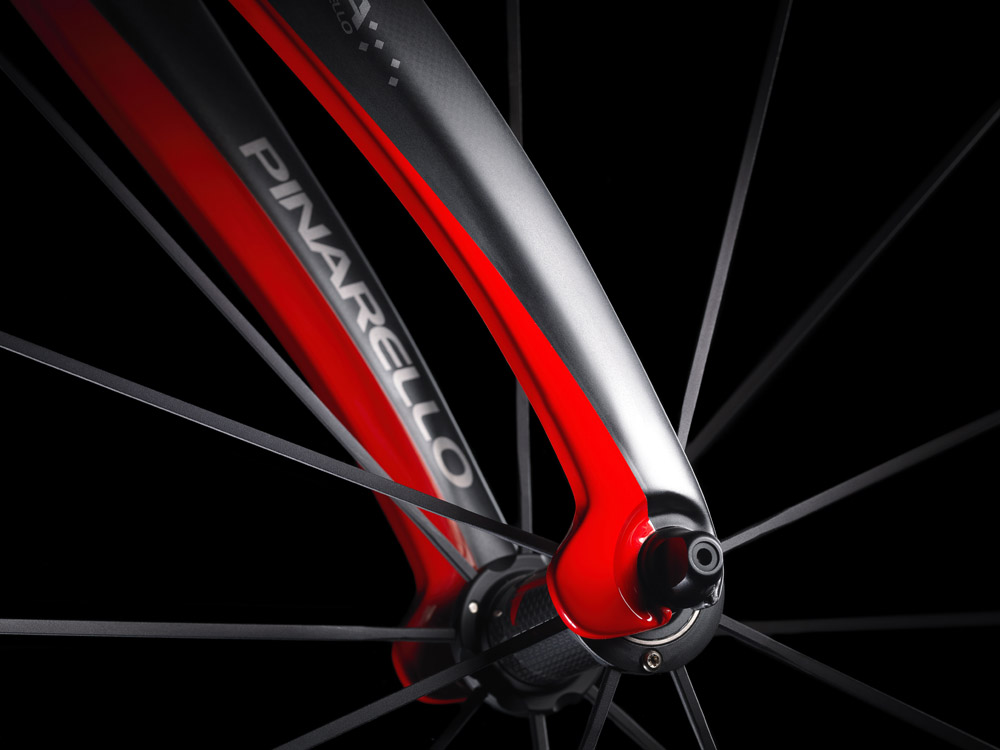 Main changes to the new F10

Aerodynamics

The most noticeable change is the concave down tube, which reduces overall drag by 12.6% over the F8. The design improves airflow over the down tube, mounted water bottles and seat tube.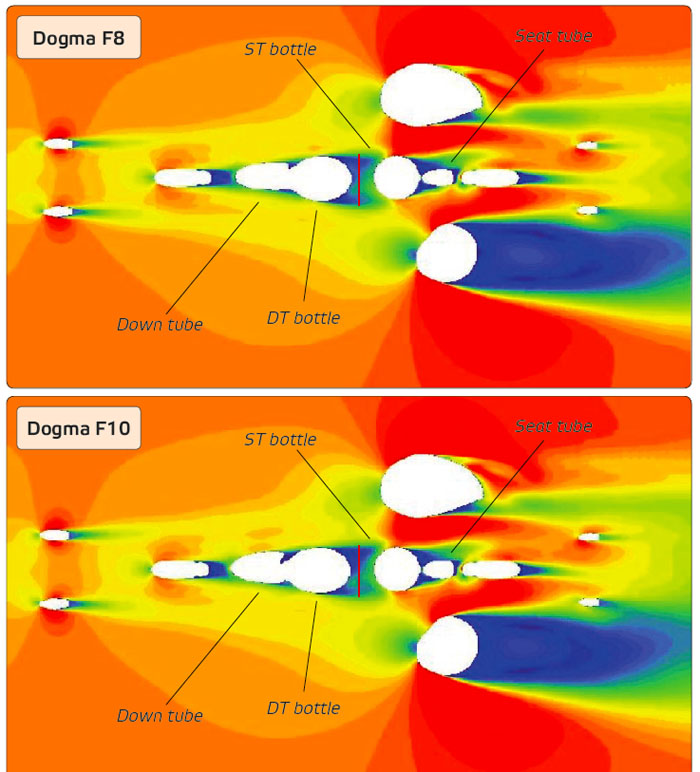 The new down tube provides a small but measurable reduction in the (blue) low pressure area

Drag was reduced on the fork with the introduction of the 'Fork Flap' behind the dropouts, to improve the aerodynamics around the quick release. This is a quick way to identify the F10 from the F8.

Stiffness and Weight

Pinarello has further increased the stiffness (over the F8) by increased asymmetry in the design, resulting in an improvement of 7%. The improvement of asymmetry, with the down tube further moved to the right, allowed Pinarello to increase the stiffness due to the shape, recovering that stiffness lost with the usage of less material, which reduced weight by 6.29% (820 g for a 53 cm raw frame).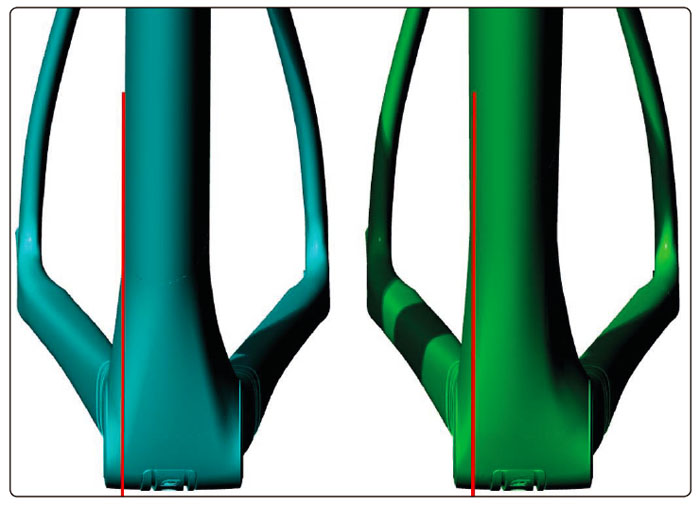 Down tube shifted further right on F10 (right) - red line designates center line of bike

Pinarello has stuck with the Torayca T1100 1K Carbon Fibre Reinforced Polymer (CFRP) composite used in the F8.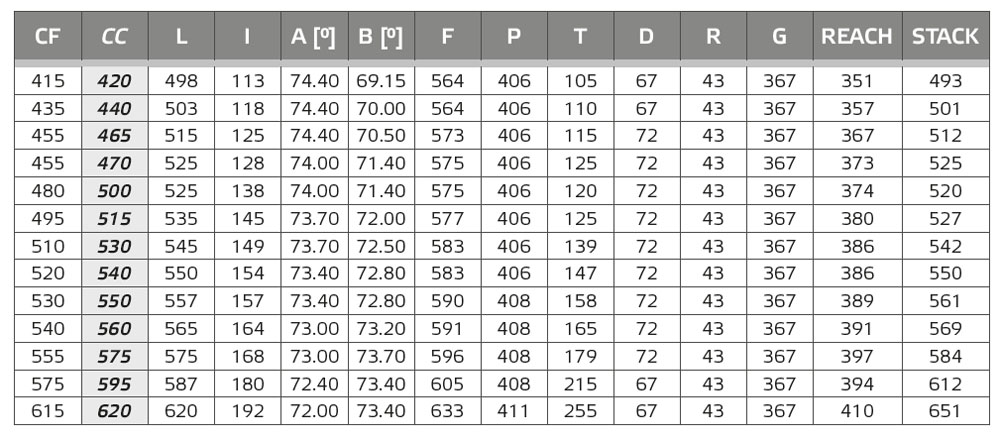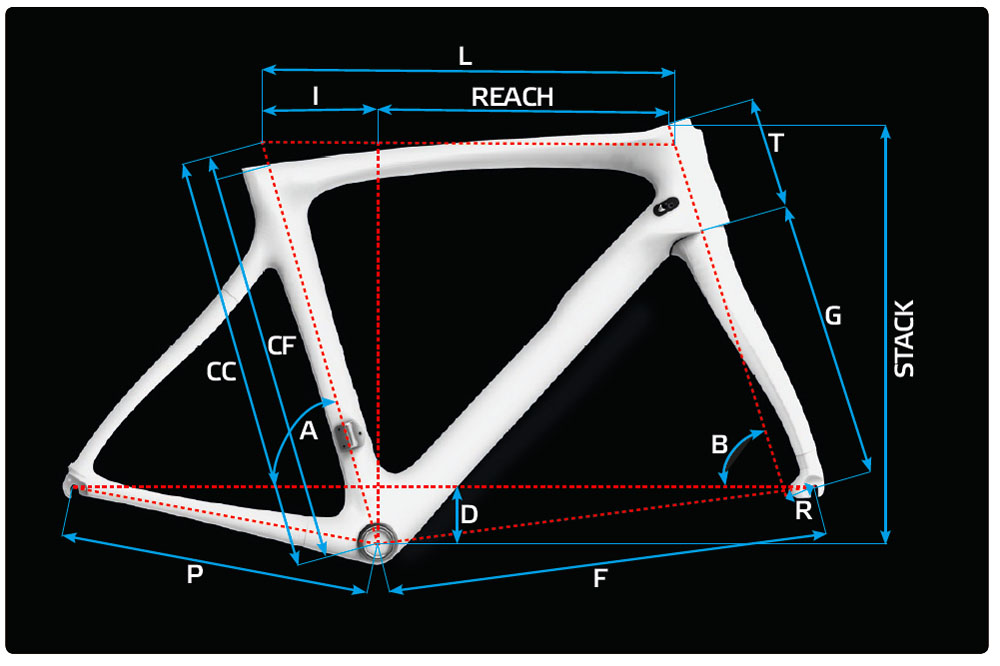 For more information, visit the Pinarello website pinarello.com