January 15/17 15:55 pm - Team Canada Christmas Cross Report

Posted by Editoress on 01/15/17

This was the second consecutive year that a Canadian Cyclo-cross team has traveled to Belgium to contest races during the Christmas 'Cross period.

The latter half of December is a busy month on the international Cyclo-cross calendar and the Canadians competed in six races over a two-week period.

Increased exposure to quality racing is an essential step in ensuring athletes are able to compete with the best in the world and there is no better opportunity to do this then the Christmas 'Cross period in Belgium. Two of the mandates of the Cyclo-Cross working group are to introduce developing athletes to international competition and to provide continued support to Elite athletes at select international races; this annual project represents an important step in realizing those goals.

We saw great performances from all the Canadian athletes, with some standout performances from our Junior riders.

Last year, when Gunnar Holmgren and Brody Sanderson lined up at the Zolder World Cup, it was their first European racing experience. Both did not have a single UCI point and were called up last. They went on to finish 61st and 63rd respectively.
Gunnar Holmgren and Brody Sanderson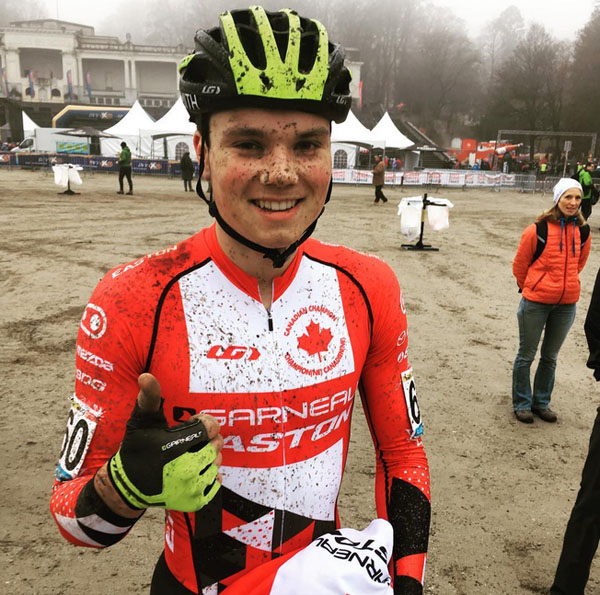 National Champ Gunnar Holmgren had top 10 finishes

This year, armed with more UCI points, better call ups, another year of hard work and the experience gained from racing in 2015, they improved upon their results with Gunnar finishing 11th and Brody finishing 21st at Zolder.

Trevor O'Donnell, racing in what is arguably the deepest and most competitive category, had some great races against the other U23s. A notable result for him was his 46th place in Bredene, racing against the Elites.

Mark McConnell has spent the past few years racing extensively in Belgium and has quickly become a crowd favorite amongst the Belgian cycling fans. After a career best start at Loenhout, which saw him battling it out with the eventual winner (and current World Champion) Wout van Aert, he rolled to an impressive 36th place finish.

Multiple-time National Champ Geoff Kabush competed in the first three races of the Christmas project with the team and had a standout result at Diegem where he finished 23rd. The young riders were especially grateful for the time he spent with them at the Namur World cup, riding multiple laps of the course with them in pre-ride and imparting some of the experience he has gained over a storied career.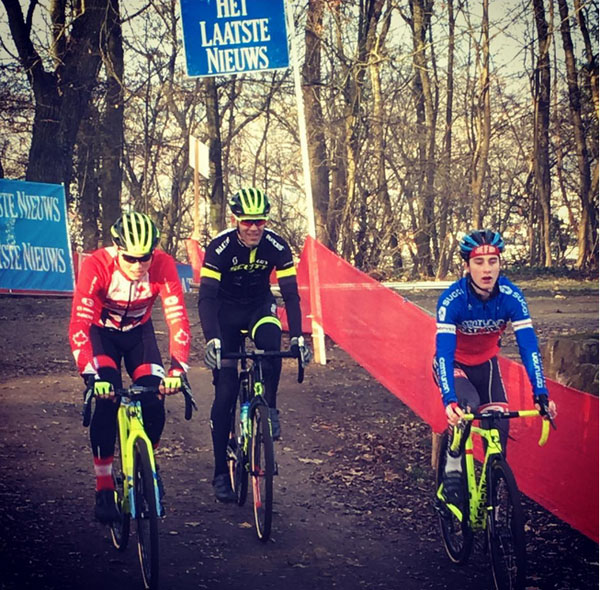 Gunnar Holmgren, Geoff Kabush and Brody Sanderson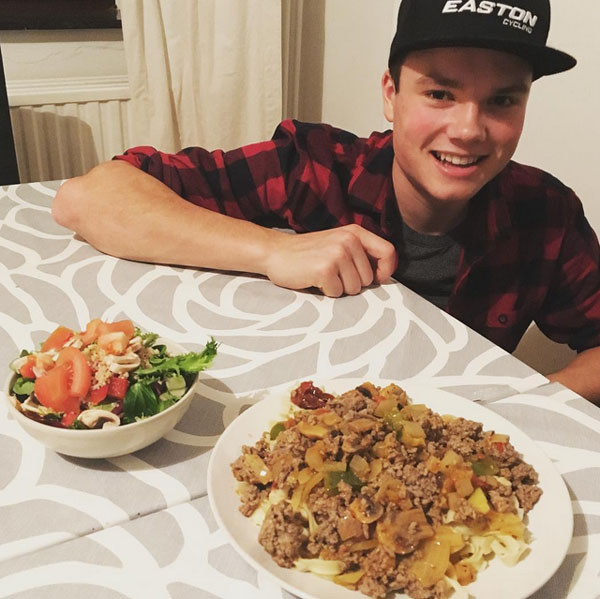 Following the Christmas project, the Canadian riders moved south to Tuscany for two weeks of training overseen by former two-time National Champion Mike Garrigan. Next up was the Rome World Cup [results Here;] and then back to Belgium to meet up with the rest of the National team for the Hoogerheide World Cup and World Championships in Bieles, Luxembourg.

Christmas 'Cross Results

December 18 - Namur World Cup
Gunnar Holmgren 13th
Geoff Kabush 36th
Mark McConnell 51st

December 23 - Superprestige Diegem
Gunnar Holmgren 8th (Last year's result: 57th)
Brody Sanderson 30th (Last year's result: 48th)
Geoff Kabush 23rd
Mark McConnell 35th
Trevor O'Donnell 46th

December 26 - Zolder World Cup
Gunnar Holmgren 11th (Last year's result: 61st)
Brody Sanderson 21st (Last year's result: 63rd)
Geoff Kabush 42nd
Mark McConnell 57th
Trevor O'Donnell 47th

December 29 - BPost Bank Trofee Apencross Loenhout
Gunnar Holmgren 12th
Brody Sanderson 27th
Mark McConnell 36th
Trevor O'Donnell 41st

December 30 - Versluys CX Bredene
Brody Sanderson 12th
Gunnar Holmgren 23rd
Trevor O'Donnell 46th

January 1 - BPost Banke Trofee GP Sven Nys Baal
Gunnar Holmgren 7th (Last year's result: 16th)
Brody Sanderson 18th (Last year's result: 26th)
Mark McConnell 26th
Trevor O'Donnell 32nd

Donations

Cycling Canada does not receive government funding for Cyclo-Cross programs. This means all projects are funded through sponsorships, private donations or by the athletes themselves. Any amount donated has a direct impact on the development of this sport in Canada. As a not-for-profit organization, Cycling Canada can issue tax receipts for any donation greater than $25.

Please visit Hop On Canada to donate.

If you are interested in sponsorship opportunities please contact Scott Kelly at scott@dundasspeedshop.com.

About the Canadian Cyclo-Cross Working Group:

The Canadian-Cyclo-cross Working Group is made up of various stakeholders from the Canadian Cyclo-cross community. The objective of this initiative is to improve communications and planning around the Canadian Cyclo-cross program. The working group has been tasked with developing a sustainable cyclo-cross program, exploring funding opportunities and identifying and engaging leaders in the Canadian Cyclo-cross community to help drive these initiatives.

Working Group members:

Program Manager: Scott Kelly
NSO Rep: Kris Westwood
PSO Rep: Jayson Gillespie
Elite Female Rep: Mical Dyck
Elite Male Rep: Aaron Schooler
Industry Rep: Craig Richey
Member at Large: Maghalie Rochette