April 5/17 11:04 am - Cycling Canada Announces Strong Team for Track World Championships

Posted by Editoress on 04/5/17

Cycling Canada is pleased to announce the team of athletes that will represent Canada at the UCI Track Cycling World Championships in Hong Kong, on April 12-16. A total of 15 athletes will participate in the project, with Canada qualifying for 17 of 20 medal events to be contested.

Jacques Landry, Chief Technical Officer - Head Coach at Cycling Canada, stated, "With these Track Worlds being the first ones since the closing of the Rio Olympic Games, it will be interesting to see how other countries are starting their build-up to Tokyo [2020]. The nations that have certain depth in their programs tend to show up in the early quad events with their development riders. In our case (Canada), while we have started some development riders in some earlier World Cups this season we will be, for the most part, lining up at these Worlds with our more established riders."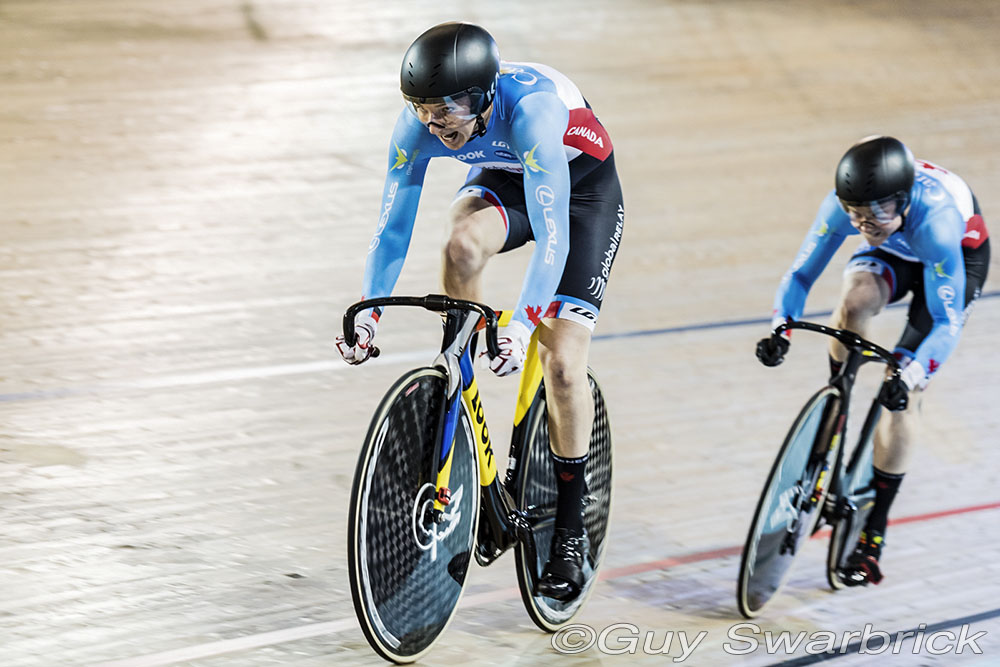 Amelia Walsh and Kate O'Brien - Team Sprint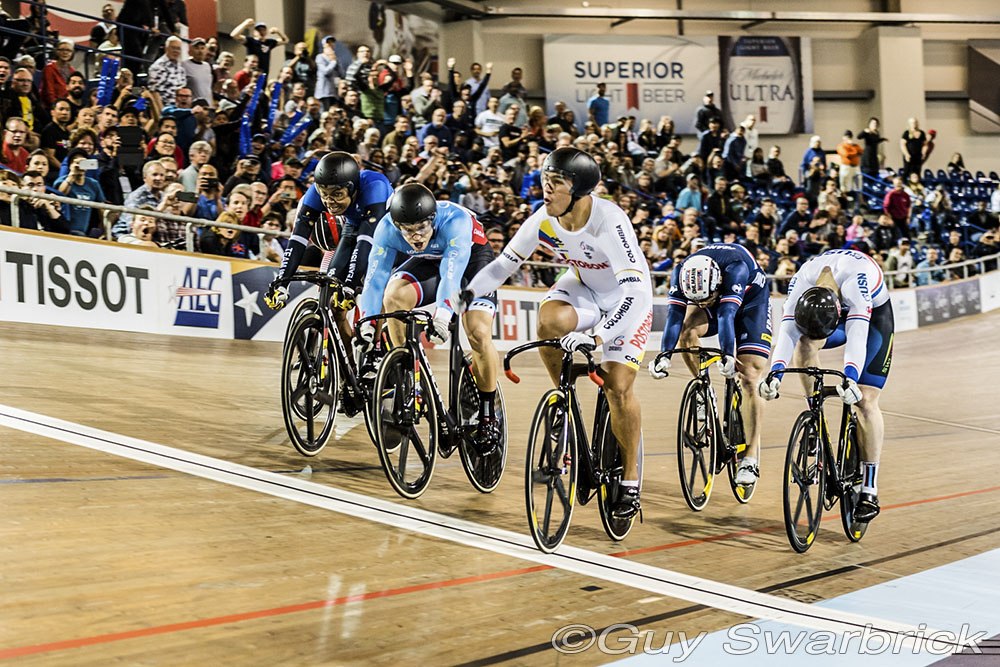 Hugo Barrette - Keirin
The Sprint squad will consist of five athletes; two women and three men. Both the men's and women's squads are coming off a strong finish to the Track World Cup, with the Women's Team Sprint duo of Kate O'Brien and Amelia Walsh taking silver in the final round of the World Cup, and also Hugo Barrette winning a silver medal in Men's Keirin.

O'Brien and Walsh will race the Team Sprint, with O'Brien also competing in the Sprint and Keirin. Barrette will be joined by Stefan Ritter and Patrice St-Louis Pivin for the Men's Team Sprint. Barrette will also compete in the Sprint and Keirin, while Ritter will race in the 1000 metre Time Trial, where he is the current Junior world record holder.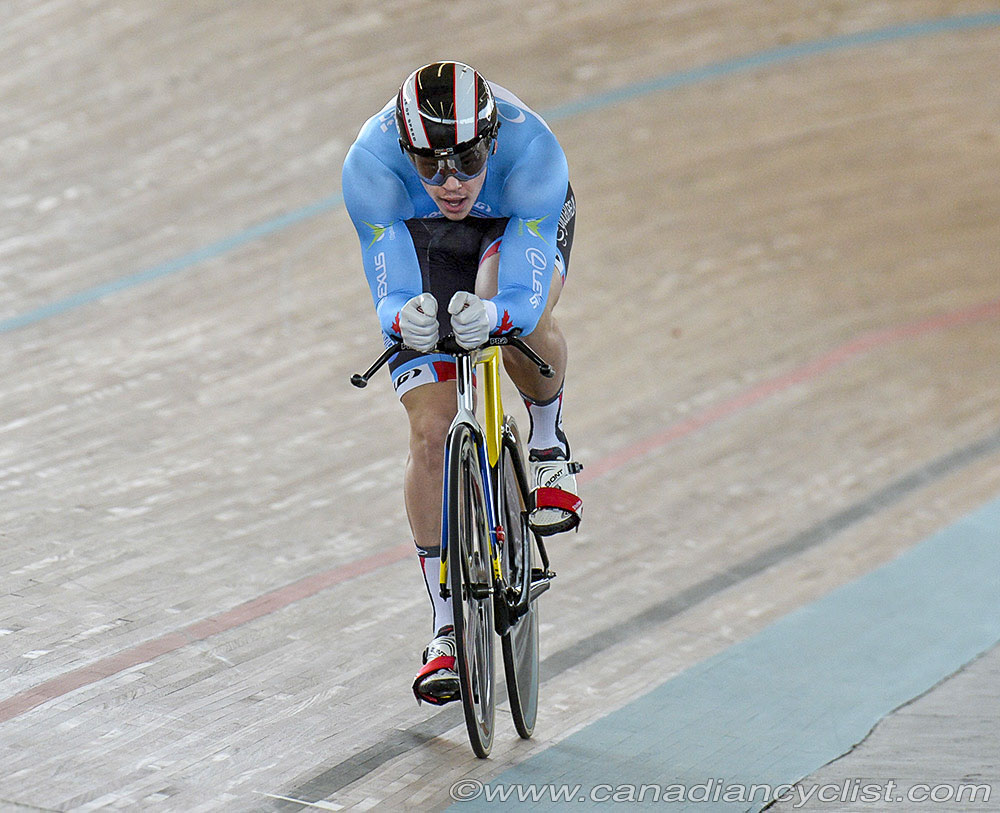 Stefan Ritter - Kilo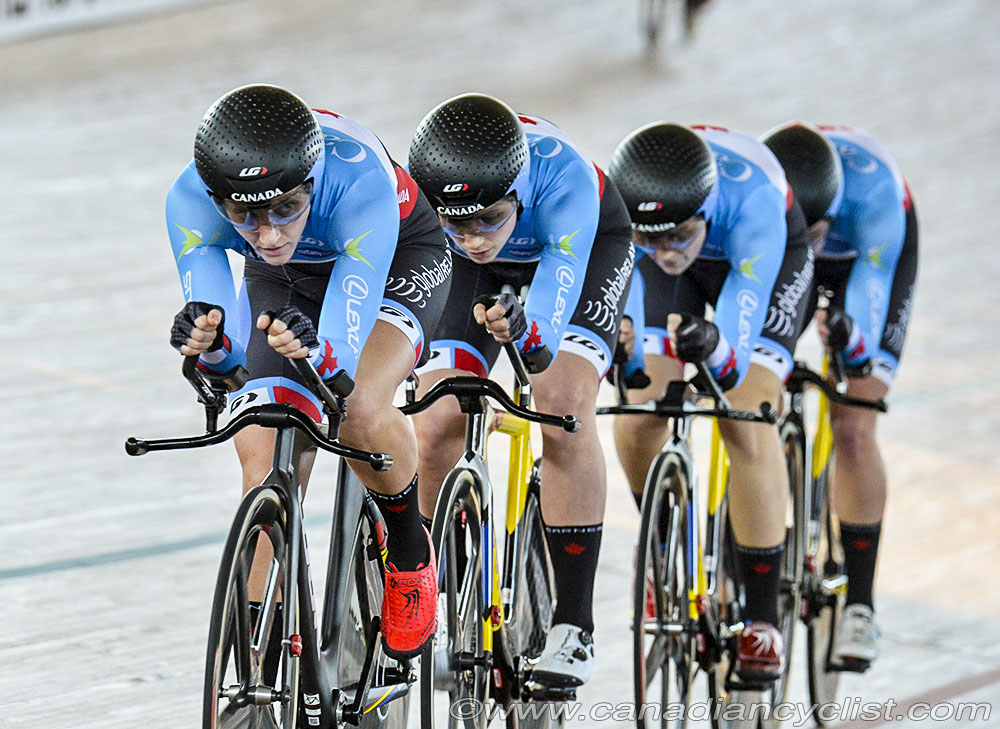 Women's Team Pursuit
The Women's Endurance team will include five riders. All five are members of Canada's consistent medal-winning Team Pursuit squad, and each will also participate in additional events. Jasmin Duehring, a two-time Olympic bronze medalist, will race the Points Race, in which she won a silver medal in 2016. Steph Roorda and Laura Brown will compete in the first-ever Women's Madison at the world championships, with Roorda also entered for the Omnium and Scratch Race; in the Scratch Race, Roorda is the defending silver medalist. Kirsti Lay and Annie Foreman-Mackey will compete in the Individual Pursuit, where Foreman-Mackey is the defending bronze medalist.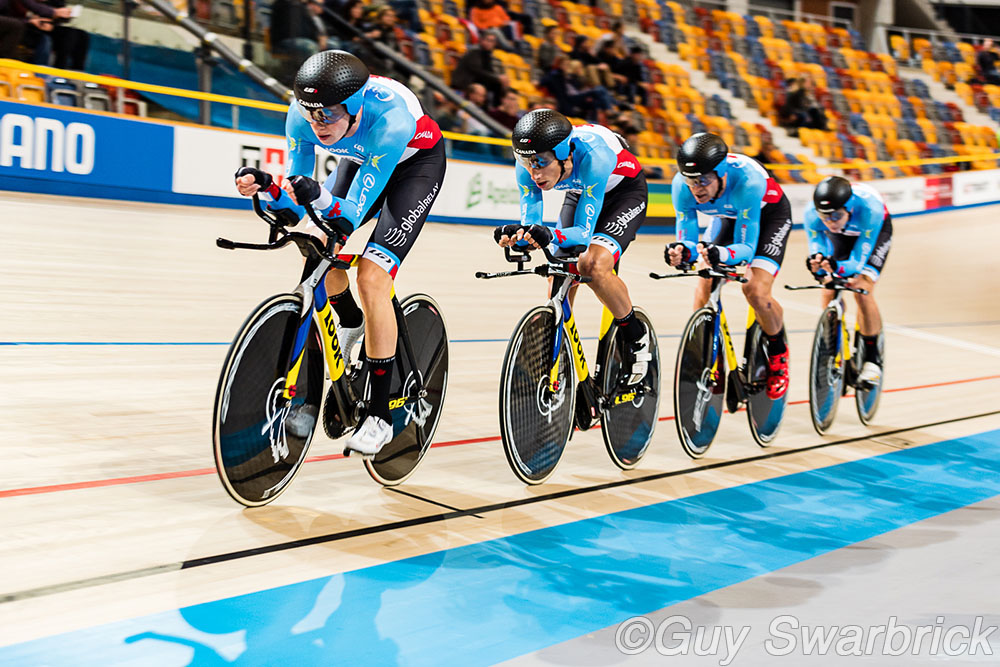 Men's Team Pursuit
The Men's Endurance squad comes to the world championships after their best World Cup season ever, with a win in the Team Pursuit at the second round of the World Cup. All five are scheduled for the Team Pursuit, with Aidan Caves also selected for the Omnium. Canada has also qualified for the Points Race and Individual Pursuit, and selections will be made onsite for these events from Caves, Adam Jamieson, Jay Lamoureux, Bayley Simpson and Derek Gee.

Landry commented, "Coming off two successful World Cups in the early season, my eyes will be on our men's Team Pursuit squad to see how they fare against the top nations. Our sprint program has had some great success in the last two World Cups, so it will be interesting to see what performances this program can come up with in Hong Kong. Finally, our more established program, women's track endurance, have really just come together in the last few days, coming off of road trade team commitments, to prep up for Worlds. While the WTE program's eyes are focused on medals in Tokyo, it's always good to get some podiums on the board at Worlds in the early stages of the quadrennial."


Women

Sprint
Kate O'Brien - Calgary, AB [Team Sprint, Sprint, Keirin]
Amelia Walsh - Ayr, ON [Team Sprint]

Endurance
Laura Brown - Vancouver, BC [Team Pursuit, Madison]
Jasmin Duehring - Vancouver, BC [Team Pursuit, Points Race; alternate for Scratch Race]
Annie Foreman-Mackey - Kingston, ON [Team Pursuit, Individual Pursuit]
Kirsti Lay - Montreal, QC [Team Pursuit, Individual Pursuit]
Steph Roorda - Vancouver, BC [Team Pursuit, Madison, Omnium, Scratch Race]

Alternates
Ariane Bonhomme - Gatineau, QC [first non-traveling alternate for Team Pursuit, Points Race]
Kinley Gibson - Edmonton, AB [second non-traveling alternate for Team Pursuit, Omnium, Individual Pursuit]


Men

Sprint
Hugo Barrette - Iles de la Madeleine, QC [Team Sprint, Sprint, Keirin]
Stefan Ritter - Edmonton, AB [Team Sprint, Kilo. Alternate for Sprint, Keirin]
Patrice St-Louis-Pivin - Sherbrooke, QC [Team Sprint]

Endurance
Aidan Caves - Vancouver, BC [Team Pursuit, Omnium, other events TBD]
Derek Gee - Ottawa, ON [Team Pursuit, other events TBD]
Adam Jamieson - Barrie, ON [Team Pursuit, other events TBD]
Jay Lamoureux - Victoria, BC [Team Pursuit, other events TBD]
Bayley Simpson - Lindsay, ON [Team Pursuit, other events TBD]

Alternate
Ed Veal - Queensville, ON [non-traveling alternate for Team Pursuit]