May 16/17 10:25 am - Mattamy Extends Support for High Performance Program

Posted by Editoress on 05/16/17

Mattamy Homes, North America's largest privately owned home builder, has extended its financial support for Canada's elite cyclists.

The renewal of the Tier 1 partnership with Cycling Canada, which was first announced in February 2016, will continue to provide critical program funding for Canada's National Track Cycling Team through the 2017-18 season.

Mattamy's support helps to deliver key resources such as technical services, sport science, logistical support as well as year-round accommodation for Canadian team athletes near the velodrome in Milton.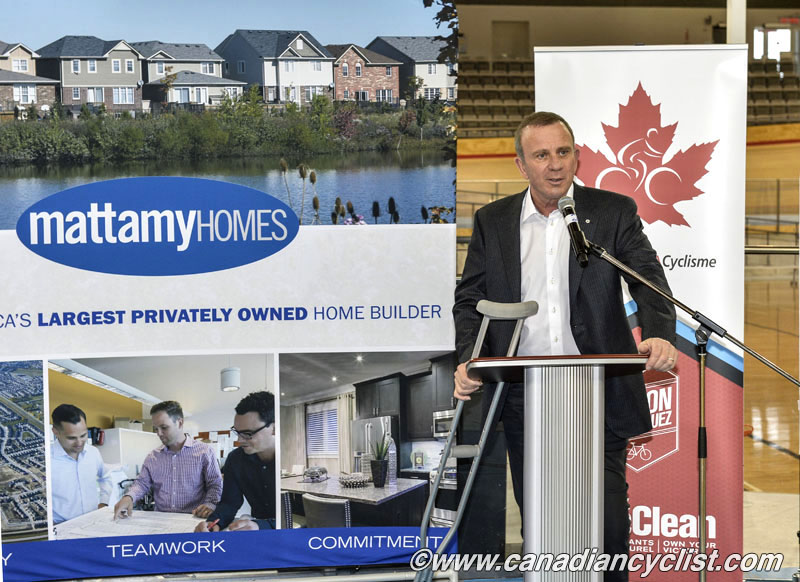 Mattamy Homes and its founder and CEO Peter Gilgan both played vital roles in the development and construction of the Mattamy National Cycling Centre in Milton, which hosted the Toronto 2015 Pan-American Games. In a joint release by Cycling Canada and the Town of Milton earlier this week, it was confirmed that the facility will play host to the UCI World Cup in each of the next three seasons. The events will bring over 300 of the world's best cyclists to Milton, with the first event confirmed for December 1-3, 2017.

Canada's only UCI-approved 250m indoor velodrome, the Mattamy National Cycling Centre is the home training base for Canada's National Track Cycling program and continues to be an invaluable asset for Canada's cyclists as they target the World Championship and Olympic podium.

"It takes passion and dedication to compete at the level that our national track cycling athletes do, and we're very proud of all of them for their commitment," said Peter Gilgan. "To succeed it also takes financial support and access to world-class training and facilities. At Mattamy we're very pleased to be able to help and to continue to be associated with cycling excellence as we support our national team as they pursue their goals and make us proud."

"We are indebted to Mattamy Homes for their continued support of the National Track program and the athletes who are delivering world class performances as a result of this optimal training environment," said Pierre Lafontaine, Chief Executive Officer of Cycling Canada. "Our success in Rio would not have been possible without this vital support and we are thrilled and grateful to continue this collaboration through the 2017-18 season."