May 26/17 9:13 am - XC World Cup Resumes in Albstadt for Round 2

Posted by Editoress on 05/26/17

One week after the opening round of the Cross-country World Cup in Nove Mesto, Czech Republic, the series moved to Albstadt, Germany. This year is the fifth edition of the Albstadt event, which will host the XCO world championships in 2020.

Albstadt is known for its long and steep climbs, and this year is no different. Organizers have begun to add some new features as they prepare for the world championships. The new feature garnering the most attention is after the first major climb and descent of the lap. In the past, riders have gone through a switchback section of climbing before a long, straight gravel road climb. Organizers have replaced the gravel road climb with a steep, rocky descent and a single track climb. Riders have been practicing this section for the past couple of days. Last year, riders did a start loop plus six laps for men and five for women (five for Under-23 men and four for Under-23 women).
New feature is a steep, rocky descent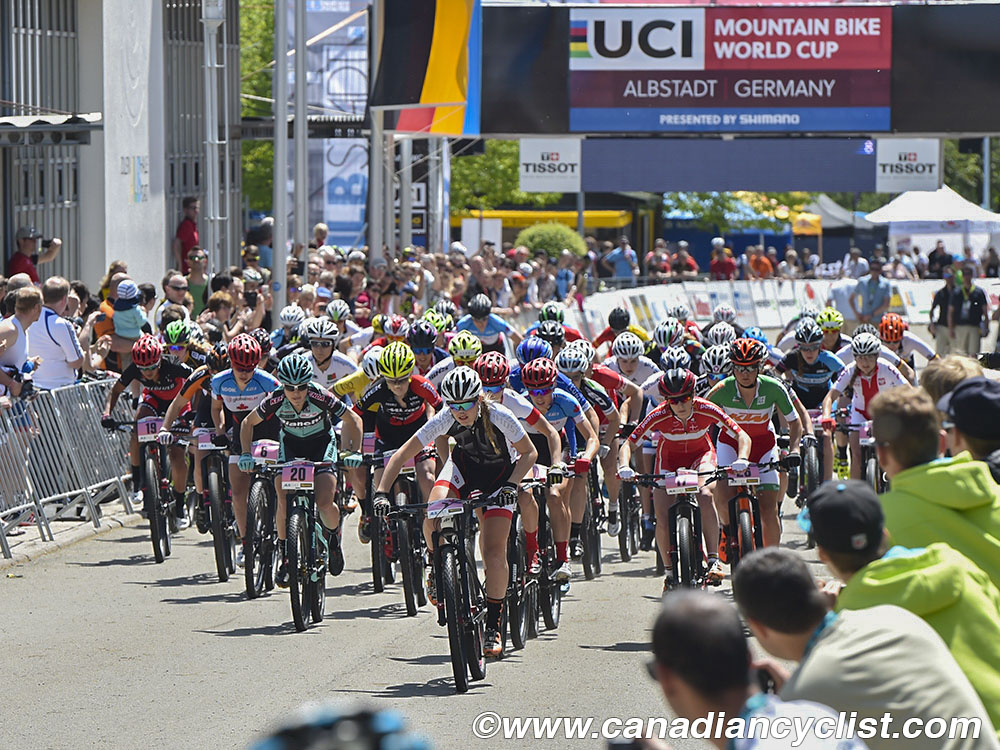 Asphalt start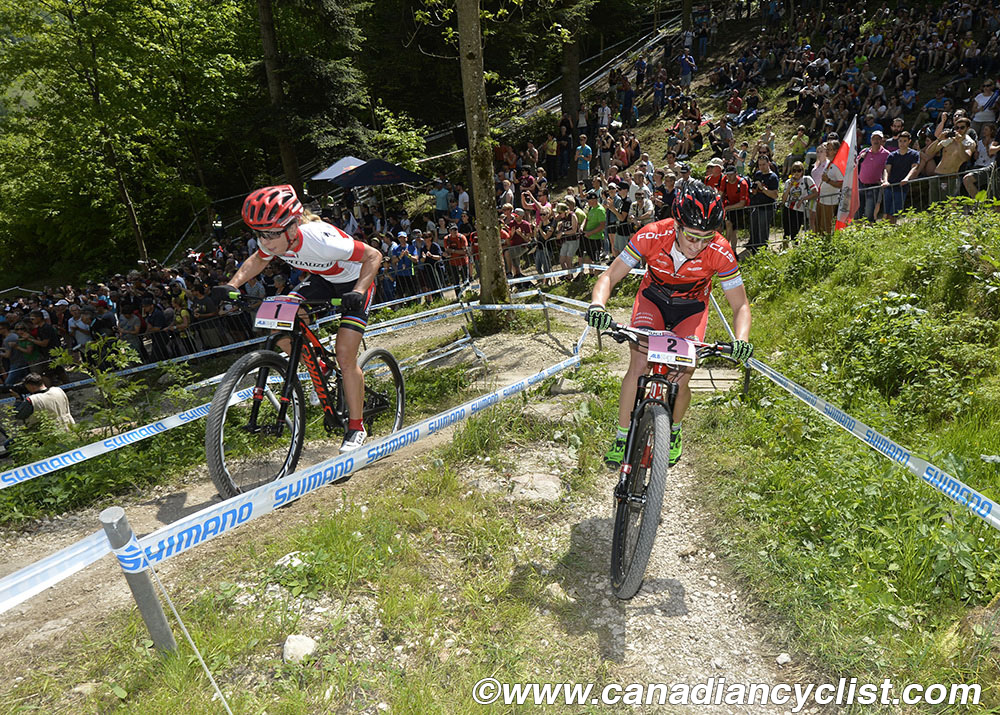 Two line choices on the Red Bull climb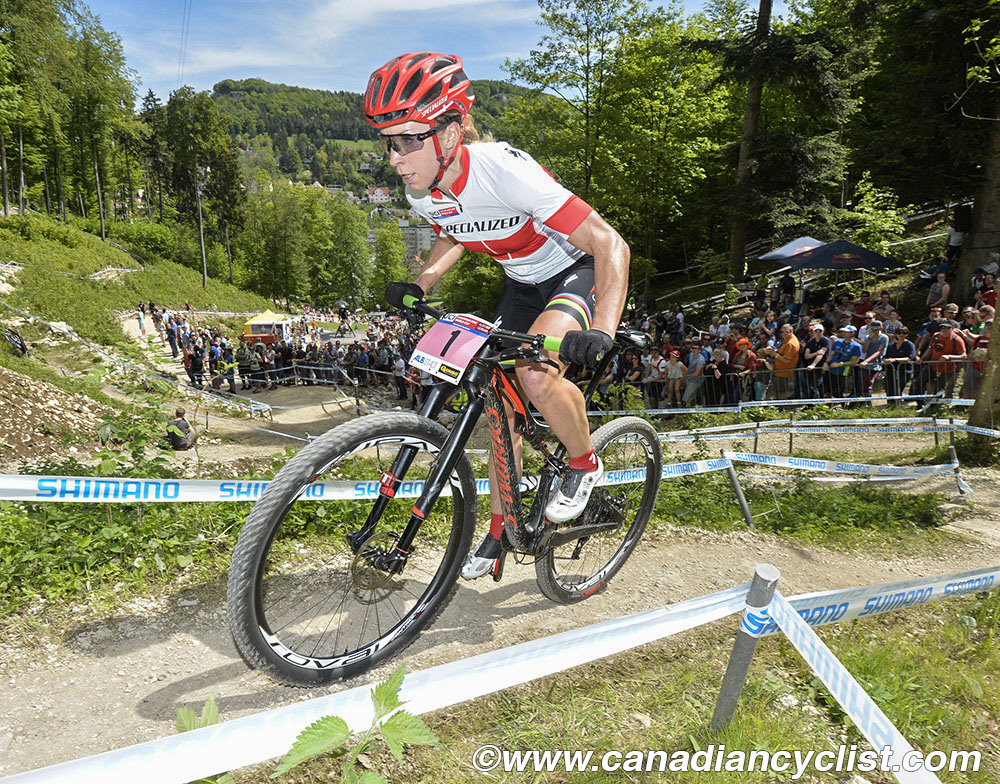 Nearing the top of the Red Bull climb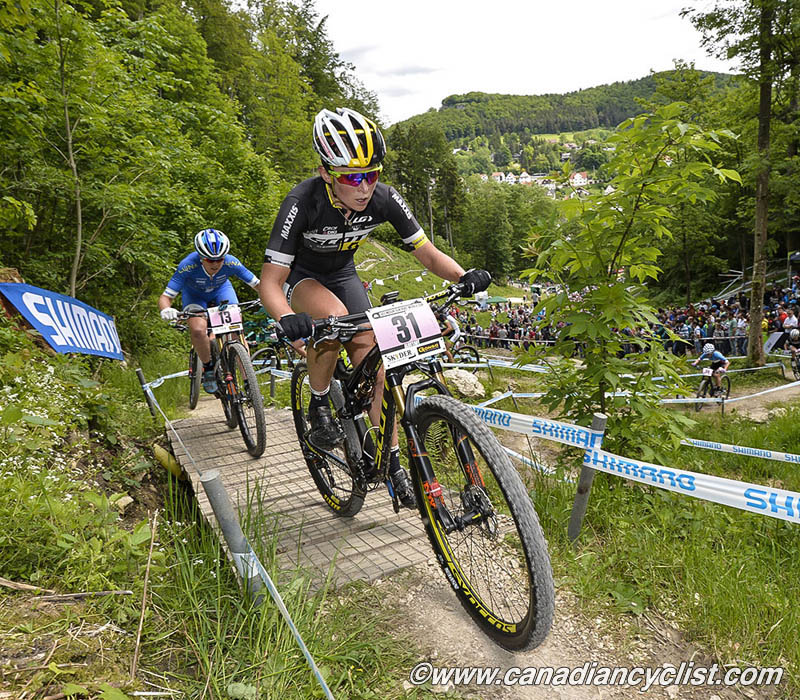 Many bridges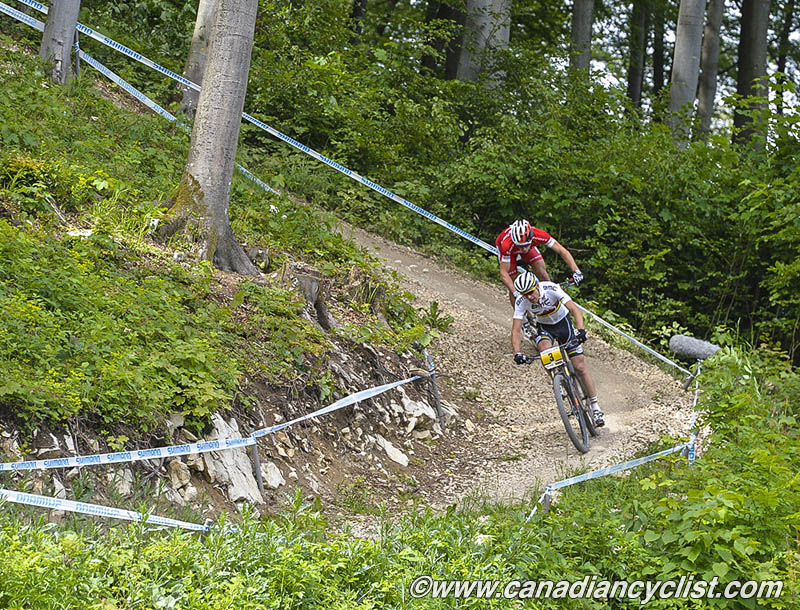 Steep Descents after long climbs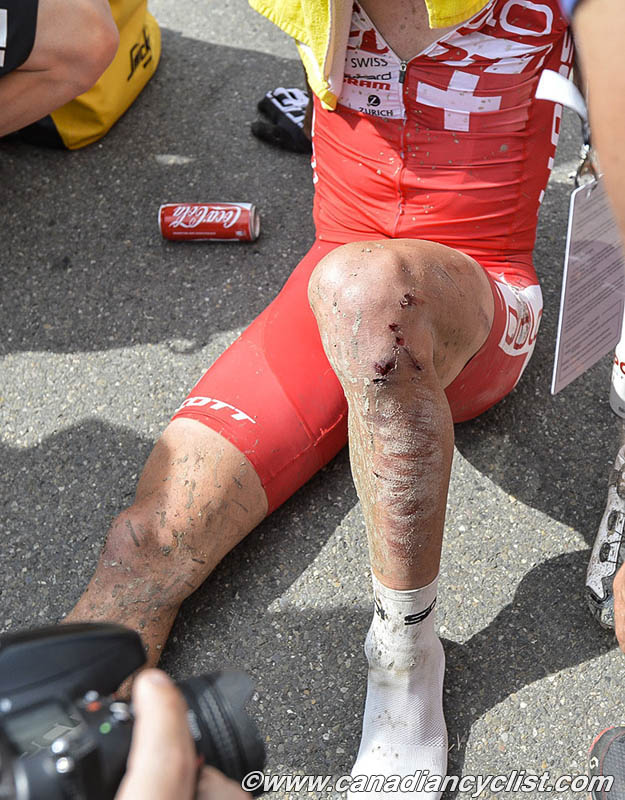 This is what happens if you get one of the rocky descents wrong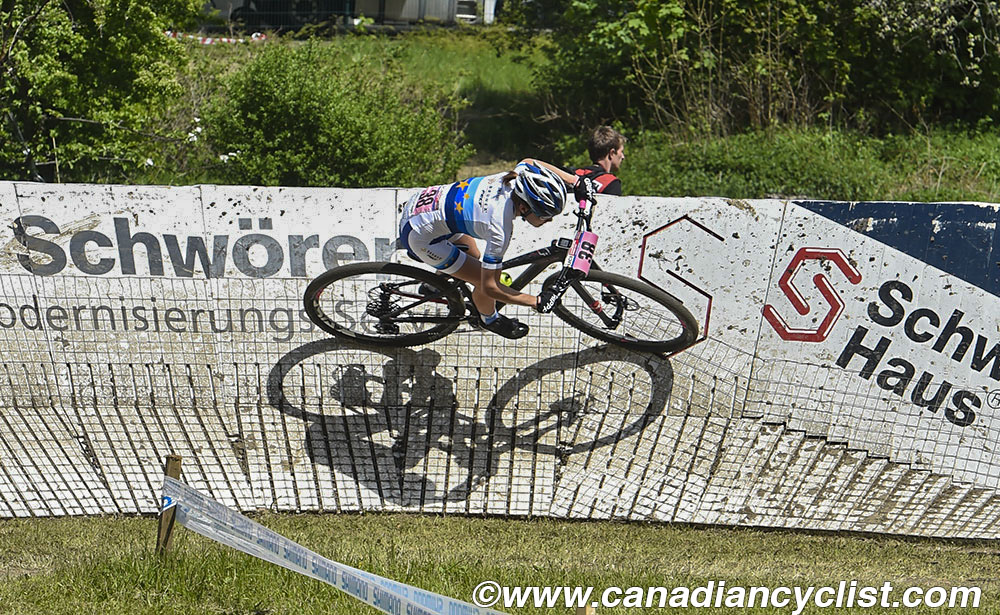 This wall has been a long standing feature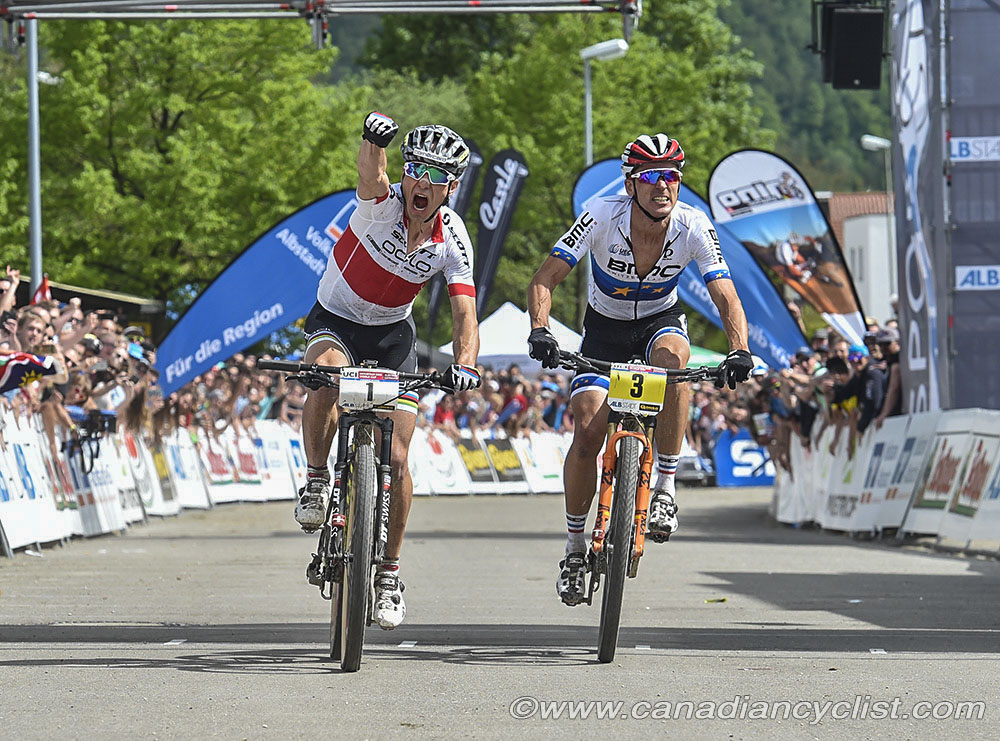 Asphalt finish - Schurter beat Absalon in the sprint in 2016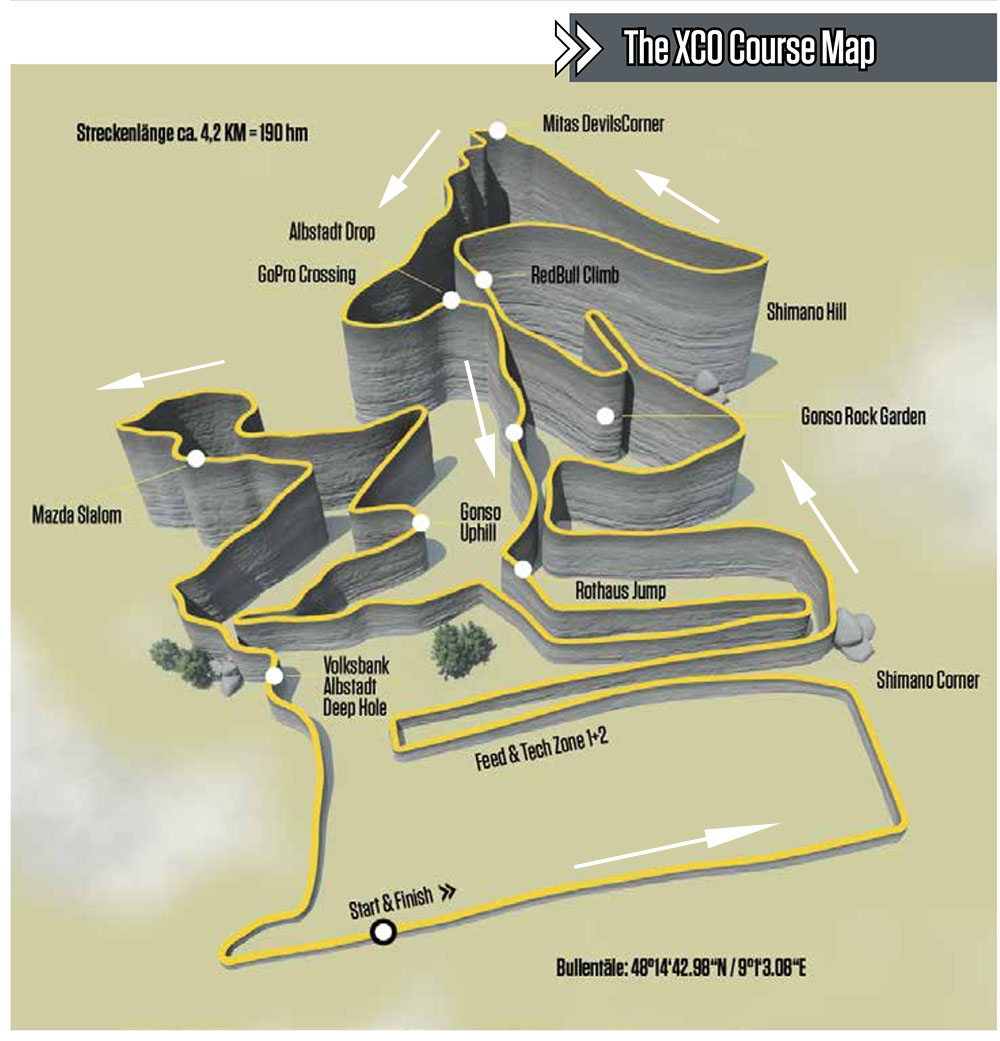 The weather conditions look to be almost perfect, with sun and low-20s Celcius; a drop from the previously forecast high-20s Celcius.

World champions Annika Langvad (Specialized) and Nino Schurter (Scott-SRAM) lead the Elite standings after their first round wins in Nove Mesto. Both are defending champions here in Albstadt. However, Schurter has made no secret that this is not his favourite style of course, and he only beat two-time winner Julien Absalon (BMC) last year in a sprint.

In the women's field, which will race Sunday, Olympic champion Jenny Rissveds (Scott-SRAM) will not be on the start line for a second weekend in a row, after a recent family loss. The rest of the top riders are in attendance. Sabine Spitz (Wiawis Bikes) was second last week and would certainly like a win on home soil. Others to watch for include Maja Wloszczowska (Kross Racing), Jolanda Neff (Kross Racing), Gunn-Rita Dahle Flesjaa (Merida Gunn-Rita), and Canadians Catharine Pendrel (Clif Pro) and Emily Batty (Trek Factory).

Pendrel was solidly in second last week before two mechanicals put her out of contention, so she will be looking to move back into podium contention. After finishing 24th in Nove Mesto, she will start on the third row, but it shouldn't be a problem to move up on the wide open start to this course, where she has finished third in each of the past two years. Batty, who was 17th in Nove Mesto should also start on the third row. Other Canadian women racing include Haley Smith (Norco Factory Racing), Sandra Walter (Team Canada), Cindy Montambault (Team Canada) and Catherine Fleury (Team Canada).

For the men's race on Sunday, Schurter is the rider to beat, although David Valero (MMR Factory) put up a strong battle. Absalon, who recently announced that this will be his final year of World Cup competition, has two firsts and a second on this course in the past three years, so he will be in the mix. Others to watch include Maxime Marotte (Cannondale Factory) and Jordan Sarrou (BH-SR Suntour-KMC).

In the Canadian men, national champion Derek Zandstra (Cannondale-3Rox) had a strong ride in Nove Mesto, finishing 28th, and should move up in the start grid. Other Canadians include Leandre Bouchard (BH-SR Suntour-KMC), Raphael Gagne (Cannondale-3Rox), Evan McNeely (Team Canada) and Andrew L'Esperance (Team Canada).

The Under-23 men race on Saturday and Under-23 women on Sunday. Peter Disera had the strongest Canadian performance in Nove Mesto, finishing eighth, and will be looking to improve that to top-5. Other Other Canadian men include Sean Fincham (Team Canada), Marc-Andre Fortier (Team Canada) and Anthony Audet (Independant).

There are two Canadian women in the Under-23 category, both on their first European World Cup campaigns. Anne-Julie Tremblay (Equipe du Quebec/Cyclone d'Alma) finished 24th in her first European World Cup, while Mackenzie Myatt (Team Canada) was 53rd.
- The UCI has now started formally stating that electric mountain bikes are not allowed on courses during training.
- Peter Disera will start in the front row.
- Dutch rider Mathieu Van Der Poel, who was 8th in Nove Mesto, just won stage 2 of the Baloise Belgium Tour on Thursday, and is now heading to Albstadt to race this weekend's World Cup.
Race schedule

Saturday
U23 Men - 2pm (8am ET)

Sunday
U23 Women - 9am (3am ET)
Elite Women - 11:20 am (5:20 ET)
Elite Men - 2:20 am (8:20 ET)