June 4/17 16:43 pm - Finn Iles Second, Mark Wallace 12th, in Fort William

Posted by Editoress on 06/4/17

Round 2 of the UCI Downhill World Cup saw lead changes in both the men's and women's overall standings, with Australian champion Tracey Hannah (Polygon UR) moving into the leader's jersey for Elite Women, and Greg Minnaar (Santa Cruz Syndicate) for the men. Both Minnaar and Moir rode 29" wheel bikes, with this the first World Cup victory on the wheel size.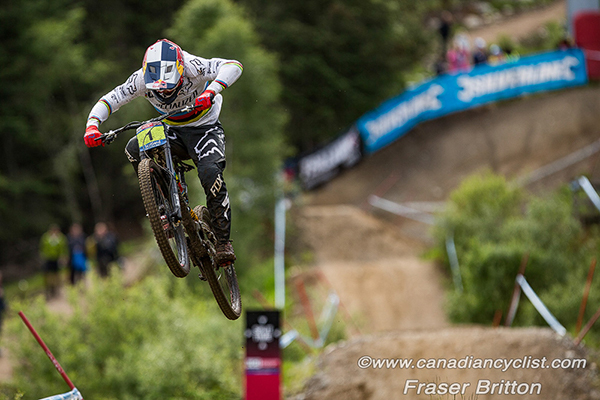 Finnley Iles (Specialized)
Junior men's world champion Finnley Iles (Specialized) of Whistler was second in his category, and continues to lead the World Cup standings. Mark Wallace (Canyon Factory), second in Round 1 for Elite men, was 12th in this round and sits fourth overall. In Elite women, Canadian champion Miranda Miller (Specialized) did not start the final after crashing in training and injuring her knee, dropping to 12th in the overall standings.
Held in the Scottish Highlands outside of Fort William, Scotland, Fort William is a fixture on the international downhill circuit, having hosted World Cup events continuously since 2002 (except for 2007, when it was the site of the world championships). It boasts the longest course on the World Cup, and requires both technical skills and the highest level of physical fitness. Rain during the week made the mid-course forest section extremely muddy and rutted, with multiple riders crashing.

The Elite women's race had an upset even before the final started, when world champion and World Cup leader Rachel Atherton (Trek Factory) was unable to start after dislocating her shoulder in a crash on her final training run. Atherton had won Qualifying and was favoured to win her 15th consecutive World Cup, however, her withdrawal opened the door for a new winner for the first time in over two years. That winner was Hannah, second to Atherton in qualifying. Hannah beat French rival Myriam Nicole (Commencal/Vallnord) by over ten seconds, with Emilie Siegenthaler (Pivot Factory). Vaea Verbeeck was the only Canadian finisher, in 11th place. Hannah moves into the overall World Cup lead with 425 points, 90 ahead of Nicole, with Atherton dropping to third with 290 points. Miller has 107 points with Verbeeck at 55 points and 14th place overall.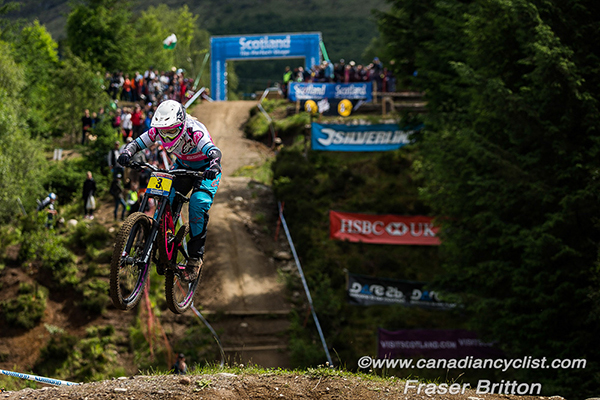 Tracey Hannah (Polygon UR)
"It's unbelievable," admitted Hannah. "I never come to Fort William expecting to beat the British riders because they are so amazing. I just can't believe it, I'm very emotional! Obviously I feel for Rachel ... I had to just put it out of my mind [for the run] and do the best run that I could. I had a crazy run, it was so hard; I wanted to stop pedaling but I just had to push through it."

Minnaar has a exceptional history at Fort William, with this being his seventh win in Scotland. The South African also added the 20th World Cup win to his resume, the most by any male rider.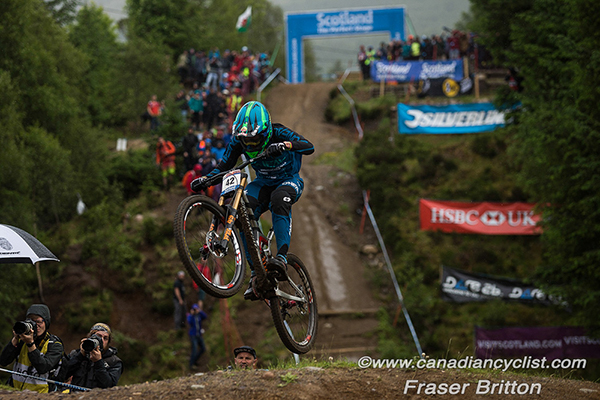 Greg Minnaar (Santa Cruz Syndicate)
The final top-3 came down to last five starters, with defending World Cup champion Aaron Gwin (The YT Mob) taking the lead with five to go, then Moir moving ahead of the American with three riders to go and, finally, Minnaar, the last starter, smashing Moir's time by nearly three seconds for the win. With his victory, Minnaar takes the leader's jersey in the Series with 292 points, two more than Marcelo Gutierrez (Giant Factory), with Moir in third at 269 points. Australia's Connor Fearon (Kona Factory) is sixth in the standings.

"I knew I had to push hard if I wanted to get on the podium," explained Moir. "So I pushed super hard at the top and then backed it off in the woods because it was so sketchy, and hammered the bottom section. We took a chance using the [prototype] 29er because I only got it last week, but it obviously paid off."

"This was my toughest win here for sure," admitted Minnaar. "The rain was affecting my vision and I had to tear off a strip on my googles before entering the woods because I couldn't see anything. I took a bit of a risk going into the woods and nearly went off course, so I tried to calm it down and ride smooth to the finish from that point. When you've got the rain in your face it doesn't matter what size wheel you've got."

Wallace qualified ninth and was on the Hot Seat for quite a while before he began to get bumped down the rankings. Forrest Riesco was the only other Canadian to qualify for the final, finishing 33rd.

In the Junior categories, Matt Walker (Madison Saracen) won the men's competition, ahead of Iles. Iles continues to lead the overall standings, with 100 points to Walker's 60. In Junior Women, it was Great Britain's Megan James who took the win, followed by Round 1 winner Melanie Chappaz (Dorval AM Nicolai). Chappaz continues to lead with 100 points, followed by James at 60.
Results
Junior Men, Elite and Junior Women