June 5/17 8:53 am - Carleton and Toppings Take Russ Hay's Cycling Grand Prix

Posted by Editoress on 06/5/17

You would think with eight other Smart Savvy+ / Garneau teammates in the mix, it wouldn't have been such a hard day at the office for Calgary's Connor Toppings, but it was a bit of a grind as he solo'ed through most of the Russ Hay's Cycling Grand Prix / BC Criterium Championships. But laying down the hammer proved worthwhile in the end as Toppings came away with his first major criterium win.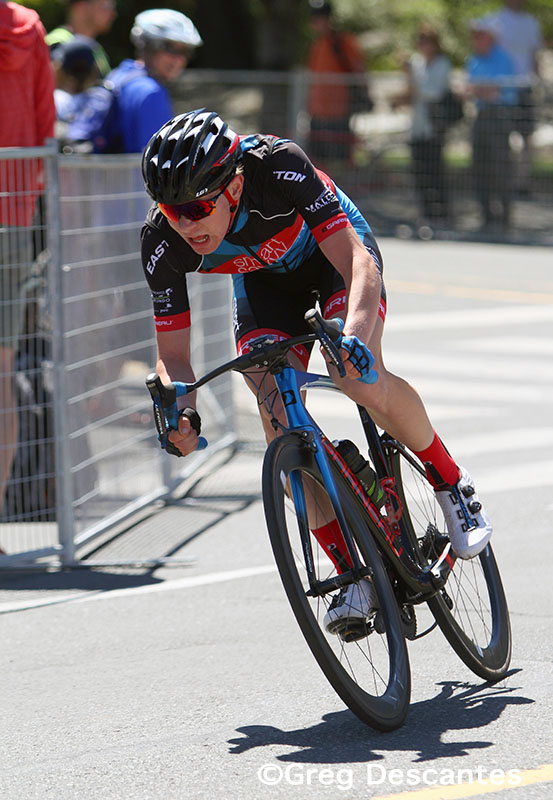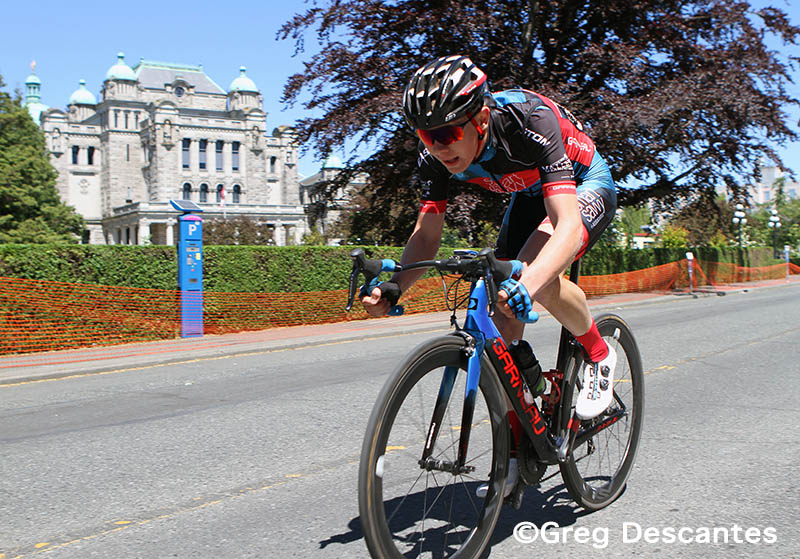 Connor Toppings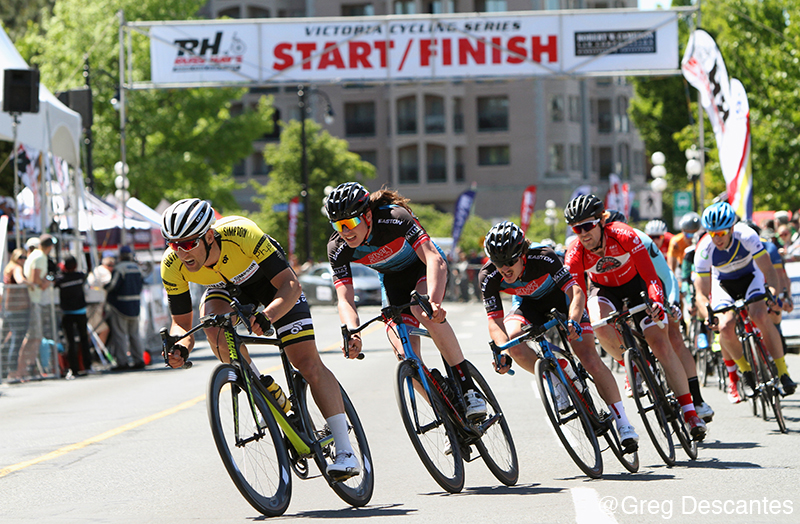 Photo Gallery by Greg Descantes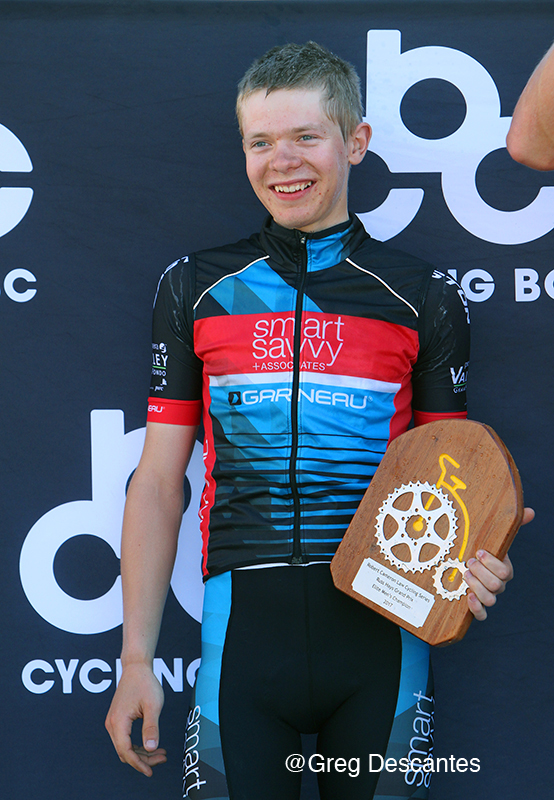 Connor Toppings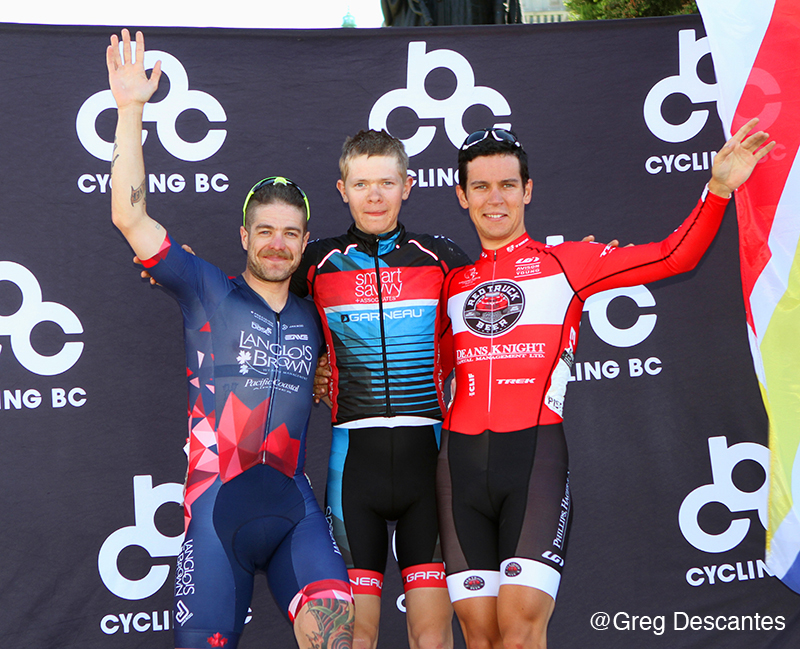 Race podium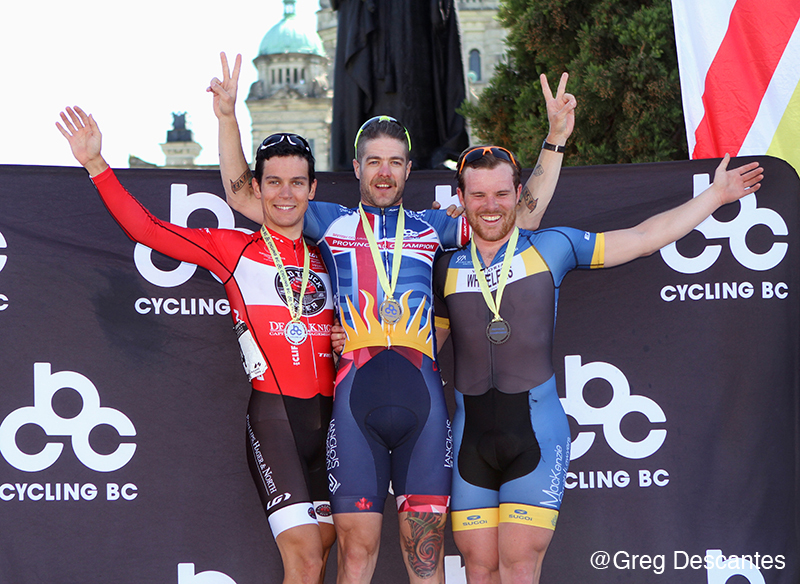 Provincial Championship podium
Photo Gallery by Greg Descantes
Toppings left the field in the first quarter of the 40-lap race and never looked back, sacrificing himself hoping to get a BC Criterium Championship crown for one of his team mates.

"I just put my head down and went," he said after crossing the line with the field. "The guys did a lot of work to slow down the field for me."

"Lapping the field is pretty rare," he said. "But no one else does the kind of team work that we do and that's what made the difference for us."

Toppings said the win was particularly sweet with the B.C. Legislature Buildings as a backdrop. "It's great profile."

Toppings finally joined the field with two laps to go and was lost a bit in the crowd for the obligatory finish line celebratory shot. Trek Red Truck Racing's Kyle Buckosky and Langlois Brown Racing Dylan Davies also broke from the pack early on and both battled it out with 2014 grand prix winner Davies earning second-place and the BC Criterium Championships and Buckosky third.

On the women's side, it was a home-coming of sorts for Broad Street Cycles' Gillian Carleton. The Olympic and World Championships track bronze medallist hasn't raced since 2014, taking a racing hiatus to complete her undergraduate degree in neuroscience.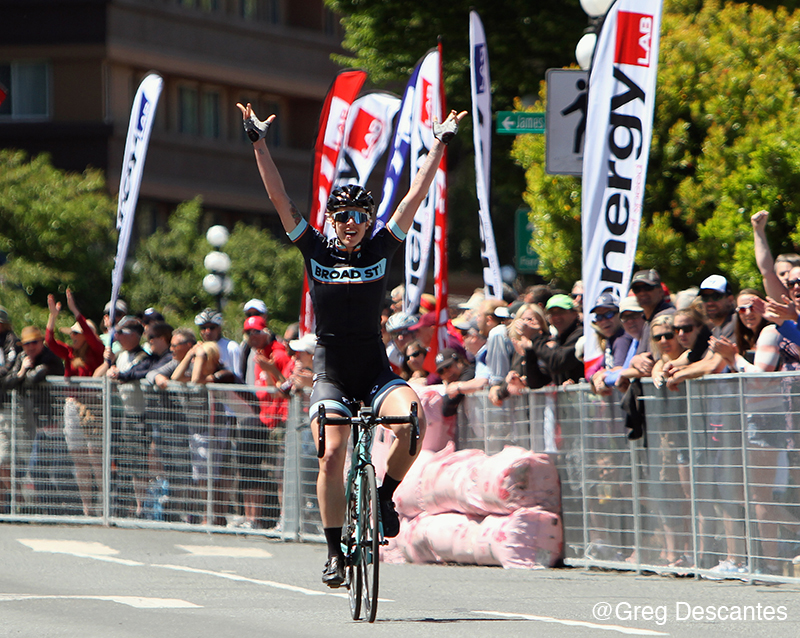 Gillian Carleton
Photo Gallery by Greg Descantes
As it often goes in criterium racing, you never quite know who's coming around that last corner, and after Trek Red Truck Racing Anika Todd broke from the field for four laps of the 35-lap women's race, the crowd was a bit surprised to see Carleton's Broad Street Cycle kit come round the bend to take the women's title and the BC Criterium Championships.

"I was 95 per cent sure I could go," she said, describing her attack after the first corner. "So I tried to stretch it out. I was sitting (in the field) for most of the race trying to stay as fresh as possible."

"It was a quality field this year," Carleton said. "There were tons of really good racers so it was a really hard race."

Crit Nasty's Sarah Coney was second while Glotman Simpson Cycling Janna Gillick was third.

The day of racing ended a successful weekend of races at the Robert W. Cameron Law Cycling Series p/b PISE which saw 200 children between the ages of 3 and 10 participating in the Tim Hortons Timbit Challenge and older folks racing in youth races, the inaugural Broad Street Cycles Fixed Gear Criterium, the Schwalbe Cycling Classic road race in Metchosin and the EnergyLab Dallas Road Time Trial.

The Robert W Cameron Law Cycling Series p/b PISE Omnium titles went to Rally Cycling's Adam deVos and Broad Street Cycles' Megan Rathwell, who also won the road race. Second went to TaG Cycling Racing Team's Maggie Coles-Lyster and Smart Savvy+/Garneau's Connor Toppings while third went to Glotman Simpson Cycling's Janna Gillick and Trek Red Truck Racing's Kyle Buckosky.
Courtesy Sharon White, Media Director Robert W Cameron Law Cycling Series
Photo Gallery by Greg Descantes
Link to Criterium Championship results


Omnium Results
Elite Women

1 Megan Rathwell (Broad Street Cycles)
43 pts
2 Maggie Coles-Lyster (TaG Cycling Race Team)
42
3 Janna Gillick (Glotman Simpson Cycling)
42
4 Sarah Van Dam (Tripleshot Cycling)
28
5 Callie Swan (TaG Cycling Race Team)
20
6 Anna Gabrielle Traxler (Trek Red Truck Racing)
14
7 Emma Lujan (Glotman Simpson Cycling)
14
8 Anika Todd (Trek Red Truck Racing)
13
9 Anna Talman (Trek Red Truck Racing)
11
10 Gillian Ellsay (Team Colavita | Bianchi)
10
11 Suzanne Hamilton (Cyclery-4iiii)
10
12 Deborah Snell (Victoria Wheelers)
6
13 Brenna Pauly (Tripleshot Performance Team)
6
14 Erin J Attwell (Trek Red Truck Racing)
5
15 Holly Simonson (Trek Red Truck Racing)
3

Elite Men

1 Adam De Vos (Rally Cycling)
42 pts
2 Connor Toppings (Smart Savvy+ / Garneau U23 Cycling Team)
36
3 Kyle Buckosky (Trek Red Truck Racing)
29
4 Nigel Ellsay (Silber Pro Cycling)
28
5 Chris Macleod (Smart Savvy+ / Garneau U23 Cycling Team)
24
6 Nigel Kinney (Langlois Brown Racing)
23
7 Warren Muir (The Lead Out Project)
16
8 Alexander Murison (Trek Red Truck Racing)
11
9 Alexander Amiri (Smart Savvy+ / Garneau U23 Cycling Team)
8
10 Robert Gutgesell (Trek Red Truck Racing)
4
11 Joshua Kropf (Smart Savvy+ / Garneau U23 Cycling Team)
4
12 Ty Andrews (Trek Red Truck Racing)
3
13 Emile De Rosnay (Broad Street Cycles)
2
14 Andrew Russell (Victoria Wheelers)
2