June 6/17 9:29 am - Cory Wallace Wins Solo 24 Hr MTB Worlds

Posted by Editoress on 06/6/17

After eight years of trying, Canada's Cory Wallace (Kona Factory Team) has won the World Solo 24 Hour Mountain Bike Championships, held this year in Finale Ligure, Italy.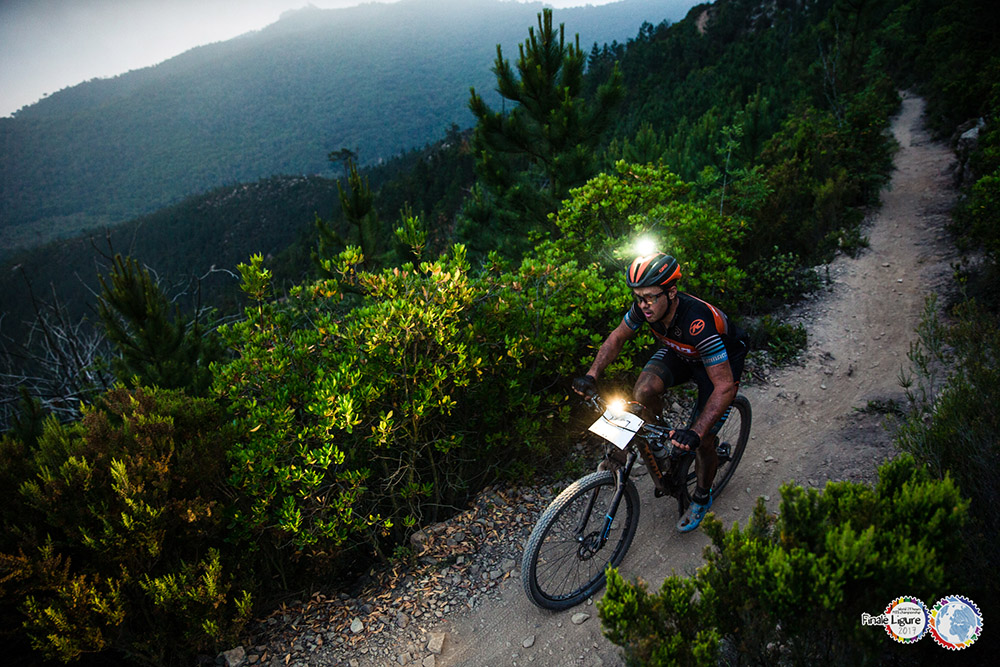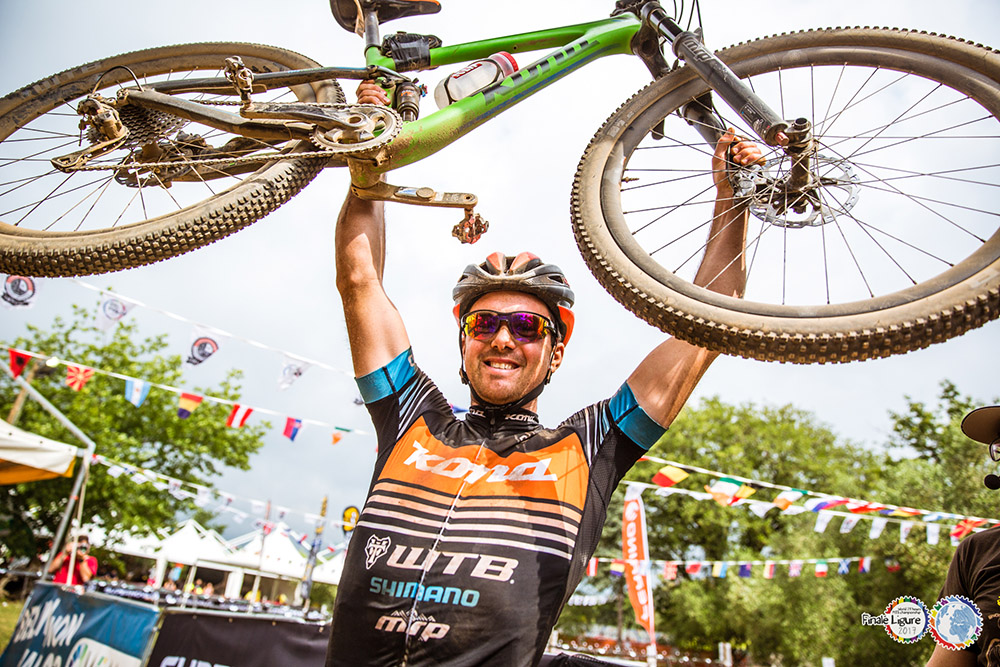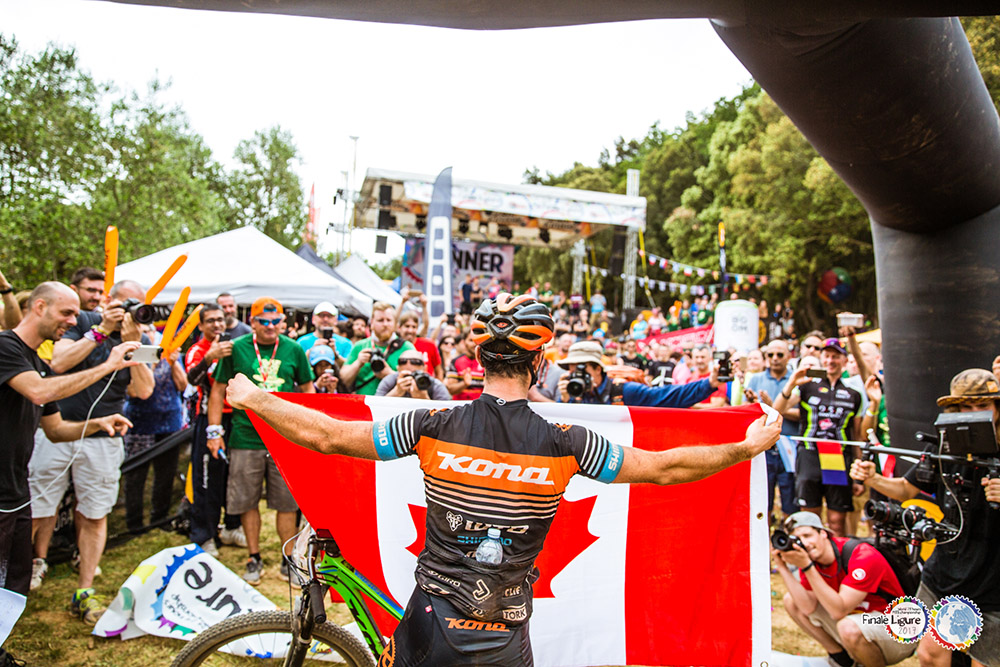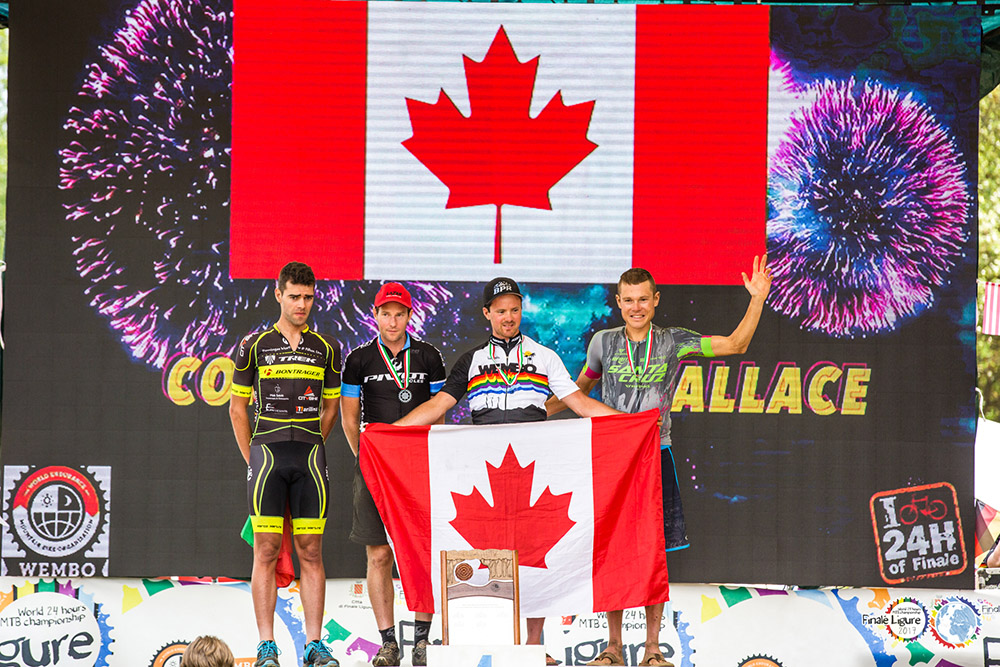 With 38 laps completed, and a total of 380 km and 23 hours and 48 minutes in the saddle, Cory finished with a one-lap lead over the seven-time world champion from Australia, Jason English (Pivot Jetblack Fizo Team) and a two-lap lead over American rider Josh Tostado. Local rider Gaia Ravaioli of Italy took the women's title. Approximately 300 riders from 30 countries took part in the event, held over June 3-4.

"I come from the sport of hockey," said Wallace, "where the roar of spectators and crowd is a big thing. Racing here in Finale has been really thrilling; the enthusiasm of the people along the race course added strong motivation. I had a relaxed start and, until the air temperature fell, I paced myself. Legs were good; as soon as some clouds closed in and it got dark I launched my attack and started increasing my speed."


Results
Overall Men (top 20)

Cat
Laps

Time

1 Cory Wallace
M-Elite
38
23:48:35
2 Jason English
M-Elite
37
24:16:42
3 Josh Tostado
M-Elite
36
23:49:07
4 Marco Martins
M-Elite
36
24:12:29
5 Simon Depomeroy
M-Elite
36
24:33:42
6 Jason Archer
M-45-49
36
24:38:42
7 Domingos Ladislau
M-Elite
35
24:11:01
8 Einaras Sulskus
M-Elite
35
24:30:04
9 Blancs Gilets Brab Blancs Gilets Brabant
M-35-39
34
23:54:54
10 Kevin Skidmore
M-40-44
34
23:57:38
11 Elias Van Hoeydonck
M-30-34
34
24:36:28
12 Carwyn Davies
M-U23
34
24:42:03
13 Srecko Kriznic
M-45-49
33
23:34:00
14 Nigel Smith
M-35-39
33
23:41:34
15 Rodolfio Dias
M-40-44
33
23:54:58
16 Max Suttie
M-23-29
33
23:55:18
17 Peter Nadin
M-50-54
33
23:55:19
18 Michael Mccutcheon
M-Elite
33
24:03:14
19 Andrew Bovard
M-40-44
33
24:23:12
20 Matthew Jones
M-Elite
33
24:32:33

Overall Women (top 20)

1 Gaia Ravaioli
F-Elite
32
24:16:55
2 Liz Smith
F-Elite
32
24:32:13
3 Iwona Szmyd
F-Elite
31
24:26:54
4 Kate Penglase
F-Elite
30
24:22:31
5 Rachel Sokal
F-Elite
29
24:19:53
6 Julie Kelly
F-Elite
28
23:53:55
7 Ronel Cook
F-40-44
28
23:55:04
8 Giuliana Massarotto
F-Elite
28
24:39:48
9 Leonie Smith
F-40-44
27
24:24:43
10 Olena Novikova
F-Elite
25
19:40:14
11 Madeline Bemis
F-Elite
25
21:36:16
12 Elisabetta Bertok
F-40-44
25
23:58:05
13 Ausilia Vistarini
F-Single Speed
25
24:26:16
14 Gillian Pratt
F-35-39
23
22:12:14
15 Eva Funfgeld
F-45-49
23
23:53:24
16 Donna Waring
F-40-44
22
21:30:03
17 Evi Garbolino
F-23-29
22
24:09:59
18 Nicola Kirkham
F-23-29
22
24:36:56
19 Bieke Machielsen
F-30-34
21
23:05:58
20 Bianca Morvillo
F-Elite
21
23:27:12