June 8/17 13:09 pm - Quebec Masters Athlete Receives 8 Year Anti-doping Sanction

Posted by Editor on 06/8/17

The Canadian Centre for Ethics in Sport (CCES) has just announced that former Masters world champion Gérard-Louis Robert of Montreal has tested positive for the banned substance testosterone and received an eight year sanction. Robert, who was 67 years old at the time, was caught at an in-competition test during the Quebec Track Championships last August. His results include 24 world titles and 21 Canadian Masters national track titles.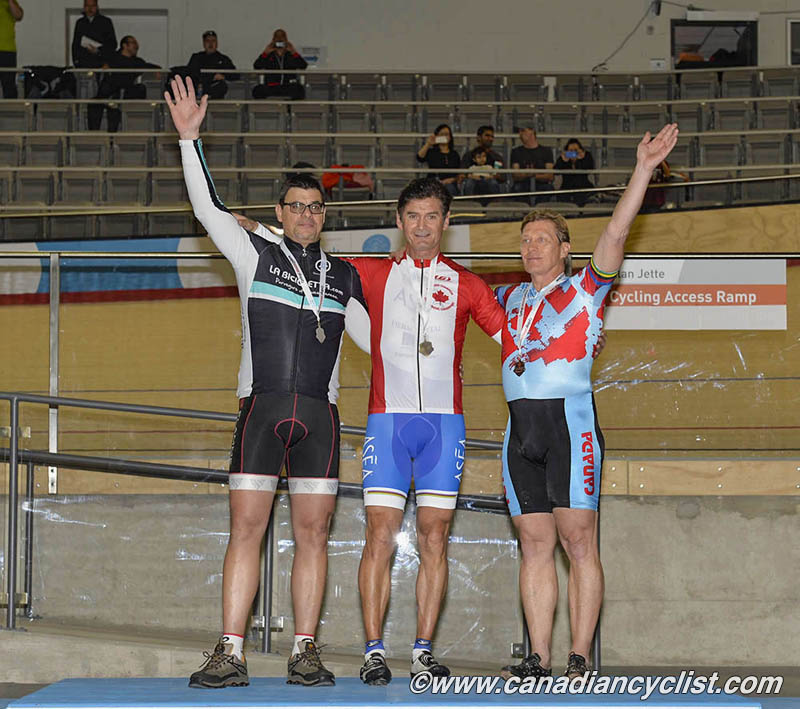 Gérard-Louis Robert (center)
Robert appealed the finding, claiming that he did not know how the substance appeared in the test results. His T/E ratio test results were seven times higher than the baseline results in his biological passport. A sanction of four years was instituted, however, the UCI subsequently provided information that the athlete had previously been sanctioned in 2009 and the sanction was increased to 8 years.

The CCES statement:

The Canadian Centre for Ethics in Sport (CCES) announced Thursday (June 8th) that Gérard-Louis Robert, a cycling athlete, received a sanction of eight years for a second anti-doping rule violation. The athlete's urine sample, collected during in-competition doping control on August 27, 2016, revealed the presence of testosterone.

In response to the CCES' notification of the adverse analytical finding, Mr. Robert requested a hearing to determine the violation and whether the sanction period should be eliminated or reduced. On March 22, 2017, Arbitrator Patrice Brunet confirmed the violation and imposed a sanction of four years ineligibility from sport, which was subsequently appealed.

During the appeal, the Union Cycliste Internationale provided information to the CCES confirming that the athlete had a previous anti-doping rule violation from 2009. As a result, the CCES amended its original notification and, in accordance with Rule 10.7.1 of the Canadian Anti-Doping Program (CADP), proposed an eight-year period of ineligibility for the second anti-doping rule violation. In response, Mr. Robert abandoned the appeal and accepted the sanction. Since he agreed to a voluntary provisional suspension on October 11, 2016, his sanction will conclude October 10, 2024. The athlete, who resides in Montreal, Quebec, is ineligible to participate in any capacity with any sport signatory to the CADP, including training with teammates.

A copy of the full decision can be found Here.