June 17/17 16:53 pm - Cowan Survives Crash to Stay in Yellow at Beauce

Posted by Editoress on 06/17/17

The Tour de Beauce moved to Quebec City on Saturday for the fifth stage, a 70 kilometre criterium around the provincial parliament buildings. Three riders in a breakaway stayed clear to take the podium spots, with Ian Garrison (Axeon Hagens Berman) taking the stage ahead of Robin Carpenter (Holowesko-Citadel) and Matteo Dal-Cin (Rally Cycling). Dal-Cin also moved into the Points Jersey.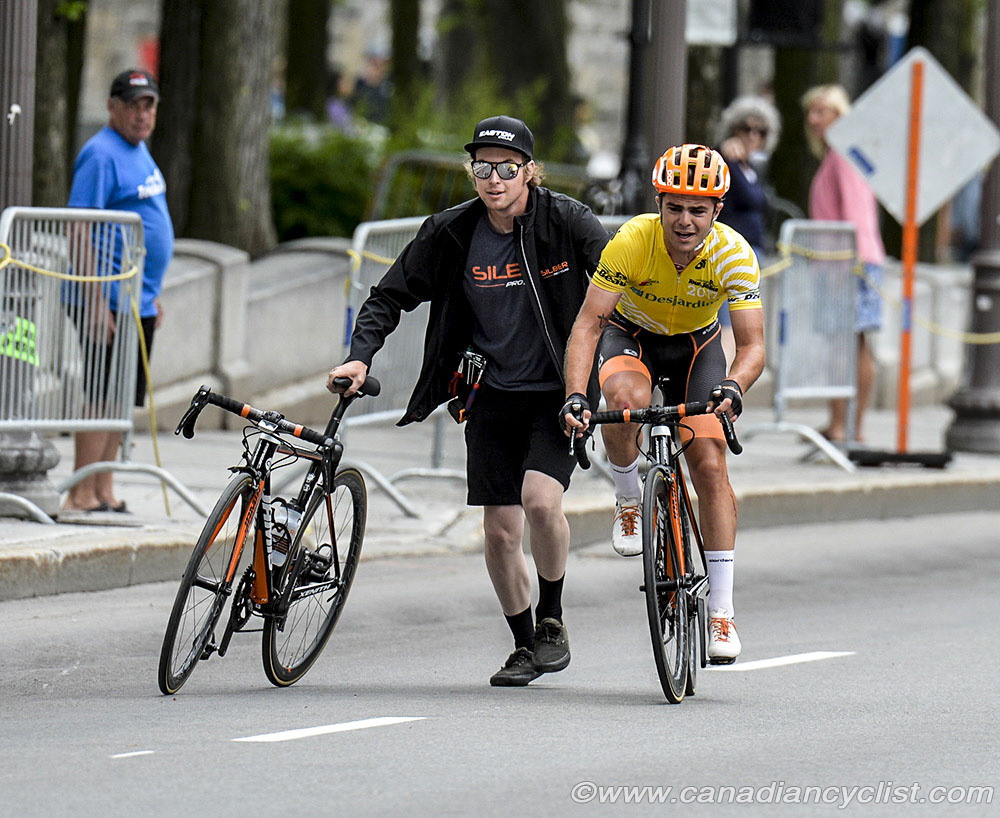 Alec Cowan had a scare early in the stage when he crashed
Yellow jersey holder Alec Cowan (Silber Pro Cycling) finished in the bunch to hold onto the overall lead, despite a scare early in the stage when he crashed into the barriers and had to take a free lap for mechanical problems. Cowan also continues to hold the Red Jersey as Best Young Rider, while his team mate Nigel Ellsay retains the Polka Dot Jersey in the climber's competition.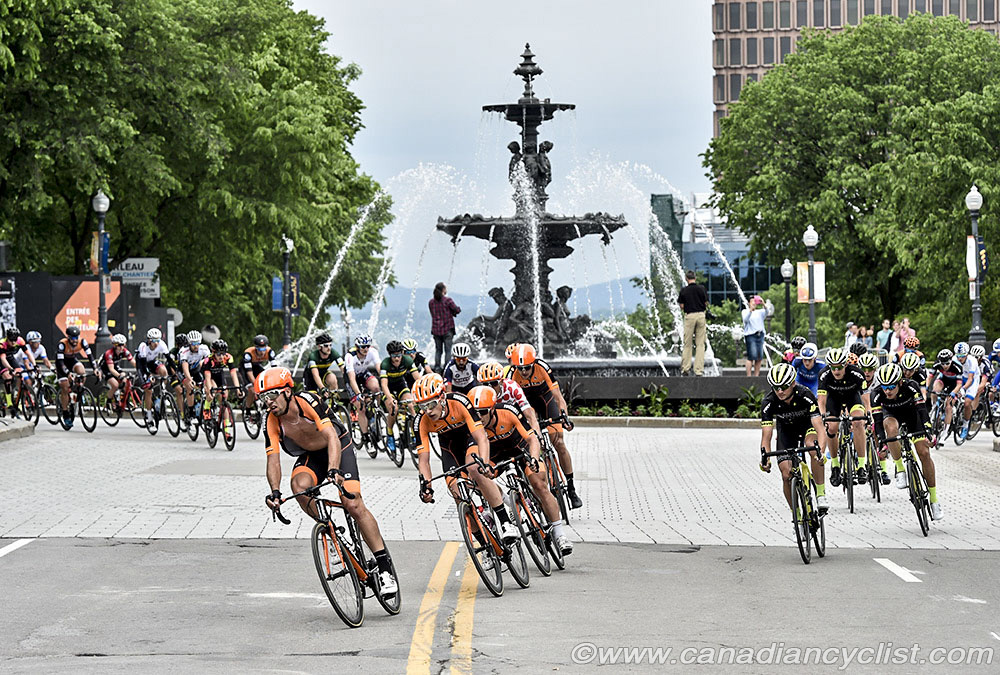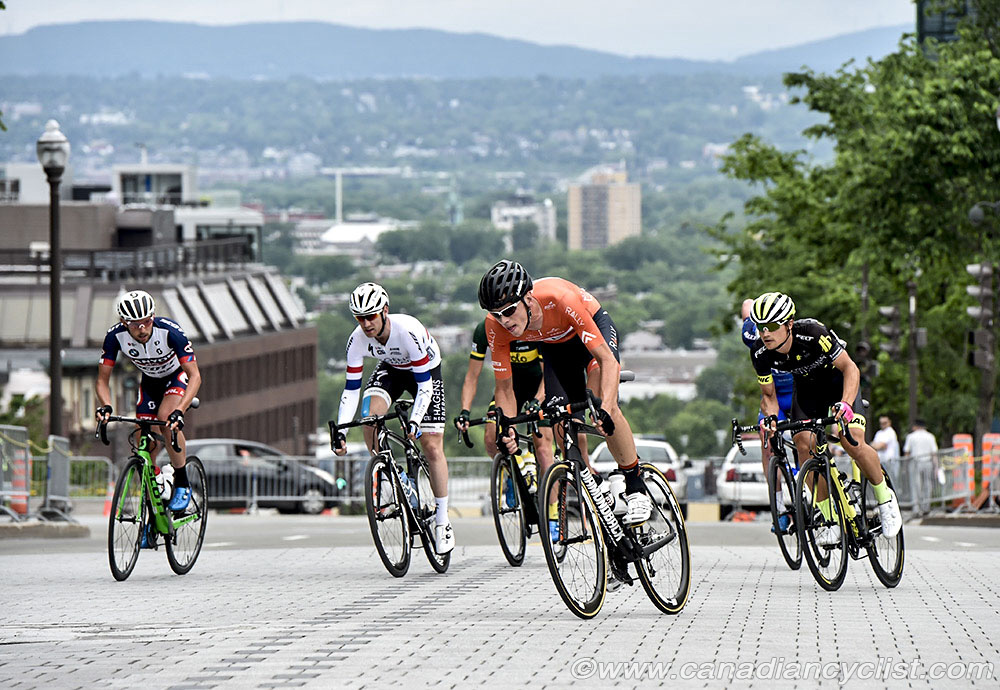 The break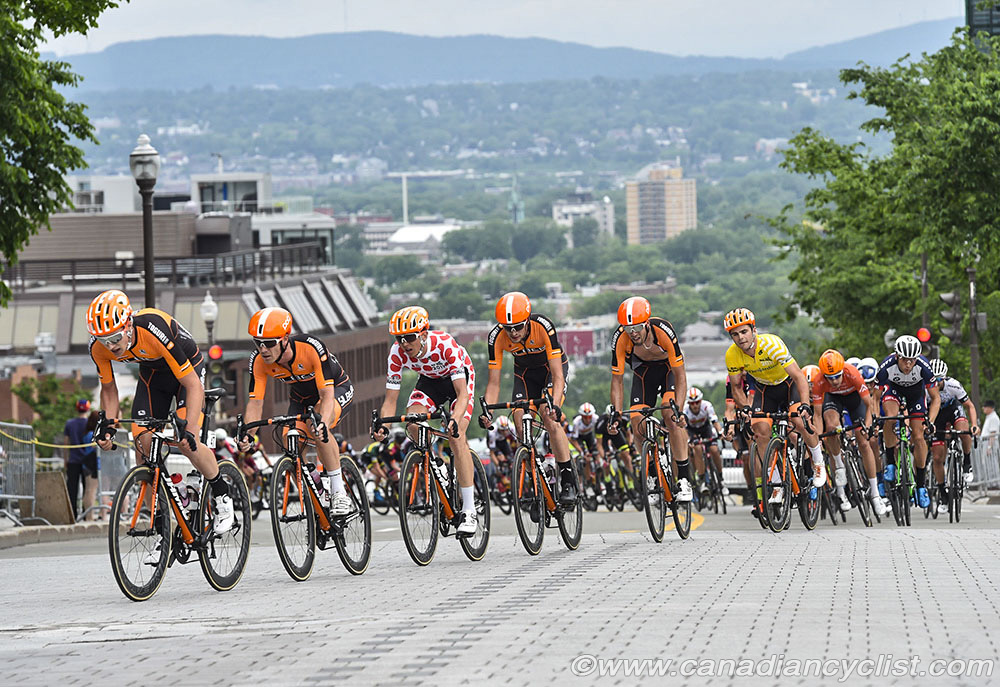 Silber chased and chased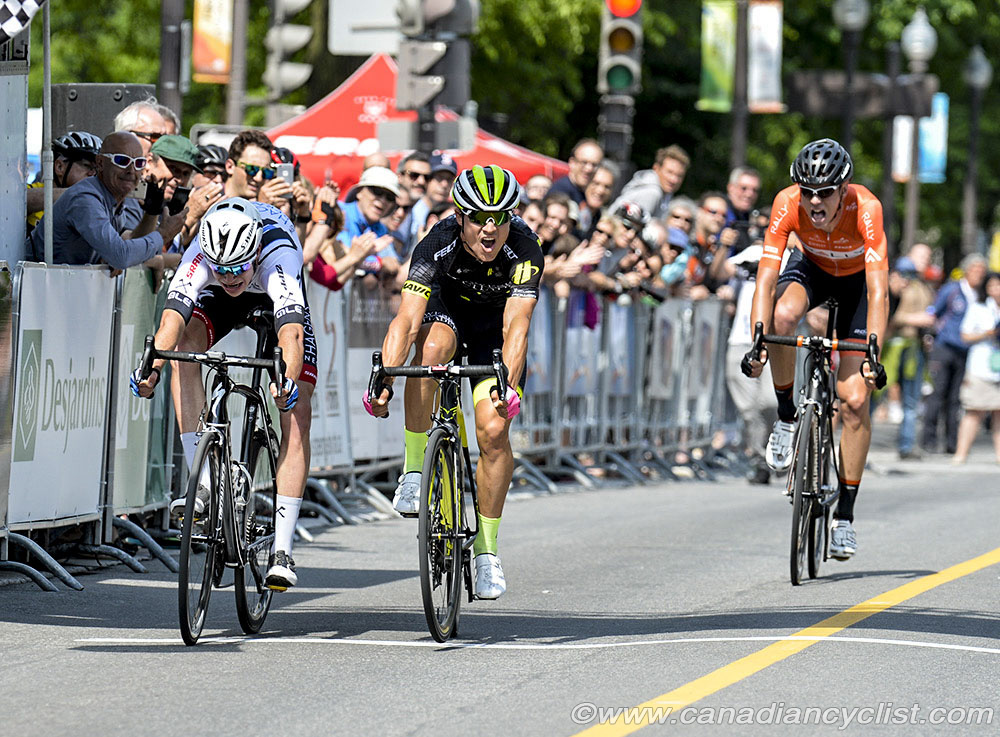 Ian Garrison (Axeon Hagens Berman) wins
The four corner, two kilometre rectangular circuit includes a roundabout at the far end of the course and a long uphill run to the finish line. Cowan went into the barriers at the roundabout just as the break was getting established off the front. This hindered the Silber chase for a few laps, allowing the initial break of eight to open a gap. Garrison was 1:46 down on Cowan, with Gage Hecht (Aevolo) also in the break and 2:56 back.

The break got up to 50 seconds, which put Team St-Etienne p/b ProBikeShop into the chase, since their fifth place was threatened. Silber began to lose riders in the final 20 kilometres after massive efforts by Ellsay and Roth, and St-Etienne also began to crack, however, they had pulled the gap back to 14 seconds by the finish.

Dal-Cin initiated the sprint, with Carpenter and Garrison coming around him 150 metres out, and then Garrison winning with a bike throw. Garrison moved up one spot in the general classification, to sixth, while Cowan padded his lead by a few seconds over second and third placed Jordan Cheyne (Jelly Belly) and Jack Burke (Aevolo).
"Unfortunately, I got pushed to the outside at the roundabout and wrapped myself around one of the barriers," explained Cowan. "Crashes happen in bike racing, but I'm fine. The break went when I was picking myself up but I think we handled it well and brought it back down to less than 30 seconds. The final stage suits me because it's a hard punchy circuit and I have confidence that we can keep the jersey."
The Tour de Beauce concludes on Sunday in the host town of St-Georges with a hard 122 kilometre circuit race that has upset the standings on more than one occasion.

Results
Previous stages